For a club looking to rebuild, ready to reclaim its place among the elite clubs in the SDHL, Brynäs IF enjoyed the luxury of acquiring a goaltender whose hockey resume included professional play in North America. Equipped with a fundamentally sound game, providing a dependable presence during a handful of seasons in the former CWHL, competing with the Brampton Thunder and Toronto Furies, amassing over 50 appearances between the pipes, Sonja van der Bliek brought her solid skills to a club eager to build from the net out.
With familial roots in nearby Norway, another Scandinavian nation, along with Holland, van der Bliek (who was raised in Toronto), inherited the starting goaltender duties from Sara Grahn, who departed Brynäs IF for rival club Lulea HF. Proving to be a very reliable replacement, seeing action in 20 regular season games, she had long established herself as an assiduous goaltender. During her collegiate years with Rensselaer Polytechnic Institute (2007-11), she rewrote the program's goaltending records (holding 12 unique records), graduating as the team's Most Valuable Player.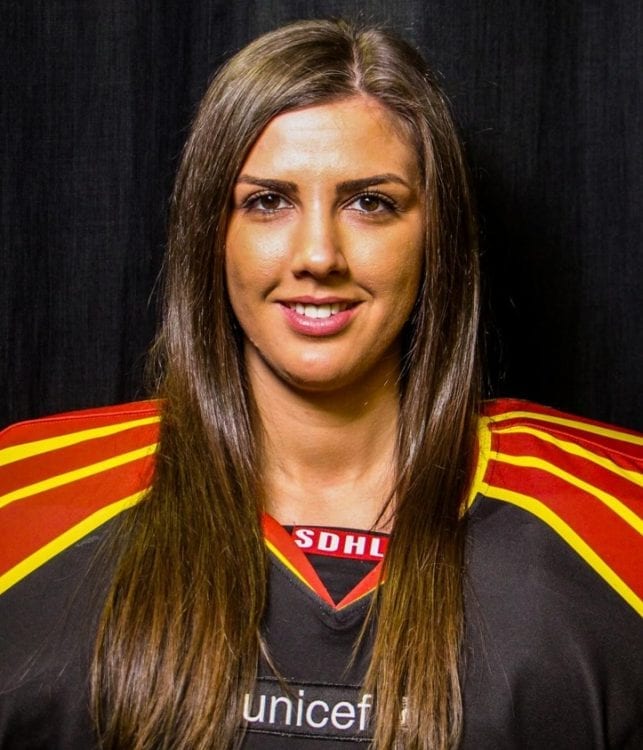 Possessing such an aspect of perseverance, one that carried on into van der Bliek's professional career, enjoying five solid seasons of CWHL play, such a solid body of work contributed towards more than an element of self-assurance. Remaining humble, she was highly respectful of the excellence that constitutes SDHL hockey, clearly one of the world's top female hockey leagues.
"I was confident but there is always an adjustment when you start playing in a new league and I knew that the SDHL was a quality league."
Considering that Canadian players have become a staple on rosters throughout the SDHL, allowing for new perspective and a different element of competition, simultaneously signifying the league's growing relevance. This chapter in league lore was composed in the aftermath of the 2014 Sochi Winter Games, when the likes of Bailey Bram and Jennifer Wakefield finished their seasons in the hockey mad nation.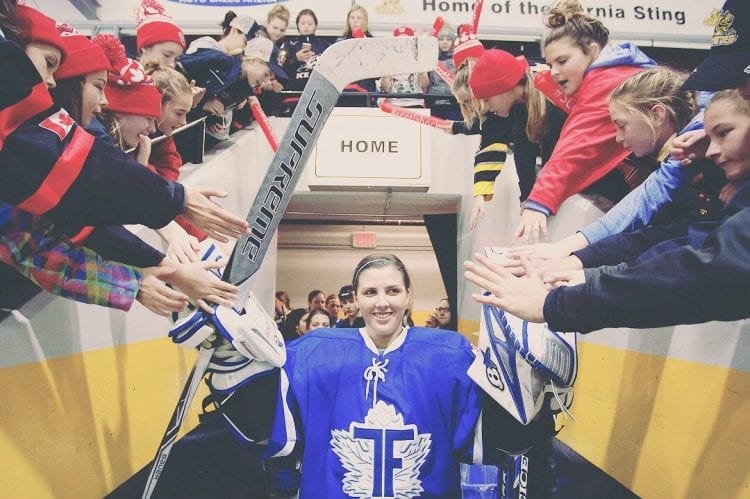 Fittingly, van der Bliek enjoyed the opportunity to call Wakefield a teammate in her first season with Brynäs, allowing for a unique tie to her professional roots. A former Furies player herself, Wakefield donned the blue and white jersey in the 2012-13 season, while van der Bliek appeared in 28 games for the franchise between 2015 and 2018.
In addition, the CWHL presence on Brynäs IF included Kayla Gardner, an alum of the University of North Dakota and former skater with the Calgary Inferno. Taking into account that none had ever been teammates prior to this season, another unique element of coincidence stemmed from the fact that all three were raised in the province of Ontario. Worth noting, there was another highly talented Canadian on the Brynäs roster, as Ivana Bilic, an alum of Bemidji State and former member of Canada's Under-22/Development Team, signed as a free agent, following her inaugural season of SDHL hockey with Modo.
"Yeah, it is always fun to play with familiar faces. I actually used to play boys hockey against Wakefield when we were 13 or 14 years old, but that's the first time we've been on the same team so it was a nice change to not have her scoring on me. She might have scored a couple of practice goals though (laughs)."
The experience of playing alongside her fellow Canadians encompassed only one part of the social element for van der Bliek. Gaining an appreciation for a highly relevant element of Swedish social activity, an element that she embraced whole-heartedly, it represented an integral part of her experience.
Known in the cultural vernacular as "Fika", the relevance of this custom is such that it is even utilized in casual conversation as a verb. On the surface, Fika may be interpreted by those not familiar with it as a "coffee break", but a deeper dive indicates that there is much more to the concept that just a leisurely and casual consumption.
Transforming the innocent indulgence of coffee and cake from a gathering of friends into a ritual woven into its cultural fabric, the social experience encompasses a feeling of community and support. Its values are essential as good business practices, integral towards team building and a gesture of kindness.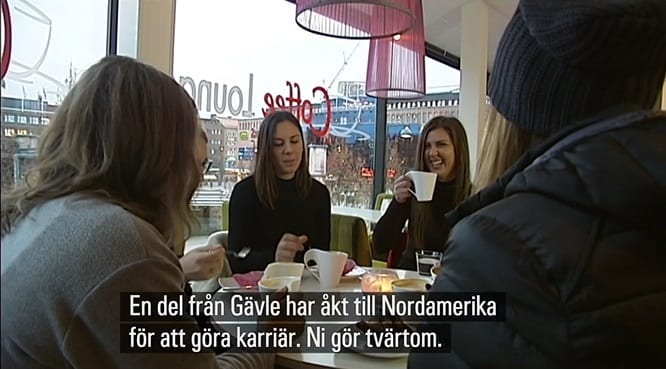 While it is preferred that the consumption of baked goods during Fika are homemade, with a high emphasis on good presentation, the phenomenon was one that certainly made a positive impact on the North American competitors that wear the colors of Brynäs IF. Worth noting, Bilic, Gardner, Savannah Newton, Cassandra Vilgrain (whose father once played for the NHL's New Jersey Devils), van der Bliek and Wakefield, discussed Fika on SVT Nyheter, a regional news program produced by Sveriges Television.
"Sweden is a beautiful country and I was impressed with how well Brynäs and the SDHL were run. It was great to learn about the Swedish culture, and I enjoyed my fair share of Fika while I was there."
Having shared goaltending duties during the formative years of her professional odyssey in the CWHL with the likes of Liz Knox and Sami Jo Small, exposure to such prominent figures, finding a positive influence alongside the more seasoned goaltenders, it paid positive dividends during the 2018-19 season. Certainly, van der Bliek's arrival in Sweden saw her mirror the impact that Knox and Small had on her, taking on the duties of seasoned veteran and role model.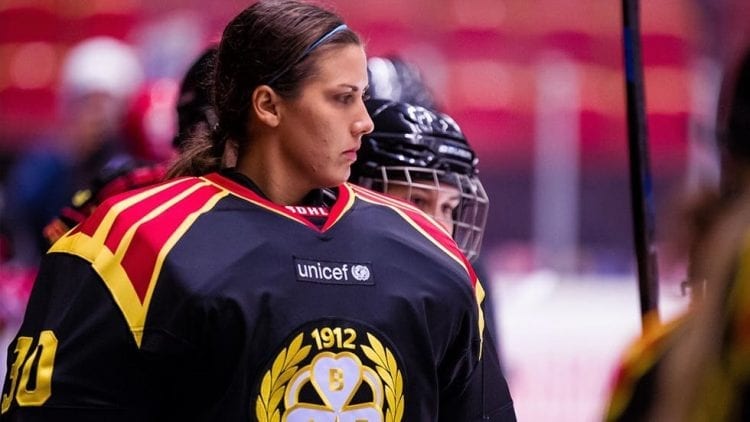 Calling 21 year-old Ellen Jonsson as her goaltending partner with Brynäs, she found a player with tremendous promise. As a side note, Madelene Tjernell, a 16 year-old phenom who competes for Valbo in Under-16 Division I play was the number three goalie. Having played for Sweden at the IIHF Under-18 Women's Worlds, Jonsson, who was raised in Söderhamn, an area well-known for its dominance in bandy, a variation of ice hockey, enjoyed a handful of appearances over the last few seasons of SDHL play.
As this season saw Jonsson make a career-high 20 appearances, signifying a breakthrough in her budding career, she benefitted tremendously from van der Bliek's acumen. Undoubtedly, a mutual respect between the two not only set a positive tone in the clubhouse, their collaborative efforts were essential for a club that battled through its share of injuries.
"Ellen is an amazing goalie partner. I felt like we were able to support each other throughout the entire season and she has a bright future ahead of her."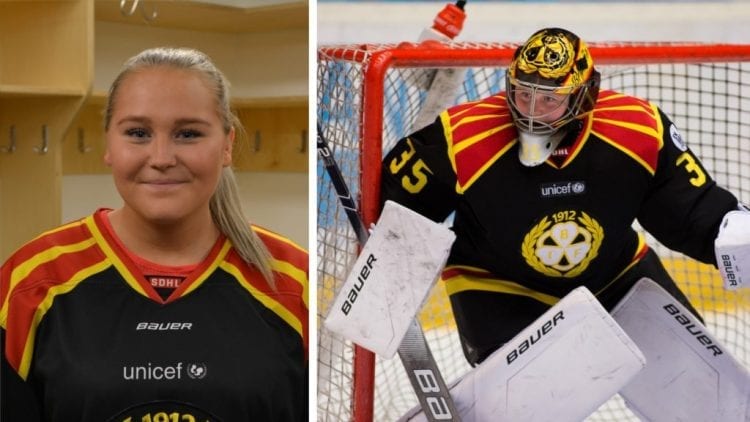 Enhancing van der Bliek's first season with Brynäs IF was the fact that the rebuilding club qualified for the postseason. With the top eight clubs advancing, while the bottom two, which in 2019 were SDE HF and Goteborg, facing off in the relegation round, seventh-place Brynäs IF challenged Modo in the first round.
Despite a sweep by Modo, van der Bliek is confident that future postseasons shall yield positive results. Acknowledging the role injuries played in a sometimes difficult season, van der Bliek's efforts between the pipes were essential in maintaining the team's hopes for a playoff berth. Enjoying a save percentage of .902 ranked among the league's top 20, while her goals against average of 2.70 also placed her among the league's best, she demonstrated the combination of poise and consistency which enables her to provide any team she plays with an important advantage when guarding the crease,
"We had a tough season with injuries but we got on a bit of a roll before winter break, knocking off top teams like Modo and HV71. Brynäs has been going through a transition to build up the women's team again, and it was exciting to be a part of an important building year for them. They'll be a successful team in the coming years."
"All quotes obtained first hand unless otherwise indicated"
Photo credit for featured image by Johan Dali
Related Articles