In the latter half of the 2010s, Lindsey Post enjoyed the opportunity to stand between the pipes for three unique teams, crafting an exceptional legacy. Reaching an exalted status in U SPORTS lore, leading the University of Alberta Pandas to the 2017 Golden Path Trophy in her final university game, the pride of Chelsea, Quebec followed it up with a sterling professional career.
Selected by the Calgary Inferno in the 2017 CWHL Draft with the 25th pick overall, only the seventh Pandas alum taken in the history of the Draft, Post was part of a gregarious goaltending triumvirate, including former Clarkson Cup MVP Delayne Brian and Regina Rams alumnus Toni Ross. Appearing in 13 games during her rookie season, highlighted by a 2.21 Goals Against Average and .913 save percentage, pacing all Inferno goaltenders in each category, Post's athletic sojourn would later head in an exciting new direction.
Following the closure of the CWHL in the spring of 2019, which saw the Inferno capture the league's last championship, Post, whose name is engraved on the Clarkson Cup, found a new team across the Atlantic. Signing with SDE (an amalgamation of former clubs Stocksunds IF, Danderyds SK and Enebybergs IF) with the Swedish Women's Hockey League (SDHL), Post was among a handful of former Inferno members donning its jersey for the season to come.
Even though this side is not forward facing, rest assured women's hockey fans, that the Inferno's 2018-19 win has been engraved on the Clarkson Cup! pic.twitter.com/AZrTE5YOh6

— Hockey Hall of Fame (@HockeyHallFame) November 16, 2019
Joining Post on the SDE roster, which features players from eight different countries (Sweden, Canada, Czech Republic, England, Hungary, Netherlands, Slovenia, United States), included Kelty Apperson, Kelly Murray, whose sister Eden also skated for the Inferno, plus former alternate captain Jacqui Pierri. With four fantastic competitors comprising this remarkable gathering of Calgary content, careers having gone from Prairie Canada to the municipality of Danderyd, found north of Stockholm, the presence of such familiar faces allowed for an enjoyable facet in the transition from wearing the Inferno colors, to the new paraphernalia of SDE.
Calgary ➡️ Stockholm @InfernoCWHL Transplants 🔥 ❤️ pic.twitter.com/fuyS2VjLlH

— Jacquie Pierri (@ouiweejacquie) October 10, 2019
Additionally, the roster included two other talented Canadians that have crossed paths with Post, allowing Enebybergs Ishall, the team's venue, to truly take on the sense of a second home, becoming a last bastion of Canadian culture. Having skated for the Manitoba Bisons from 2014-19, enjoying a Golden Path Trophy triumph in 2018, Alexandra Anderson was actually one of two Bisons grads in the SDHL. Erica Rieder, the Bisons captain in 2018-19 suited up for Modo, both distinguished rivals of Post during their university years in the Canada West conference.
Having spent four seasons in the Ivy League, skating for the Yale Bulldogs, Julia Yetman was in her rookie season for SDE. Akin to Post, her hockey roots are also in the province of Quebec. Born in Pierrefonds, Yetman skated for the prestigious Dawson College Blues, the same CEGEP which produced the likes of Catherine Ward and Marie-Philip Poulin. Such an import of tremendous talent definitely proved to be an integral aspect of SDE starting the season with 3 wins, trailing only HV71 for first place.
"Definitely, getting to play with people I had played with before made it a lot more fun. Along with the Inferno players, Murray, Apperson and Pierri, I actually played with Anderson and Yetman before as well so going into the season I was excited to get the chance to play with everyone again.
The biggest difference I noticed on the ice was that there was less emphasis on systems and more reliance on individual talent. Each team had a lot of very skilled players so you had to be aware when they were on the ice but the depth in rosters was sometimes lacking more so than in the CWHL."
Statistically, Post registered some very strong numbers. In addition to 19 games played, her GAA was a sparkling 2.01 while her save percentage was an impressive .942, allowing SDE an opportunity to not only remain competitive, but gain a highly historic postseason berth, an unprecedented first for the franchise.
Just as essential for Post was the opportunity to develop a strong rapport with new goaltending partner Sofia Reideborn. Entering her fourth season with SDE, Reideborn, who was raised in Stockholm, Reideborn, also played with AIK and is a veteran of two IIHF Under-18 Women's World Championships, including a bronze medal in 2016.
Worth noting, Riedeborn's brother Adam, a former goaltender with Djugardens, spent the last season in the KHL with Ak Bars Kazan, standing between the pipes truly a family affair. Enjoying 18 appearances, Reideborn complemented Post wonderfully. Comprising one of the best goaltending duos in league play, it was also a reciprocal situation where both supplied motivation to raise the quality of their excellent goaltending skills,
"What I liked most about having Sofia as a goalie partner was that we pushed each other to be better. It is always nice to have two goalies on a team that can win games because it kind of takes the pressure off if you get injured or are not playing well.
The option to have another goalie go in get the W is important. We were always very supportive of each other and that is critical for goalie partners."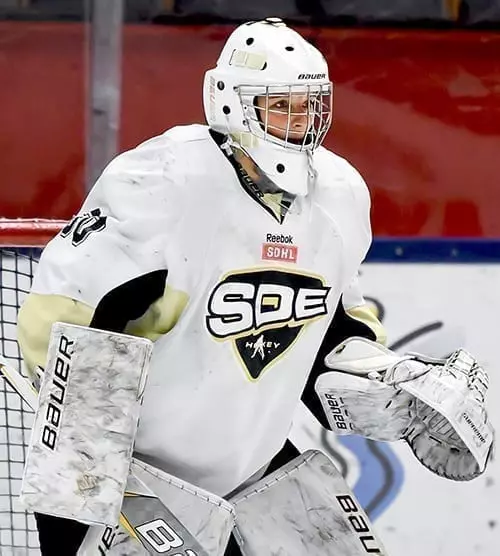 Reflecting on such a sensational season, one where Post affirmed her standing as a quality goaltender capable of being a starter in any league, her stature confirmed as she backstopped SDE to the postseason. Despite suffering a sweep against Brynas in the opening round, Post was a significant asset for a team reaching sixth overall in the league standings, providing her with a proud career highlight, simultaneously assuring her place in franchise lore.
Yet, Post proclaims that as meaningful as the achievement are on the ice, the social element off the ice, one which is essential in transforming the team culture and creating the bonds of friendship and unity proved to be highly satisfying. Managing to explore on days off, engaging in sight seeing and absorbing a different way of life and culture supplied just as many enjoyable moments. For a player of Post's talent, enjoyment emerged as a significant theme in such a superlative season, demonstrating how new heights are never out of reach,
"My favourite moments of hockey are usually never of hockey themselves but everything that goes on away from the rink with the team. I did a lot of traveling with teammates this year and those will be the memories I will cherish forever.
However, the best hockey memory from this year has to be clinching playoffs for the first time in team history. It was a proud moment for everyone in the organization and showed that hard work and dedication does pay off."
"All quotes obtained first hand unless otherwise indicated"
Related Articles