With a sterling list of achievements, including the Brodrick Trophy, a Clarkson Cup championship ring, Canadian Women's Hockey League (CWHL) All-Star captaincy, plus a gold medal from the Winter Universiade, perhaps the most impressive facet of Liz Knox's remarkable career is her strong leadership qualities.
Highly articulate with a sense of teamwork that extends beyond the ice, Liz Knox found an exciting and uplifting new purpose following her difficult and emotional decision to retire in the autumn of 2019. Remaining an integral character in the professional game, one of its most likeable individuals, Knox became enthralled by the opportunity to be part of its newest chapter, one filled with optimism and resolve.
Thank you @27Knoxy for taking the time to talk to my class today about the state of women's hockey and the @PWHPA 🚨 📸 by @KasieMurphy61 pic.twitter.com/FRYACfCd4R

— Dr. "Despa"-Szto (@courtneyszto) February 13, 2020
Instrumental during the start of the #ForTheGame movement, instilling hope that the future of the professional game becomes more viable, especially after the very abrupt and visceral closure of the CWHL, it was an extension of Knox's devotion to game and players alike. Revered for her standing as one of the leaders of the former Brampton/Markham Thunder franchise in the CWHL, she was also effective as a former co-chair of the CWHLPA.
Becoming part of the Professional Women's Hockey Player's Association (PWHPA), a positive ray of light in the aftermath of a dark chapter, was a natural fit for Knox. Among the nine player representatives on the PWHPA's board, which also includes fellow goaltenders Noora Raty, Kimberly Sass and Shannon Szabados, Knox also balances her hockey obligations with commendable duties as a volunteer firefighter in her hometown of Whitchurch-Stouffville, north of Toronto.
With the first PWHPA Dream Gap Tour showcase event taking place in Toronto during late September 2019, with Westwood Arena serving as the backdrop, there was a strong feeling of fulfillment, combining the element of surprise with a sense of celebration. In a fitting tribute, Knox earned the honor as one of four team captains, joining Brianne Jenner, Rebecca Johnston and Marie-Philip Poulin, truly taking a well-deserved place among the game's luminaries.
"It was totally unexpected to have a team named after me in the first showcase. I will admit I was a bit in disbelief when Jayna told me. It was a huge honour and such a powerful moment when I was able to see the players finally take to the ice after a summer of hard work to make it happen."
Although the Team Knox roster was comprised primarily of players from the former Toronto Furies, the Thunder's archrival in CWHL play, there remained an integral linkage to Knox's years in the Thunder jersey. Laura McIntosh, who called Knox a teammate during the Brampton and Markham eras for the Thunder, and a teammate on the 2018 Clarkson Cup championship team, served on the coaching staff alongside PJ Michael and Adam Redmond.
Throughout the 2019-20 season, as the PWHPA has also hosted events in New Hampshire, Arizona, Chicago and Philadelphia, one constant has involved the presence of former Canadian professional players, including numerous Thunder alumnae. Such impact took on greater meaning at the Magellan Women's Hockey Showcase in Chicago, as Thunder alumnae, Lori Dupuis and Jayna Hefford, the franchise's all-time leading scorer, were among two of the team captains.
Other Thunder stars prevalent on the frozen perimeter of PWHPA play have included Jocelyne Larocque, the last captain in franchise history, Megan Bozek, plus Jamie Lee Rattray, the recipient of the Jayna Hefford Trophy in 2018. Worth noting, Knox has even enjoyed the opportunity to interview Rattray at a Showcase Event, rekindling fond memories of glory years while allowing for an aspect of levity.
.@27Knoxy just being @27Knoxy! She does it all! Impressive Tendy, Commentator, Interviewer, PWHPA Board Member, Pro Comedian. pic.twitter.com/tH7ngfmdiD

— Evan Streifel (@Evan_Streifel) January 12, 2020
"For me, knowing the character of those girls, it is no surprise to see Markham well-represented in the PWHPA. These athletes believe in the importance of legacy and I am proud to see so many of their names attached to this movement."
Earlier this year, Knox's status as an ambassador in the game involved the special occasion to attend a special women's hockey exhibit at the Museum of Art and History in Orillia, including fellow guests Jenner, a 2018 Winter Games silver medalist, and a member of the CWHL's last Clarkson Cup championship team, plus Nathalie Rivard, a multiple IIHF gold medalist and former star with the Mississauga Chiefs whose current occupation involves service with the Ontario Provincial Police. Coincidentally, Jenner instructed Rivard's daughter at a hockey camp in the summer of 2019.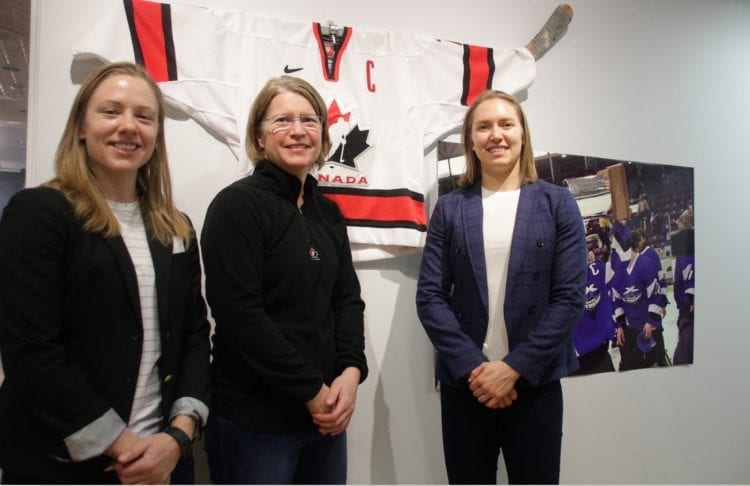 Dubbed "She Shoots, She Scores", celebrating the game's past with a fascinating display of artifacts, many graciously on loan from the Hockey Hall of Fame, including the stick that Jayna Hefford used in the gold medal game of the 2002 Salt Lake Winter Games, along with memorabilia from the iconic Preston Rivluettes. The presence of the guests emphasized a sense of cultural celebration, a real-life picture of the game's relevance in modern sporting Canadiana.
Providing a very important credibility and credence to an event which was equal parts educational and fascinating, while allowing Knox and her fellow hockey heroines a treasured forum to share their stories with an audience of hockey enthusiasts, such a privilege was greatly appreciated by Knox. While Knox, akin to Jenner and Rivard, has enjoyed the honor of wearing the Canadian jersey internationally, her career is truly the embodiment of the greatness that can be accomplished beyond such play.
With a remarkable professional sojourn highlighted by Knox's name engraved on the Clarkson Cup, assuring a place in the game's immortality, her focus remains on the positive message that women deserve to make a living wage in hockey. Undeniably, the raison d'être of the PWHPA, eager to usher in a new era built on equality and dignity, many of the stories shared by Knox are also an enlightening account of the tremendous impact held by non-Olympic players, part of a grand narrative in the millennial game.
That moment when you see a young girl get to play mini stick hockey against a former CWHL goalie. @27Knoxy is working to keep the dream alive for these girls. @PWHPA @TheDreamGap #forthegame #dreamgap pic.twitter.com/Nqx501Myqa

— Orillia Museum (@OrilliaMuseum) January 28, 2020
"It is important to me that when I am given the opportunity to have a voice, I take it. I think it is important to tell the non-national team side of the PWHPA and that is where my focus mostly remains. So it is always fun to see new audiences and help tell our story."
Part of the PWHPA experience also involves the fan experience. Highlighted by camps for young players, along with post-event autograph sessions, providing an accessibility for fans unprecedented in many other sports, allowing for a highly compelling human element that is equally satisfying for players, it simultaneously allows for reflection on the youthful dreams that the PWHPA's stars once had.
Encompassing the theme of inspiration, Knox was impressed by the number of young players in attendance, holding homemade placards showing their support in such a genuine and sincere fashion. Remembering her own ambitions from youth hockey, dreaming of breaking the barrier in the NHL, there is also a tinge of sadness in the fact that so many of the professionals idolized by today's youth involve the heroes from that same league.
Behind the scenes with Liz Knox, @PWHPA member! pic.twitter.com/gDbuIzj90j

— The Dream Gap (@TheDreamGap) October 17, 2019
Observing such devotion as a challenge, rather than a setback, it motivates Knox to continue and promote the positive message about the women's professional game, and its aspirations for a much more stable and prosperous outlook. Understanding that the future also involves a better set of circumstances for the next generation of players, the persistence and dedication of Knox is geared towards encouraging today's youth that the dream is within reach, one well worth fighting for.
"There is something about seeing young girls in their jerseys that gives us such a great sense of purpose. It really resonates because we can all remember being in their shoes (or skates, I guess).
At that age, I remember wanting to play in the NHL and the fact that many of these young girls when asked who their favourite player is, reply with an NHLers name kind of speaks to what little progress we have seen over the last couple of decades. It motivates us and inspires us to create space for their dream to play professional hockey."
Feature Image: The Dream Gap
All quotes obtained first hand unless otherwise indicated
Related Articles