Regarded as a highly skilled player, whose brilliant career has included a series of significant milestones, ranging from wearing the Maple Leaf with Canada's Under-22/Developmental Team to the prestige of the team captaincy with the St. Lawrence University Skating Saints, Karell Emard has also enjoyed a celebrated professional career. Enjoying the jubilation of a Clarkson Cup championship in 2017, plus participation in the Women's Winter Classic, the latest chapter in Emard's on-ice evolution has seen her become a celebrated ambassador for the game.
ROLE WITH THE PWHPA
Raising awareness towards a movement in women's ice hockey, a collective effort of more than 200 women that have formed the backbone for the PWHPA, Emard is among its most ardent supporters. Having spent the past season gracing the ice in numerous PWHPA events, including appearances in the highly popular Dream Gap Tour, the articulate and thoughtful Emard has taken on double duty.
In addition to the on-ice participation in various Showcase Events, Emard's devotion to the commendable cause of assuring a better future for the female game has seen her become a spokesperson for the Association. Emard, who is also a Product Hockey Manager for Sportlogiq, also served as a representative for her former club team, Les Canadiennes de Montréal, indicative of her strong leadership.
Certainly, the duties handled have encompassed a labour of love. Finding a tremendous inspiration in the presence of enthusiasts, young and old, whether it be the purchase of a ticket or a kind-hearted message of support on social media, the feeling of encouragement holds strong context for Emard. While the on-ice presence of the players instills a sense of importance that resonates with young players in attendance, such attendance is equally uplifting. Highly engaged in the dream of establishing a professional league that will supply more than a living wage, but a feeling of dignity and purpose, the stimulus to pursue such ambitions is reciprocal,
"I would say seeing the fans and parents that are there, that show up or write us notes to encourage us to keep doing what we are doing. To keep fighting for them, I would say that those little moments and smiles are what keeps us going and are what motivates us to create this true professional league!"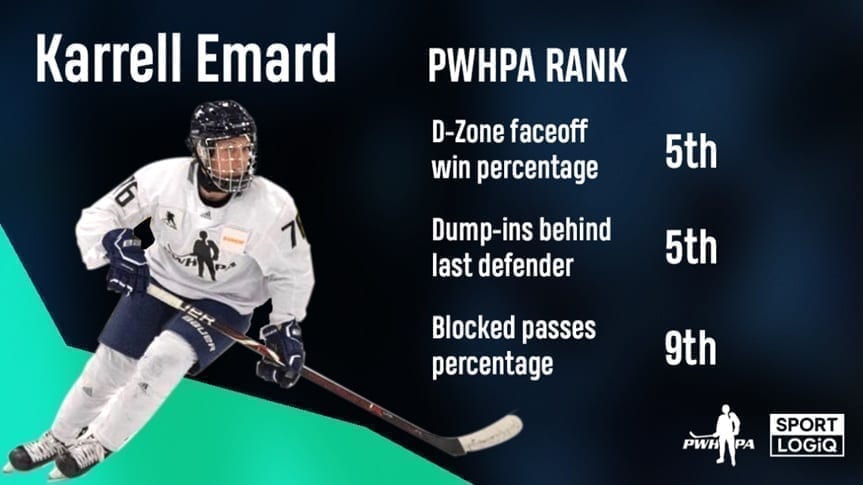 MONTREAL ROOTS
Regarded as a faceoff specialist, Emard has drawn comparisons to another talented skater from La Belle Province, Patrice Bergeron of the Boston Bruins. Indubitably, Emard's fundamentally sound game includes many versatile components, from being able to win face-offs in the defensive zone, to blocking passes, consistently capable of frustrating opposing lineups, an equally impressive consideration is the fact that she can line up at any five positions on the ice. Dubbed the Swiss army knife of women's hockey by Sportlogiq if there was a Selke Trophy in women's ice hockey, it would certainly have her name engraved on it.
Following three seasons (2012-15) spent on the Colgate Raiders coaching staff, Emard was claimed by Les Canadiennes with the 13th overall pick of the 2015 CWHL Draft, part of a draft class which included Marie-Philip Poulin, Katia Clement-Heydra, Leslie Oles and Alyssa Sherrard. For the native of Richelieu, Quebec, who appeared with Montreal's entry as a teenager in the original NWHL, wearing the Tri-Colore of Les Canadiennes represented attaining a very proud pinnacle.
Marking some of the most enjoyable, and empowering, times in her career, including the opportunity to appear on NHL ice in Ottawa (for two Clarkson Cup Finals), and Montreal's Bell Centre, for a  showdown with the Kunlun Red Star, Emard also crossed the Atlantic, participating in regular season games in Shenzhen, China.
In the aftermath of Les Canadiennes and its parent league ceasing operations, the PWHPA presented an exciting new intersection. Skating alongside numerous Canadiennes alum in Showcase events on both sides of the border, unified in the launch of a new era for the professional female game, Association events hosted in Montreal tapped into her competitive roots.
Debuting at the Unifor Showcase, held at Toronto's Westwood Arena from September 21-22, 2019, the experience rekindled fond memories from her glory years with Les Canadiennes. Skating on Team Poulin, the roster featured over a dozen alumnae from the franchise, also known colloquially as "The Fabs."
With the Unifor Showcase featuring a tournament style format, Team Poulin reached the Finals, facing off against Team Jenner, in recognition of team captain Brianne Jenner, a former member of the Calgary Inferno, whom Emard and Les Canadiennes challenged in three Clarkson Cup Finals (2016, 2017, and 2019). With Genevieve Lacasse between the pipes for Team Poulin, a 5-1 final saw Laura Stacey, a franchise player for the former Brampton/Markham Thunder, lead the way with a pair of goals, including the game-winning tally.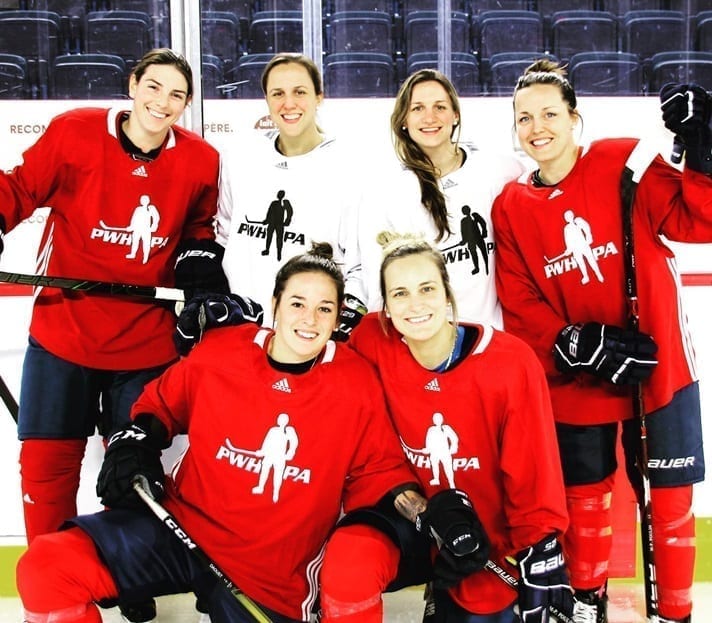 Calling Stacey a former CWHL rival as a teammate for the first time encompassed one of the unique elements that enhanced the sense of enjoyment during the Dream Gap Tour. With the innovation that involved a rotation of rosters at subsequent stops on the Tour, it allowed many players the precious prospect of calling each other teammates for the first time.
Certainly a defining feature for Emard, she also wore the Team Poulin jersey with another accomplished skater. Having graduated from the University of Wisconsin in 2019, winning an NCAA Frozen Four championship in her final game with the Badgers, followed by wearing Canada's colours at the IIHF Women's Worlds, Emily Clark was among a group of first-year professionals that opted to skate with the PWHPA.
Along with Stacey, both aligned with the group of Montreal-based players, participating in local events supported by the PWHPA. Undoubtedly, Clark's tremendous talents were not only a source of awe, Emard remarked how it added to the dynamic of a stronger team culture:
"They played in Montreal for us all year. They are such amazing players and even better people and teammates. So, it was a very enjoyable year and our group in Montreal, was and is still very special.
We push each other to get better every time we step on the ice together and we are all in this together for the bigger picture! It is awesome to be part of such an amazing group of women!"
PUCK DROP IN MONTREAL
Among the Montreal-based events, the number of high quality opponents, both male and female, ensured that the sporting calendar in the hockey-mad city remained focused on elite women's ice hockey. In addition to playing against local university women's teams, some of the finest in Canada, plus a late September tilt versus a men's team from the sports program at Cégep Andre Laurendeau, contested at Mount Royal Arena on November 24, another pair of other highly notable events represented season highlights that resonated with Emard.
During the holiday season, a post-Boxing Day affair saw the Montreal squad faceoff against a contingent of PWHPA players from Minnesota at Place Bell. It marked the first time that the two regions shared the ice since the 2011 Clarkson Cup playoffs. Taking place on March 24, 2011, the Montreal Stars defeated the Minnesota Whitecaps in a rematch of the 2009 Cup Finals by a 5-1 tally.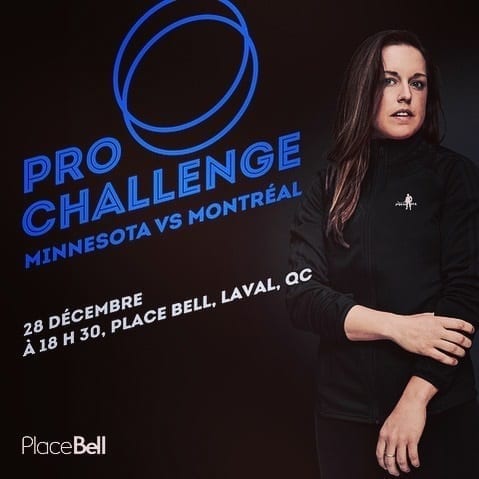 Additionally, another event consisting of world-class talent featured Montreal's PWHPA stars welcoming the Korean national women's team on October 26-27, 2019 in the suburb of Laval, who were also the host team at the 2018 Winter Games. With an event emphasizing sportsmanship and a continued effort to develop the game internationally, while raising awareness that on-ice talent exists in numerous corners of the globe, the event provided Emard with the chance to burnish her standing as an Association spokesperson, finding tremendous fulfillment in the chance to share the ice with a group of players looking to expand the sport in their own homeland.
"The Korean team was a sweet experience, it was great to host them here and show them a little bit more about our preparations and play with some of their players. I believe they had a great time!"
HUDSON, NEW HAMPSHIRE PWHPA SHOWCASE
Certainly, the theme of enjoyment took on a completely different complexion for Emard at another event. With a handful of PWHPA members from Montreal making the trek across the border, travelling 443 kilometres south to compete at the Dunkin' Showcase in Hudson, New Hampshire, the first ever American stop for the Dream Gap Tour. Contested in the US, Emard skated for Team Knight.. Reaching the Finals versus Team Stecklein, goaltender Kassidy Sauvé emerged as the deciding factor in a high-scoring 5-4 affair over Team Knight, playing all 60 minutes.
Providing an aspect of levity, a post-game interview dubbed "Question Jenga" was conducted which saw Emard and Poulin play the popular board game. With a tower of Jenga wooden bricks standing 2.5 feet tall, each brick had a question written on it. With both Emard and Poulin pulling a brick out of the configuration in order to read a question and reply accordingly, the progressive removal of bricks resulted in a wobbling tower, eventually tipping over with just 46 seconds remaining.
Among the highly interesting questions pulled by Emard, it provided a personal insight. From questions such as, what other sport would she play (Lacrosse), to what is her favourite television show (Grey's Anatomy), there was even a reference to the acclaimed series of Harry Potter books, asking which Hogwart's house would she reside in. From a hockey perspective, the most relevant question entailed the origin of why Emard wears her number 76, revealing that it was first given to her at a summer tournament.
Resulting in a unique exercise of team building, as Emard acknowledged that her acquaintance with Poulin is still rather nascent, allowing the opportunity for fans, and teammates alike, to know them on a much different level. Indeed, the concept of "Question Jenga" embodies one of the Association's qualities. Certainly, a significant element has involved discovering the game and its players in a distinct fashion. From the rotation of rosters, to a Board consisting of players from Canada, the US and Europe, along with the support of tennis icons and female sport advocates Ilana Kloss and Billie Jean King, such an inimitable series of actions has propelled women's ice hockey into a new direction, which sees an enthusiastic Emard immersed in this undertaking.
"It was during our New England showcase, they asked a few of us to play the game and Pou and I have not known each other for a long time, so it was fun to take part of that activity and show our fans something different than on ice performance!"
---

Related Articles