Krystie Woodyear-Smith was not sold on wearing hockey skates at first.
She was five years old when she first took to the ice on figure skates upon moving to Vancouver from New Zealand. It wasn't until her mom was convinced by a neighbour to join a league at their local Canlan Ice Sports facility that Woodyear-Smith got her first taste of hockey.
"I would go along and watch her games and tease that I would be better at hockey than her," said Woodyear-Smith. "Myself and two other friends decided to give ice hockey a try, so we got a small kit set from Canadian Tire and started joining in [with the North Shore Female Ice Hockey Association]."
NEW ZEALAND WOMEN'S NATIONAL HOCKEY TEAM
Today, Woodyear-Smith is a mainstay on New Zealand's women's national team (the Ice Fernz)—their 2020 roster had only one other player on it, Jasmine Horner-Pascoe, who has been around the national team program for as long as Woodyear-Smith has. Both Woodyear-Smith and Horner-Pascoe made their international debut in 2011, roughly five years after Woodyear-Smith returned to New Zealand.
Woodyear-Smith started training with the Ice Fernz at the age of 12. Shortly after, she joined the Canterbury Devilettes of the New Zealand Women's Ice Hockey League (NZWIHL) , which gave her an opportunity to play with and against the best players in the country from a young age. She also earned a trip to the 2010 IIHF Women's High Performance Camp in Finland and spent a few months training with York University's U SPORTS team in 2014.
Now 25 years old, Woodyear-Smith has been to every World Championship since 2011 (with the exception of the 2015 and 2016 tournaments, during which she was taking a break to finish her university degree).
"Krystie is a dedicated individual who always has a fantastic attitude," said Angelique Mawson, who has coached Woodyear-Smith both on the national team and the Devilettes. "She is a tireless worker on the ice… and she leads her teams well, with tenacity and hard work, but also a caring nature towards her teammates."
Woodyear-Smith was named an assistant captain of the Devilettes at the age of 16 in 2011, and then later named team captain in 2014. She has also served as an assistant captain on the Ice Fernz on numerous occasions. She credits her early experiences training with the national team as key to her development as a leader.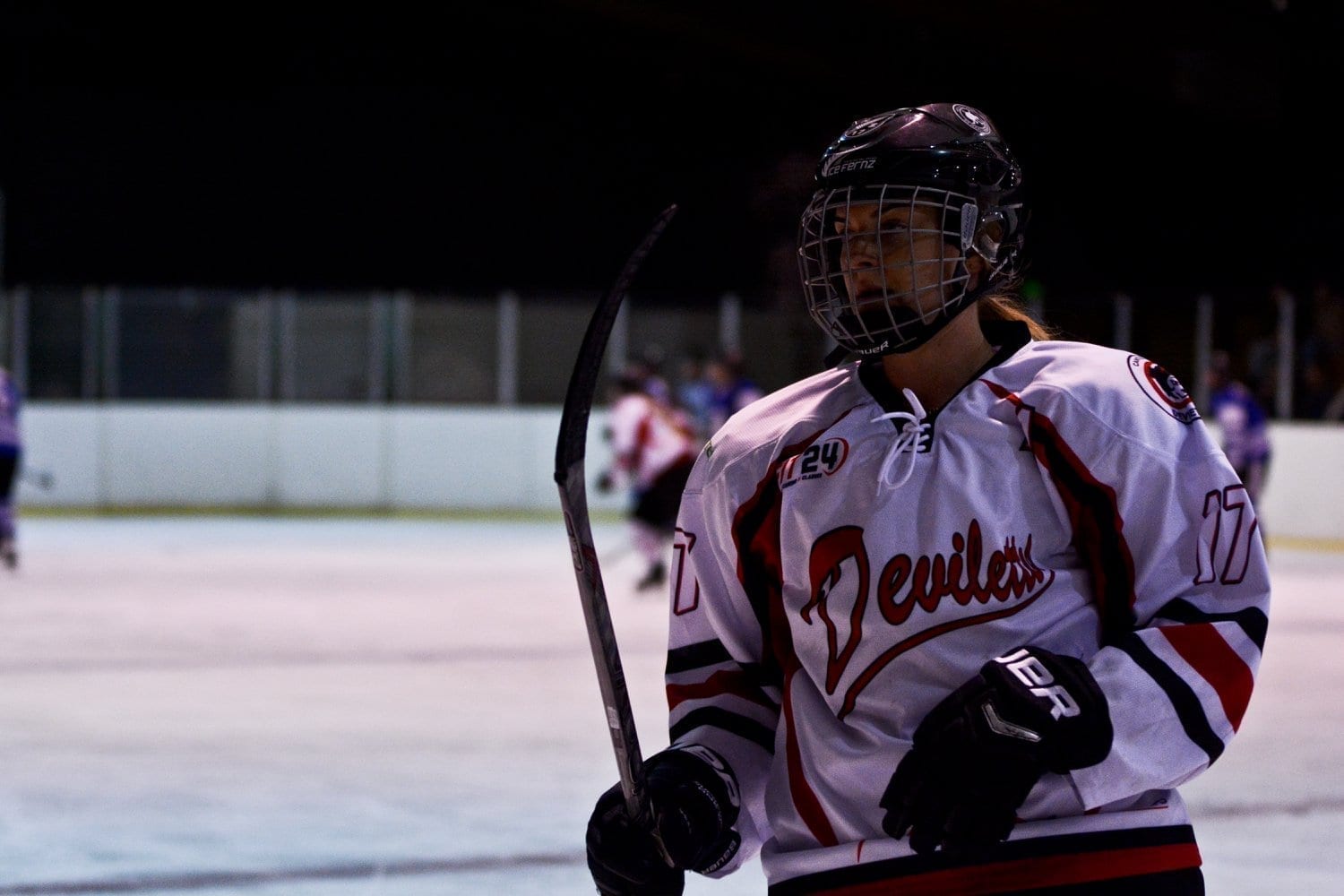 "We got to see how the girls interacted and how the veterans led the team, which ultimately led me into the leadership positions I have had over the last few years."
Now Woodyear-Smith is one of the team veterans, along with Horner-Pascoe and others such as Helen Murray and Rachael Neville-Lamb.
"Not many of the original Ice Fernz are still playing [at all]," said Woodyear-Smith. "All the rest have either retired or gone on to focus on their careers or start their family. [We've had] a solid group of players the last few years and this has made a huge change to the team and a chance for us to progress and build on our progress from the previous year."
"There continues to be a lot of younger girls coming up through the levels in each province [Canterbury, Auckland and Southern Region]. With continued development camps and implementation of the U18 team, this will continue to grow and benefit New Zealand women's ice hockey."
NEW ZEALAND ICE FERNZ IN IIHF PLAY
Many of these young players were part of the first cohort to experience New Zealand's relatively new U18 Women's Development Program, which includes gaining international playing experience at the IIHF Challenge Cup of Asia and is meant to serve as a feeder system for the senior team.
Among this group is 19-year-old inline hockey star Jana Kivell, who made her Ice Fernz debut at the 2020 Worlds and led New Zealand with five goals and eight points. A number of other young prospects also made their senior team debut this year, including 17-year-old forward Gabrielle Mills and defenders Sophie Harold and Rina Watt.
This year New Zealand won bronze at the Division II Group B tournament, finishing just behind Australia and Iceland. They were in the running for the gold medal going into their final game, but with a 7-1 loss to Australia, were bumped to third place.
The Ice Fernz have been stuck in Division II Group B for a while, having last played in Division II Group A in 2015. Their best showing since then was a second place finish in Group B in 2019. However, many, including Woodyear-Smith, believe that the program can make great strides over the next few seasons, especially with the growth of the U18 program and Canadian Rachel Park at the helm as senior team head coach.
"Rachel has been an absolute asset to our team," Woodyear-Smith said of Park, who came on board two seasons ago. "We have made incredible progress under her coaching."
It's been about 20 years since Woodyear-Smith first learned how to skate, and in that time she's honed her skills playing in Canada and New Zealand, and seen New Zealand's women's program progress from its early days to what it is today. This upcoming season she'll undoubtedly continue as she's always done, bringing her positive attitude to the Ice Fernz and the Canterbury Devilettes.
"I am so honoured to be a part of such an incredible group of ladies. It is amazing seeing the young talent come through and help us become better hockey players and come together as a close knit group."
New Zealand's senior national team is slated to compete at the 2021 IIHF Women's World Championship Division II Group B tournament in Zagreb, Croatia from March 7 to 13, 2021. The exact start dates for the upcoming NZWIHL season are still TBD and are likely dependent on the outcome of the COVID-19 pandemic.
Photos courtesy of Krystie Woodyear-Smith
Related Articles