With anticipation building over the return of professional women's ice hockey to Toronto, the most intriguing facet may involve the construction of the roster. Becoming the first Canadian team in the history of the current NWHL, Toronto's entry already has a strong local element to it.
After the acquisition of Kelly Babstock, a former NWHL All-Star with the Connecticut Whale, garnered significant headlines, equally prominent in Toronto Six's nascent history involves its "First Five". Shortly after the revelation that the NWHL would expand north of the border, a subsequent announcement saw five free agents signed.
Taking on the complexion of a local hero, Kristen Barbara, who grew up in Mount Hope, Ontario, played alongside the likes of Laura Fortino and Sarah Nurse with the Stoney Creek Jr. Sabres, was definitely a prized signing. Possessing a championship in the professional ranks, along with a positive attitude and commendable work ethic, the acquisition of Barbara complements the arrival of her new teammates. Along with the acquisition of goaltender Elaine Chuli, forwards Shiann Darkangelo and Taylor Woods, plus blueliner Emma Greco, the core of Toronto's expansion team quickly formed.
W🏒| @TorontoNWHL announced its coming for next season and one of their first signings is former York star defender Kristen Barbara! #lionpride #alwaysalion

Read more 🔽https://t.co/e1isgjN7xY pic.twitter.com/LfCpQXgGwg

— York Lions (@yorkulions) April 27, 2020
Having starred for Toronto's York University Lions, where Barbara played for head coach Dan Church, whose hockey résumé also included coaching with Canada's national hockey team, she became part of a lineage of distinguished competitors in program lore. Including the likes of Allyson Fox, Sari Krooks, Autumn Mills, Katie Quinn, Lisa Stathopoulos and Kelsey Webster among others, Barbara was a source of consistency on the Lions' blueline. Recognized as a national All-Rookie selection, and a multiple Ontario University Athletics (OUA) Second-Team All-Star, she would blossom into a key fixture on special teams, quarterbacking the power play unit
Racking up 71 career points plus 120 games played as a Lion, Barbara's efforts enabled her the opportunity to extend her hockey dream into the professional ranks. Initially skating for the CWHL club based out of Brampton, the relocation to Markham, found northeast of Toronto, saw Barbara make 56 appearances, becoming an ideal fit on the defensive unit. Employing her fundamentally sound approach and playmaking abilities, her inaugural season in Markham culminated in an opportunity to hoist the Clarkson Cup, comprising an exciting chapter in her professional journey.
We have 2 former @yorkulions in our organization and we couldn't be happier about it 🐾🦁

Hear from @WhkyYork Head Coach Dan Church on our signing of Kristen Barbara & drafting of Erin Locke pic.twitter.com/WleqF4CrEQ

— Toronto NWHL (@TorontoNWHL) May 6, 2020
More importantly, Barbara's time with Markham was one built on routine and defined by enjoyment. As the roster became a second family, sharing in a love of the game, ecstatic to play at a high level of competition, it marked an aspect sorely missed during the previous season, marking a key factor in Barbara's return to professional club play.
"I think the biggest factor for me was just to play good hockey! When you are not playing consistently for a season you get an itch to play again, and knowing that I will be on a team and in a team environment is humbling to think about, you miss that kind of stuff when you step away from the game!"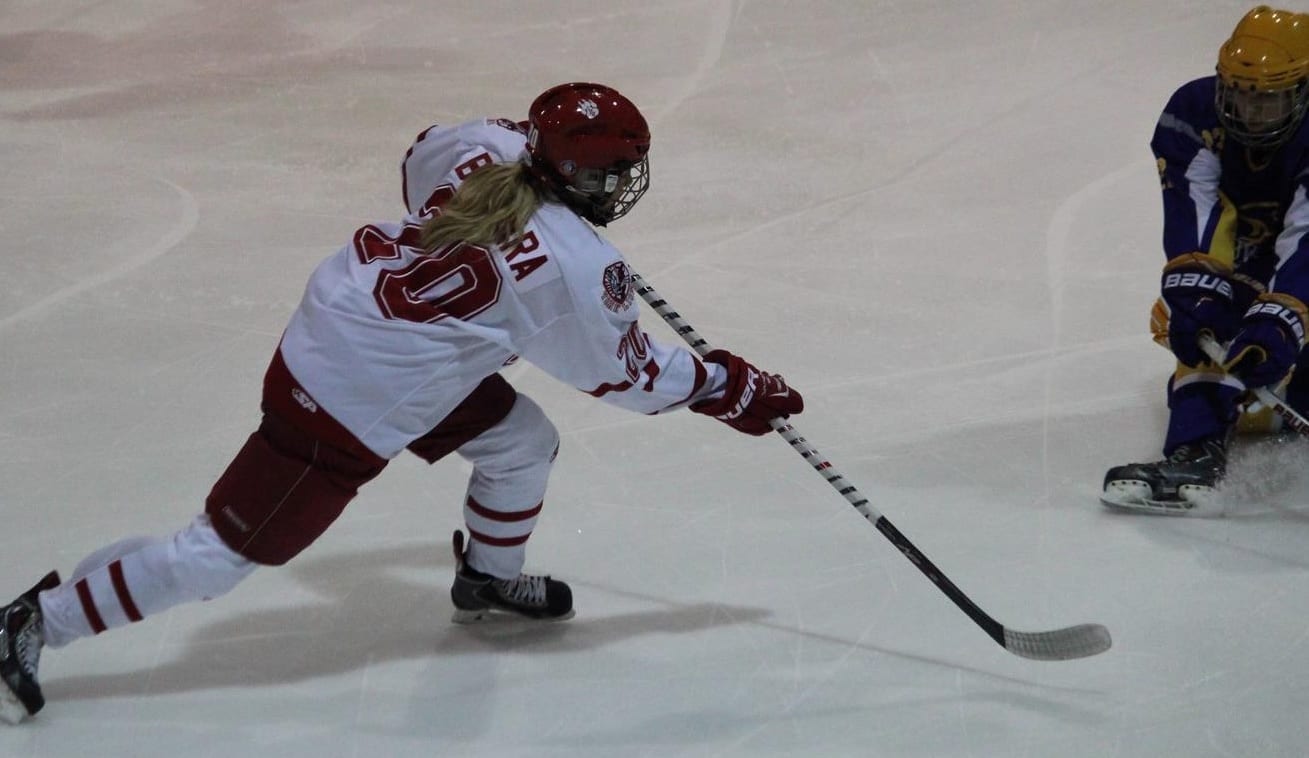 Certainly, Barbara's return is one where the feeling of family holds a unique effect. From the outset, she shall call Woods a teammate once again. Both part of the Clarkson Cup championship team, Woods, highly articulate and an ambassador for the game, was also an alum of Canada's Under-18 National Team. Providing the pleasantry of a familiar face, the two are poised to usher in an exciting new era for the professional game in Toronto, the prospect of duplicating their successes in Markham highly intriguing.
"It was awesome to see that Taylor had signed in Toronto, I am excited to play with her again. It is always nice to play with old teammates! Mostly excited to see what new hockey tricks she can show on the ice (laughs)."
Equally important is the highly treasured aspect of Barbara rekindling the magic of her university years. Heading into her inaugural season with the Toronto Six, fellow Lions alum Erin Locke, a member of the Class of 2020, shall join her. Selected by Toronto with the 15th pick overall in the 2020 NWHL Draft, Locke's Lions career was capped by a triptych of tremendous achievements. Starting with the privilege of team captaincy, Locke led the Lions to an appearance in the McCaw Cup Finals, while capturing the OUA version of the Marion Hilliard Award, recognizing leadership in the classroom and the community.
"Seeing Erin getting drafted to the Toronto NWHL was really cool to see. You do not hear or see many U SPORTS kids getting drafted to play pro hockey, so I think it was huge. Excited to step back on the ice with her again. She is a stud, and having played with her at York, it is nice to meet up with her again and play with her again!"
Equally important is the fact that Locke becomes an integral part of franchise lore, akin to Barbara. Becoming the first York Lions player selected in NWHL Draft history, Locke shares another unique brush with history. One pick earlier, the Buffalo Beauts took Autumn MacDougall from the University of Alberta. Together, they comprise the first players in U SPORTS, Canada's governing body for university hockey, selected in the Draft.
W🏒| Congrats to Erin Locke for being drafted by her hometown @NWHL franchise, the new @TorontoNWHL! She was selected in the 3rd round, 15th overall on Wednesday night. #lionpride

Read more 🔽https://t.co/HNNzQxhj3O pic.twitter.com/5LJtNTF3se

— York Lions (@yorkulions) April 30, 2020
Undoubtedly, the first meeting between the Beauts and Toronto shall be a date circled on the calendar. Geographically, Buffalo and Toronto are in the closest proximity among the six NWHL markets, providing the potential to develop one of the league's premier rivalries. In professional sport, only two other leagues, the National Hockey League and National Lacrosse League, have featured both Buffalo and Toronto as member cities. Therefore, an opportunity to create a new rivalry, let alone in professional female sport, is one that Barbara relishes, hoping to capture the imagination of hockey fans on both sides of the border.
"Always pumped for a rivalry, having Buffalo so close to Toronto it will be like having another home game!"
Another facet having motivated a driven Barbara involves the possibility of an Isobel Cup. Considering the Minnesota Whitecaps captured the Cup in their inaugural NWHL season, it certainly leads to optimism within the Toronto fan base. Although such thoughts may be ambitious, there definitely is an historic aspect brought to Barbara's attention.
While less than 20 women have captured both, the Clarkson and Isobel Cups, in a career, only one Canadian woman has achieved this unique achievement so far. Part of the Buffalo Beauts title win in 2017, followed by playing alongside Barbara and Woods when Markham won the Clarkson in 2018, Devon Skeats, holds a special place in professional women's hockey lore during the 2010s.
As a side note, Skeats was also a U SPORTS competitor, having skated with the Wilfrid Laurier Golden Hawks program in Southwestern Ontario (although she signed with the Beauts as a free agent). Certainly, the chance to hoist the Isobel is one that would bring Barbara's career full circle, enabling her to join Skeats in revered company, "I mean, it is always nice to win trophies . Would be super cool to have both pro championships under my belt!"
"All quotes obtained first hand unless otherwise indicated"
Related Articles