Welcome to Women's Hockey Life (WHL) Female Powerhouse Spotlight! Where once a month we highlight a former or current female athlete tackling the male-dominated industry! 💪 🏒
This month we had the pleasure of talking to professional hockey player and mental health advocate, Reagan Rust!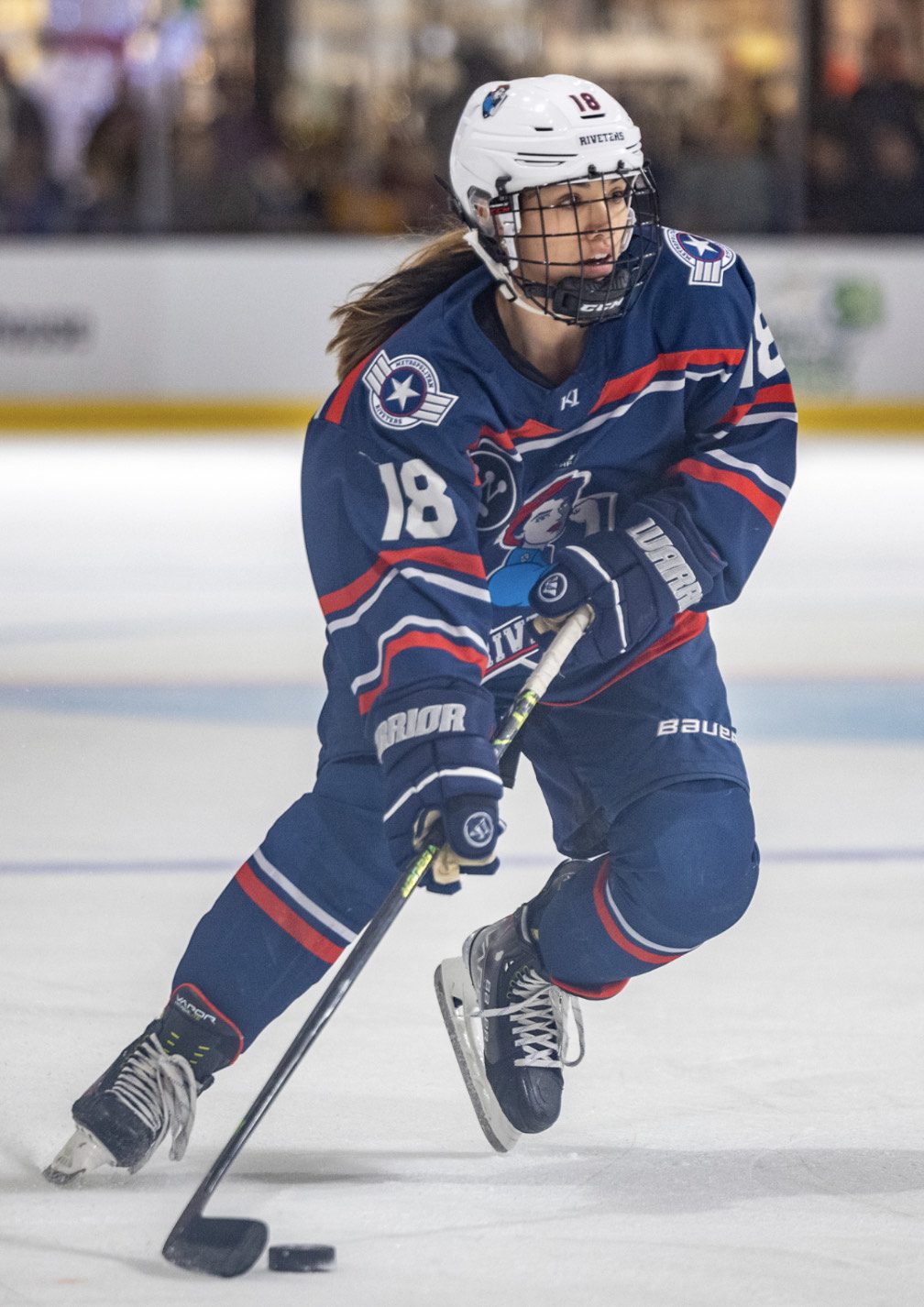 Reagan's hockey journey is quite outstanding to say the least.  Currently, Rust plays in the Premier Hockey Federation (PHF) for the Metropolitan Riveters. She was the first NCAA Division I women's ice hockey player to have come from the state of Mississippi, and is a member of the Beanpot Hall of Fame. Reagan's start in hockey began in Southaven, Mississippi with the Memphis Riverkings' program. From there she played all over the south, midwest, and north with the Memphis Blues, Pittsburgh Elite, and the National Sports Academy.  
Reagan's passion for hockey started with Memphis Riverkings games. "My aunt went to the Memphis Riverkings games when we were growing up, and my sister and I were fortunate enough for her to take us each time. It became a family event with my mom too. Eventually, we got to know all of the players on the team, and they invited us to join their rec league that they were starting" said Rust. "Growing up I mainly looked up to athletes people didn't know. Such as, Derek Landmesser and Don Parsons with the Memphis Riverkings. Once I got older and saw there were female athletes playing, I looked to Julie Chu, who's of Asian decent like me. I still have her signature that she gave me in 8th grade."
Reagan's hockey career has taken her all across the United States and the world! Jumping from Mississippi to Nashville, then from Nashville to Pittsburgh to Lake Placid, NY, and then back again to Pittsburgh before playing in Rochester, NY and Boston. From there, Reagan traveled to play in Budapest, Hungary, Stockholm, and Sweden before coming back to the USA and playing in NJ where she currently plays for The Metropolitan Riveters.
During Reagan's travels she played for three youth teams, two universities, and four professional teams. To name a few, Rust played professionally in Sweden with SDHL's AIK club, and starred at the NCAA level with the Rochester Institute of Technology Tigers along with the Boston University Terriers, where she was team captain. During this time Reagan also won the 2019 Beanpot title. "It took a lot of hard work and sacrifice to get where I am, as well as using the connections I've made along the way to find new teams" said Rust.
Outside of her outstanding hockey resume, Rust also has a passion for helping others and spreading the importance mental health. This passion lead to the founding of Female Athletes Society – A place for female athlete's to access 100+ mental health resources, tips on the mental side of the game, recruiting, and more!
"After I got back from Budapest, I was looking for a way to help the next generation. I put out a TikTok that went viral about helping people along their journey. I received thousands of DMs on Instagram and TikTok asking for help on confidence, motivation, workouts, mental performance, etc. That was when I knew I needed to find another option. That's where Female Athlete Society came into play. It's a place for female athletes around the world to get free resources."
While speaking with Reagan, we asked her if she could go back in time would there be anything she would have done differently? Her response was that she wouldn't change a thing. She enjoy's where she ended up, and is a firm believer that everything happens for a reason. We also asked Reagan if she could provided some life/ career advice for other women and or young girls and what in her opinion does it take for a woman working in male-dominated industries to succeed? Her responses were as follows;
"Nobody knows what they really want to do. There's no pressure to have it all figured it out. Try different things, pick up new hobbies, eventually you'll find something you're passionate about it."
"Follow your gut when it comes to making decisions. Don't compare yourself to others along your own journey. It's not going to be easy, but if you put in the work and make quality connections, eventually things will go your way. Your preparation becomes your biggest asset."
"If you really want it, you'll be able to make it happen. Break up the process into smaller pieces and take it one step at a time."
–
You're an incredible person Reagan! You're changing the world for the better, keep doing what you are doing! ❤️ 💪
–
More on Reagan:
Mental Health Resources:
–
"All quotes obtained first hand unless otherwise indicated"
In this article:
#InspireTheNext
,
#MentalHealth
,
#NCAAD1
,
#PayingItForward
,
#PHF
,
#ProHockey
,
#SDHL
,
#UniversityHockey
,
#WomenInSport
,
#Womenshockey
,
#WomenWorkingInSport
,
grow the game
,
Hockey
Related Articles