The inaugural season of the PWHPA's Dream Gap Tour, provided fans and newcomers the ability to witness some of the best players in professional women's hockey battle head to head with one goal in mind: showcase women's hockey on a high platform for young girls to see they have a future in the sport. Over 100 players represented a variety of skill levels from post-NCAA players to National Team members from both the U.S. and Canada, former CWHL player, Nicole Anderson was among them.
A Minnesota native, Anderson began her NCAA career in Rhode Island at Providence College as a forward for the Friars. As a freshman she appeared in all 35 games that season and led her freshman teammates with the most goals, racking up a total of 11 overall. Her efforts earned her the recognition of Hockey East Player of the week twice throughout the season. As she continued, she proved how strong of a player she was by having successful seasons each year. During her senior year, she played all 36 games and led the team in goals and points. She accumulated 35 points with 19 goals and 16 assists and to no surprise was awarded Most Valuable Player and ended her season on a high note.
After a six year gap, Anderson became a player on the Worcester Blades in the CWHL.  She ended her first and only season with 2 goals and 2 assists. Unfortunately, since the CWHL ceased to exist after 2019, it left a lot of players without a place to play in a professional league.
Anderson was eager to continue playing hockey and the PWHPA was a great avenue for her to continue her journey. She stated she was #ForTheGame because she wants young girls to see that they can have a place to play professional women's hockey.
She explained how much fun she had while playing at various stops on the Dream Gap Tour, "Competing with the best players in the world is always an amazing experience and competing with my past teammates from the Worcester Blades and Providence College is a lot of fun. It reminds me, in the end, we are all one family with one goal to create a better future for the sport that brings us all together."
The PWHPA had various stops throughout the year, but Anderson said Philadelphia was her favorite and who could argue? The Philadelphia Showcase was quite memorable as the PWHPA worked with Flyers Charities and the Ed Snider Youth Hockey program to help make the weekend unforgettable. This showcase also featured high energy sold-out crowds for all four games over the two-day weekend.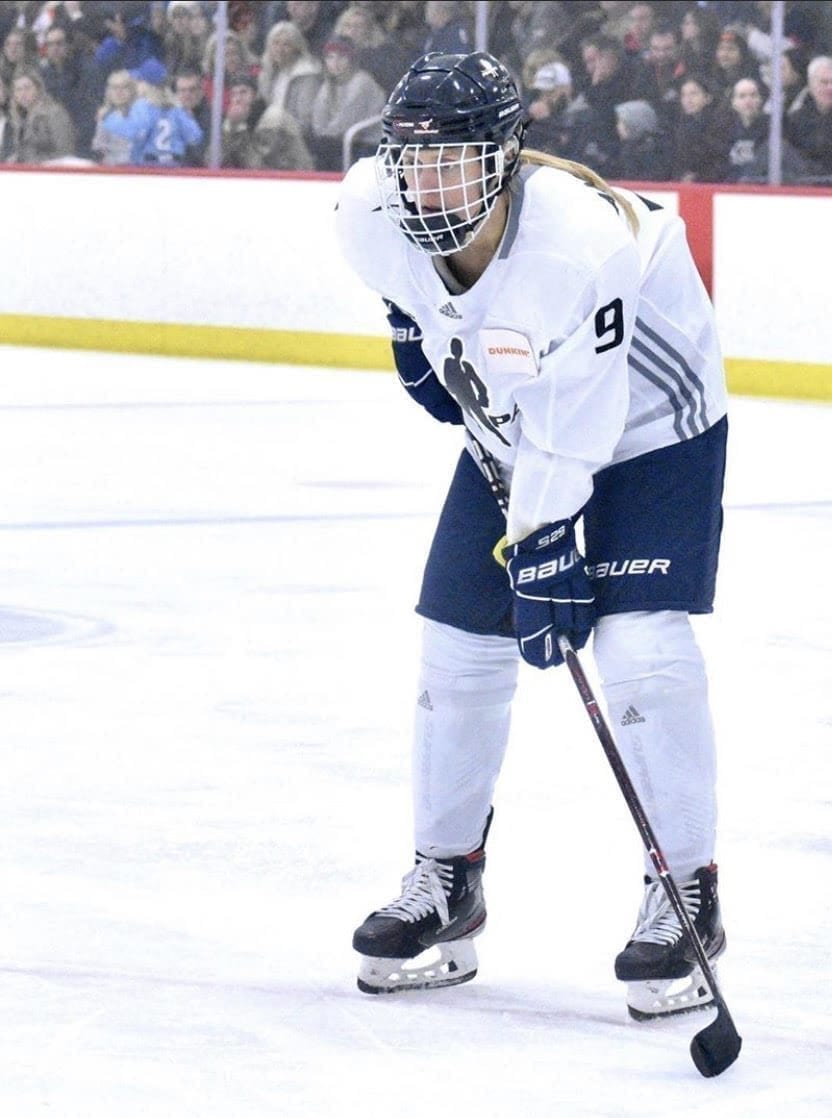 (Nicole pictured in the Philadelphia DGT stop)
"…Because of the overwhelming support from the community and getting the opportunity to skate with and meet some of the youth from the area was an honorable experience," Anderson elaborated further about playing in Philadelphia. The energy she experienced throughout each Dream Gap Tour stop was unmatched to any other hockey games she has participated in.
With her recent official announcement of her return to the PWHPA, she has been doing what she can to keep in shape despite closures and restrictions due to COVID-19. While quarantined, she has been conducting workouts in her mini gym she created in her garage. She has to fit her workouts in around her busy full-time work schedule while she also completes school work as a 3D animation student.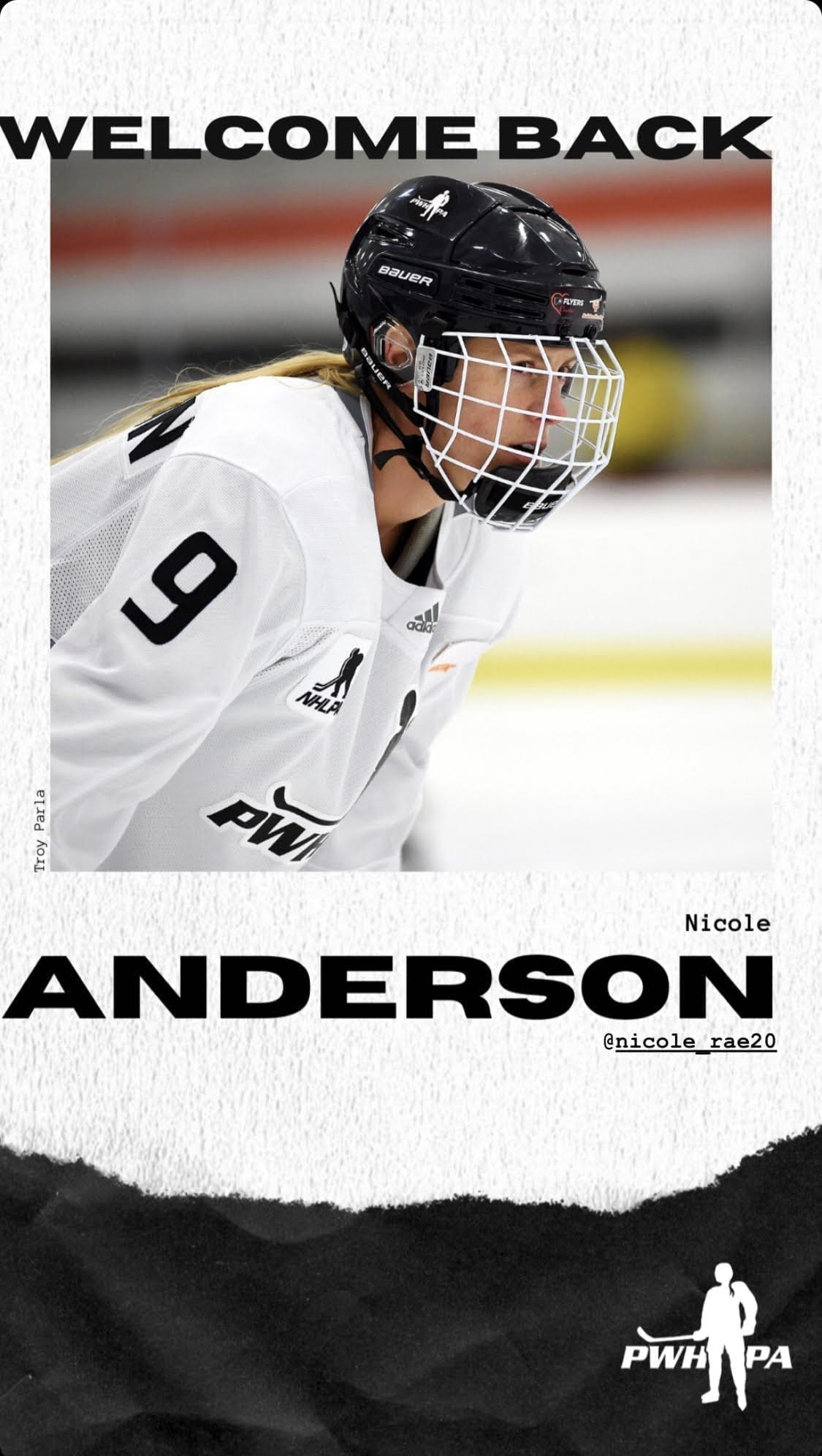 She discussed what she enjoyed the most about the PWHPA overall and what the future may entail, "A great foundation for our organization has been built but I think we can take what we have built this past season and only make it bigger and better for next season to continue to show people what professional women's hockey is all about."
It couldn't have been said any better and with the recent member announcements, the next PWHPA season is sure to be quite incredible. Fans should keep their eyes peeled for Nicole as she continues to play #ForTheGame and inspire young girls around the world to keep fighting for their dream to be a professional's women's hockey player.
---

Related Articles