One of the most accomplished and likeable skaters to have worn the York Lions colors, holding a prized place in program lore, Erin Locke's final season affirmed such a standing. With 109 regular season appearances over the course of five fantastic seasons, her dependability and consistency served as the pillars in a brilliant career, exemplifying leadership and character.
Having led the Lions in scoring on three separate occasions, Locke, who is specializing in Kinesiology and Health Sciences, is also revered as a multiple U SPORTS Academic All-Canadian. During the summer of 2019, Locke added another prestigious milestone to her sterling career, landing a place on the U SPORTS All-Star Team that competed at Hockey Canada's Summer Showcase in Calgary.
Belonging to a graduating class for the 2019-20 season which includes Avery Reeves, who served as an assistant captain, plus Christina Chin, Eva Hall, Kayla Hosegood and Sarah Power, Locke was bestowed the honour of the team captaincy, a fitting reward complementing a revered run in the Lions jersey. Setting the tone for a dream season, her leadership was a key component in the Lions' turnaround season, placing third in the OUA Conference, firmly entrenched as a nationally ranked program, the captaincy also provided a highly emotional component for the proud Locke.
During the 2016-17 Lions season, older sister, Amy Locke, also a U SPORTS Academic All-Canadian, served in the same role. Coincidentally, older brother Eric Locke, a former captain with the OHL's Saginaw Spirit, enjoyed the privilege of being a team captain twice in U SPORTS play.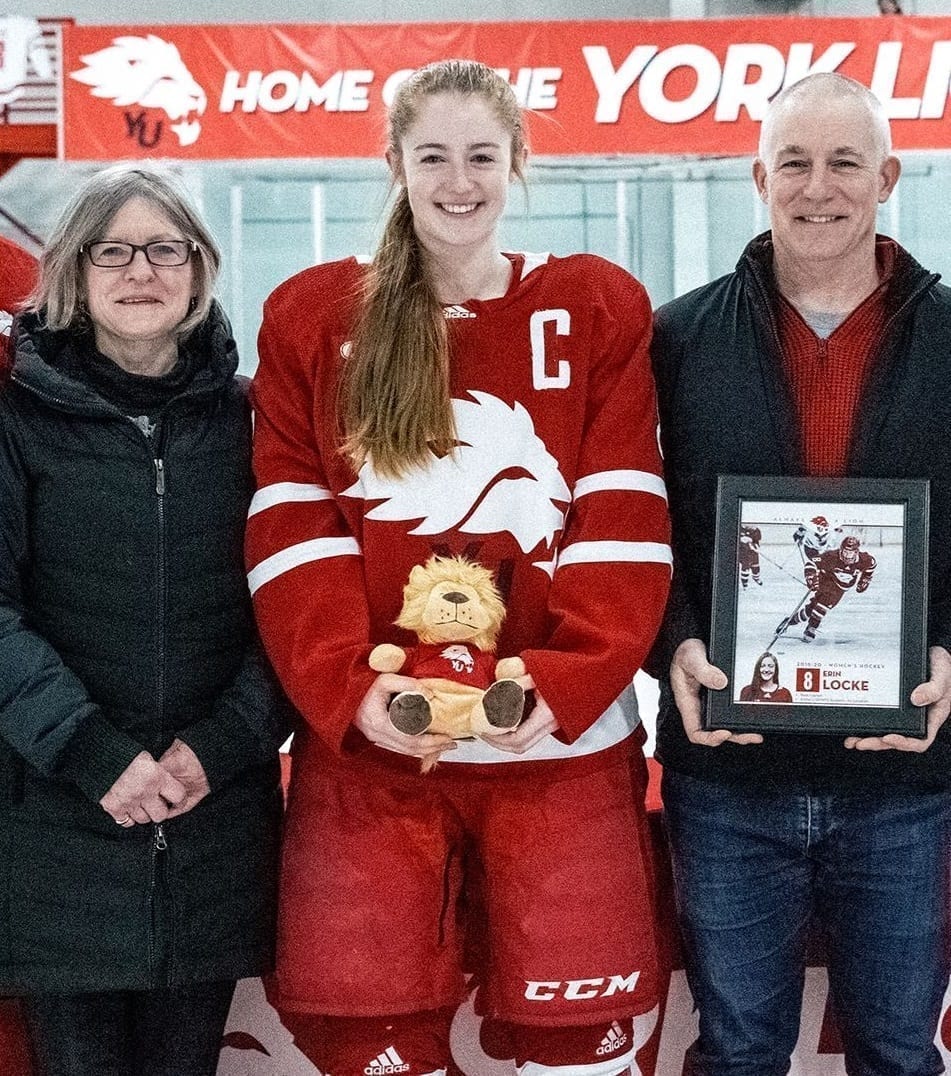 "It was an honour to be captain in my final season. We had such a special and amazing team this year, everyone was incredibly supportive of each other. My coaches and teammates were committed to our team goals and willing to put in the work into accomplishing them. I am grateful I was able to be part of this amazing team and will cherish all the memories I have made this season."
2019-20 SEASON STATS
Although Locke was not able to match her career high of 20 points, set in 2018-19, ranking 10th overall in the OUA conference, her value from a statistical standpoint remained highly evident. The Lions were a phenomenal 7-0 when Locke logged at least one point this season. Starting with an assist in a 4-2 win versus OUIT on October 25, 2019, she would record a respectable three-game scoring streak from October 31 to November 7.
Said streak started with back-to-back shutout wins versus Brock, which saw Locke score her first goal of the season, and cross-town rival Ryerson, concluded by a pair of assists in a 4-1 road win versus Laurier, her first multi-point effort. Additionally, the final game before the holiday break, hosting the Nipissing Lakers on November 30, Locke scored the game-winning goal in a 6-3 outcome.
Coincidentally, Locke's final regular season goal in the Lions jersey, taking place at the Canlan Ice Sports Centre, occurred against Brock. The January 25 contest saw Locke record the third goal of the game, with Ilena Ricker-Singh gaining the assist. Adding to theme of coincidence was the fact that both shutout wins versus Brock saw Lauren Dubie between the pipes.
2019-20 PLAYOFFS
Statistically, Locke was more proficient in the postseason. With the Lions qualifying for the OUA Playoffs for the first time in nearly a decade, what followed was a magical run that established the Lions as one of the university's most inspiring stories of the athletic season.
Sweeping the Waterloo Warriors in the opening round, Locke logged an assist in the first game, a 5-1 triumph. Building on the momentum, disposing the Nipissing Lakers in the semi-finals, Locke recorded a goal and assist in each game, prevailing by a cumulative score of 11-4.
As a side note, Locke's final goal as a Lion would take place in the second game versus the Lakers. Taking place on February 29, the Leap Year Day match would see Locke score on goaltender Danika Ranger at 9:39 of the first period, capitalizing on a power play opportunity, assisted by Taylor Coward and Caroline Eagles.
In recognition of her strong contributions, an offensive catalyst ecstatic at the opportunity to reach the elusive playoffs in her career, Locke gained well-deserved acclaim as the York Lions Athlete of the Week, burnishing her standing as team captain.
W🏒| We honoured 6⃣ graduating players from @WhkyYork on Friday night. Congratulations and thank you to Erin, Avery, Sarah, Christina, Eva and Kayla! #yorku #lionpride #whanau #alwaysalion

Read more 🔽https://t.co/Cm73AWJ1Dp pic.twitter.com/jJ0vyY7gCc

— York Lions (@yorkulions) February 10, 2020
Advancing to the McCaw Cup Finals, dubbed the "Subway Series", as the Lions opposed long-time rivals, the cross-town University of Toronto Lady Blues. Despite the fact that the Lady Blues prevailed on their home ice in a 3-1 final, such a hotly contested match was one where the outcome could have been in any team's favour.
Despite the unfortunate aftermath of the Finals, there remained some strong points of pride. The 2019-20 edition of the Lions became the first in history to reach the U SPORTS Women's Ice Hockey Nationals (cancelled due to COVID-19), marking a pinnacle for the program while elevating it to a level of prominence in the University's athletic community.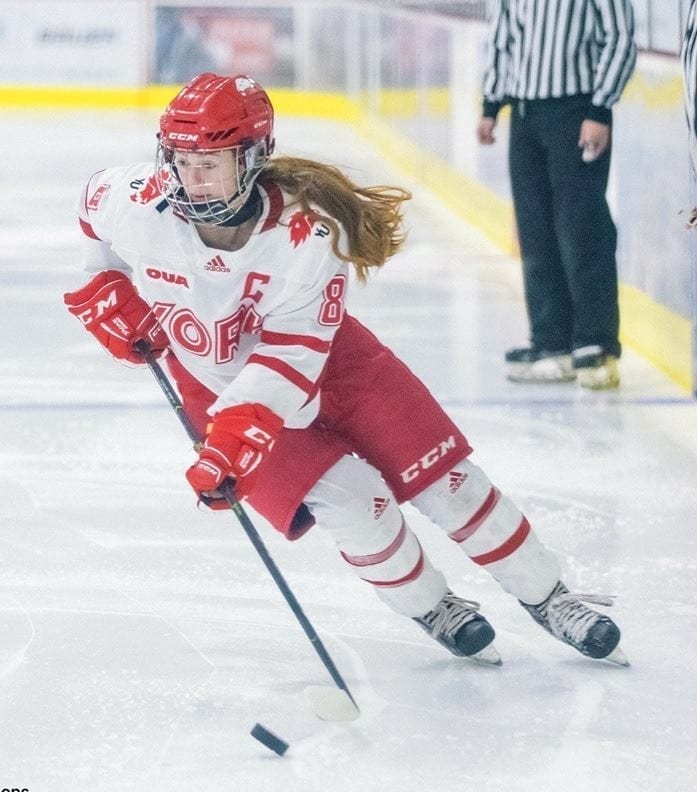 "The run to the McCaw Cup Finals was some of the most exciting and rewarding hockey I have ever played. Having never had an opportunity to play an OUA playoff game before this season, we were fuelled by excitement that led to every player giving it their all every shift. I am so proud of all my teammates for all their hard work and dedication that allowed us to accomplish our goals this season, including making it to the McCaw Final."
YORK UNIVERSITY AWARDS
Putting the crowning touch on Locke's career, the appearance in the McCaw Cup Finals was prologue for a series of cherished acclaims, bringing a celebrated closure. Along with volleyball player Tara Leithead, also President of the York Sport Council, both were awarded the Lions Legacy Award. Additionally, they were nominated for the University's Bryce M. Taylor Award.
Also winning the OUA version of the Marion Hilliard Award, in which all U SPORTS Conferences recognize a student-athlete for their contributions to the community, it marked the second straight season that a Lions skater captured said Award. Of note, the 2019 recipient was Jenna Gray, who served this season on the Lions' coaching staff.
Proudly volunteering at St. John's Rehabilitation Centre in Toronto's Sunnybrook Hospital on a weekly basis, Locke is also highly prevalent on the York campus as a Providing Athletes with Winning Strategies (PAWS) mentor, partnering senior athletes with an incoming freshman, enabling them to undergo the transition to university, which also includes an academic function.
In addition, Locke is also involved in the Lions growing partnership with the admirable Hockey Education Reaching Out Society (HEROS) hockey initiative. Geared towards outreach support, providing opportunities that otherwise would not have existed for local children to participate in hockey. Founded in 2000, over 10,000 boys and girls have benefitted from this cause, one that perfectly captures Locke's compassion and consideration for others.
"I was very humbled to receive the Marion Hillard Award this year. York University Athletics provides a great framework for not only shaping students into scholars and amazing athletes but also great community members. I would not have received this award if it was not for my teammates and coaches supporting me over the five years."
NWHL DRAFT PICK
Here's @NatAchon of the @IndianaFever to announce the 15th Overall Pick for @TorontoNWHL 🇨🇦@WNBA // @TheWNBPA pic.twitter.com/dpkUjJCR4l

— NWHL (@NWHL) April 29, 2020
Following such a series of accolades, Locke was selected by the expansion Toronto Six with the 15th overall pick in the 2020 NWHL Draft, which was announced by Canadian-born basketball player Nathalie Achonwa, who competes with the WNBA's Indiana Fever, it marked the first time that a Lions graduate was selected in said Draft.
Fittingly, Locke's selection added to a feeling of national pride in U SPORTS hockey. Taken one pick ahead was Autumn MacDougall, a First-Team All-Canadian with the Alberta Pandas. Claimed by the Buffalo Beauts, who are destined to become an archrival for the expansion Six, MacDougall became the first-ever U SPORTS player to earn NWHL Draft Pick status, intertwined with Locke in a unique chapter in Canadian women's ice hockey.
"It was an honour to be drafted in the NWHL and to be the first York player to be selected. I am excited for the opportunity with the league as they expand into Canada."
Featured image by Jojo Qian
Related Articles