Having been part of the York Lions defensive unit for five seasons, Jenna Gray embodied the persona of durability, never missing one game throughout her run with the program. Recording an impressive 120 appearances, Gray's sporting resume includes a significant role in the Lions leadership structure. Beginning as an assistant captain during the 2016-17 season, two seasons in the capacity of team captain followed.
Such leadership was accentuated by Gray's role as a York Sport Council executive, along with helping to spearhead the team's Halloween for Hunger event in 2018, while her work ethic was just as evident off the ice. Earning Academic all-Canadian honors in 2017-18, the acknowledgement shown towards Gray, a criminology major, was an empowering prelude towards a career-defining milestone.
For the second consecutive season, a team captain from the Ontario University Athletics (OUA) Conference captured the U SPORTS Marion Hilliard Award. The convivial Gray earned the honor, a crowning achievement in a proud career that included a spot on the 2019 OUA Conference All-Star team.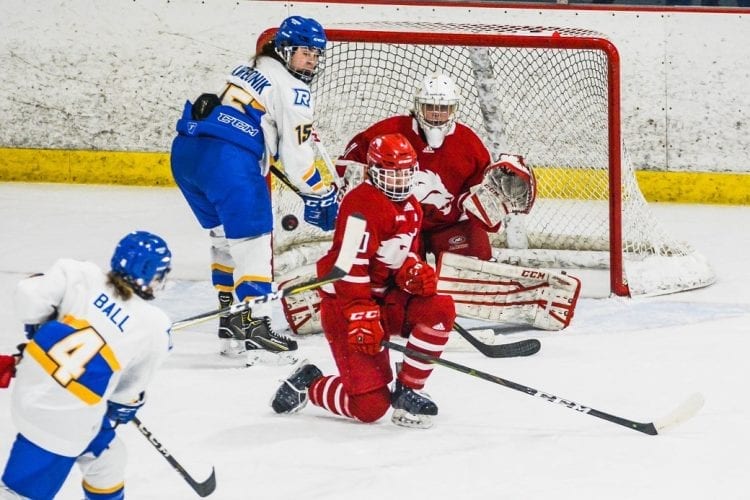 Following in the footsteps of 2018 Award recipient, Ailish Forfar, who served in the capacity of captain for the cross-town rival Ryerson Rams, complemented by skating for Canada at the 2019 Winter Universiade, Gray bookends a unique aspect of Award lore. Both of these wondrous women became the first players in the history of their respective programs to reach such a prestigious pinnacle.
"To have won the Marion Hilliard award was a great acknowledgement for many of the things I have committed a lot of time to beyond athletics here at York.
I was genuinely shocked when I found out that I had received the award. I hope that by receiving this prestigious award that I lead the way for my teammates and fellow Lions to follow and do even more than I."
Of note, Gray, who also captured the OUA version of the Award, was among a group of nominees for the 2019 edition of the Award, which included distinguished hockey humanitarians from the three other conferences in U SPORTS play. Representing Atlantic University Sports was Kiana Wilkinson from the Saint Mary's Huskies, whose efforts have included giving her time to the Ronald McDonald House and the Out of the Cold homeless shelter, among other many kind initiatives.
Emilia Cotter, a member of the RSEQ's McGill Martlets, was recognized for a pair of heartwarming efforts. In addition to working with Shoebox Project, which seeks to provide boxes filled with gifts for homeless women throughout the city of Montreal, an initiative of Cotter has also helped enhance student life on campus. With the goal of improving the quality life for individuals suffering from intellectual disabilities, Cotter is part of the McGill Students for Best Buddies program.
Canada West's Anna Purschke, who skates for the Mount Royal Cougars has volunteered with Special Olympics Calgary, primarily with a focus on the snowshoeing team. Additionally, the Hockey Education Reaching Out Society (HEROS) is another cause that has seen Purschke's involvement, one that Gray has also been proudly affiliated with in Toronto's Jane and Finch community, looking to inspire struggling youth through the values of hockey.
Setting a positive example for both the program and the student community, Gray has also adopted the role of mentor in the University's Providing Athletes with Winning Strategies (PAWS) initiative. With a raison d'etre focused on providing incoming student-athletes a much more enjoyable transition to university life, while adjusting to the demands of competing at a much higher level of play, senior students, such as Gray become integral, displaying strong leadership in their mentoring responsibilities.
With weekly meetings consisting of 90-minute sessions, including a monitoring of the freshman's academic endeavours, and the taking of attendance, it is testament to the commitment involved. Providing a commendable presence, enriching a program that is among the first in Canadian universities, its greatest triumph can be measured in the high student-athlete retention.
"My volunteer work with PAWS and HEROS have both pushed me to be a better person in all aspects of my life. Being a PAWS mentor has been great to connect and help first-year athletes succeed as they transition into university academics and athletics.
As for HEROS, to be a role model to young girls pursuing sports is rewarding in itself. At the same time it is a humbling experience as many of these girls were not given the chance to play at a young age like myself.
Not many people are privileged enough to be able to play the sport of hockey at a young age, but HEROS allows these girls and boys to not miss out and I am thankful I can help such a great organization."
While Gray's gregarious efforts off the ice were emblematic of her highly commendable leadership qualities, enriching her revered standing as a hockey humanitarian while enhancing the confidence of incoming student-athletes, perhaps her proudest highlight during the 2018-19 regular season involved another unique prestige of the Lions captaincy for the second time in her career.
"To be honoured as the team captain for my last season was a great distinction but also a lot of responsibility. I readily and excitedly accepted this role and pushed myself this year."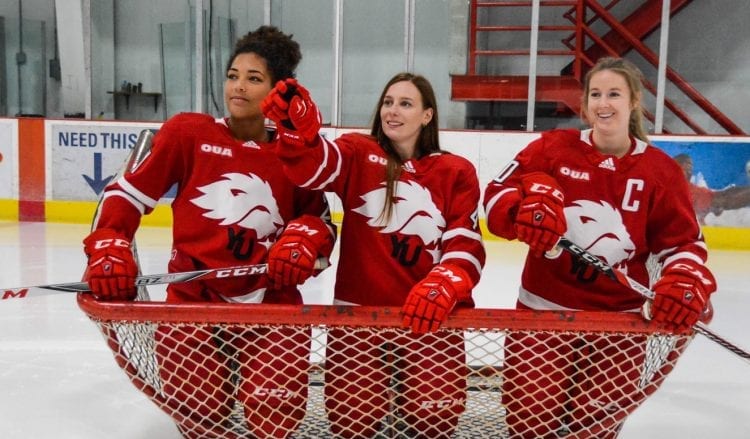 Part of a senior class that included Tegan Duncan, Chelsea Tucker, Cynthia St-Cyr and Steffei Samuel, certainly, the C on her sweater presented an affirmation. Translating into emerging as both the face of Lions women's ice hockey, and a celebrated ambassador for university athletics, it also burnished a season that resulted in an offensive renaissance, enjoying her greatest season garbed in Lions colors coincided with her final campaign.
Compiling a career-high 15 points, as 12 terrific assists demonstrated a superlative playmaking ability, placing a solid second in team scoring, the Lions logged a solid 6-2-0 mark when Gray managed at least one point. Of note, Gray's first goal of the season was a highly memorable one in her university career. Hosting the Windsor Lancers on November 9, 2018, Gray got on the scoresheet in the first period, scoring unassisted versus Jaylin Spooner. Said goal stood as the game-winning tally in a convincing 6-1 victory.
A pair of multi-point performances marked her best efforts of the season, including a fantastic four assist effort versus the Nipissing Lakers. With a high scoring affair resulting in a 6-5 victory for the visiting Lions, all of Gray's assists took place in the second period, as Kelsey McHolm scored twice, while the other goals were scored by Brooke Anderson and Courtney Gardiner.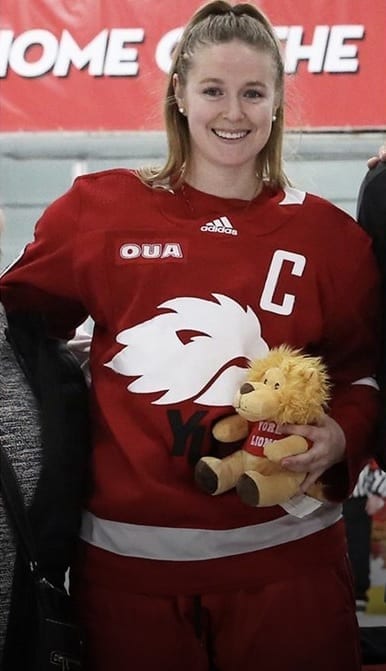 The final month of the season saw Gray record a three-point output on home ice, defeating the Queen's Golden Gaels by a 4-1 mark. With all four of the Lions' goals taking place on the power play, the only goal Gray was not part of was the game-winning tally, which Gardiner scored in the second period. Scoring on Makenzy Arsenault at the 11:13 mark, it proved to be Gray's final goal in U SPORTS play. Assisted by Kara Washer and Erin Locke, another mainstay on the Lions roster, Gray would reciprocate in the third, assisting on Locke's goal.
Fittingly, Locke would play a key role in Gray's final game as a Lion. Hosting the Laurentian Voyageurs on February 16, 2019, Gray and Locke earned the assists on the game-winning goal. Scored by Washer, there was a strong sense of serendipity in the fact that Gray, as team captain, held a hand in the Lions' final goal of the season.
Before the academic year came to a close, there would be two more athletic highlights. One of four student-athletes that were bestowed with the 2019 Lions Legacy Awards, joined by a group that included women's volleyball player (and fellow PAWS mentor) Cadence Currie. Bailey Francis, a track and field competitor in the Triple Jump, and York Sport Council, along with Sara Vollmerhausen, a 2018 U SPORTS All-Canadian in field hockey rounded out this distinguished group. Serving as a fitting tribute to Gray's Lions career, the Legacy Awards recognized the outstanding contributions to varsity sport among graduating student-athletes.
"(With this) being my last year, I prided myself in taking on a different role as more of a teacher this season. I wanted to help build everyone else up and offer as much advice and feedback to my teammates as I could."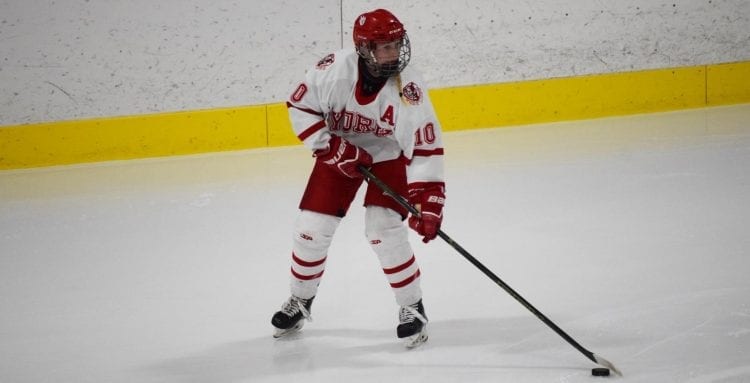 Incorporating the values of dedication, enthusiasm and leadership into her efforts both on and off the ice, it was only fitting that a monumental time for Gray was matched by the milestone of a place on the OUA Second-Team. Signifying the first time in her career that she earned All-Star honors, it brought closure to a great career never taken for granted, appreciating every occasion in a senior season defined by celebration and achievement.
"Being labelled a leader, specifically the captain, there is a lot more to it than just playing well and I think that is where receiving the Marion Hilliard Award and Second-Team honours is a representation of the type of leader I was.
When I found out that I received OUA Second-Team honours it brought a smile to my face. It was sort of the icing on the cake to an incredible five years at York.
To finish my career being recognized as an impactful player in the OUA was a great feeling. My motto this year was to cherish every moment and I definitely think I did just that."
"All quotes obtained first hand unless otherwise indicated"
Related Articles