Experiencing the prestige of wearing the black and gold of the Adrian College Bulldogs for a fourth and final season, it represented a zenith for Shelly Czarnowczan. Raised in the neighbouring community of Shelby Township, Michigan, where she played for the renowned Little Caesar's and Honeybaked organizations (her older brother Scott, an alum of the Grand Rapids Griffins and Iowa Wild, also played for Honeybaked as a teenager), the feeling of home ice advantage was prevalent.
Revered as a homegrown talent, whose constant contributions placed the Bulldogs into the status as one of Michigan's premier programs in NCAA DIII hockey, Czarnowczan, a major in Exercise Science, enjoyed a sensational stretch of appearances in the NCAA Tournament during all four of her seasons. Solidifying the program's standing in Michigan hockey lore, a treasured highlight for Czarnowczan involved reaching the finals of the 2017 NCAA Division III Frozen Four, facing off against the Plattsburgh State Cardinals.
Undeniably, such a stellar run garbed in the Bulldogs jersey included memorable postseason rivalries that quickly bloomed. Including the aforementioned Cardinals and the Elmira College Golden Eagles, whom they played in three consecutive NCAA tournaments, the impact of such esteemed opposition was one that raised the collective stakes.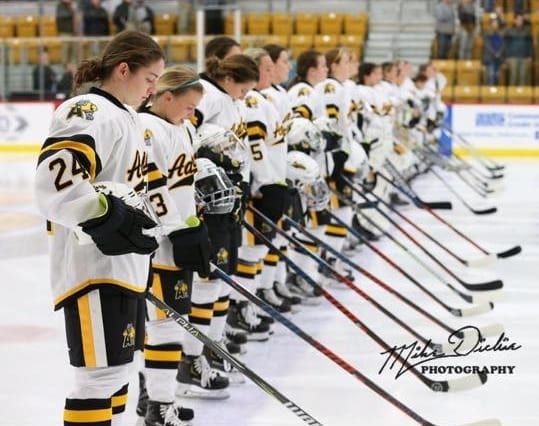 Combining an offensive renaissance with defensive acumen, along with a refined outlook that accounted for an even more mature leadership approach, it transformed Czarnowczan into one of the program's most essential players. The results on the stat sheet and in terms of conference accolades certainly spoke for themselves in the aftermath of her senior season. Reflecting on a season of unparalleled success, such elements encompassed an emphasis on enjoyment and a realization that one player need not feel encumbered with expectation, providing a rejuvenated perspective,
"I think a lot of it had to do with just having fun. Coach Skelly made this year different from past seasons and I could not wait to go to the rink everyday. I was not as stressed as I was in years past and it took the pressure off of my game. I also think a lot of it had to do with confidence and every year I have been here I gained a little more each year which helped with my success this year."
With an impressive showing of Bulldogs earning acclaim for their superlative seasons, the honor of a place on the Northern Collegiate Hockey Association NCHA All-Conference Team was bestowed upon Czarnowczan. Indubitably, such recognition represented reward and reverence for the sensational senior, her first All-Conference nod bringing a distinguished closure to her proud stint garbed in Bulldogs colors.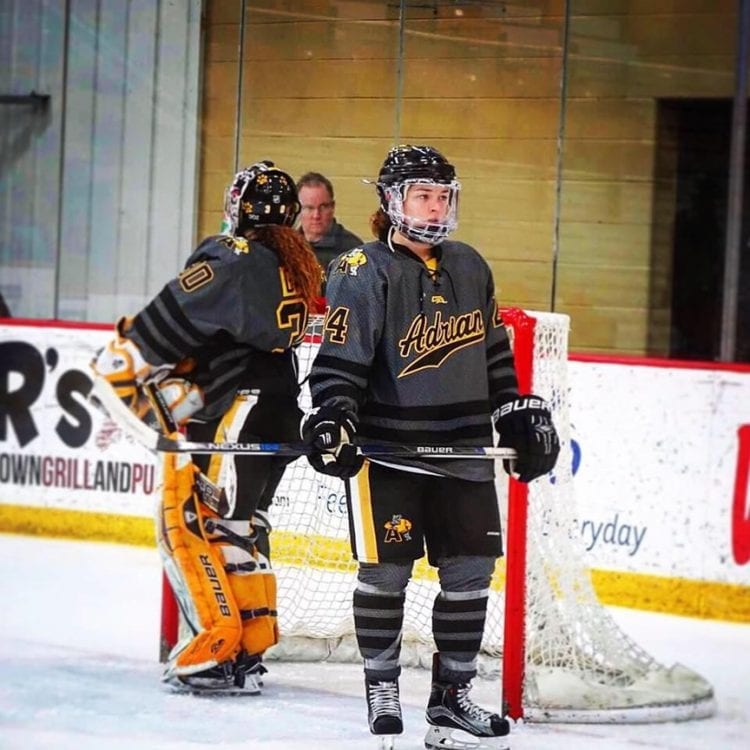 "This recognition was an honor to get especially after all of the long practices and work I have put into hockey over the years. It is something I will always cherish and could not have asked for a better season to end my hockey career."
Offensively, Czarnowczan accumulated as many points in her senior season as her three previous seasons combined. Amassing 17 points on the strength of 11 assists, an assist total which placed second among NCHA blueliners, trailing only teammate Kelly O'Sullivan, complemented by a superlative plus/minus rating of +27, surpassing her career high of +26 from the previous season, the realization of such brilliant numbers supplied a steady stream of highlights.
Statistically, the Bulldogs boasted a 6-0 mark when Czarnowczan logged at least one point. Starting her season with a sterling three points output in a 4-0 blanking of Trine, she also enjoyed back-to-back multi-point efforts in a weekend series versus Aurora that bridged the months of November and December. Amassing three points in a 6-0 win on November 30, she would record two points the following day, as the Bulldogs started December with another shutout win, defeating their opponents by a 5-0 tally.
Prior to the weekend series, November held two special highlights for Czarnowczan and her fellow Bulldogs. Hosting the visiting Trine Thunder on November 11, it also marked the Bulldogs' Hockey Humane Society Game. Of note, Czarnowczan was among five skaters from the roster featured in a social media posting, as new and used donations were accepted for the Lenawee County Humane Society, signifying the Bulldogs proud connection to community.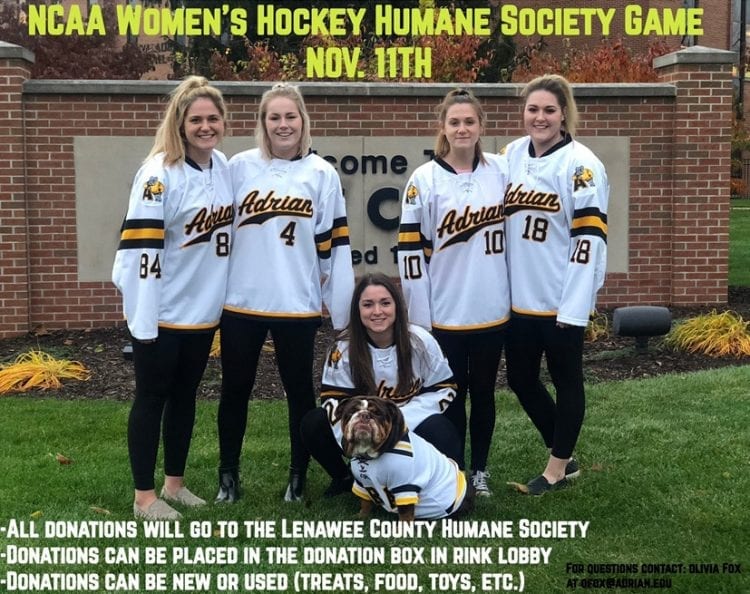 Fittingly, Czarnowczan would also score an unassisted goal in the contest, as the Bulldogs prevailed by a 3-0 blanking. Ending the month involved a unique brush with history, as both the Bulldogs men's and women's teams both laid claim to the top spot in the United States College Hockey Online (USCHO) NCAA Div. III National Polls.
During the month of January, Czarnowczan experienced a pair of milestones on one goal. A January 19, 2019 victory versus the Finlandia Lions saw her capitalize on a power play opportunity in the second period. Finding the back of the net against backstop goalie Annah Smidy at the 3:24 mark, with Jacquleine White earning the assist in a 6-2 final, said goal also stood as the game-winner, the second of her career.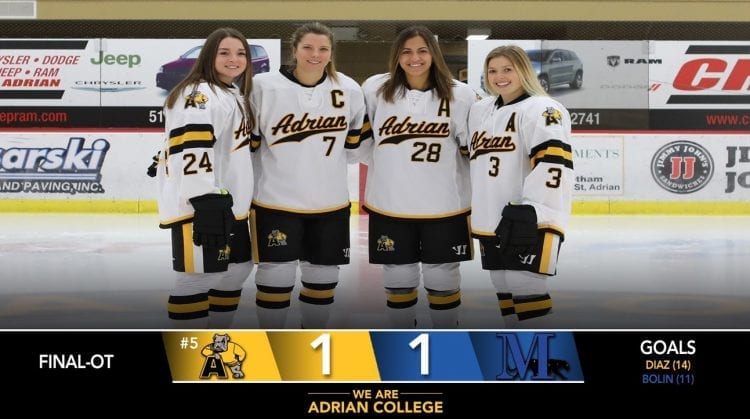 Burnishing such a brilliant season for Czarnowczan was the opportunity to call Kelly O'Sullivan as her defense partner. A three-time All-American and former NCHA Rookie of the Year Award winner, one of the greatest players in both, Bulldogs and NCHA, history, a remarkable synergy rapidly developed between the two.
Finding a combination of motivation and inspiration in the opportunity to share ice time alongside a luminary in program lore, it represented a tremendous growth for Czarnowczan. Reflecting on the pairing with the illustrious blueliner, who shall serve as Adrian's captain for the 2019-20 season, it was one that provided reciprocal benefits,
"Kelly is an amazing player and I think we fed off each others capabilities. If I was struggling, she would help me out and if she was struggling, I would help her. I think her offensiveness pushed me to be better as that was something I always struggled with in my game.
I really enjoyed playing with her. We just clicked and I think we both pushed each other as we already put high expectations on ourselves, being each other's defense partners only raised my game even more. She definitely pushed me to be a better player and become a player I never thought I was capable of being."
Demonstrating the admired approach to learn, proving that even veteran players are still capable of growth, the result was that Czarnowczan refined her game, becoming an even more complete player. Taking on a dual role of leader, showing a group of freshmen the kind of potential reached when considering the game from a different perspective, employing a desire for adaptability and continued progression, the results can bring numerous rewards.
For the Bulldogs' freshmen, an opportunity to appreciate what it meant to call senior stars Czarnowczan, Hannah Dalrymple, Kortney Diaz and Tory Harshman teammates during their inaugural season of Bulldogs hockey was evident on February 17, 2019. With the Bulldogs hosting the Marian Sabres on senior night in a highly emotional 1-1 draw, it was an evening defined by celebration and appreciation.
Pencilled into the starting lineup alongside her fellow seniors, with O'Sullivan and goaltender Denisa Jandova comprising the remainder of the starters, Czarnowczan's viewpoint was related to pondering the postseason. Realizing that the NCHA conference playoffs and the NCAA tournament would supply many more opportunities for memorable moments, thoughts of the final chapter deferred. Although the understandable sentiments of departure were a source of acknowledgement, she would rather view the closing of this compelling time in her career with merriment, proud of the friendships made, and the unbreakable bond of team spirit.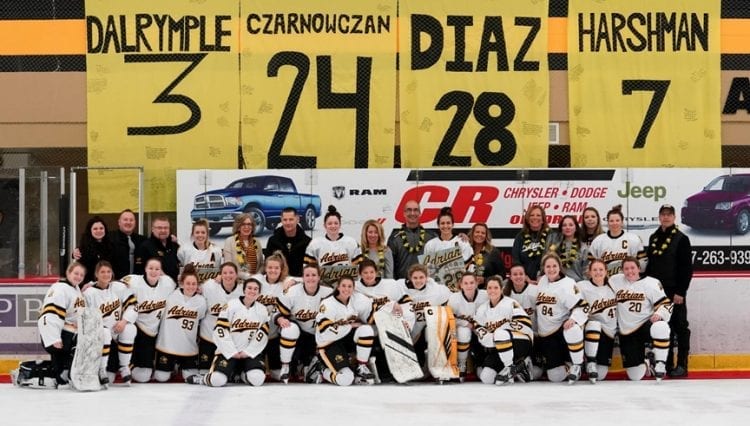 "I really tried not to think about it being the end going into senior night and just tried to think of it as another night. I felt proud to have accomplished four successful years here at Adrian and sad that it had to end. I knew there was a lot of season left or at least that is how it felt with playoffs right around the corner.
I will miss the girls the most and just being in the locker room. This is a special group of girls and I made friendships that will last a long time that I am going to miss."
"All quotes obtained first hand unless otherwise indicated"
Related Articles