Having established herself as the greatest goaltender to don the Purple and White of the St. Thomas Tommies, Kenzie Torpy left a lasting legacy destined for legendary status. Graduating in 2019, the pride of Oregon, Wisconsin amassed a superlative 69 career wins, compared to merely 18 losses and 12 ties, recording an impressive 102 appearances plus a sparkling 1.86 Goals Against Average.
One of the greatest recruits in Tommies hockey history, Torpy, who majored in Psychology, arrived with an already impressive hockey resume. At Oregon High School, hockey was not the only sport that the multi-talented Torpy excelled at. Also starring in varsity lacrosse, earning First-Team All-State honors, including a pair of seasons spent playing varsity tennis, the rink was perhaps where she was most brilliant.
Capturing a trio of First Team All-State honors, including the highly prestigious Miss Hockey Wisconsin title, the most cherished accolade may have been the Jessie Vetter Award. Named in the honor of the two-time Olympian and NCAA Frozen Four champion with the Wisconsin Badgers, Vetter holds her own serendipitous connection to Torpy's hometown, having played for the Oregon Outlaws men's hockey team in the Great Lakes Hockey League (GLHL). Undeniably, the chance for Torpy to have captured the Award thrice, not only served as a cherished summit, the chance to be associated with one of the greatest American-born goalies ever held profound impact for the accomplished Torpy,
"Receiving the Jessie Vetter Award in high school served as a motivation for me. Having my name associated with such a decorated Olympian fueled my fire and my passion to keep working and strive to be the best that I could. It was almost as if after receiving the Jessie Vetter Award, I felt that I needed to push myself even harder in order to live up to the honor of it."
With freshmen Eryn Cooley and Kalli Engen serving in the capacity of backup during Torpy's senior season, she started said season with back-to-back shutouts versus the Lake Forest College Foresters, such a performance only serving as prologue. Recording a five-game shutout streak from November 9 to 30, 2018, blanking the Saint Mary's Cardinals, St. Catherine Wildcats and Augsburg Auggies, the season would finish with a program record 13 shutouts.
Perhaps more impressive was the fact that Torpy won her first 13 starts of the season, allowing only six goals during that time span. Although a hard fought 2-2 tie versus Gustavus Adolphus on January 12, 2019, coming back from a 2-1 deficit, while Torpy remained solid in overtime, brought an ending to such a phenomenal start, an unbeaten streak remained very much active. As three more wins preceded a 1-1 draw on the road versus Concordia, Torpy would reel off six more wins before actually suffering a loss.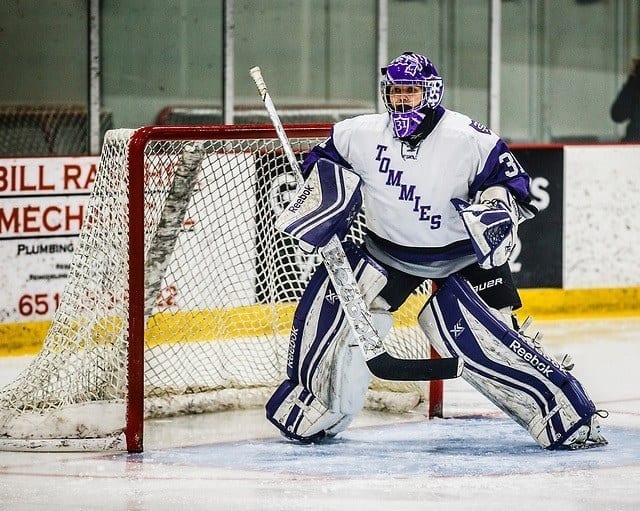 Considering Torpy's dominance between the pipes, it would take a Hamline Pipers roster featuring eventual Laura Hurd Award winner Bre Simon to place the Tommies in the loss column. With an epic contest taking place at Hamline's home ice of Tria Rink on February 16, 2019, the Pipers, coached by former Winter Games medalist Natalie Darwitz, scored twice in the third period to force overtime. With Simon earning an assist on Leah Schwartzman's game-winning tally, it marked the first, and last, loss in Torpy's Tommies career. As a side note, the 3-2 final was the identical score from the previous game between the two, when St. Thomas defeated Hamline at Mendonta Heights as Torpy needed only 17 saves in the February 15 affair.
Credited for all of the Tommies' wins during the 2018-19 season, an astonishing 25, including a 30-save effort in a 2-0 blanking of Hamline on March 2 to win the conference crown, Torpy's value was best measured in the accolades showered upon her. Recognized as both All-American and the Most Valuable Player of the Minnesota Intercollegiate Athletic Conference (MIAC), the first goaltender to win, and the fourth straight Tommies player to gain MVP honors, following Allison Borgstrom (2018) and Kathryn Larson (2016, 2017).
As a side note, head coach Tom Palkowski, her only coach in four seasons with the Tommies, finished this season as the recipient of the 2019 MIAC Coach of the Year Award. Additionally, earning a spot on the MIAC First-Team All-Stars plus a CoSida Academic All-America honor in June 2019 added luster to the series of honors in such a sensational senior season, which were validation of an amazing career.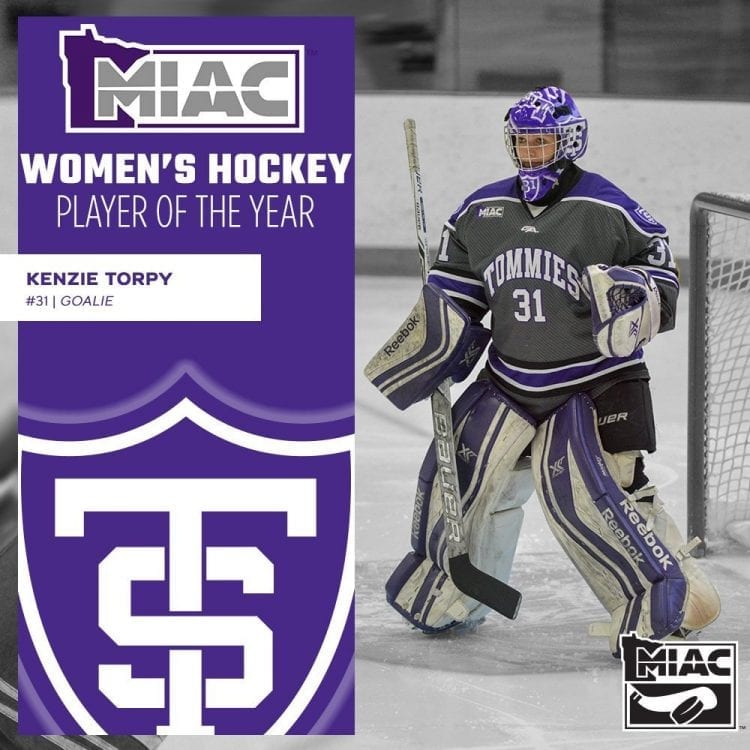 "It was such an honor to be recognized with those awards and I could not have asked for a better way to finish my college hockey career. Being a senior this year, I spent a lot of time looking back on my years of hockey and the countless hours I put into this sport that I love so much. To have that hard work rewarded was an amazing feeling. The MIAC is always such a strong conference with great athletes on every team, so being recognized as Player of the Year was unexpected and I'm so grateful and humbled.
But looking back over my senior season, what I will always remember most were the team awards we earned and the records we broke at UST. Any team accomplishment, like our first No. 1 ranking, our winning streak, our MIAC regular season and playoff championships, trump any individual award I could ever receive."
Additionally, the season saw the Tommies earn a No. 1 ranking, the MIAC postseason title and obtain a berth in the NCAA Division III Frozen Four with a 4-3 win over the UW-Eau Claire Blugolds, their first appearance of the decade. To have been a key contributor to this fascinating time is one that Torpy reflects on with a commendable appreciation of her teammates.
"I could not have asked for a better team or a better season to end my career with. Coming into this year, we knew we had depth and talent but it takes more than that to have the season that we did. We knew what we were capable of and the girls on this team came together as one cohesive unit to accomplish almost all of the goals we set for ourselves back in October.
We did not often win by large margins, but we did what we needed to do on the ice to continue to put ourselves in the position we wanted to be. I was nervous when we hit the No. 1 ranking midseason that we would feel satisfied just having reached it, but the girls came back that day at practice with a new goal: now that we were No. 1, we wanted to continually prove that we deserved to be there and we did just that."
Talented between the pipes AND in the classroom. Congrats to @USTwomenhockey student-athlete Kenzie Torpy on being named a @CoSIDAAcadAA Academic All American! #rolltoms pic.twitter.com/baNwYUJrhX

— St. Thomas Athletics (@TommieAthletics) June 21, 2019
However, such a landmark achievement brought with it a tinge of sadness as Torpy was unable to play in the Frozen Four, suffering an injury. Compounding this loss was the fact that St. Thomas served as host school for the event, denying the highly talented Torpy an opportunity to shine on home ice in one of the game's biggest stages.
Having stood between the pipes for 1643 minutes of play during the Tommies' first 28 games, the absence of Torpy clearly affected the team. Facing off once again versus Hamline, renewing rivalries in the Frozen Four, Eryn Cooley played valiantly, facing 29 shots in a heart-breaking 3-0 loss. Suffering their first shutout loss in 62 games, a sensational streak that began in February 2017, while the visceral result also shattered a phenomenal 22-game home-unbeaten streak, the result would likely have been very different had Torpy been able to compete.
Although Torpy certainly deserved a better ending to her career, the experience of wearing the Tommies purple for four seasons encompasses a fascinating journey that enriched her hockey odyssey. With fond recollections of her time over the course of said seasons, watching the program develop into a Division III power, the aspects that Torpy enjoyed most go beyond the sterling on-ice results. From the minutiae, to the social aspects, the feeling of enjoyment and family were constantly prevalent.
No greater were such sentiments as impactful as when Torpy was unable to compete in the Frozen Four. Despite the understandable feelings of disappointment, the empathic display of encouragement actually served as a defining moment, displaying how regardless of the on-ice competition, the sense of mutual respect and community that exists off it carries a remarkable significance. While there are numerous moments that may qualify as a favorite for Torpy, the support shown during Frozen Four was definitely the most emotional, providing a heartwarming indication that authenticated her standing as a highly admired competitor.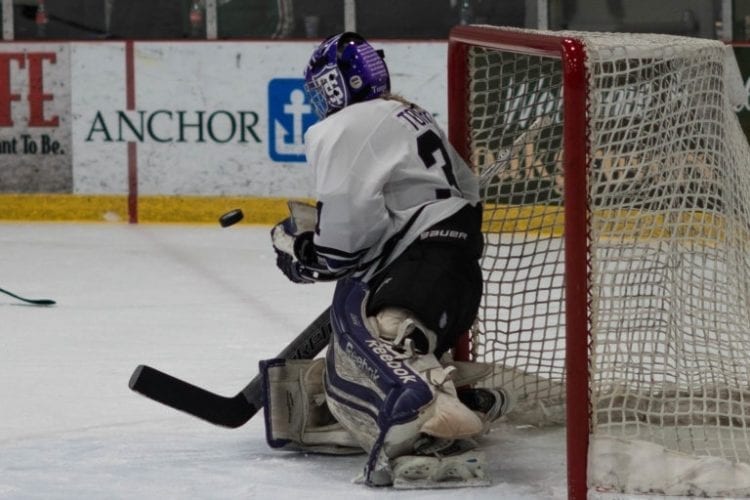 "There are a lot of moments that come to mind. Our trip to Europe my freshman year, our playoff run as the number-four seed my sophomore year, making it to the Frozen Four this year. Yet, when I look back, I think what I will remember most are the teammates and the coaches that made this experience as amazing as it was. It is cliché to say, but even now, what I remember most vividly are the bus trips and Rookie Idol, the locker room dancing, the pregame rituals with my teammates and best friends, and all the little things that brought us together.
This year in particular, when I was injured the day before the Frozen Four I remember I had an outpouring of support from teammates, coaches, Tommie alum, and even other MIAC players and parents and this just provided confirmation that I had chosen the right school for me and will always be proud to be a Tommie."
"All quotes obtained first hand unless otherwise indicated"
Featured image by Davis Narey – TommieMedia
Related Articles