Enjoying the privilege of competing for one of the prized programs of NCAA hockey, Maddie Evangelous holds an esteemed place in Elmira Soaring Eagles hockey. Employing a highly skilled playmaking proficiency, a strong team-first methodology, resulting in an emphasis on reliability and maturity that translated into strong leadership, her convivial smile and game day enthusiasm supplied a strong self-assurance.
Hailing from Hudson, Massachusetts, where she was a New England Division II Player of the Year with Worcester Academy, the nursing major quickly made an impression in Chemung County's sporting community, earning ECAC West All-Rookie Team (2016) honors. Adding to her commendable list of achievements included a spot on the ECAC West All-Academic Team (2017), including a pair of Elmira College Athlete of the Week and ECAC West Player of the Week nods, respectively.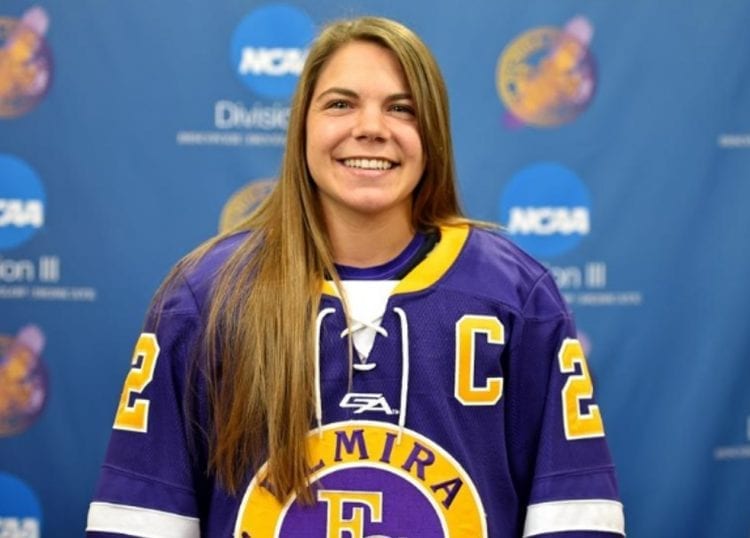 Proving to be just as reliable statistically, she tied for the team lead with nine multi-point performances during her successful sophomore campaign, foreshadowing a solid playmaking consistency that served as one of the hallmarks in a stellar run with Elmira. Recording at least 20 points in all four of her seasons, Evangelous experienced career highs in goals (16), game winning goals (3), points (32) and points per game (1.14) in her senior year. Her leadership was significantly evident through her incredibly disciplined play, as she spent only four minutes in the penalty box all season.
Adding lustre to this experience was the fact that Evangelous also gained the celebrated status of two-sport star during the 2018-19 athletic season. Of note, March 16, 2019 signified a new milestone in her admired athletic journey for Elmira. Making her first appearance with the EC women's lacrosse team, Ernie Davis Academy served as the backdrop as Elmira challenged D'Youville College.
Throughout four fantastic seasons in the program's purple and gold jerseys, one of the most unique accomplishments that Evangelous has enjoyed is the prestige of playing in the NCAA tournament every year. Taking into account how many programs can struggle simply to qualify for the conference playoffs, the feat of annually being in the national championship conversation represents a tremendous cachet. Realization that reflects leadership and maturity,
"Not everyone gets to experience playoff hockey at this level. I came to Elmira to have that opportunity to play in the tournament. The NCAA tournament is always the most exciting time of the year and it's something we work for throughout the entire season. I can say that my team had the opportunity to fight for a national championship every year, which is something I am proud of."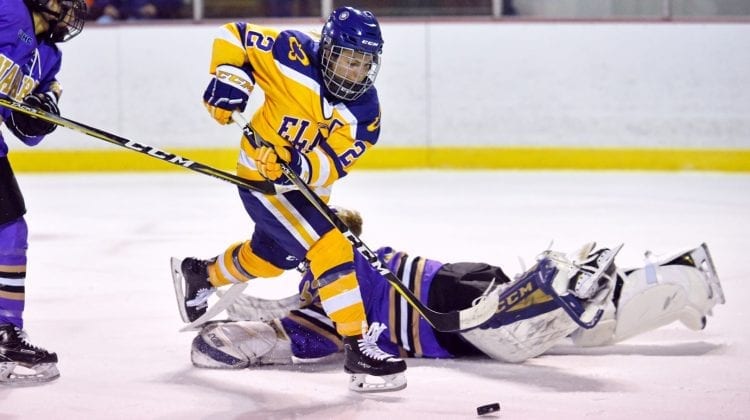 Despite not logging a point in Elmira's ice hockey season opener, a 4-2 victory on October 27 versus the Norwich Cadets, Evangelous followed it up with a four-game scoring streak. Highlighted by the game-winning goal versus Norwich, complemented by four points in a 12-0 whitewash of Lebanon Valley on home ice, she would log seven points while peppering opposing goaltenders with an impressive 27 shots during said streak, setting a thrilling tone in the season to come.
She also experienced a pair of statistical milestones, as she reached the 60 assist plateau and the vaunted century club for career points. Evangelous' entry into said club encompassed a legendary display of scoring proficiency that shall forever hold a treasured place in Elmira lore. Entering the series finale versus the Chatham University Cougars on February 2, Evangelous required four points in order to attain the prestigious status of 100 career points. Prior to the series against visiting Chatham, she recorded her second career hat trick, as the program set a record for most goals scored in one game.
Amassing a career-best five points as Elmira vanquished Chatham by a 7-0 tally, such a heroic performance served as a crowning achievement to Evangelous' legacy. Outshooting their opponents by an astounding mark of 46-9, the program also maintained an undefeated mark in conference play, while 11 different skaters logged at least one point.
Worth noting, three different Elmira skaters gained entry into the century club this season, as Evangelous, the 14th player in program history to attain this plateau, was sandwiched in between Katie Granato and Maddy Jerolman. Fittingly, both players would log points in the contest, as Granato registered an astounding four points, while Jerolman gained an assist.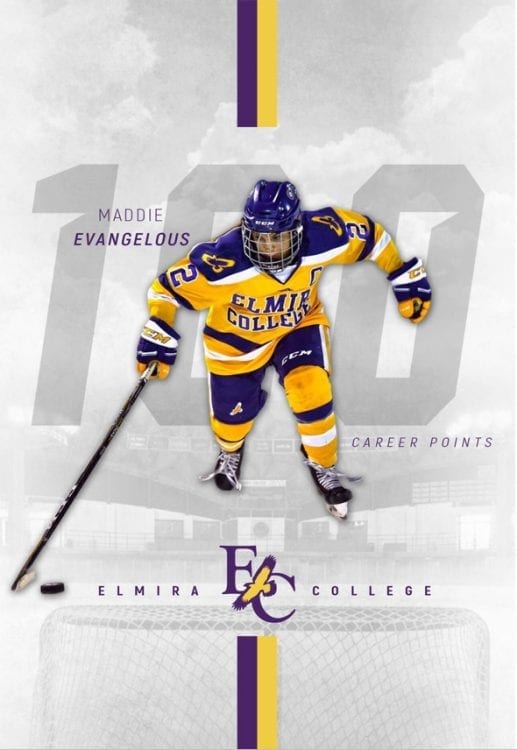 In addition, Meg Lahey, who would finish the season as the United Collegiate Hockey Conference (UCHC) Defensive Player of the Year Award winner, recorded a tremendous three assists, providing her with a career-high (and team best) 20 assists on the season. Taking into account that first-year player Ariella Haas recorded an assist on Evangelous' first goal of the contest, which allowed her to hit the plateau of 100 points, it certainly took on the emotional aura of passing of the torch.
Undoubtedly, such a magical night for Evangelous yielded positive results for the team as a whole, extended its winning streak to 12 consecutive games. With the win, it also marked the eighth consecutive season that Elmira enjoyed at least 18 wins. Part of a three game stretch that saw Elmira defeat the King's (Pa.) Monarchs, while sweeping Chatham, the cumulative score was an incredible 29-0, Evangelous and Lahey stood out as the key contributors as the Soaring Eagles were recognized as the NCAA Division III Team of the Week (awarded on February 7, 2019).
Equally treasured during a cherished senior season was the honor of celebrated recognition as the team captain. With the "C" proudly emblazoned on her sharp purple jersey, the opportunity brings her distinguished career full circle. Explaining how the values of team leadership were a point of serious realization since her arrival, testament to her maturity, there was a proud sense of affirmation that came with the captaincy, positively shaping the culture.
"I could not have been more honored than to help lead this team in my final season. Even as a freshman, I understood how important team leadership was, so to get a C my senior year was very rewarding and special to me personally."
A postseason tilt versus Manhattanville on March 2 resulted in the last goals of her NCAA career, providing a heroic performance. Scoring the only goals of the game, both assisted by Granato and Strawinski, it also resulted in the final multi-point performance and final game-winning goals of her time in Elmira purple, respectively.
Despite the Plattsburgh State Cardinals capturing the NCAA Division III Frozen Four this season, Elmira's collection of highly talented skaters has enjoyed one of the grandest rivalries in collegiate hockey versus their in-state rivals. On-ice battles with the dynastic Cardinals allowed for highly dramatic action, supplying some of the biggest highlights in Evangelous' run as a Soaring Eagle.
Reflecting on her favorite games in the Elmira paraphernalia, the 2017-18 campaign provides one that remains highly treasured. Taking into account the high quality of play on both sides, it was not surprising that overtime was required to determine a winner. With two very demanding periods of overtime, the length of such a game proved to be a hard-won path towards glory, providing Elmira with one of the most thrilling victories in collegiate lore, while strengthening the bonds of unity and collaboration that have defined its revered program.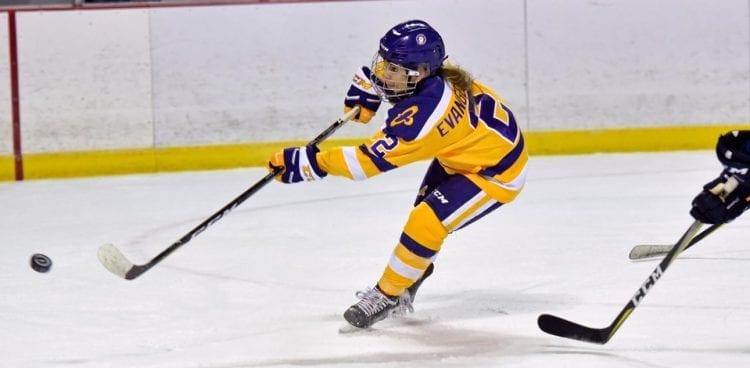 As a side note, Plattsburgh State also provided Evangelous with another pair of significant highlights. During the 2017 edition of the Cardinal-Panther Classic Title Game, Evangelous recorded a goal and an assist, emerging as a key contributor in a 4-2 final, allowing the Soaring Eagles bragging rights. The 2019 edition of the East-West Classic would see Granato record a hat trick versus Plattsburgh State in a 4-1 final, with Evangelous and Shannon Strawinski logging the helper on her second goal, claiming the title.
"There are many moments I will remember but a specific one will have to be the Plattsburgh semi-final last year, when we came back from a 2-0 deficit in the third period to force an overtime. We found the back of the net after two overtime periods. That had to be one of the best feelings of my career.
My team came together as one and we found a way to win after five hard fought periods of hockey. In that moment all our hard work and dedication was worth it. I will never forget that day and those girls to my left and to my right."
Part of a graduating class alongside the likes of Granato, Jerolman, Lahey, Strawinski, and Kristin Chivers, the sense of school pride that defined the opportunity of wearing the peerless purple and gold jersey, accentuated four of the most enjoyable years in the hockey journey of Evangleous. As she transitions into her next chapter, the friendships made, values strengthened and an enriched love of the game are destined to hold a treasured place in her heart, providing monumental memories that shall be reflected upon with a glowing sense of pride and attainment, simultaneously providing the next three classes of Elmira hockey with an admirable role model to emulate,
"There is a lot I will miss about this program. Obviously, I will miss getting on the ice every day and playing the sport I love. In terms of the program, I will miss the overall hockey culture and excitement as well as the school's never ending support for our hockey teams.
However, what I will miss the most are the friendships I have made. My senior class has a bond stronger than most and we have become very good friends. So not being able to be around them everyday and skate with them again is what I will miss most."
"All quotes obtained first hand unless otherwise indicated"
Related Articles