Gaining the call to compete for Team Canada at the 2019 Winter Universiade in Krasnoyarsk, Russia, it marked a significant career milestone for Maude Lévesque-Ryan, attaining the dream of donning the Maple Leaf. Hailing from the community of Rimouski, Québec, she emerged as a key figure between the pipes for the University of Ottawa Gee-Gees, a consistently solid team in the highly competitive RSEQ Conference.
Recognized as an RSEQ First-Team All-Star in 2018, Lévesque-Ryan, who is pursuing a Masters Degree in Health Sciences, enjoyed a strong start to 2019, recording 36 saves in a spectacular 2-0 shutout of the nationally ranked McGill Martlets, providing the program with its first win in January. She would build on this strong momentum, following it up with a highly emotional 5-4 win against the cross-town Carleton Ravens, including a pair of goals by Mélodie Bouchard, followed by a 42-save performance in which the Gee-Gees upset the number one ranked Carabins de Montreal by a 3-1 tally.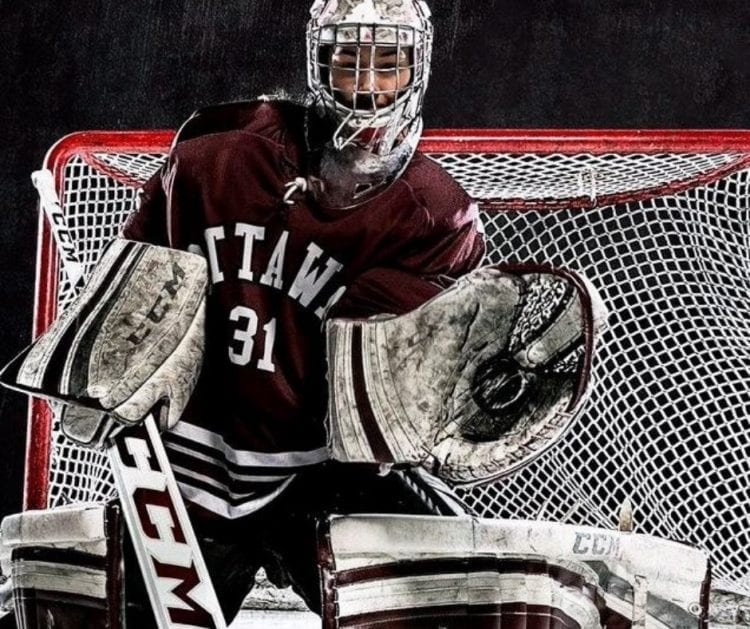 With such contributions from Lévesque-Ryan, the Ottawa Gee-Gees qualified for the 2019 RSEQ Playoffs. Unfortunately, such achievement created a sense of conflict. Akin to other players from U SPORTS earning a spot on Canada's roster, the Universiade was being held parallel to first-round postseason play throughout Canada's conferences in university play.
Holding a tremendous sense of loyalty to her fellow Gee-Gees, Lévesque-Ryan was torn over how to approach the opportunity to realize the dream of playing for Canada. In one regard, Levesque, a fifth-year player, understood that this was her last chance at attempting to reach the Nationals, an achievement that eluded her and her teammates during the previous four seasons.
Reaching the conference finals would result in an automatic berth for the U SPORTS National Championship tournament. Out of respect for her team, Levesque consulted with numerous Gee-Gees about this conundrum, concerned over the perception of departing the program in order to compete for Canada.
With the support and encouragement of her teammates, understanding the unique prestige that encompasses international play, it marked a tremendous display of loyalty, emphasizing the kind of strong culture and feeling of family that defines skating in Gee-Gees colors. Although there was certainly a tinge of sadness in the fact that the Gee-Gees did not reach the finals, shutting the door on any aspirations of reaching the elusive National Championship tournament, it was evident that their valiant efforts held a special place in her heart.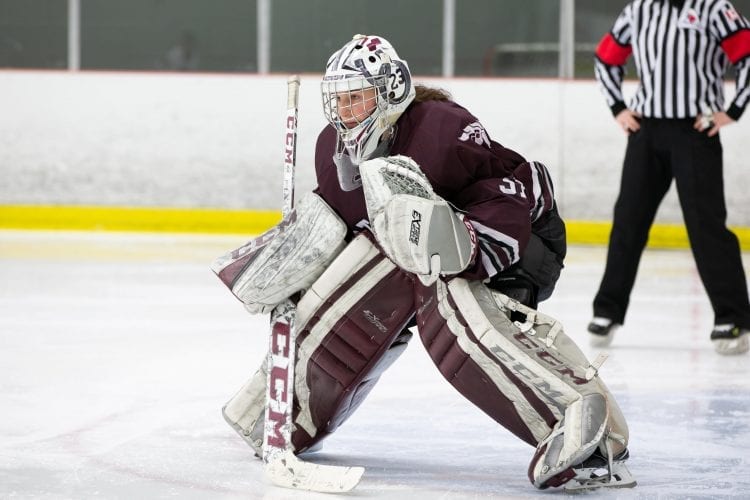 "Of course I was thrilled about that possibility to represent Team Canada, so that was exciting news for me. Nevertheless, these FISU games were being held at the same time as the RSEQ Finals, which meant I would have to miss it if (the Gee-Gees qualified).
There were a bit of mixed feelings, as you want to be there for your team all the time but especially in playoffs. Yet, I considered that you qualify for the Nationals by winning the Semi-Finals, even though the RSEQ finals have a big symbolic meaning for everyone, and you want to be a part of it. The Nationals are what you have in mind all year long.
In going to the FISU games, we would (have been) back on time for the Nationals, so we would actually be there with our team when it matters the most. We ended up not qualifying for the Nationals and the RSEQ finals, so I did not miss any of my team's games.
The biggest target in my mind was hoping to go to the Nationals with my Gee-Gees. Yet, before starting to play organized hockey I was dreaming about wearing the Canadian jersey and was looking at the Olympics, and the national championships, and dreaming about being there someday.
(Although) this was not the Olympics, it still feels good to envision yourself wearing the same jersey as some of the idols you looked up to growing up. It felt really good knowing that I would get the opportunity to wear that jersey."
Undoubtedly, the feeling of pride that defined Lévesque-Ryan's treasured time with the Gee-Gees fittingly extended into the Team Canada experience. With teammates Bouchard, Christine Deaudelin, plus Gee-Gees star recruit Marie-Camille Theoret, and coaches Greg Bowles and Chelsea Grills, a local hockey legend involved with Team Canada, it supplied a sense of home despite being abroad.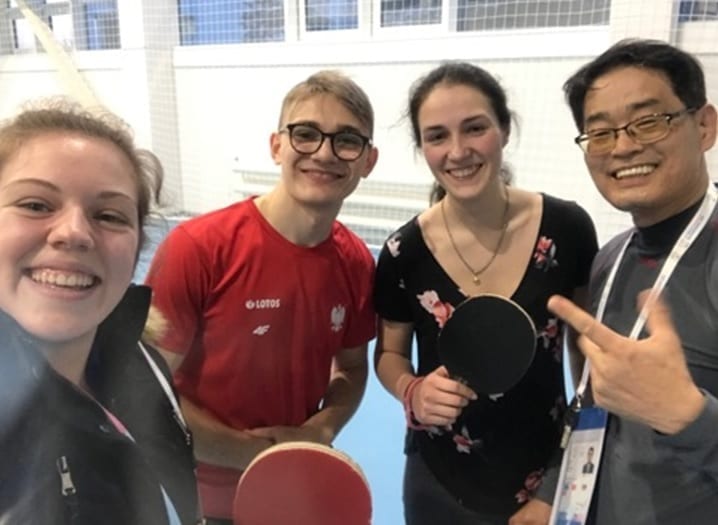 Enhancing the experience of spending five fantastic seasons with the Gee-Gees program, the chance to be surrounded by several familiar faces was definitely a special way to finish her proud career.
Just as important in this monumental chapter was the opportunity to gel with the other teammates. As the only players representing the RSEQ on Canada's contingent, as Annabel Faubert was still a recruit for the Carabins, the experience of knowing players from other parts of the country, including second generation player Annie Berg, former Ryerson captain turned CWHLer Ailish Forfar, plus Cole Harbor's Katryne Villeneuve, among others, held significant relevance.
"The fact that I got to go with a few people that I had already shared a lot of experiences with added to the positive feelings surrounding this event. We did share some strong moments there together. One also has to keep in mind that we had less than two weeks with our (Canadian) teammates to build something that will be remembered for the rest of your life.
You want every single one of them to have a place in these memories and you want to feel like everyone is fully committed to Team Canada while we are there. To reach that, I think that you have to be as committed to the teammates you are playing with for the first time, as you are for the teammate who is sharing the ice with you for the 100th time.
As much as we enjoyed spending time with our Gee-Gees teammates, we tried to blend with our other teammates as much as possible as everyone from the other university teams did the same, in favor of the whole team chemistry."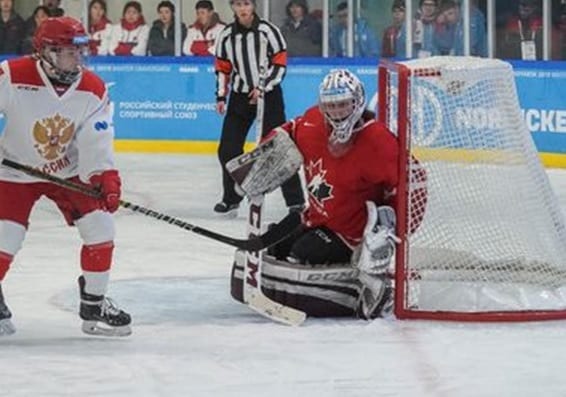 Earning the first shutout of the Universiade, Lévesque-Ryan enjoyed a 10-0 triumph versus China, starting the tournament on a solid note. One that would continue with goaltending partner, Jessica Vance, blanking the opposition from eventual bronze medalists Japan in a 4-0 victory, Lévesque-Ryan maintained her shutout streak against the United States.
With an ambitious squad of American players looking for a podium finish, Lévesque-Ryan showed tremendous poise, keeping the rivals off the scoresheet. With Canada prevailing in a thrilling, yet hard-fought, 1-0 shutout triumph, it stood as a tournament highlight for Lévesque-Ryan, who displayed tremendous poise throughout the first two periods, a scoreless drought that would only be broken in the game's dying seconds as Lethbridge Pronghorn's star Jodi Gentile found the back of the net.
Despite such achievements, Lévesque-Ryan's team-first approach and humble demeanor rose to the surface in her reflections, acknowledging that such wins were constantly attributed to a team effort. Just as admirable is the fact that she was quick to recognize that her opposing goaltenders assembled highly valiant performances, as evidenced by China's Yue Jiang, who faced 91 shots versus Canada, while American Hannah Stone faced her own significant workload, peppered with 57 Canadian shots,
"Although a shutout is always nice to get, I think I received about three shots in that first win (10-0) over China, so it was only representative of the awesome game the girls had played in front of me. It was my first game wearing the Team Canada jersey, and it felt great, but I cannot say that I felt I had any impact on that game.
The moment we got to the locker room, I was thinking about my next game and looked forward to the next challenge. We got a second shutout with Jess in net against Japan and it felt great to add a third one in a row, especially against USA.
Since we won by 1-0, scoring with less than one minute left into the 3rd period, I felt like I contributed to the team success, (especially) with three or four key saves at 0-0, but I was not nearly tested as much as Team USA's goalie, who gave a solid performance. I knew the challenges were coming and was way more excited about what was coming than I was reflecting on those first three games. Yet, it sure felt like a good first step into the tournament."
Taking into account that team chemistry is such an integral component of international play, such dynamic takes on a more profound meaning in hockey when considering the working relationship between goaltenders.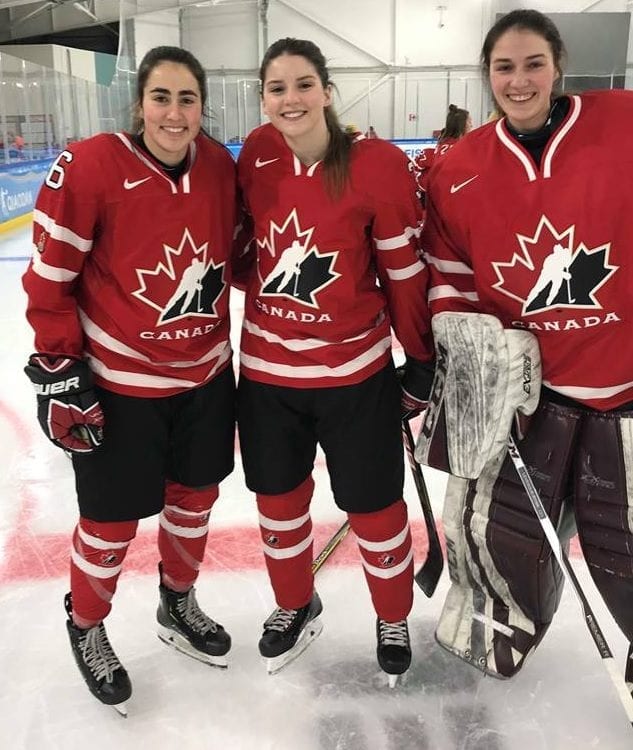 Sharing goaltending duties alongside Jessica Vance, a member of the University of Saskatchewan Huskies program, whose hockey resume is highlighted by a Canada West First-Team All-Star nod in 2017-18, the same season in which she was recognized with Conference Player of the Year honors, the Kinesiology student also enjoyed a strong start to her 2019. Recognized as the Huskie Athlete of the Week for the week of January 21, 2019, she recorded back-to-back sweeps against the Lethbridge Pronghorns, including an intense double overtime win, which elevated her to fifth all-time in shutouts among Canada West goaltenders.
Both highly focused on the objective of returning Canada to the golden peak of triumph, there was no shortage of mutual respect between such distinguished goaltending stars. Both a constant source of support, encouraging each other when the other gained the start, it helped set a strong tone for the Canadian contingent.
Additionally, the experience was also defined by a moment of levity. With the event held in Russia, daily meals also resulted in an opportunity to enjoy local dishes and savor delicacies. Such a delicacy proved to be part of Vance's breakfast one morning, unaware that her crepes were being consumed with a spread that has been a gastronomic delight for aristocrats since the 10th Century.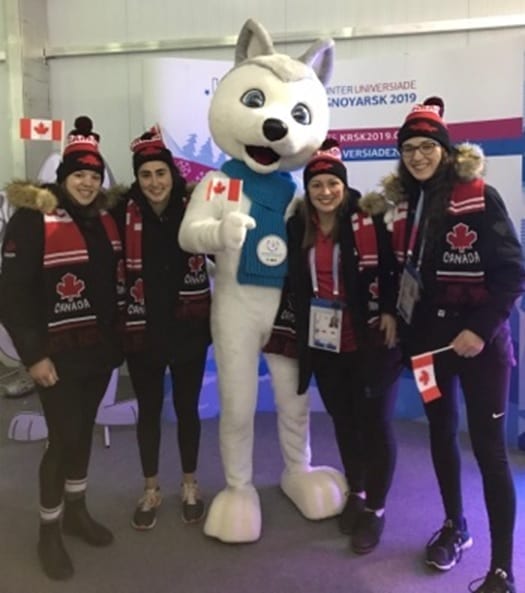 "I enjoyed my time as a partner with Jess as much as I did with every single teammate. Yet, I know how important getting along with your goalie partner is so I may have put extra focus there. Making sure I was going to go see her to give fist bumps between every drill in practice and encouraging each other going into the games and sharing a few insights although we had different goalie styles.
One of the good laughs we shared was when she ate caviar on her crepes, convincing us that it was some kind of fruits that are so good, melting in mouth. I was telling her I was pretty sure it was fish eggs but she was so sure it wasn't: 'Why would they serve that with crepes?' We got to believe it was not and it was so funny to see the look on her face when she tasted it and realized it was indeed fish eggs."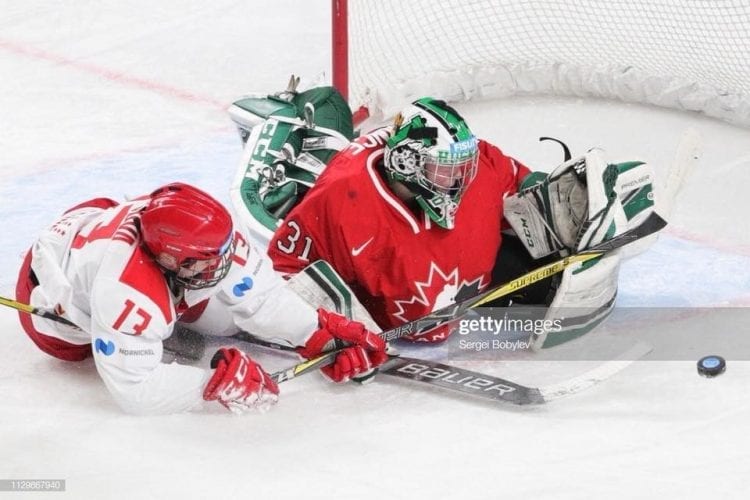 Looking back on the dream of playing for Canada, the feeling of achievement and fait accompli were not prevalent among the emotions of Lévesque-Ryan. Instead, the sense of frustration that a gold medal eluded a highly talented Canadian squad. Despite the enthusiasm of a highly engaged Russian crowd, Canada kept the host nation off the scoreboard during the first 45 minutes of the game. With Dalhousie's Natalie Stanwood called for a delay of game penalty, it was a controversial call, which opened the door for Russia to capitalize, as Liana Ganeeva scored the game-winning tally. As a side note, men's hockey saw Russia defeat Slovakia in the gold medal game, while Canada captured the bronze, providing Russia with double gold, while Canada was the only other nation to have a double podium finish in ice hockey at the Universiade.
"At the end at the tournament I was just mad, sad and disappointed because I wanted nothing but the gold medal and we had to settle for silver over a little detail in the 3rd period that led to the winning goal for Russia. I am a competitor who gets really mad at losing a pond hockey game or even at the stupidest games we play at Christmas parties.
Therefore, it gets amplified a lot when it actually (occurs) at events that have meaningful stakes such as the FISU games. To add to it, I was finishing my university career so you never know if you are going to play ever again (especially in the reality of women's hockey at this very moment).
This adds even more (if possible) to your desire of making the best out of this opportunity, proving yourself. Even more importantly, to conclude that experience with accomplishing the objective we all had in mind by winning the gold, making it more triumphant to participate in that Canadian jersey."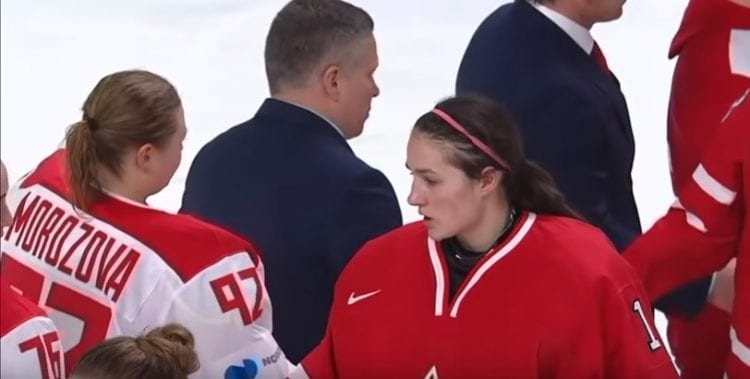 "I was confident I could help us accomplish what we wanted, so I could not wait to do so in the final against Russia, but I did not get to play in that final. Although this was very hard, to know that I could not live those moments I dreamed of, thinking about the moments on the ice in my last university career appearance. Yet, I had to focus on what I could still do to help my teammates and just encourage them, to show them that I was there for them and for Jess if she needed anything.
They all came up with our best performance in the tournament, including Jess (Vance), who made some key saves to keep our dream alive all game long, and we believed in it all game long. I still think we deserved that game but we have to give credit to Russia, a talented team who capitalized when we made one of our few mistakes in that game.
So, the end was really heartbreaking, but I was still really lucky to be part of that team, of that experience. In less than two weeks, we became all very close and after only a few days, we could feel we were becoming a real team.
I think everyone just knew we were going to live one of our most memorable times and we were just excited to share it with one another. I also think it was very special to shift from competitor to friends in such a short time and to see that everyone was just committed to that experience including our staff, our Russian attaché Dinara and the volunteers.
Getting to know some amazing persons and talents, such as my roommate from Saskatchewan, Leah Bolhken, whom I could not believe I had not heard of before. She was also part of a great experience. The moments passed in the Athlete's Village were also great and I also have to think of the Closing Ceremonies as a strong memory.
I think the bond we had almost instantly in our team and the pride wearing Canada's jersey and just wanting so bad to honour its colours were probably the most positive elements of that experience."
All quotes obtained first hand unless otherwise indicated
Featured image supplied by Maude Lévesque-Ryan
Related Articles