Already one of the greatest to guard the crease for the University of Saskatchewan Huskies, Jessica Vance attained a new pinnacle, adding to a sparkling legacy. Among an assembly of Canada's premier talents in U SPORTS play, Vance, an exercise science major raised in Prince Albert, Saskatchewan, ascended to world-class status by competing in women's ice hockey at the Winter Universiade.
Among five players from the Canada West Conference named to Canada's contingent, a pair of Huskies teammates, one current and one former, joined Vance. A member of the Huskies Class of 2018, Kaitlin Willoughby, a draft pick of the CWHL's Calgary Inferno, remained eligible to compete in the Universiade. Leah Bohlken, a fourth-year blueliner and computer science major, who finished the 2018-19 season as a Canada West First-Team All-Star, also gained the call.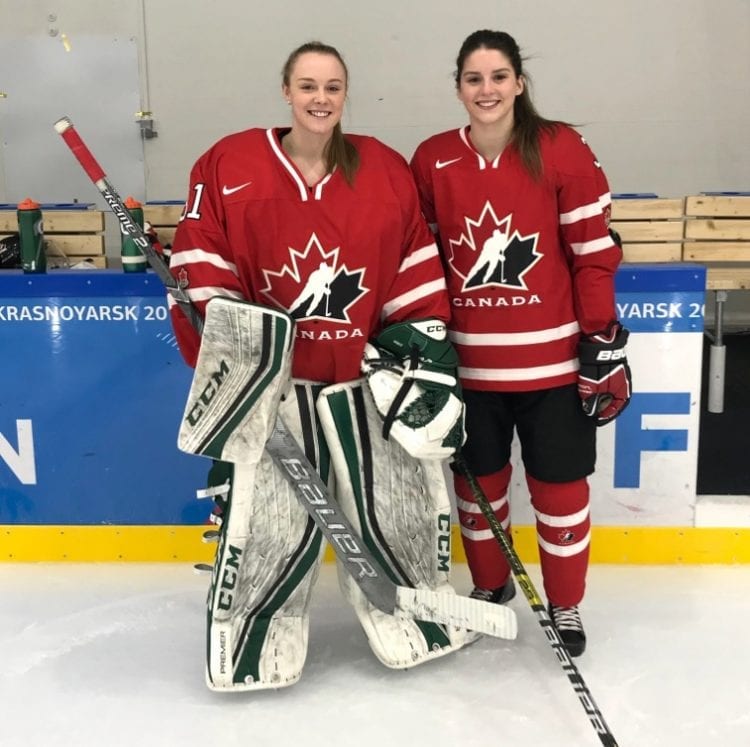 Representing both Canada and the University of Saskatchewan alike, it signified a treasured opportunity for this tremendous trio to experience exciting new plateaus by wearing the Maple Leaf internationally. Undeniably, each possessed big game experience, having appeared in the 2018 Canada West championship, followed by the U SPORTS Nationals, where the Huskies qualified for the medal round.
Certainly, Vance boasts spectacular credentials. Originally recruited by the University of Manitoba Bisons, she achieved her pinnacle in Huskies green. Recognized as Canada West's Player of the Year for the 2017-18 season (joining Breanne George and Julie Paetsch as the only Huskies honored), it ran parallel to the honor of a revered spot as a First Team All-Canadian, she recorded 10 shutouts in just 20 games. Such a spectacular mark tied Lindsey Post (coincidentally, she would also be a Calgary Inferno draft pick), for the second highest shutout total in one season.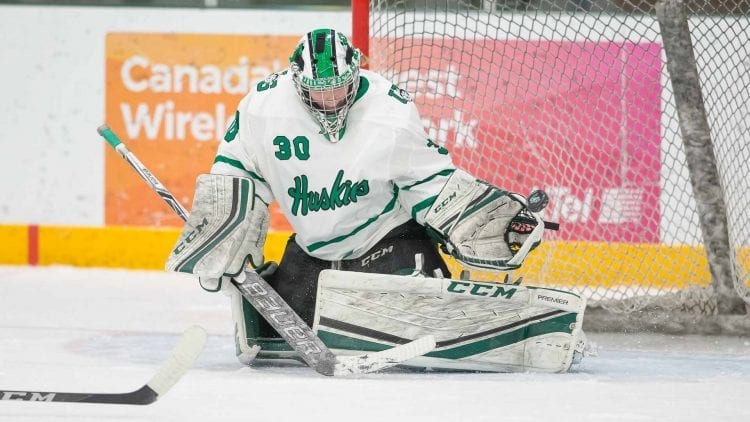 Among the highlights from 2017-18, Vance's heroics were critical in the Huskies sweeping the defending Canada West champion University of British Columbia Thunderbirds in the first round of the conference playoffs. With a regular season mark of 14 wins, against only three losses, complemented by a superlative 0.77 Goals Against Average, it placed Vance among the most notable members of Canada's roster.
While such a sparkling body of work also brought with it expectations of leadership, Vance's viewpoint was one built on the spirit of collaboration. Displaying a tremendous maturity, she humbly recognized that many other players picked for Canada's roster brought their own set of achievements, meaning that everyone provided an aspect of leadership,
"There was a lot of us that were there for the first time, but two players were returning so I think we looked up to them. There was a lot of other players there that also have accomplished amazing things so I think we all just worked together for a leadership role. I like to think of myself as a leader by example, so I always give it my best effort in everything we do."
Sharing goaltending duties with Ottawa Gee-Gees fifth year student-athlete Maude Levesque-Ryan, their cumulative efforts resulted in Canada amassing an astounding three straight shutouts to open the Universiade, both becoming integral components towards keeping Canada in contention for the gold medal.
Making her Universiade debut at Krasnoyarsk's Pervomaisky Ice Arena on March 3, 2019, Vance recorded 25 saves in a brilliant shutout versus Japan, prevailing by a 4-0 advantage. In a unique moment of serendipity, Bohlken actually scored the first goal of the game, which proved to be the game-winning tally. Subsequent goals by Cassandra Labrie, Morgan McCann (who finished the tournament tied for the team lead) and Tricia Van Vaerenbergh, who skates in Canada West for the Lethbridge Pronghorns, placed the Canadian contingent in a confident position to start the tournament.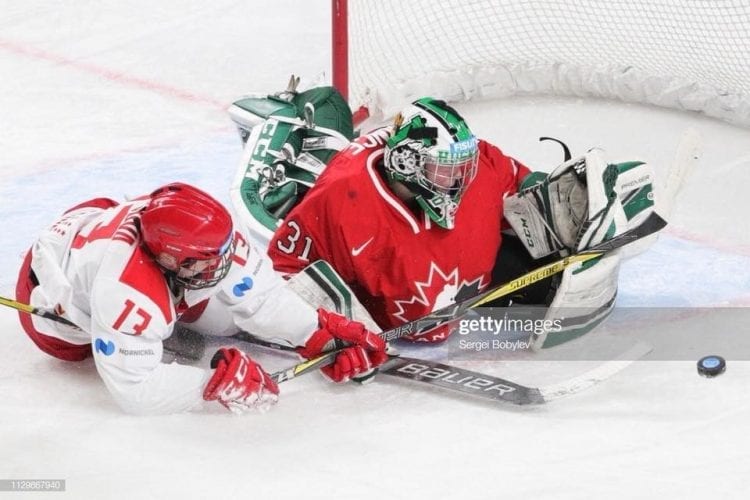 Adding sheen to the milestone of Vance's first international win was the fantastic feeling of euphoria regarding her first wearing of the Canadian jersey. Having long believed that the opportunity to attain the dream that defines the hockey odyssey of so many young women in hockey was possible, the reality is one that encompasses many sentiments. Absorbing the impact of having the Maple Leaf embroidered on her jersey, the reality providing with it a delightful reaction, it added an even greater importance to Vance's athletic endeavors,
"It was surreal. You see some people you know that get to put on that jersey and you think to yourself maybe I would get to do that one day, and when you actually get that opportunity it is an unbelievable feeling."
Enjoying a round robin victory versus Switzerland, who were making their first appearance in women's ice hockey at the Winter Universiade, Vance also gained the opportunity to start in the semi-finals. Opposing Japan once more, Vance delivered on all accounts, amassing 19 saves. Resulting in her third win of the tournament, it extended a solid run of reliability between the pipes for Canada, qualifying for their sixth straight gold medal game appearance.
Competing against host nation Russia in the gold medal game Vance did not wither, providing a superlative performance, evidenced by the fact that the score remained 0-0 after two highly intense periods of play. Facing an astounding 42 shots, Vance's determination embodied Canada's resiliency in the middle of such difficult circumstances, with a capacity crowd cheering in favor of the home team.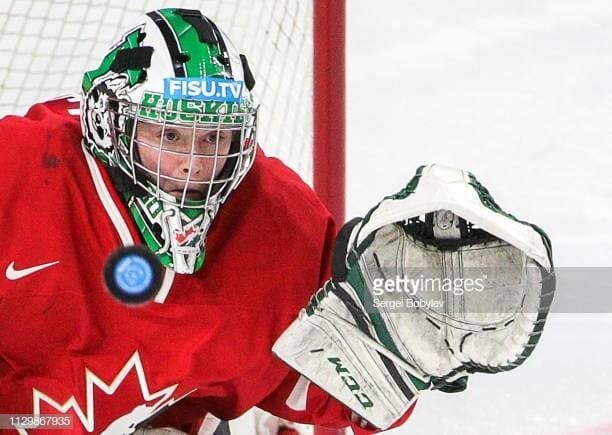 Understandably, there was a flood of emotion in the immediate moments after the contest, a sullen silver medal not enough to compose the morose feelings of heartbreak and melancholy. Taking into account the level of heart and high energy exerted on the ice, Vance and her fellow teammates supplied a very commendable performance. That display of team spirit helped enhance the realization of a podium finish, providing Vance with an achievement that shall hold a special place in her career,
"I think that right after the game we were obviously disappointed with how close to that gold medal we were. But after a few days, you look back and actually realize how big of an accomplishment you made and I am so grateful to have had this opportunity and I am proud of how well my team played against the strong Russian team."
Ranking among the top four goaltenders statistically at the Winter Universiade, Vance recorded a .958 save percentage, along with a sparkling 1.12 goals against average. Such scintillating numbers affirmed her status as one of the elite goaltenders of Canadian university hockey, shining on a global stage. Ruminating on the revered status that comes with playing for Canada, surrounded by a group of accomplished teammates that are equally world-class people, the combination of anticipation and excitement that led to this monumental milestone is one encompassed by the strong sense of national pride that comes with the dream of wearing the Maple Leaf,
"I enjoyed being able to represent my country. Being at this event was amazing and we got treated very well. Getting the opportunity to play against some of the best players in the world was a great experience. I got to showcase my skill at this prestigious event, which meant a lot to me. I left this event being very proud to be Canadian."
"All quotes obtained first hand unless otherwise indicated"
Related Articles