As a young girl, Claire Buchanan would have no idea that an opportunity to watch a sledge hockey practice would lead to a life passion, and ultimately a position as Assistant Captain of the Canadian Women's Sledge Hockey Team.
Despite Claire being born with Spina Bifida, her mother, Susan, was determined to find something her daughter could be involved in. When Claire was eleven or twelve, Susan first introduced her to the game. "Getting started in sledge hockey I owe all to my mum," Claire states.
It wasn't all smooth sailing in the beginning. At first reluctant, Claire declined the chance to try the game. She was terrified. But she and her mom struck up a deal that for her first time out, she could just sit and watch the practice. "I had watched NHL games and knew of the sport, but it wasn't until I saw sledge hockey that I really got excited." By the next week, Claire was on the ice.
The first few times on the ice weren't easy. In fact, Claire says they were terrible: "I was literally just going around in a big circle, if I wasn't falling over, but I was hooked and I have loved every second of it since."
Involvement in the sport would eventually open numerous other avenues. It was via sledge hockey teammates that Claire would come to play the sport of wheelchair basketball. Her university years were spent playing for Alabama University, where she earned two NCAA titles. In March of this year, Claire retired from the sport as a player.
Life on the Canadian Women's Sledge Hockey Team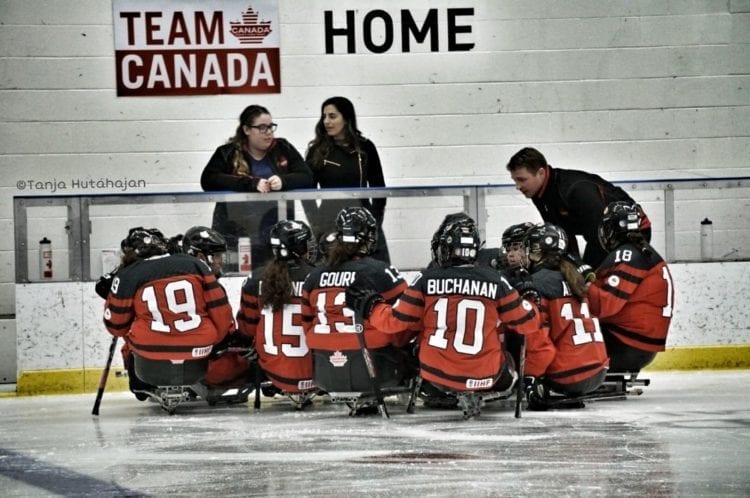 For the past five years, she has had the honour of representing Canada. This past August 23-25, the 2019 National Selection Camp was hosted in Whitby, Ontario and Claire was named to the roster for her sixth season on the squad, and she was once again selected as an Assistant Captain. Being part of the team has been a tremendous source of pride for Buchanan and broadened her world in more ways than she could have imagined.
"Sledge hockey has taken me to incredible places where I have been able to be a part of some exciting games. Playing the USA is at the top of my list for things I look forward to and the reason I train so hard. We want to beat them, and we love when we get to have that success as a team. At the end of the day, the thing I am most proud of is how I have been able to help grow the sport and have an impact on the next generation of sledge hockey players."
Beyond Team Canada, Claire has a pretty full ice schedule. This season, she also earned a spot on Sledge Team Ontario and the Mississauga Cruisers A Team. In between the various camps and tournaments, Claire's training schedule includes 2-3 on ice sessions per week, lifting 4-5 days a week, and most recently, Crossfit. And in the summer, to offset decreased ice time, Claire worked to keep fit with running and indoor rock climbing. Of her personal goals this season, she aims to break out of the middle of the pack in terms of speed and conditioning.
Life can get pretty hectic and it doesn't leave much time for other plans, but Claire knows that's part of the territory and takes it in stride. She doesn't go it alone and largely credits her successes to her amazing support network. Her wife, Dott, has been tremendously supportive:
"My wife is from Florida and she drove up to Canada with me. She has been by my side ever since. To this day, all I have had is a tremendous amount of support. If I was going to play hockey, doctors have always made it possible for me to do that. The woman that makes my leg braces probably has the worst of it. A pair of braces are supposed to last two years, but I see her throughout the year because I either crack them while playing or while training."
Being an ambassador for the game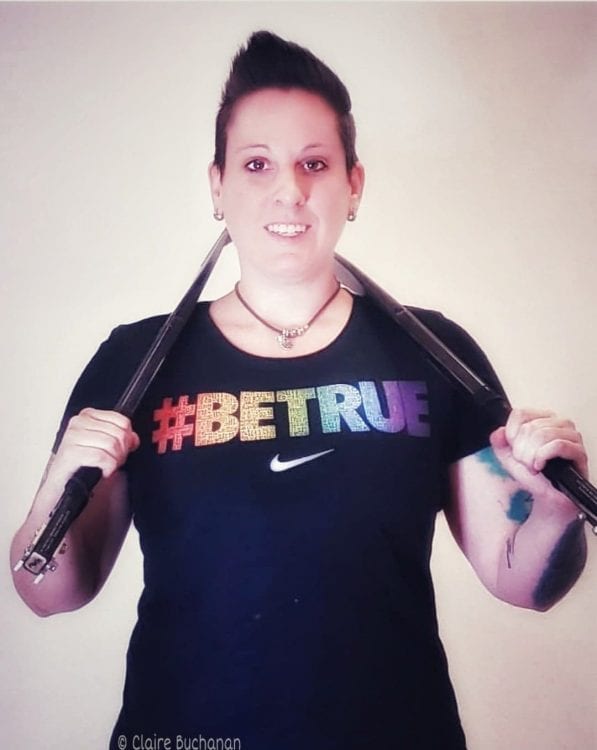 When speaking with Claire, it is easy to see how passionate she is about accessibility, independence and inclusion. "My biggest mission as a player at this level is to leave a path for the generations to follow me. That is why I put so much into the sport. It's for the girls behind me."
In addition to her playing commitments, she is also a ParaSport Ambassador and served as Player Representative on the WSHC Board for a season.
"With ParaSport Ontario as an athlete ambassador, I am called to certain events that usually have a sledge hockey component. At the events, I take part in getting people in the sleds and then being in a sled also. I talk about the sport and other sports that are available for those with disabilities and their families. My job is to be the face of the sport for the event and to educate as many as I can about the world of para sports."
Claire is also an out athlete and wants others in the LGBTQ community to know they belong. She credits sport with giving her a space to feel safe and accepted.
The future of Canadian Women's Sledge Hockey
While sledge hockey had its start beginning in 1961, the women's game is still jockeying to carve out a place of its own. Women were denied participation in the 2006 Paralympics, and only granted very limited involvement in 2010. In 2014, the IPC Ice Sledge Hockey International Women's Cup took place in Brampton, Ontario with Team Canada, USA and Europe competing. And in 2018, the Women's Para Ice Hockey World Cup was held in Ostrava, Czech Republic with the same three teams (Canada, Europe, USA) competing in an elite division along with a concurrent development division with 12 nations represented.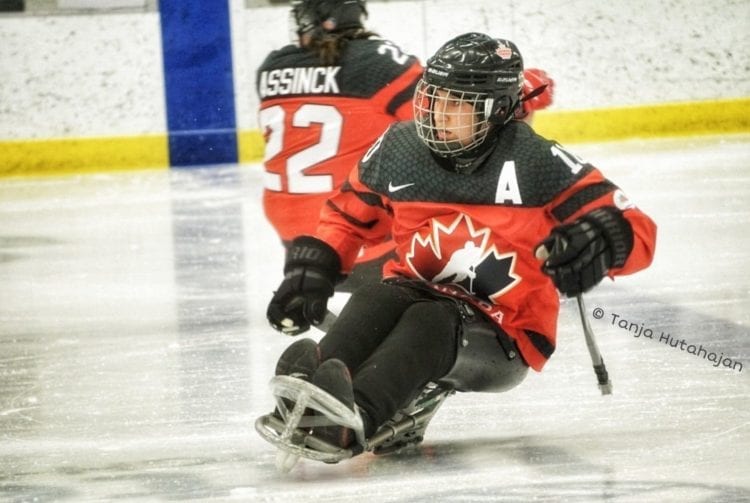 Though having existed for over a decade, there is still a long road ahead for the Women's Sledge Hockey of Canada organization to reach equal status to their male counterparts. The women's game needs to grow on an international scale in order to achieve checkpoints that would allow it to apply to be funded through Sport Canada, and therefore, Hockey Canada similar to the men's team. This October, however, Women's Sledge Hockey of Canada received a welcome boost by way of a $50,000 grant. It was awarded by the Hockey Canada Foundation as part of the TrailblazeHERS project, launched in 2019. While this grant will help offset some of the organization's cost, the players still have the responsibility of bringing in their own funding to play, along with relying on dedicated volunteers on the bench and behind the scenes. As such, they actively seek sponsorship at the team and player level.
Asked what dreams Claire has for the future of women's sledge hockey, she has this to say, "Paralympic medal sport. Having our sport being watched and played by the world. I wouldn't classify it as a dream anymore because it is moving in the direction that it needs to. It will only keep growing if we keep talking about it and getting more girls on the ice! My dream would be watching the young players that I know today play on the biggest stage and in the biggest games."
What advice does Claire have for young girls coming up in the game?
"Believe in yourself. Just because something might not be possible now, you can be the beginning of change. Go out and make your dreams happen because one day they will become your reality."
---
GRAB THE HOTTEST STARTING LINEUP THIS SEASON:


Related Articles