Part of a golden generation of celebrated heroes that wore the Canadian jersey, achieving the dream of all who play the game, Delaney Collins was more than just an essential fixture on the national team's defensive unit during the 2000s. Comprising an amazing body of work beyond her playing career, Collins, who made 95 appearances with the national team, enjoying a superlative medal haul highlighted by nine golds, holds an esteemed place as an icon whose venerable impact, as evidenced by a sterling coaching resume, has transcended generations.
The pride of Pilot Mound, Manitoba, Collins is one of the greatest to hail from the province, part of a pool of talent that has seen the early part of the Century feature the likes of Jennifer Botterill, Bailey and Shelby Bram, Delayne Brian, Jocelyne Larocque, Halli Krzyzaniak and Sami Jo Small, among others. Worth noting, her hometown, and numerous family members, enjoyed the national spotlight. Featured on CBC's highly popular program "Still Standing", the arena was a focal point of the show, rekindling fond memories of Collins' hockey heritage,
"Yes that was super exciting to watch and it game me a huge sense of pride for my hometown."
CONCORDIA UNIVERSITY STINGERS
With such a lengthy and solid list of achievements, one of the most profound involves revisiting one of her earliest milestones, one which is a defining moment in her career, and an amazing facet of Canadian university athletic lore. Taking into account how Collins would earn remarkable acclaim as a coach, there was a highly evident sense of a positive influence during her university years. Having played for the likes of accomplished bench bosses such as Les Lawton and Howie Draper, she would capture national championships playing for each.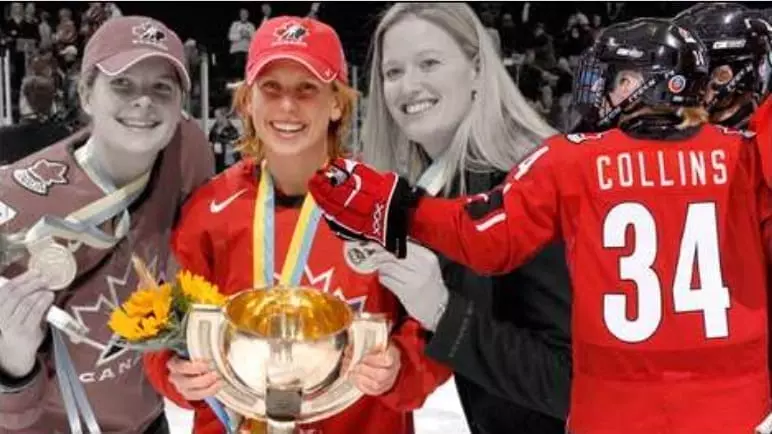 Beginning her post-secondary sojourn at Montreal's Concordia University, the Stingers program is quickly identifiable by the legacy of Lawton's 500+ wins. Beyond the victories lies a lasting legacy of talent to have worn the Stingers jersey. In addition to Collins, this celebrated sorority included Cecilia Anderson, Lisa-Marie Breton-Lebreux, Therese Brisson, Karyn Bye, Cammi Granato, Erin Lally, Caroline Ouellette, Corinne Swirsky and Kelly Sudia, among others.
Capturing a national championship with the Stingers in 1998, Collins' only season with the program, complemented by the prestige of being named a First Team All-Canadian. The glorious climax of said season served as the first half of a rare double, capturing a National Championship in a field of competitors that included the University of Toronto Lady Blues, the Guelph Gryphons, plus L'Université du Québec à Trois-Rivieres.
UNIVERSITY OF ALBERTA PANDAS
Following Centralization for the 2002 Salt Lake Winter Games, Collins returned to her Prairie roots, suiting up for the University of Alberta Pandas. Playing for Draper, one of the most celebrated women's hockey coaches in Western Canada, it marked the bridge for the next chapter of Collins' university legacy. Having transformed the Pandas into a dynasty, capturing 14 Canada West conference crowns, Draper's highly talented group of skaters in his run reads like a who's who of women's ice hockey.
Donning the Pandas' distinctive Green and Gold colours from 2003-05, Collins, who racked up an even 100-points, enjoyed back-to-back All-Canadian honors. Part of an amazing roster that featured the likes of Danielle Bourgeois, recognized as the Canada West Player of the Year from 2003-05, Taryn Fjeld, plus future Clarkson Cup champion Kristen Hagg, the Pandas from 2001-07 earned a place in the Canada West Hall of Fame.
Perhaps, an even more impressive series of numbers involves the fact that Collins was part of a Pandas roster over two seasons that enjoyed an undefeated mark of 40-0-0 in conference play. Racking up a total won-loss mark of 63-1-0, Collins captured the national championship once again in 2004. Defeating the Ottawa Gee-Gees for the Pandas third consecutive title, it provided Collins with a treasured place in Canadian hockey lore.
Winning a national championship once marks a remarkable achievement, yet, to do so twice is rarer still, especially to reach this summit with two different programs.
"It means a lot, especially when you look back and reflect on the team and the process. Winning is fun to relive with your teammates and the players you have a lifelong friendship with. Former teammate Taryn Fjeld and I talk OFTEN about being a Panda at the University of Alberta."
HOCKEY CANADA
Spending the remainder of the decade in Hockey Canada colours, gracing the frozen surfaces throughout the globe, holding a place among the game's elites, one of Collins' highlights resulted in a highly memorable 2007. Home ice advantage took on a more profound meaning with Winnipeg, Manitoba serving as host city for the 2007 IIHF World Women's Championships.
Capturing her third IIHF gold medal on Canadian soil (Collins also skated for Canada at Mississauga 2000 and Halifax 2004). Stirring strong feelings of national pride, accentuated by a 5-1 victory over their eternal rival United States in the gold medal game, Collins earned an assist on Canada's third goal of the game, scored by tournament MVP Hayley Wickenheiser. Undeniably, the jubilation was enhanced by earning a spot on the Media All-Star Team, the honor affirming Collins' status as a world-class competitor, simultaneously adding a new dimension to her standing as a local hero.
CALGARY OVAL X-TREME
Before 2007 reached its conclusion, Collins enjoyed another pair of proud milestones. Recognized as Manitoba's Female Athlete of the Year, she was a key contributor for a Calgary Oval X-Treme roster that not only won the Western Women's Hockey League (WWHL) championship, but the gold medal at the 2007 Esso Women's Nationals, hoisting the Abby Hoffman Trophy. As a side note, Collins would capture another WWHL championship with the X-Treme in 2008, along with a silver medal at the 2008 IIHF Women's Worlds.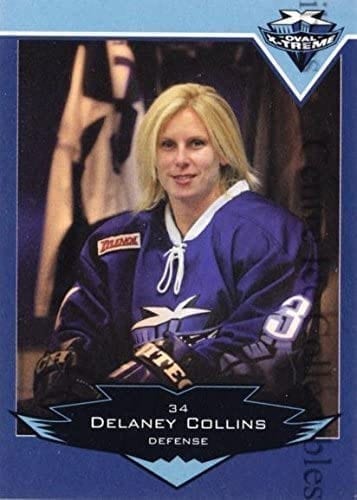 MERCYHURST UNIVERSITY LAKERS COACHING CAREER
Fast forward three years, Collins' hockey odyssey found opportunity in another capacity. Transitioning into the coaching realm, it was a role perfectly suited for her. With an acumen for the game, able to understand the expectations that come for a new generation of players with the Maple Leaf on their jersey, Collins' tutelage involved duty on the Under-18 and Under-22/Developmental Teams.
Equally integral in Collins' development as an elite level coach found an opportunity south of the border that held its own unique linkages to Hockey Canada. Joining Michael Sisti's coaching staff in 2011 with the Mercyhurst University Lakers, an Erie, Pennsylvania-based program consistently considered a nationally ranked power, Collins' role as associate head coach maintained such standing. As a side note, Collins' first year in Erie saw four Manitobans on the roster, including Chrstine Bestland, a product of Brunkild, who would serve as team captain in 2013-14, both Bram sisters, who called Ste. Anne home, along with Kristine Grenier, the leading scorer from the 2011 Canada Winter Games, hailing from St. Leon.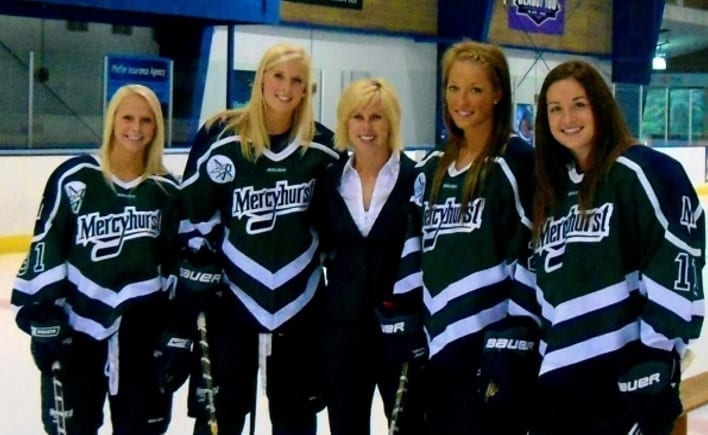 Part of the Lakers legacy involves a list of world-class alumnae. Featuring the likes of star talent that have also worn Team Canada's colours, including Meghan Agosta, Patty Kazmaier Award winner Vicki Bendus, Bailey and Shelby Bram, Jess Jones and Jesse Scanzano, plus Kelly Steadman, who has worn the Stars and Stripes at the IIHF level, Collins was just as essential in said legacy. With a role as associate head coach, five seasons spent in Erie resulted in a pair of NCAA Frozen Four appearances (2013, 2014), plus the College Hockey America championship twice (2013, 2016).
Serving as an ideal proving ground, preparing Collins for a rich multitude of prestigious assignments as the decade progressed, Collins helped the Lakers set an NCAA women's hockey record with ten consecutive postseason appearances. During her time in Erie, the program posted a cumulative won-loss mark of 118-44-16, the best year resulting in 29 wins in 2012-13. Additionally, the Lakers record in conference play was an amazing 68-15-9.
"It made me more mentally tough under pressure and gave me the ability to multitask and adapt to various environments."
HOCKEY CANADA COACHING CAREER
Running parallel to Collins' service with the Lakers involved the opportunity to become a coach with the Canadian national women's team program. The first rung in the ladder took place during August 2013, when Collins was assigned the role of assistant coach at a selection camp in Calgary, Alberta, for the National Women's Under-22/Development Team.
The next four summers would see Collins involved in a further coaching capacity, involved either with Canada's Under-18 or Under-22/Developmental Teams in three-game series against the United States, a staple of summer hockey for both nations. Of note, the summer of 2017 resulted in Collins leaping into the head coaching role, leading Canada's Under-18 squad versus the United States in Lake Placid, New York.
Collins' coaching resume would include a substantial medal haul with Canada, including a silver medal at the 2015 IIHF U18 Women's World Championships in Buffalo, N.Y., in which overtime was required to decide the winner.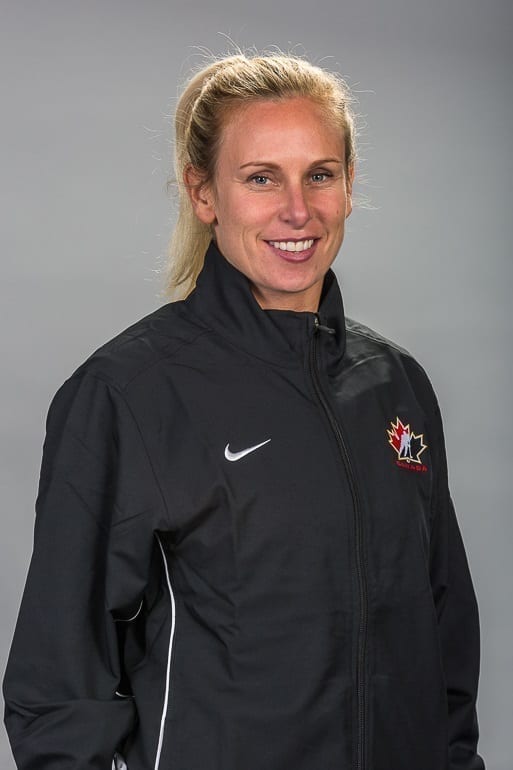 The 2016 Nations Cup in Füssen, Germany, resulted in a golden outcome as Jamie Lee Rattray scored the game-winning goal in a 4-3 overtime victory versus Finland. One year later, Collins added a silver medal at the 2017 IIHF U18 Women's World Championship in Zlin, Czech Republic, as Sophie Shirley earned the Directorate Award for Best Forward. Before the decade expired, Collins gained the assignment of serving as head coach for Canada's entry at the 2018 IIHF World Women's U18 Championship in Dmitrov, Russia where they would capture the bronze medal.
The 2010s signified an extension of Collins' tremendous career, becoming part of a renaissance that saw many national team players taking on bigger roles in the game, ascending to the coaching ranks, preparing a new generation of aspiring players to carry on the legacy of wearing the Maple Leaf for Canada. Collins was definitely integral in this empowering facet. Joining her during this groundbreaking era included the likes of Danielle Goyette, Noemie Marin, Carla McLeod, Laura Schuler and Britni Smith, among others, all part of a distinguished group to have played and coached at different levels of Canada's national teams.
"Incredibly proud of this. You make connections with teammates and players that last a lifetime and it is very special to be a part of a National Team."
CANADA WINTER GAMES – TEAM BC HEAD COACH
Relocating to British Columbia following Mercyhurst, where she worked on a master's degree in organizational leadership, the journey would mark another key milestone, bringing the decade to a highly relevant and triumphant climax. Becoming an assistant coach with the Okanagan Hockey Academy, Collins also took on head coaching duties, joining the Fraser Valley Rush in BC's Female Midget AAA for the 2017-18 season, Collins tutelage yielded strong results, highlighted by a solid 10-4-2 mark.
What's happening? ….🥅🏒🎟🔑 pic.twitter.com/wRdqCloq4F

— Delaney Collins (@delaneyc34) July 29, 2017
With Red Deer, Alberta serving as host for the 2019 Canada Winter Games, it allowed dynasty and destiny to collide for Collins. Leading Team BC to a bronze medal, their first since the inaugural women's ice hockey tournament at the 1991 Canada Winter Games, it marked an historic milestone in numerous ways for Collins.
Defeating Team Ontario in a 5-4 final on March 2, 2019, with Kate Reilly serving as BC's captain, the performance was one defined by character. Adding luster to the podium finish for Collins was the fact that she was not the only Hockey Canada alum to place her team in the top three. Carla MacLeod, a blueliner for Canada at the 2010 Winter Games, plus Noémie Marin, who played with the Under-22/Developmental Team from 2004-06, and a multiple Clarkson Cup champion with the Montreal Stars/Canadiennes, both led teams to medals, serving as head coaches for Alberta (Gold) and Québec (Silver).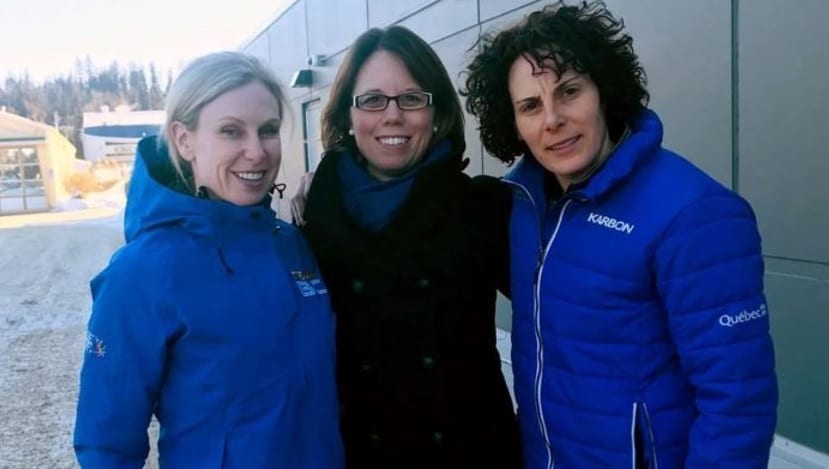 The 2019 Canada Winter Games would see Collins, MacLeod and Marin making history: it was the first time in the history of women's ice hockey at the Canada Games that all three coaches of medal-winning teams were former competitors in Canadian colours. To be part of this very historic milestone was one that propelled Collins into another celebrated facet of the game's lore, ensuring a celebrated place as one of its most inspiring and compelling figures.
"Truly amazing! All Head Coaches on the podium were female and former Team Canada members. The Canada Winter Games was one of the most memorable experiences of my life!"
Featured image by: John Lehmann/The Globe and Mail
---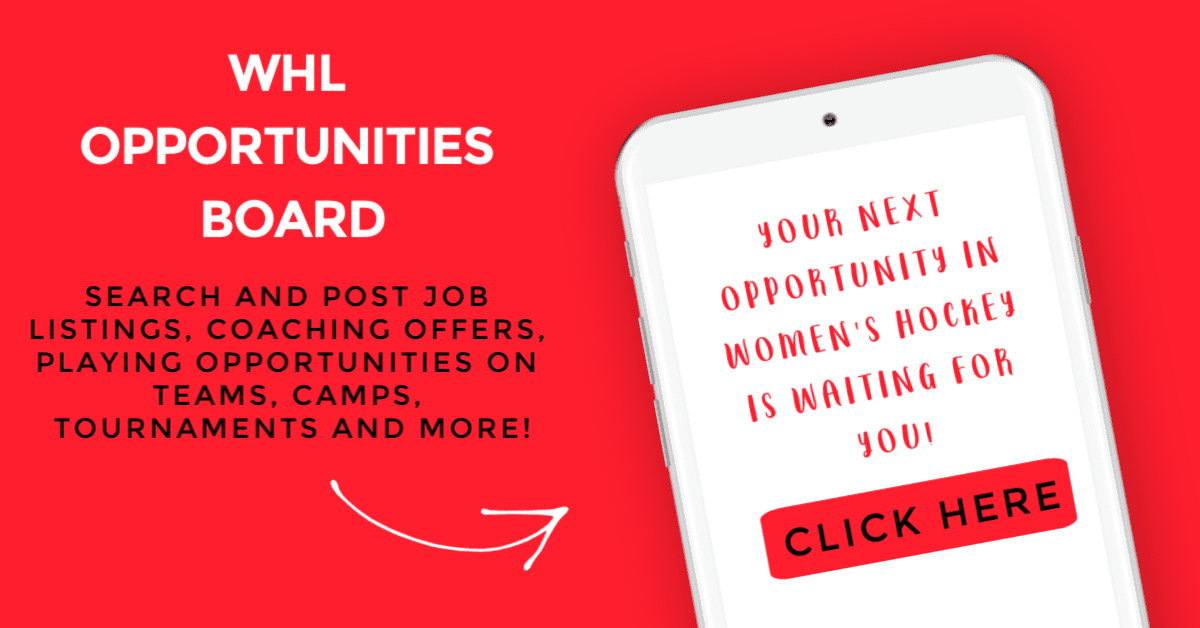 Related Articles