I sat down to write this recap of my time with Team Alberta at the 2019 Canada Winter Games a few months ago but stopped myself. I came to the conclusion that the important things that I should write about are not the things I remember right after the event, but instead the things that are still stuck with me now, 147 days later.
¨With but few expectations, it is always the underdog who wins through sheer willpower.¨ – Johnny Weissmuller
Team Alberta was not one of the big dogs heading into the Canada Winter Games. We were not Team Ontario or Team Quebec, we were simply slated as the underdogs. We knew this going into the tournament but we also knew our team's mentality: ¨Team culture is hard work. Hard work is team culture.¨ Our coaches continually sent us this message and we had to learn that we needed to be all in as a team. Our coaches, Carla MacLeod, Cassea Schols, Craig Perret, Amanda Tapp and mental training coach Barry Medori, brought the team closer with a simple exercise that worked wonders.
Since last May, when the process started we learned from the Navy Seals philosophy of playing for the people around you, so when we got to Red Deer we formed a circle. Each player and staff member received a set of dog tags. One quoted our mentality of team culture, inscribed on the other was ¨2019 Canada Winter Games, AB Built¨ with a space at the bottom. Each player told their favourite memory from the many camps we had been through with Hockey Alberta. We also said who we were playing for and wrote that person's name or initials in the space on the second dog tag. It was a very vulnerable hour filled with tears but it brought the underdog team together.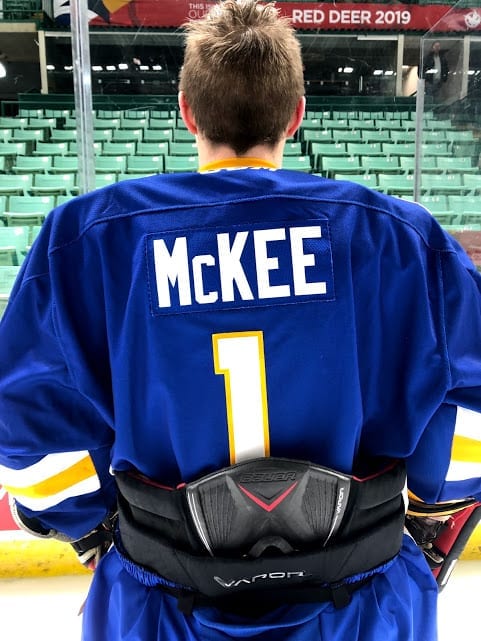 Our story however certainly does not begin on the day we received our dog tags. This team, this moment, had been in the making for four years. Since Team Alberta's bronze medal finish at the 2015 Canada Winter Games, the focus was simply to win gold in 2019. But that was far from simple, no one would expect what would happen in Red Deer, Alberta in February of 2019.
GAME ONE
Alberta vs British Columbia. Nerves and excitement were the highest they had ever been for most of the girls sitting in the room ready to take the ice in their home province. I was lucky enough to get the call to start between the pipes that night. I don't remember the warm up at all but I do remember how special it was to stand for the national anthem that very first game. It was such an amazing feeling of patriotism.
But, that feeling would soon fade as Team Alberta did not have any puck luck that night. Later in the game I would be pulled and leave the bench in a heart wrenching and angry manner. This was a terrible way to start the tournament for me and an even worse show of character and grit displayed for my teammates. I am not proud of that game or especially that moment, but as I look back now I realize just how important that chain of events truly was. We would go on to lose that game 6-1.
GAME TWO
My goalie partner would start the next game and we would win a thrilling game against Team Nova Scotia in a shootout! This was a huge boost for the girls and something we desperately needed. Our hockey had been full of ups and downs already but off the ice Team Alberta never failed to wear smiles on our faces and remain respectful and friendly wherever we went. As each one of us began to realize just how big of a deal pin trading was between all the athletes and volunteers at the games we began to socialize and enjoy the entire atmosphere.
I will never forget how proud the volunteers were of us. Whenever they saw us, we were often met with "Go Team Alberta Go" or "How did the game go, girls?"
One small lady in the dining hall in particular was especially sweet. I would chat and laugh with her every time she was there and all of the girls had a great time with her. About halfway through the tournament she saw us all seated at a table eating a meal and came over to us excitedly. She had a hat and asked us all to sign it for her—the joy and pride she wore on her face was something I will never forget.
GAME THREE
As pin trading, foam rolling, and video sessions continued, so did our games. In the final game of the round robin, Team Alberta would face the powerhouse Team Ontario. We were set for an epic, physical battle and I was happily surprised to get another opportunity to play. I could have very well been done for the tournament after my display against Team BC, but thankfully my coaches had other plans and my team had not lost hope in me. I was assured that I had been chosen for Team Alberta for a reason and that had not changed. We fought hard throughout the game but came up short in the end with a 2-1 loss. The home team was 0-2-1 in the round robin. However, this did not worry us nor our fans, we were not out of it yet.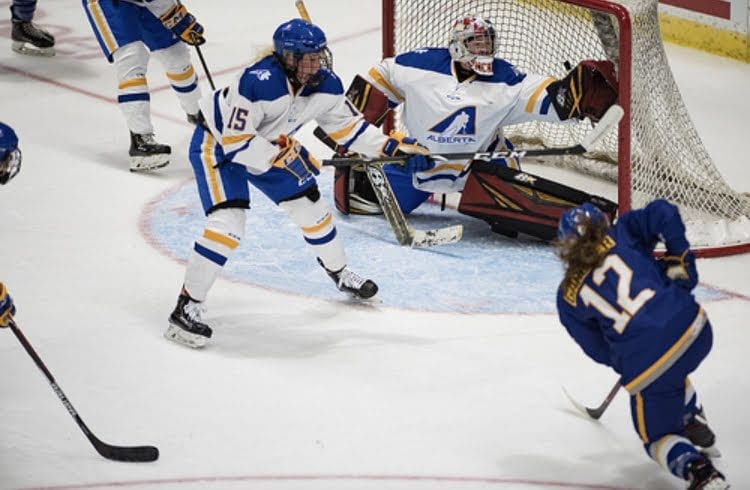 QUARTERFINALS
A must win game against Team Manitoba. Still searching for my first win in the net with Team Alberta I took the ice. We came out flying and showed anyone who doubted us that we were not done yet. We shut Manitoba out 3-0 to get our quarterfinal win. I will forever cherish that shutout puck and remember how well we all played to earn that W.
SEMIFINALS
The underdogs kept rolling, I cheered nervously from the bench as my team got a 2-1 overtime win against British Columbia to earn our spot in the gold medal game.
FINALS
This was a game we had all dreamed about playing but still, you can never prepare for the nerves. We would face off against Team Quebec in the final. If you watched or listened to the TSN feed for this game it was obvious that Quebec was the favourite, but the downtown Red Deer Alberta arena was filled to capacity, the hundreds of fans who were turned away at the door and the hundreds of others who tuned in to watch would likely disagree, the entire province was rooting for the blue and gold.
I took the ice as the starting goaltender and from that moment on I knew it was my time to earn my keep and show my team that I was in it to win and nothing less. It was a very back and forth game and heading into the final period it was Team Alberta on top 2-1. Quebec pushed hard and as my team defended as well as they could and I made a career best save, I knew deep down that we had done something special.
As the final seconds ticked down there was a face-off in our defensive zone to my left, it was nothing but a scramble. The noise was so loud we could barely hear the final buzzer. My gloves and stick were in the air and my mask set neatly on the top of my net before any teammate had reached me. For a fraction of a second I disappeared into my mind and thanked everyone who had supported me and helped me get to that moment.
And then… we celebrated! Hugs and screams handshakes and waves and claps to our fans. We received our medals and proudly stood for the anthem with our arms interlocked around each other. Then the ice was free for family. I hugged my parents and my one sister and grabbed my nephew in my arms and skated a victory lap with him. I took pictures and grabbed my phone to record a video on the ice saying thank you to my best friend who could not be there in person with me that week. That win was for her, she had always been there for me.
Leaving the ice felt like I was riding a cloud. I remember our coach coming in and then before I knew it, I was out of my gear already, still smiling like crazy. However, something was not quite right for me. The coaches and staff did not receive a medal or a championship pin like we, the players had. Throughout the tournament we had a missions staff member who loved us like her own family, she helped us with everything we needed and was always happy. I left the dressing room and found her already helping set up a post game meal for us. I gave her my championship pin and thanked her for all she had down for us and after that it felt like I could really celebrate.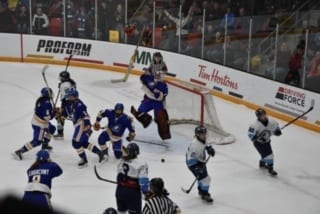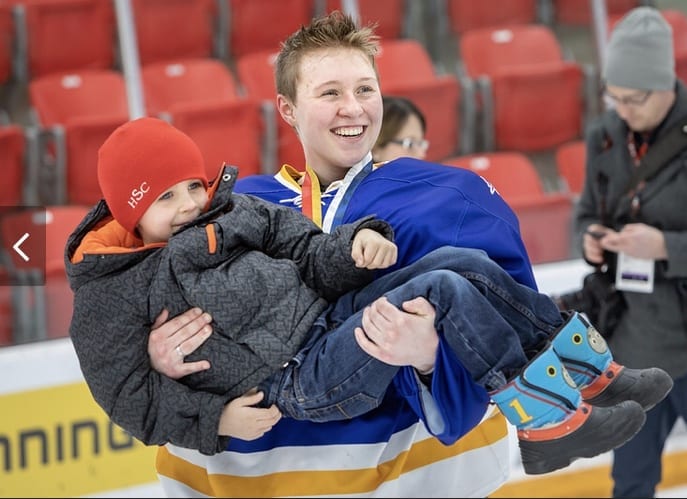 147 DAYS LATER
Today, my dog tags and gold medal are mounted proudly on my wall. Written in left hand smudged sharpie are the initials D.O./C.S. Although I do not remember all the people my teammates had wholeheartedly shared, I can confidently say that those people are honoured and proud. C.S. is my best friend that I sent that video to. Even though she humbly shies away from accepting that I was playing for her, she is so very proud of me and my accomplishments. I thank her endlessly for her support, acceptance, love and push that she has unconditionally given me.
D.O. was a good friend and role model that passed away when I was younger. I believe that he was with me that special day and I truly hope I was able to make him proud. The support that you receive as an athlete is incredible and the thank you's are many. My family, Kitscoty High School, Irma School, Lloydminster Steelers, friends and everyone else in between, thank you, for more than I can say.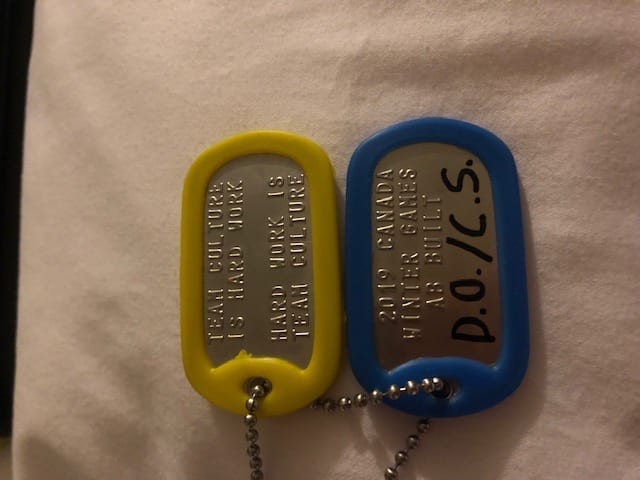 This past weekend on July 21, 2019 Team Alberta reunited in Canmore, Alberta to receive our championship rings. Once again, everything began to sink in for us players as we realized just how special what we had accomplished truly was. Until then, I had been disappointed in how my first game went and had wished a different outcome. In Carla Macleod's coach's debrief she was asked what she would change about our tournament: she said absolutely nothing.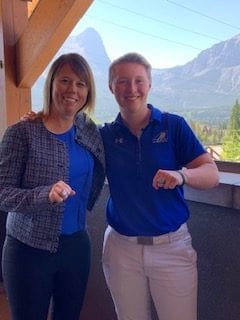 After the meal and the presentation I had the chance to chat with Carla and I once again made a comment about that first game against BC. She quickly shot me down and described to me just how important that first game really was. It gave my teammate a chance to play without nerves and it gave me an opportunity to bounce back. It also gave Team Alberta some adversity to overcome. As Carla told me, "All the games shaped the ending. Be proud of that first game. It helped the team and you, get to the end result we wanted. Be thankful for that game."
Finally, I understood. That game, everything we faced and had to overcome, the underdogs we were, shaped the 2019 Canada Winter Games Champions—Team Alberta. Regardless of where our hockey journeys continue or end, that title and our remarkable story is a legacy that will never be forgotten.
– Bella McKee
Team Alberta
Related Articles