Following a highly eventful 2014 consisting of the jubilation of a Clarkson Cup championship and an exciting All-Star Game milestone, returning to the Air Canada Centre, where Sami Jo Small also participated in the TSN Challenge in January 2000, every subsequent appearance between the pipes served as an extension of her formidable legacy. Simultaneously adding to her superlative career numbers, Small set the gold standard among CWHL goaltenders, emerging as the all-time leader in wins, minutes played and shutouts.
With over 65 wins, 6,600 minutes played and more than a dozen shutouts, such numbers do not include the brilliance from time spent in the original NWHL. Competing for six seasons, racking up 144 appearances, logging a won-loss record of 98 wins, compared to merely 18 losses and 8 ties, along with an astounding 33 shutouts, her best NWHL season was 2003-04. With the Toronto Aeros, Small went 19-1-0, with seven shutouts and a sparkling 0.95 Goals against Average. When combining the data from both leagues, the numbers simply speak for themselves.
Playing in the CWHL until the age of 42 years young, the 2017-18 saw Small become the oldest goaltender in league history to win a regular season game, defeating the Vanke Rays on October 29, 2017. Before the season expired, Small would shut out the Boston Blades on the last day of the season, recording 32 saves in a 4-0 win on March 4, 2018, with Emily Fulton scoring the game-winning goal. Fittingly, Small gained the honor as the First Star of the Game, providing a storybook finish. Coincidentally, that weekend also saw fellow Canadian National Team alum Liz Knox become the winningest goaltender in the Thunder's CWHL history, gaining her 36th win.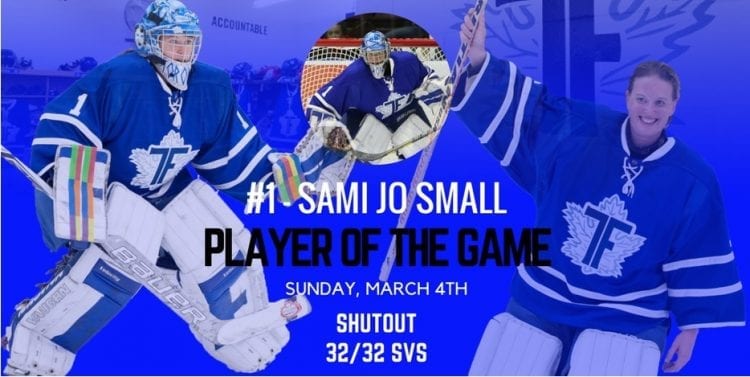 Small's achievements are evidence of a combined longevity and consistency, which are only part of a more fascinating narrative. Throughout the progression of the CWHL, one of the most heartfelt elements for Small was the growing presence of fellow Manitobans among the league's competitors. Known as the Keystone Province, and the Land of 100,000 Lakes, a significant number of players from the province would compete for the Calgary Inferno, the only franchise based in Western Canada.
Manitobans that would hoist the Clarkson Cup with the Inferno included the likes of Bailey Bram, Delayne Brian, Brigette Lacquette, Halli Krzyzaniak, Eden and Kelly Murray, one half of the Murray sisters, four skaters that comprise one of the most famous families in women's ice hockey.
Even Eastern franchises such as the eternal rival Furies and the Brampton/Markham Thunder would feature Manitobans, adding to the province's expanding legacy of producing elite talents. The Furies inaugural season saw Jennifer Botterill, raised in Winnipeg, set the franchise record for most points in one season.
During the Furies' run to the 2014 Clarkson Cup championship, Small was actually one of four Manitobans on the triumphant roster. In addition to the gregarious goaltender, the fantastic foursome included Holly Carrie-Mattimoe, who would also win a CBHA national championship in 2015 with the Toronto Shamrocks, Jenelle Kohanchuk, a fellow CWHL All-Star and Hockey Canada alumnae, plus Katie Wilson, a member of the Minnesota-Duluth Bulldogs program, coached by Shannon Miller, that won the 2010 NCAA Frozen Four.
Prior to the era of the Clarkson Cup and the launch of the CWHL, Botterill and Small were Manitoba's most notable ambassadors for women's ice hockey. Enjoying professional and international careers that ran parallel, sharing in the victorious glory of gold medals at the IIHF and Winter Games levels, their place as iconic competitors took on added lustre during a notable 2005.
Teammates with the Toronto Aeros, Small and Botterill would win a pair of championships that year. In addition to defeating the Montreal Axion for the NWHL championships, in which Botterill assisted on Sommer West's game-winning goal in overtime, they also relished the privilege of winning the Abby Hoffman Cup. Their national championship experience would bring both full circle, as they were among the guest speakers when Morden, Manitoba hosted the 2017 Esso Cup, Canada's national female midget championships. As Small recounts, such glories always resulted in a mention to their hockey roots,
"Because of the National team I have also become best of friends with Jennifer Botterill. I grew up playing against her brother, Jason, now GM of the Buffalo Sabres and met Jen at the tryouts for the 1998 team. Her family lived in Calgary at the time and were so welcoming and gracious.
Jennifer has done so much to inspire female hockey players in the province and has been such a role model for aspiring athletes. She was my maid of honour (and I hers) and still to this day we remain close. I convinced her to join our Toronto Aeros team when she graduated from Harvard and every time we won a club Championship, the pictures appeared back in the Winnipeg newspapers as, 'Manitoba women win another Championship.' We will always be Manitobans.
So, when we (the Furies) won the Clarkson Cup in 2014, to do so alongside three other Manitobans was truly special. They included Wilson, Kohanchuk and Holly Carrie-Mattimoe."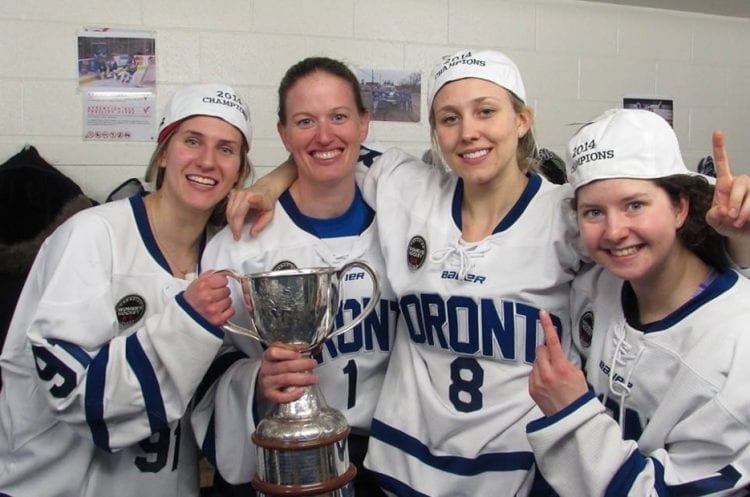 Four years later, when the Markham Thunder captured their first-ever Clarkson Cup in 2018, it provided an extension of the province's stars to win the Stanley Cup of women's hockey. In addition to Taylor Woods, the pride of Morden, Manitoba and a gold medalist with Canada's Under-18 national team, the victorious Thunder were led by Jocelyne Larocque, the first Manitoban to serve as captain of a Clarkson Cup championship winning team.
Worth noting, the opportunity for so many of these celebrated Manitobans to share the ice together also takes place in another unique scenario. With Small having hosted a hockey camp since 1998, instilling the values of confidence, enjoyment and team spirit, many of the instructors also share Small's Manitoba roots.
"For over a decade we also ran a women's camp in the evening attracting many women who had never laced up the skates. The work has been so rewarding.
Not only do we hope to inspire girls and women to play, but do so in a fun caring environment. We have had the likes of Jocelyn Larocque, Jenelle Kohanchuk, Katie Wilson, Amanda Klassen, Eden and Kelly Murray be inspired as campers to go on to play in the CWHL, but many also come back to teach.
We have (also) had many top players with Manitoba connections including, Jennifer Botterill, Brigette Lacquette, Halli Krzyzaniak, Fiona Smith, Cherie Piper, Kelly Bechard, Gillian Ferrari, Jenelle Kohanchuk, Katie Wilson, Delayne Brian and Amanda Klassen amongst others as instructors. And I have been fortunate to have my mentor, Susie Yuen teach for every one of the 20+ summers it has now been running."
While Small certainly holds celebrated status as a role model in sporting and cultural Canadiana, practically an entire generation of CWHL players from their latter seasons grew up watching Small between the pipes for Canada, highlighted by an emotional gold medal at the 2002 Salt Lake Winter Games.
The thrill of winning gold for Canada is one that also made an impression on Small, finding inspiration in another Manitoban during one of the most important moments in modern women's ice hockey history. Having participated at the inaugural IIHF Women's World Championships in 1990, Susana (Susie) Yuen was one of Small's first idols in the game, introducing her to a much larger world where women were capable of staking their claim on the ice.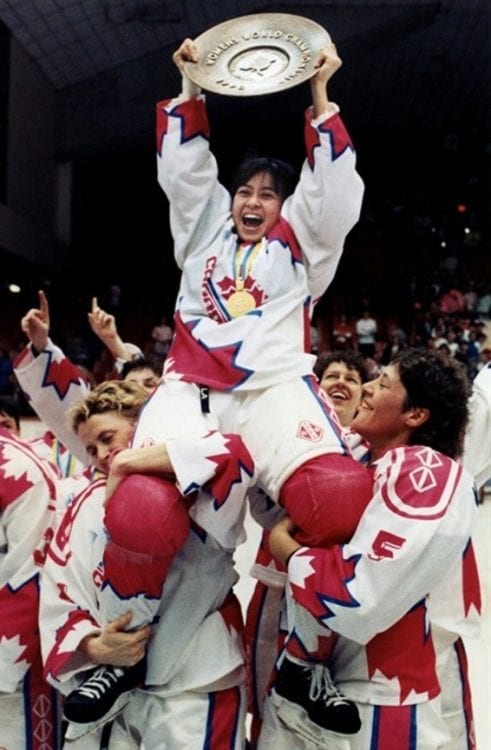 Undoubtedly, the image of a jubilant Yuen raised on teammate's shoulders, of which one was future Hockey Hall of Famer Geraldine Heaney, victoriously raising the plate awarded to the first IIHF Women's World Champions stands as one of the most iconic in women's ice hockey.
Possessing celebrated status as a gold medalist, Yuen's impact was destined to extend beyond an event, which served as a paradigm shift for the female game. Skating for the University of Manitoba Bisons' program, also assisting at her parent's restaurant, Yuen befriended Small, whose hockey odyssey actually began by playing on defense.
One year later, Small added to the feeling of momentum from the inaugural Women's Worlds. With the 1991 Canada Winter Games hosting its first-ever women's ice hockey tournament, an event that featured the likes of Cassie Campbell and Hayley Wickenheiser, who scored the gold-medal winning goal, Small participated for Team Manitoba, resulting in her first brush with Canadian hockey history.
While Small would even call Yuen a teammate at the iconic Western Shield tournament, one of the most notable events in the game's modern renaissance, perhaps the most important value acquired by Small was that of playing it forward.
"I am and continue to be a proud Winnipegger and Manitoban. While playing my sport at the highest level forced me to have to move to a centre to play, that does not take away the impact that being on Manitoba had in my hockey career.
As a young girl, I rarely saw other girls playing until I met Susie Yuen. I met her while trying out for the first-ever Women's Hockey tournament in the Canada Games. I played defence in that tournament as a 14-year old. Susie inspired me and took me under her wing.
She would come out to watch my boys AA/AAA games and took me out to practice with her and her teammate with the University of Manitoba Bisons women's club team. They even brought me up to play in a Western Shield and a National Championships exposing me to a whole world of women's hockey I had never seen before. I also played as a defenceman for Manitoba at the first ever Canada Winter Games in 1991 and my teammate and often defence partner, Laura Vanderhorst, went on to referee at the Women's World Championships.
Because of Susie's influence, I wanted to also inspire both girls and women to play in Manitoba. I started the Sami Jo Small Female Hockey School upon my return from the 1998 Olympics in Nagano. It has been running for over 20 years in the province and has had thousands of girls skate alongside the top players in the province. I try to reach out to all players playing in the National Team program, as well as NCAA and local U of M Bisons to have them coach the next generation of players."
Such empathic leadership and genuine compassion truly stand as the pillars of Small's career, one that has extended into a little-known facet. Throughout the years spent in the Greater Toronto Area, Small has graciously opened the doors of her residence to teammates hailing from other parts of the country, allowing many of the Furies' fresh faces a place to live while settling into a new situation.
Having welcomed players originally from Western Canada, the United States, plus Japan, the generosity of Small, and her husband, Billy Bridges, the all-time scoring leader with Canada's ice sledge hockey team, and a gold medalist from the 2006 Paralympic Winter Games, is truly one of the most remarkable elements during the history of the Furies. As a side note, Small and Bridges even travelled to Iceland in the autumn of 2011 during the nation's International Ice Hockey Cup Tournament. Featuring a women's division for the first time in tournament history, a team of Canadians featured Furies volunteer, and founder of the Women of Winter, Deirdre Norman.
"I have been fortunate throughout my career as an athlete to have the support of so many great people. That includes both coaches and teammates, but others in the community. I have (also) been fortunate to have played in Manitoba, California, the GTA and in Switzerland and in all those experiences, I have met friends for life. People put me up, gave me a helping hand and supported my dream. Because of that, I always said that when I got my own place, I would help others on their path to their dreams.
That mentality, started years (ago), of having our spare bedrooms occupied by aspiring athletes, inspiring them to one day also give back. So, we have had Haleigh Callison, Delaney Collins, Jenelle Kohanchuk, Lexi Hoffmeyer, Megan Bozek, and most recently, Sena Suzuki, live with us.
Between some of the girls, we have (also) had some of my husband's Team Canada teammates also stay. Each experience has been incredibly rewarding for us and hopefully, helped each one of those athletes pursue their dreams. And we encourage them to pay it forward."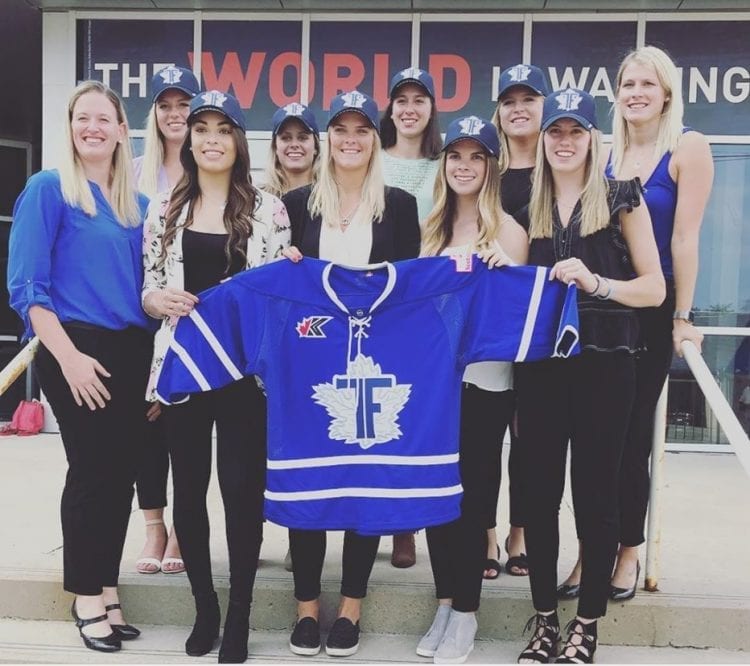 Taking on the role of a big sister, providing mentoring and friendship, it was a key indicator of the kind of leadership qualities that would make Small the ideal choice to inherit the role of General Manager from Rebecca Davies-Michael. Transitioning to the front office proved to be ideal for Small, abandoning a back-up role that brought with it reduced playing time; her enthusiasm for the game remained strong. Eager to usher in a new era of glory for the blue and white, Small shone brilliantly in one of her first key moves.
With the Furies holding two first round picks in the 2018 CWHL Draft, an unprecedented first in league history, acquiring the additional pick from Montreal in the blockbuster trade for Erin Ambrose, Small shrewdly selected a pair of players who were poised to be the foundation of the franchise for the decade to come.
Selecting Sarah Nurse, fresh from a podium finish at the 2018 Winter Games, with the second pick overall, Small followed it up with the acquisition of Shea Tiley, a Frozen Four winning goaltender with the Clarkson Golden Knights, building on the Furies legacy of outstanding goaltending.
As the second and third round produced Brittany Howard, who was also a selection of the Buffalo Beauts in the 2017 NWHL Draft, and Melissa Channell from the Wisconsin Badgers, one draft dramatically rebuilt the team. With Channell and Nurse selected to participate in the 2019 CWHL All-Star Game, it affirmed Small's strong showing on Draft Day.
Lots of love for @TorontoCWHL's Sena Suzuki at #CWHLASG16 pic.twitter.com/0G6ZugjLUb

— CWHL (@TheCWHL) January 30, 2016
While a return to the Clarkson Cup playoffs was also one of the highlights of Small's inaugural season as Furies General Manager, another unique facet involved the return of Sena Suzuki. Inactive during the 2017-18 CWHL season as she competed with the Japanese national team at the 2018 Winter Games, serving as an alternate captain, her return to the Furies served as homecoming for both Suzuki and Small.
Having also played for her native Japan at the 2014 Winter Games and 2015 IIHF Women's World Championships, Suzuki was part of the Toronto Furies 2015 CWHL Draft Class. An eighth-round pick, Suzuki was the second Japanese-born player the Furies selected. The previous round resulted in the acquisition of Tomomi Kurata, part of a day that also saw the Furies draft Emily Fulton, Ashton Hogan, Sarah Stevenson and Katie Gaskin.
Suzuki would be part of a unique group of players who have been part of the Furies during the epochs when Small was player and later, General Manager. Quickly emerging as an impact player upon her arrival in Toronto, she enjoyed a milestone-filled season.
From the outset, Suzuki's first career goal, finding the back of the net versus the visiting Calgary Inferno on December 6, 2015, stood as the game-winner, achieving two milestones with one goal. Named to the 2016 CWHL All-Star Game, skating for Team Black, she became the first player born outside of North America to gain All-Star Status, adding to a legacy of highly skilled Japanese stars in the league, which included Kanae Aoki, Aina Mizukami and Aina Takeuchi, both winners of the Clarkson Cup with the Calgary Inferno.
"Having Sena Suzuki live with us for two years (separated by an Olympics) was unique in that we were also exposed to the Japanese culture. Sena is one of the nicest, kindest, hardest working athletes I have ever met. She moved her whole life here to play with and among the best. She lives and breathes hockey.
In her first stint with the Toronto Furies, we were teammates. Then, in her second stint, I was her General Manager, but it never changed our relationship. Our daughter was enamoured with Sena and both learnt the English language simultaneously. She became part of our family and we still try to stay in touch and are now avid Japanese hockey supporters.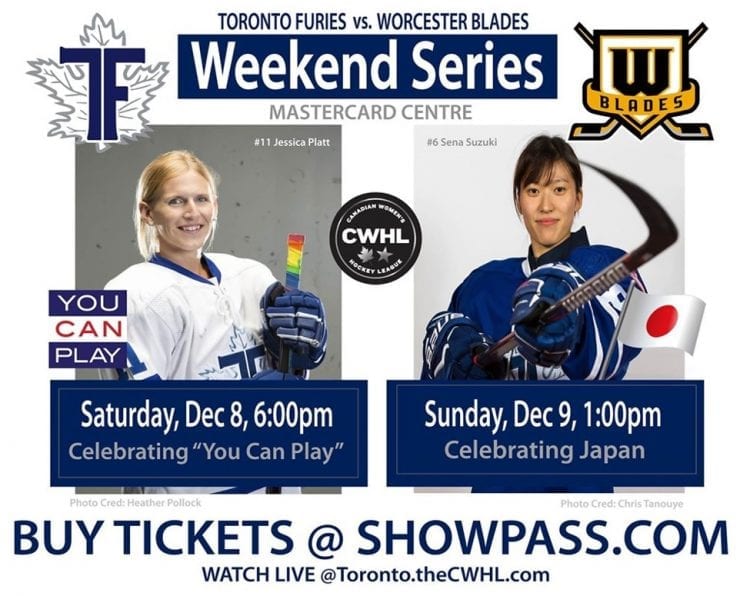 Last season, I ran a 'Tribute to Japan' game in which I reached out to the local GTA Japanese-Canadian community. We sang the Japanese National Anthem and had the Consul General of Japan drop the puck. We had hundreds come to the game to cheer on Sena. It was truly a special day and one in which Sena's legacy will be forever cemented in Toronto."
"All quotes obtained first hand unless otherwise indicated"
Featured image by Chris Tanouye
READ PART 1 HERE
READ PART 2 HERE
Related Articles