Both a local legend and an internationally accomplished coach, Mandi Duhamel's contributions to women's ice hockey also involved the nascent and closing years of the CWHL. Starring for the University of Ottawa Gee-Gees, playing for head coach Shelley Coolidge (who would later work together with the Carleton University Ravens), Duhamel's hockey footprint in Canada's Capital Region also included suiting up for the CWHL's Ottawa Lady Senators.
With a group of talented competitors that also included C.J. Ireland, Lyne Landry, Robyn Rittmaster, and fellow Gee-Gees alumnae Danika Smith, Duhamel, raised in Lively, Ontario, emerged as an ideal fit. In addition, Duhamel and Smith would burnish their local legacies by starring in the renowned Ottawa Vanier Women's Ball Hockey League (OVWBHL).
Balancing professional play, while beginning to coach and work full-time, Duhamel engaged in one of the busiest chapters of her sporting odyssey. With a combination of ambition and perseverance, she displayed an element of character that was common for so many in the early realm of professional women's ice hockey, as late night practices, combined with understandable exhaustion from a day of work encompassed a demanding schedule,
"When I graduated from uOttawa I was torn between playing, coaching and starting a career so I said, why not do all three? It was tough. Back then, we (the Senators) had only two ice times a week, late at night, outside of the city and only a part-time coach so there was a lack of consistency.
Holding down a coaching gig at the U SPORTS level and working full time made it difficult to train regularly as well. But when I stepped on the ice and got burned by Jayna Hefford or got bruised from blocking a Caroline Ouellette shot, I was astounded that I had the chance to share the ice with my idols and grateful for each day I was apart of the league."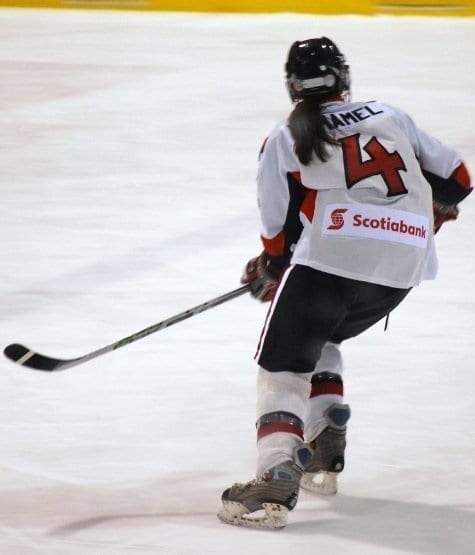 Building on her impressive body of work with the Gee-Gees, the chance to play professionally in Canada's Capital brought a strong sense of fulfillment for Duhamel. During the 2008-09 CWHL season, she graced the ice in 25 games, competing under the tutelage of head coach Bruce Johnson.
The following season, Duhamel would blossom into a bigger leadership role, amassing a very solid 13 points in 17 games played, while Brad Marsh, a member of the 1992-93 NHL Senators served in the capacity of head coach.
In spite of the fact that the Senators would not qualify for the CWHL playoffs during either of Duhamel's seasons, there was a tremendous major league feeling. Akin to Ottawa's entry in PWHL play, also known by the sobriquet Senators, both clubs had the exact logo and jersey design of their NHL brethren, adding a relevance and prestige to the female game in the Capital Region.
While the 2009-10 season would prove to be the final one in which the CWHL enjoyed Ottawa representation, although there was local optimism that a team might return following the 2013 IIHF Women's Worlds, hosted in Canada's Capital Region, it was far from the conclusion of Duhamel's connection to CWHL hockey.
"I have a few moments that stand out every time I think of my time with the Sens. The first time I got my jerseys is absolutely one of them. We were called the "Lady Senators" but our jerseys and logo was the same as the men's and when I received mine I took them home and did a photo shoot I was so excited. I never did get to keep that jersey and it is the biggest regret after I moved.
Another was my very first game. We bussed down to Mississauga and played the Chiefs. On the opening faceoff I lined up on wing, took a deep breath and then looked to my right… there was Jennifer Botterill lined up next to me. I can still feel my stomach fall to my feet and the nerves set in. I was so excited and terrified at the same time!
The other memory I want to note is playing with my Gee-Gee friends after graduation… university is such an amazing experience and I inherited a family with the Gee-Gees. To be able to suit up once again with my favorite people after that chapter closes was an experience I will always be grateful for."
Returning to the CWHL as a member of the Calgary Inferno's coaching staff during the 2018-19 season, it allowed Duhamel the opportunity to join a celebrated group of women who have been both player and coach in league annals.
Such a group included a remarkable number that read like a who's who of women's ice hockey. Sommer West, who led the Toronto Furies to the 2014 Clarkson Cup championship, Lisa-Marie Breton-Lebreux, a league co-founder, and Candice Moxley, a member of the Markham Thunder's Cup winner in 2018, were among the coaches that added a championship to their hockey resumes.
Courtney Birchard-Kessel, Caroline Ouellette, the league's all-time leading scorer, and Cherie Piper joined Duhamel in making the transition into the CWHL coaching ranks during the 2018-19 season.
Prior to coaching with the Inferno, Duhamel benefited greatly from the acumen of two highly seasoned coaches, enhancing her experiences into the coaching foray. At the University of Calgary, Duhamel was a member of Danielle Goyette's coaching staff from 2014-17, appearing in two U SPORTS national championship tournaments, including on home ice in 2016.
Among the notable players who skated for the program during Duhamel's time in the Dinos red and yellow garb included the likes of Russian stars Iya Gavrilova and Alexandra Vafina, Heather Berzins, Hayley Wickenheiser, a four-time Winter Games gold medalist, and Stephanie Zvonkovic, who would inherit the team captaincy.
Also part of the staff was Tim Bothwell, an NHL alum, who served as head coach in the CWHL for Team Alberta, before a makeover included the nomenclature of Calgary Inferno. Worth noting, Bothwell also coached with Canada's national women's team at the 2006 Torino Winter Games, while Goyette was part of Canada's coaching contingent from the 2014 Sochi Winter Games, both gold medal results.
Duhamel's coaching resume consists of its own golden accomplishments. Part of the coaching staff for Canada's women's ice hockey entry at the 2011 Winter Universiade, along with head coaching duties at the 2016 and 2018 ISBHF Women's Masters, her legend would grow with the 2018 edition. Taking on playing duties in order to replace an injured player, it stood as one of her finest moments, amassing gold medals in each of the events mentioned. Additionally, Duhamel would capture a CBHA National Championship as a member of Calgary United, retaining her love of competition while commendably serving in coaching and administrative capacities.
Sport has brought my life so many amazing experiences! The ability to pass that opportunity on to others is an absolute privilege that I do not take for granted. #NationalGirlsAndWomenInSportsDay #NGWSD pic.twitter.com/Qj8fCG8rC5

— Mandi Duhamel (@mandiduhamel) February 7, 2019
Undeniably, the opportunity to work with a pair of talented coaches that boast Winter Games experience added to a group of celebrated individuals that Duhamel has regarded as mentors. All possessing a background coaching in U SPORTS, it added an important consistency to her hockey journey,
"Since I began coaching, I have had an incredible list of mentors: Shelley Coolidge who led me into the coaching world, Les Lawton at the FISU Games, Yanick Evola at uOttawa all before moving to Calgary and continuing that streak.
Danielle Goyette was one of my biggest role models growing up, so picking up the phone to call her when I got to Calgary and offer my services was a nerve-racking day. She has an endless knowledge for the game and I learned an unbelievable amount working with her. When Tim joined us, he brought his vast experience and strengthened our team. I became a stronger and way more technical coach just being in the room with them."
From my first year playing in @TheCWHL for the Lady Senators against my idols to coaching in its final season, winning a @ClarksonCup with the amazing Role Models of today.. I'm grateful for each day, each experience and can't wait for the next one! pic.twitter.com/0PATKgBkJ3

— Mandi Duhamel (@mandiduhamel) May 2, 2019
Despite the fact that the glory of the Clarkson Cup was not savored long, as the devastating announcement of the league's folding followed rather quickly, the feeling of reaching another summit represented a tremendous sense of accomplishment for Duhamel.
Certainly, accomplishment is a prevailing theme in Duhamel's sparkling career. Currently employed by the National Hockey League in the capacity of Canadian Youth Hockey Regional Director, Duhamel is part of a tremendous movement that has seen women take on important roles in the league's structure. Prior to this role, Duhamel was part of the Hockey Canada women's program as the Manager for Female Development
In addition, Duhamel holds an esteemed place as a member of the NHL and NHLPA Female Hockey Advisory Committee, geared towards growing female hockey throughout North America, Duhamel is part of a distinguished group including ten other wondrous women.
Said group features Michele Amidon, Annie Camins, Maria Dennis, Lyndsey Fry, a 2014 Winter Games silver medalist and employee with the Arizona Coyotes, Hockey Hall of Famer Angela James, Tarasai Karega, former NWHL first overall pick Kelsey Koelzer, USA Hockey alum AJ Mleczko, Caroline Popilchak and Kristen Wright.
Fittingly, Duhamel enjoyed the opportunity to return to Ottawa. Joined by Dennis and James, they participated in a ceremonial puck drop at an NHL Senators home game. The dual sense of celebration and coming full circle defined another notable moment for the NHL, rekindling memories of her CWHL journey.
Considering that the 2020 NHL All-Star Weekend featured the Elite Women's 3-on-3 showcase, it allowed for a pleasant reminder of Duhamel's Clarkson Cup win from 2019. With numerous members from the championship team, including Canadians Brianne Jenner, Rebecca Johnston and Blayre Turnbull, along with American stars Kacey Bellamy, Brianna Decker and Alex Rigsby, that magical Cup Final, one which ominously proved to be the final game in CWHL history, allowing a celebrated closure to Duhamel's career in the league. One that served as prologue for an incredible narrative in which she is both, a builder and celebrated role model in the female game's evolution.
Despite today's announcement there are still large strides being made in the development of hockey for girls and women. Grateful to the @Senators for hosting @AngelaJames8, @hockeymaria and myself yesterday to celebrate the @NHL/@NHLPA Female Hockey Advisory Commitee! pic.twitter.com/n33PNiZsZh

— Mandi Duhamel (@mandiduhamel) March 31, 2019
"This past season with the Inferno was an incredible one. It was an absolute privilege to work with some of the best female hockey players in the world. Understanding that at any level of the game, all players and coaches are continuously striving to get better, these athletes demonstrated adversity, unmatched work ethic and support for one another that made them into an incredible team… well that and the ridiculous amount of sheer talent.
I learned a ton in the time I worked with Shannon Miller and then was able to step up and play a larger coaching role in the second half of the season. It was a challenge to balance the quality of attention our athletes deserved with our own careers but in the end we pulled together as a group and the athletes were absolute professionals who gave everything they had to earn that championship.
It was bittersweet to win the Clarkson Cup, as you know, the celebration only lasted a week until "the news" broke. However, it was such an incredible experience. Thinking back to playing with the Senators I could not have imagined that I would be on that bench. That game was one of the best female hockey games I have ever seen and I had the best seat in the house. Those athletes deserve so much more and I hope this year generates an exciting future for professional women's hockey."
"All quotes obtained first hand unless otherwise indicated"
Feature image: Dave Holland/CWHL
Related Articles