I started playing hockey in Malaysia when I was 12. I trained once in a while and played in some local leagues and recreational tournaments. When I was 19, I played for the first ever for the Malaysia national women's team. All these years, I felt that there was something missing. When I watched hockey videos online, players would move in beautiful patterns. Growing up, this was what I was into the most about hockey. I loved watching teams cycle the puck, tic-tac-toes and especially set plays on a power play—those one timers are glorious! I really wanted to learn how to play like that and it definitely takes great coaching, teamwork and hard work to achieve such beauty.
Hockey was an infant in Malaysia in my youth, so please understand that tactical play was not a priority. The only strategy was waiting for a breakaway and hoping to score. During these years, I would try something I saw on video like waiting for a breakout pass from the D. I know this seems basic but again, plays were not a focus, so I'd often find myself waiting ages for a pass. Some coaches then asked me to move from forward to defense. So, it was up to me to do the breakout passes. When this happened, I remember my coaches telling me to just skate it up when I get the puck or dump it. I suppose those work sometimes but this couldn't be the peak of hockey for me.
I asked some local coaches regarding plays and when we would learn them. I'd either get weird looks or "learn it on your own". Some coaches would scream at me, yet never tell me where to position myself during game time. There were some coaches who tried to teach plays through classroom sessions but most of the time, I felt that they didn't understand the plays or didn't know how to train the team as a whole to execute the plays.
I slipped into a period of demotivation to the point where I wanted to quit hockey at least three times. I'd even come back from a game angry, even with the gold medal around my neck. Something was just missing. I just lost my love for hockey. Even scoring a goal for my country only gave me temporary joy. I was thankful for the opportunity to play for our first national women's team but after the tournament, I stopped playing hockey for five months because I let the bad stuff get to me. At the time, there was just no point training hard to play breakaway-style hockey—it's not the same sport with beautiful patterns anymore.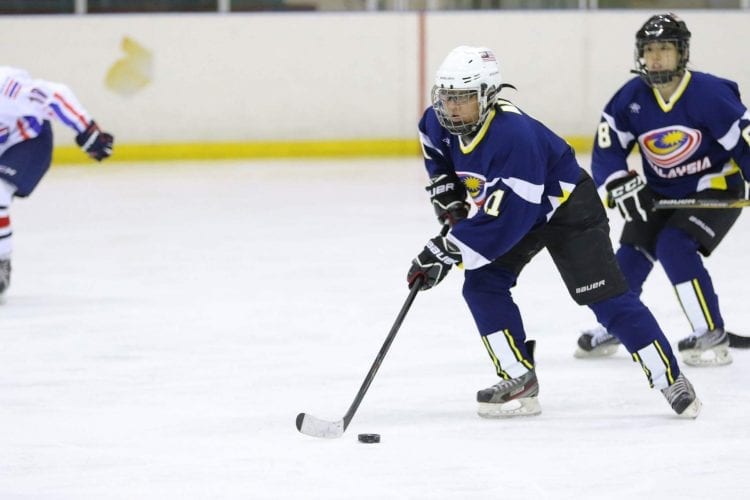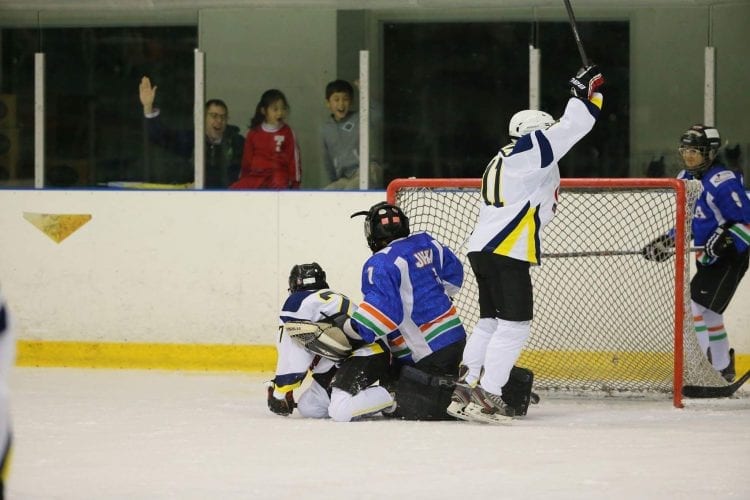 These were rough times in terms of hockey and my health but all that time was spent studying super hard. Though I couldn't get access to the greatest hockey resources, I definitely had access to a good education. My grades were something I could control. After high school, I enrolled in an American Degree Transfer Program, meaning I do my first two years of college in Malaysia then transfer over to the States to finish off my studies. I was so motivated to go to the States! Though my fire for hockey was dim, I never lost all hope thanks to my mom! She never stopped believing in the fact that I would find my love for hockey again.
The day after flying back from a recreational hockey tournament in Singapore, I had a scholarship interview. I had just played four games within 48 hours! I was so tired! I had some bullet points rehearsed for the interview but I totally deviated. All I could think of was hockey so that's what I spoke about.
They asked me which university I'd choose and why. First, I stuck to my bullet points: the actuarial science program at the University of Wisconsin-Madison is recognized by the Society of Actuaries as a Center of Actuarial Excellence. Oh, and I also wanna buy season tickets to watch the Badgers women's hockey team! Well, that slipped out in front of the market training head and CFO of the company!
They said what I get all the time, "You play ice hockey? There's ice hockey in Malaysia?"
I said yes to both questions and that I really, really wanted this scholarship for those reasons.
I felt so blank after that interview. I didn't tell my mom what I said in there.
A couple weeks later, I got a call saying, "You got the scholarship!". I cried so hard—I was so happy! What made me even happier was that my twin sister got it too. That's right, when I say "I", I really do mean "we". I would never be where I am today without my sister with me every step of the same path.
We got the scholarship! We got the scholarship!
I couldn't believe it and neither could my sister. All I could remember was how tired we were that interview day. She says she was numb from painkillers. You see, she had a knee on knee collision at the tournament, so under those formal clothes was a lot of Rocktape! Nonetheless, we did it!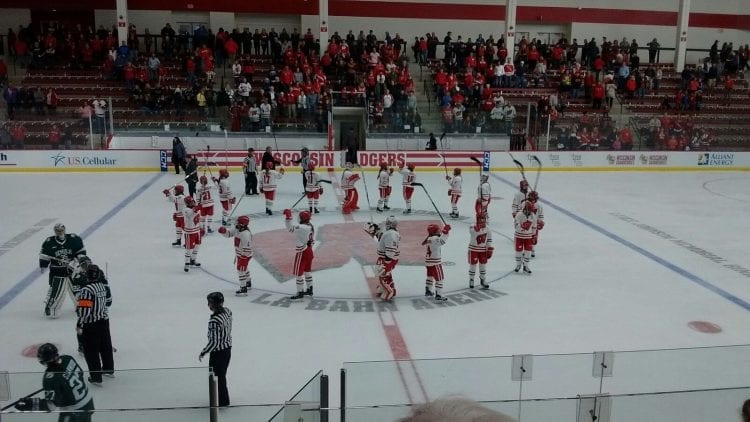 ***
First stop, Pure Hockey! Finally I could fit my skates in person; no need to pray that the skates I ordered online would fit me. I got a fresh set of gear and was so ready to play! In my first year, I signed up for the Badger women's club C team that played in D4 of the WCHL. I was so rusty after five months off the ice but as the season went on, I was pumped to keep playing as much hockey as I could. I managed to return to my habitat as a forward thanks to my team. Those breakouts sure happened! My teammates made my job so much easier—I was one of the leading scorers on the team, it was great! I also learned a lot from attending stick and pucks in between or right after classes as well as open hockey on weekends. A variety of people would come for open hockey ranging from beginners to AAAs and even junior players. It was so tough for me the first time around. I knew I had to improve everything from skating to shooting to passing to positioning—everything!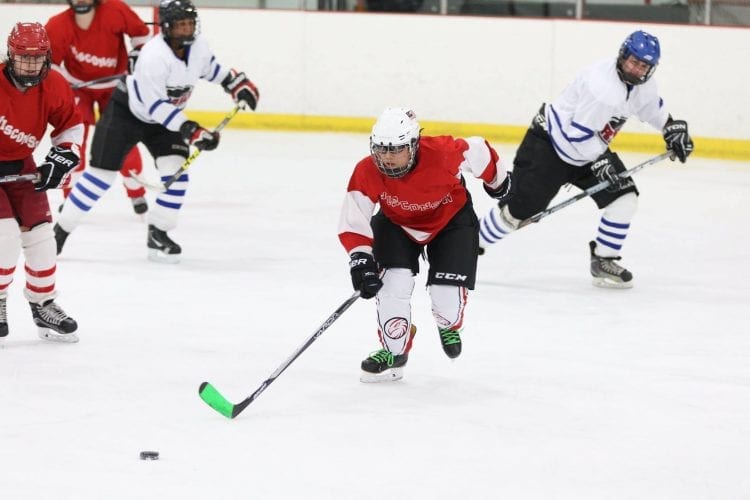 I went to a skating camp over the summer and kept up with off ice. Once hockey season came around, I decided to just take a whack at trying out for the Badger women's club A team that plays in ACHA D1. It was a long shot but this was my last full hockey season in Madison—I had nothing to lose.
I was cut from the team. I was frustrated. Sometimes, I felt judged by my hockey background rather than how I play. I don't come from a fancy AA or AAA program. I come from Malaysia where our national women's program is still so new. Despite that, I felt that I gave my best at tryouts and did well enough to make it. I suppose I just wasn't a good fit. I asked for feedback on where and how to improve after getting cut but received no reply. It's ok, this fuelled my fire to get better.
Immediately after getting cut, I looked for opportunities to play in adult leagues around town. I was aiming for D2 of the WCHL but it looked like only D1 teams had open slots. At the time, I just messaged all the D1 teams, hoping for a response. Bingo! Madison Freeze was willing to have us.
Our first game was against the Central Wisconsin Whitetails in Stevens Point, two hours off campus and my sister and I would be carpooling with someone we've never met! Mom was not happy. She thought we were going to get into a hockey episode of catfish like we were going to get kidnapped or something. She had the right to be worried for her twin daughters on the other side of the world venturing off campus with a stranger to play hockey with women that were way bigger and better. I fought back—I just had to play! Thankfully I got my brother to convince her. He's the reason I got into hockey in the first place and now I was on my way to my first D1 game.
When I entered the locker room, our jerseys were prepared. My teammates were staring at these random Malaysian twins that descended onto Stevens Point, Wisconsin. I was so scared. When I stepped on the ice, I was so intimidated because these were not just any adult league players. Some players were really good amateur players but it's D1 for a reason. Former college varsity athletes play at this level too—NCAA DI and DIII.
Puck drop. Oh geez, here we go! It was lightning fast for me! Transitions were so quick on both ends. Players knew how to position their bodies, their sticks. The pristine passes and hard shots. The hits! I was literally living inside those hockey videos I dreamed of experiencing. This was happening and I felt so lost. That's how I felt for the first half of the season. I was so insecure. Every single game, I questioned myself, "What am I doing here?". I felt like I did not deserve to be on this team.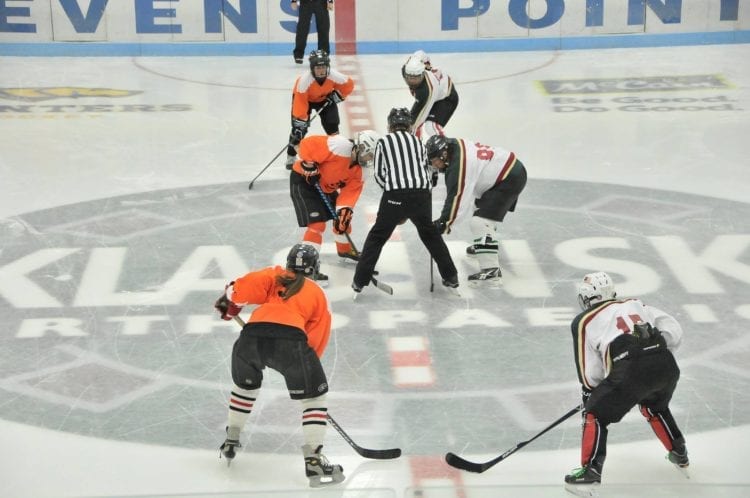 Somehow, my teammates never gave up on me. They would scream at me but correct me—the kind of screaming I am totally fine with. It actually pumped me up and they did more than just that. They taught me what they knew such as reading a 50:50 puck, positioning my body to win battles, angling my skate blade to receive a puck off the boards, how to use the boards, where to stand as winger, when to go to the hash marks, when to mark the point, getting the puck deep and how to transition quickly from zone to zone. They also taught me how to play hungry by battling relentlessly for the puck. We also had team training on Wednesday nights in Stoughton. We practiced cycling, tip 2-on-1s, and multiple skating and passing drills. I also practiced these drills on my own time—after all, I always had a passing partner. I had to be better!
And so came our second half of the season. It was a game with the Madison Meteorites. They had some former Badgers who won the NCAA D1 Championship before. In my scholarship interview, I said I would watch the Badgers. I never thought I would play against some former Badgers! The first time I played them, I felt like giving up, but this time I felt like I was on Cloud 9. It's like something took over me—I was high on hockey. Is this what it feels like to play hockey? I felt amazing. I had so much confidence—I no longer felt like I was missing something. Then my sister scored! Holy moly! The next morning, we had another game, this time against the Brew City Blades with their fair share of former Minnesota Whitecaps (before the NWHL). I got into that zone again and though I didn't score and we didn't win, my teammates were happy with me.
"You played awesome today!" my teammates said.
I was finally contributing to the team. I was so happy to be part of the this team! I couldn't be happier with how I played for the rest of the season. I had so much fun!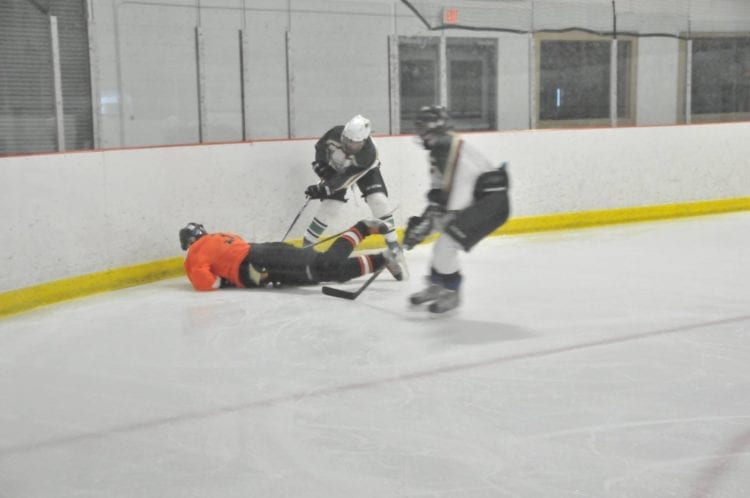 I am so grateful for my Madison Freeze teammates. They pushed me not only to be a better hockey player but a better person. I was inspired by how they welcomed my sister and I into their family. It was so eye opening because they knew so much and were willing to help us even though it must have been frustrating at times. They were willing to put up with my dreadful first half of the season and help me get to where they needed me to be.
I've come a long way from the lost and insecure player I used to be. I've improved not only in terms of my skating, passing, stickhandling and shooting, but also in terms of my game sense and on-ice confidence. I didn't expect to get any points at this level but thanks to amazing guidance, hard work and teamwork, I notched two goals and an assist over the season. My sister got one goal and two assists. Three points a piece—we are twins indeed. As a bonus, one of my goals was a one timer off of a beautiful pass. It actually happened! What a dream come true.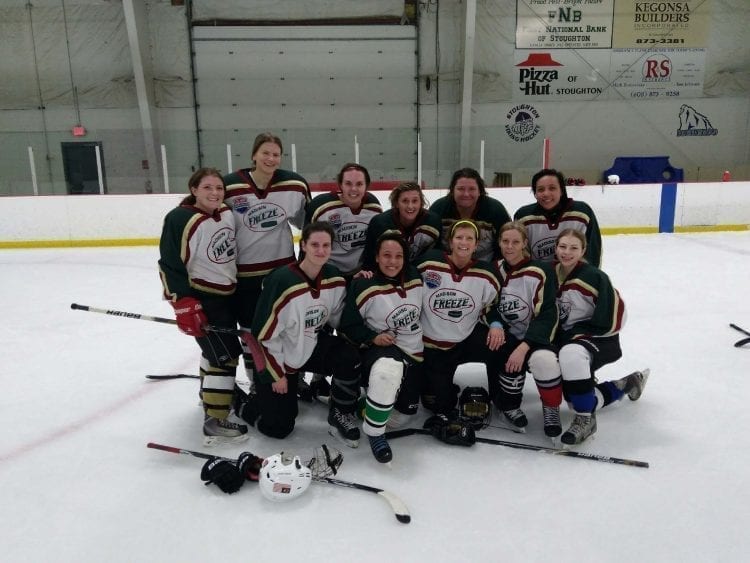 Now, I'm back in Malaysia working as an actuary and playing for my national women's team. Though we lost all our games in the IIHF CCOA Top Division this past April in Abu Dhabi, I felt that I played the best I could and with a lot more confidence than my debut season with this team. I did really well to place top 10 in assists in the whole tournament. My sister placed top 10 in scoring and goals. That's a huge improvement compared to before Badgerhood. I was so proud—I love hockey so so much!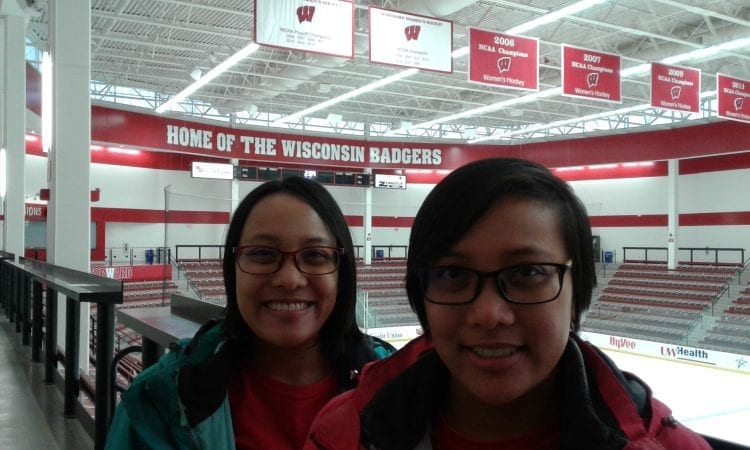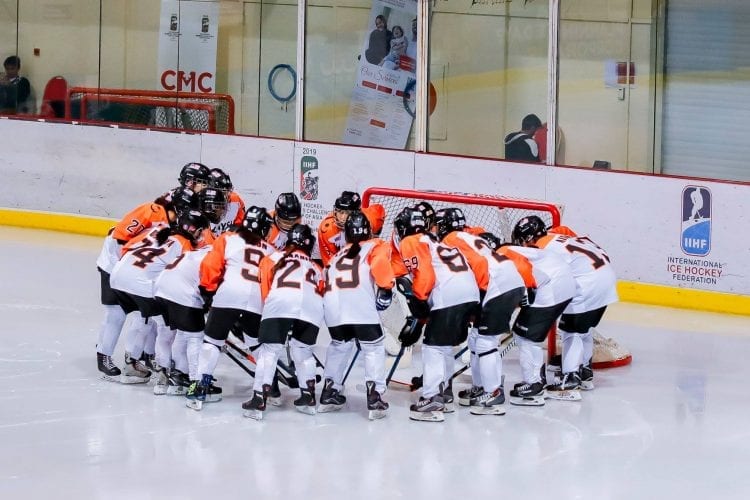 Just like how the ladies of Madison Freeze gave us an opportunity, I really want to give back. I want to keep meeting new people, sharing what I've learned and learning from others along the way. My dream is to continue pursuing my actuarial fellowship so that one day, my sister and I can own a rink and start our own women's program. We hope to produce and sponsor players to play overseas during their college years, so that they can experience the beauty of hockey that we did.
On, Wisconsin! Malaysia, Roar!
Related Articles