Some time ago, I asked for advice in the Women's Hockey Life Community Facebook Group: What inline skates should I use for my off-season training? I have been inline skating since I was a little kid but usually with fitness skates, so I had no idea what would be best for hockey training.
"Marsblade" was what I was told is pricy but the best I can get if I am looking for something as close to on-ice skating as possible.
Everything about these kicks looked super fine: the website, the reviews by other hockey players, their social media.
So after thinking back and forth because I am not a big fan of online shopping (I like to try on my things before I buy), I decided to go for it.
Marsblade Options
You buy the Frame kit and mount (or let them be mounted) under an old hockey boot. It's a good option for anyone who is unsure about the boot size, has an old pair of skates to use, or knows where to get a good used boot and, most importantly, has a pro shop around where you can get them mounted. Unless you have your own mounting equipment, it's impossible to do at home.
They now have the Marsblade FMT ONE, a full inline skate with a boot made by Verbero.
Since I don't have a pro shop close by, and after evaluating the pricing (I'll come back to this later on), I went for option two.
The Marsblade FMT One has the exact same chassis with their Flow Motion Technology (if you want to know details of what the FMT is and how it works, check it out here. They explain it very well, even including animations to show the difference between Marsblade and normal inline skates and what makes them feel more ice like). The difference is, now the chassis is already attached to a boot. The boot is made by Verbero and is heat moldable. The FMT one comes with baking instructions (yes, you can do it at home), two pairs of exchangeable tongues, and two smaller wheels in case you'd like to have an even stronger rocking motion.
The wheels have a 78A durometer, which is fine for both outdoor and indoor use, but does not excel at either. Since I will mainly use mine outside I will switch to 80 or 82A (harder wheels, which is better for asphalt and other uneven surfaces) once I've worn these wheels down.
Included in the package is also a pamphlet with all types of mounting and maintenance instructions one might need and a multi tool for mounting the wheels and adjusting the rocker.
The Marsblade Experience
Enough tech talk! Let's talk about experience: when I opened my package, very excited to try out the skates, I was a little disappointed because they looked so small! My first thought was "these will never fit! Did they send me the wrong size?"
When I ordered, the size chart said that the sizes are equal to Bauer sizes. So I ordered the junior skates in 4D, which I also wear in my ice skates (I am quite small, so I usually can only use junior equipment. For comparison: I am 5'2″). This should equal a 37.5 in EUR Size—I always wear my skates one size bigger than I would buy sneakers. So when I saw my skates looking so small but clearly saying 4D on the inside of the tongue, I was a little confused. I slipped one on just to see if my eyes were betraying me because they do look a little bulky compared to my Bauer skates.
They fit but were quite tight. I sent a message to their customer service explaining my dilemma, also because it seemed I had confused something in the size chart. By now the size chart said that a 4D FMT ONE would be equal to a 3.5 Bauer skate and a 36.5 in EUR sizes. I was very worried that I had made a mistake!
Three days later I got an email back from Marsblade, in which they explained that it is quite usual that they seem too tight in the beginning. They also apologized because I had been caught in the middle of them switching/updating their size charts (what a relief—no mistake on my end). So they told me that if I would be up to it, I could bake and try them out to see if after the baking process I feel differently because the heat moldable material will bend around the foot. If, even after I baked and tried them, I still felt they were too small they'd exchange them. Along the conversation with the very nice staff member I also got some tips for baking that weren't mentioned in the instructions. I'm going to share them with you in case you're as lost as I was.
Marsblade Baking Tips
You bake the skates at 195° F or 90.5° C for five minutes. Then you take them out and put them on, lacing them from bottom to top and pulling outwards and then up. Then, you wait about 15 minutes or until they're completely cool. What I didn't know is that you can and should bake them more than once for optimal results! If you notice that certain areas are still too tight (for example, around your ankles or if you have weird toes like me–around the little toe) you can add some padding in those areas when you're letting them cool down. What I did was put on one pair of socks, then taped some folded paper towels to the areas I wanted to have more space and then put another pair of socks over so everything stayed in place. Then, I let the skates cool with all of that on my feet. It worked wonders! I've never had any skate that fits this perfectly. Problem solved! (Big thanks to Hanna from the Marsblade customer service for handling all my nervous messages and questions)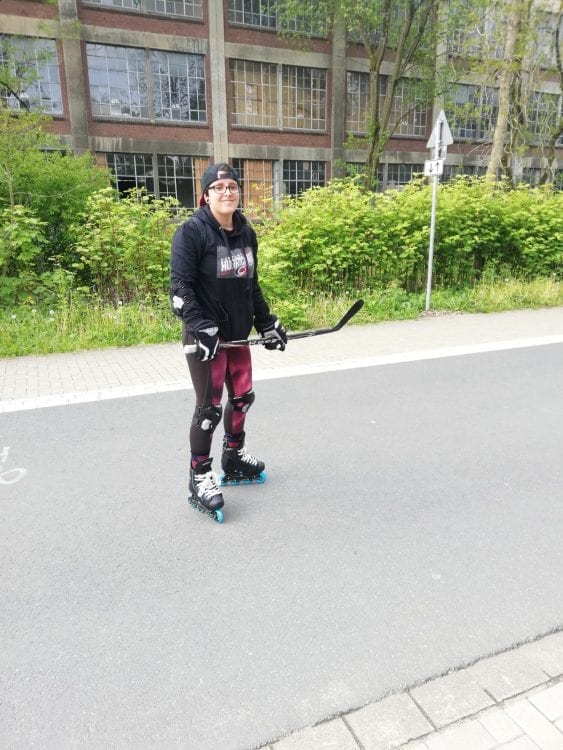 Marsblade Skating
Now, let's talk about the skating. I don't have to say a lot–it's simply amazing. I started inline skating when I was about six years old, so I have quite a bit of experience with it. And even being used to inline skating, these skates are incredible and I love them already! Due to the rocking motion, strides are more powerful and you have a much bigger feeling of gliding rather than rolling, which makes it feel more like ice skating and really challenges your balance so that you have to stay in the typical wide hockey stance–which I usually don't with normal inline skates. One disadvantage is the weight: due to the two part chassis, the skate is a bit heavier than other inline skates and, like almost all inline skates, heavier than ice skates. But, once I got used to the weight they actually felt lighter than other inline skates because of the longer and more powerful strides. Switching from ice skating to inline skating was also a bit easier than usual.
Marsblade Pricing
The Marsblade FMT ONE currently costs $349 CAD plus shipping. The complete frame kit (so the chassis without the boot) is $229 CAD for senior sizes and $209 CAD for junior sizes. Whether the prices are an advantage or a disadvantage depends highly on how much you value a good skate. For me, it was a lot of money to spend but in the end these skates are worth every penny.
If you are unsure about wether or not you'll be as impressed with these skates as I am, there is something called the Marsblade Principle – if you buy the Marsblade complete frame kit or the FMT ONE, you can try them out for 30 days and if you don't like them, you can send them back and will get a full refund of your money.
Marsblade Conclusion
In a nutshell:
Skating is more fun and much closer to on-ice skating with Marsblade.
The boot fits well.
The Marsblade customer service is amazing.
The price is something everyone needs to evaluate for themselves.
The biggest disadvantage I found is that they are only available in D width, and this is quite tight even if you usually wear D as well.

For everyone else who has wider feet, the Frame Kit is a good option to still get your hands on Marsblades, if you have a pro shop around to get them installed.
Ultimately, I am very happy with my skates and am looking forward to using them for my off-season training!
---
Have an equipment review you'd like to share?
Submit a writer's application here.
Related Articles