Remaining undefeated in Group A play, Canada vanquished ROC in a convincing 6-1 triumph. With the game delayed by over an hour, as Canada did not receive the ROC's Covid-19 test results, the eventual faceoff resulted in both teams wearing masks.
Between the pipes, Emerance Maschmeyer made her first start in Beijing. Facing only 12 shots, the ROC's goaltending tandem of Daria Gredzen and Maria Sorokina faced a total of 49 shots.
Scoring the first goal of the game at 2:09, Sarah Nurse, who scored twice in Canada's previous game, an 11-1 win over Finland, was one of six skaters to record a goal versus ROC. Merely 20 seconds later, Sarah Fillier placed her name on the scoresheet, providing a two-goal advantage.
The remainder of the period saw five penalties, three for Canada, called. Jocelyne Larocque and Laura Stacey were called for hooking and an illegal hit. A team penalty of too many skaters on the ice saw Natalie Spooner serve the penalty.
Enjoying three power play opportunities in the second, Canada's Jamie Lee Rattray scored as ROC's Anna Savonina served a holding penalty, for a 3-0 lead.
At the 10:29 mark, blueliner Erin Ambrose enjoyed the milestone of her first Olympic goal. There was a sense of serendipity for Ambrose, as Laura Stacey was one of the skaters who logged the assist (the other being Rebecca Johnston). Having skated together for Canada at the IIHF Under-18 Women's Worlds, the two were teammates in the PWHL and PWHPA.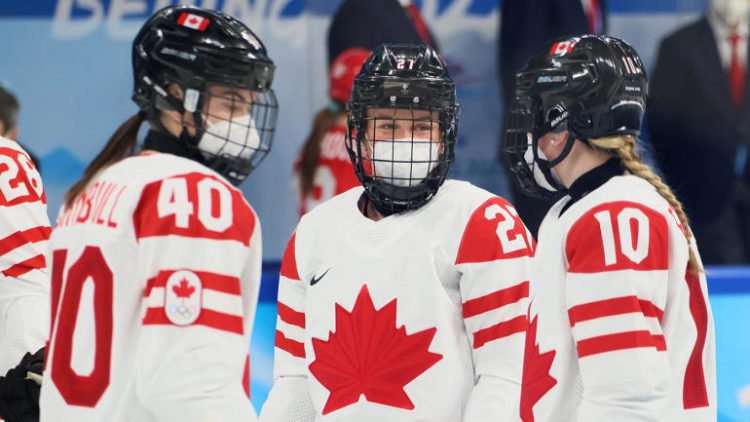 Following Ambrose's goal, ROC replaced Gredzen with Maria Sorokina. As a side note, Sorokina played professionally in North America with the Connecticut Whale and Metropolitan Riveters.
Less than one minute into the game, Sorokina and her teammates had a power play opportunity, as Emma Maltais served a penalty for interference.
Although ROC did not score on the power play, they managed to spoil Maschmeyer's bid for a shutout. Team captain Anna Shokhina, who is also captain of her club team, Tornado Dimitrov, scored her first goal in Beijing.
Simultaneously, she made history as it marked the first time that ROC scored against Canada in women's ice hockey at the Winter Games. Gaining the assist was Alexandra Vafina, who once played for the University of Calgary Dinos.
The final period saw Canada record a pair of power play goals, putting the game out of reach. Coincidentally, both scorers for Canada are participating in their fourth Olympics.
Merely 39 seconds into the period, Rebecca Johnston scored, providing Canada with a 5-1 advantage. With Valerie Pavlova serving a penalty, team captain Marie-Philip Poulin logged her first goal of these Olympics.
Remaining undefeated in a 6-1 final, Canada remains in first place in Group A. Having outscored their opponents by a cumulative mark of 29-3, Canada's final game of the preliminary round sees them oppose the United States. With both teams undefeated, the victor shall clinch first place in the Group.
Related Articles