With goals scored in each period, Olympic history was made, as Denmark emerged victorious in a 3-2 triumph. Facing off against Czechia, as both nations made their Olympic hockey debut in Beijing, the game was crucial for both.
A victory would have allowed Czechia an opportunity to remain in the hunt for first place in Group B, a quarterfinal berth likely assured. Entering the game winless in their first two attempts, Denmark played for national pride.
Making her third consecutive start for Denmark, Cassandra Repstock-Romme did not disappoint in a career defining performance.
The 5:48 mark saw Czechia grab the first lead of the game. Blueliner Anita Tejralova, who has appeared in seven IIHF World Championship tournaments during the 2010s, scored her first Olympic goal, with Denisa Krizova, who has also played for Czechia in ISBHF competition, recording the assist.
Less than four minutes later, Denmark replied, as team captain Josefine Jakobsen recorded her second of the Olympics, unassisted.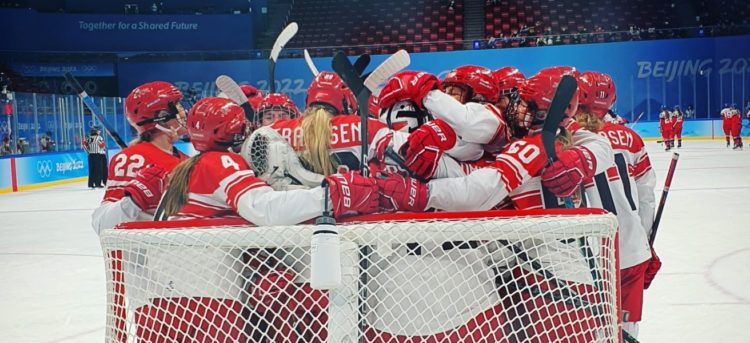 Following both goals, the remainder of the period resulted in a pair of penalties for both teams. Of note, neither team benefitted from the power play opportunities, the score remaining 1-apiece.
The pattern repeated in the second period as a pair of goals were followed by five penalties. At the 3:01 mark, Katerina Mrazova, the first European player to win the Clarkson Cup, regained the lead for Czechia. As a side note, Tereza Radova, who scored the first Olympic goal for Czechia earned the assist.
Merely 87 seconds later, Michelle Weis tied the game with her first of the Olympics, also scored unassisted. Afterwards, Denmark served three penalties in a 10-minute time span.
Beginning with Silke Glud called for tripping, it was followed by Marlene Frandsen, who logged Denmark's first Olympic goal, serving a penalty for an illegal hit. With Amalie Andersen called for hooking, Repstock-Romme remained poised between the pipes, denying Czechia on a triptych of power play opportunities, as the score remained tied.
Heading into the third period, with Czechia having outshot Denmark by a 25-13 overall margin, the lead changed hands again. With Denmark on the power play for the first 49 seconds, Glud found the back of the net, providing Denmark with their first lead of the Olympics. Jakobsen and Nicoline Jensen earned the assists.
Employing the strategy of replacing their goaltender, Czechia opted for Klara Peslarova. Although she faced just three shots in the period, Repstock-Romme recorded seven saves to preserve the lead, providing Denmark with a landmark win.
Although Czechia remains in second place in Group B, fourth place Denmark remains in contention for third place. With the top three teams in Group B qualifying for the quarterfinals, each remaining game for Czechia and Denmark becomes a must-win.
Related Articles