Having assembled a formidable career, possessing a diverse background, the accumulation of experiences weaving a rich tapestry, Dr Lane Dielwart remains engaged in hockey. Passing down her love of the game to her children, taking on a coaching role, while juggling a career as an orthopedic surgeon, Dielwart is a marvel.
Currently based in British Columbia, Dielwart's earliest roots can be traced back to a prominent era of growth. Raised in the hockey mad city of Calgary, one of her earliest experiences provided her a place among the pioneers that helped break the gender barrier. Heralding a new era, the launch of a girls league marked an important step for sporting equality.
"I grew up in Calgary and played in the first female hockey league there. I also played in the Spring Bank Hockey Association. I was the second girl ever to play in that league; the first was Jann Arden. I played with the boys until bantam. Then, a Girls Hockey League formed in the late 1990s, which was a combination of Bantam and Midget. There were eight teams. Eventually, we were separated into tiers."
Following the formative years spent in Calgary, Dielwart's hockey odyssey took her to the United States. Part of a new generation of Canadian born players excelling in American university hockey at the dawn of the Millennium, the unprecedented growth which defined the era provided Dielwart with an enthused focus.
Wearing number 27 for the Rensselaer Polytechnic Institute Engineers from 2001-05, Dielwart starred on the blueline. Amassing career totals of 19 goals and 33 assists, the program was in the midst of departing the Women's Division III ECAC East, becoming a Division I independent.
Statistically, the 2002-03 season was her finest, with career totals in every offensive category. Finishing said season with a superlative 25 points in 27 games played, Dielwart proved essential in the Engineers reaching the ECAC East championship game versus Manhattanville. Rewarded for her efforts with a place on the ECAC Division III Women's East Hockey First Team All-Stars, one of the biggest influences on her career, Bill Cahill, garnered Coach of the Year honors.
A highly positive role model, Cahill, former head coach with the Norwich men's hockey team, served in a similar capacity at RPI. Going from the men's program to become women's head coach in 2000, he provided Dielwart with an invaluable lifeline to her career. Sadly, Cahill unexpectedly passed away from a heart attack in October 2003, a devastating loss for the RPI athletic community.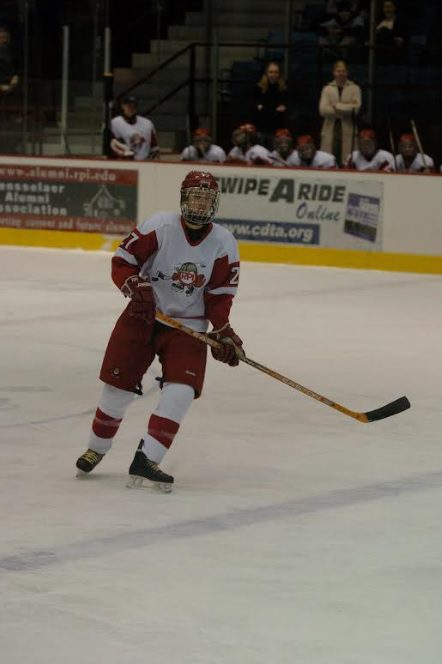 With plans to attend Yale in the autumn of 2001, Dielwart's plans were quickly quashed upon an unforeseen coaching change. Provided an opportunity to align with RPI, it marked the beginning of an unforgettable chapter. With a karmic victory over Yale early in the 2001-02 season, it helped set the tone towards four fantastic seasons.
"What I enjoyed most is that I felt it was my team, a very super cohesive group. Being far away from home, it was great that hockey brought you somewhere in life. There are so many opportunities for female hockey players now at so many different levels of the game.
The coach, Bill Cahill, was just incredible. Originally, I was recruited and signed to Yale. There was a coaching change. I remember, it was May long weekend and I was told that the new coach did not think I was a good fit for the team.
There I was without a team. It was a down point in my life. This was 2001 and Coach Cahill found out. I got the call from him and it was the best thing for me. We even beat Yale the first time that we played them that season."
Upon graduation from RPI, Dielwart's journey took her to numerous locations. Finding a home in Boston during her twenties, another hockey obsessed city, the game remained part of her makeup. Running parallel to her endeavors at Boston University Medical School, the frozen perimeter became a place of recreational pursuit once again.
"At medical school in Boston, I played in a league there. About 90 percent of these girls in that league played NCAA and it was the best hockey that I have ever played. When I moved to Vancouver, I played for a team called the Killarney Knights. Fast forward to today, and now I am coaching in Kelowna with former Ohio State goalie Barbara (Bilko) Egan."
With Kelowna representing the latest facet of Dielwart's hockey journey, an amalgam of playing and coaching has seen reunion emerge as an essential theme. Upon her earliest experiences there, participation in Planet Ice Kelowna provided a unique touchstone.
Skating for a team identified by the moniker Crush, Dielwart's teammates represented a highly experienced group. Playing alongside team captain Danielle Grundy, the founder of the Grindstone Hockey Foundation, also a former player for skating for the NWHL's Vancouver Griffins, another series of unique connections occurred.
Crediting Kate Sweeney, a former blueliner for the NWHL's Ottawa Raiders and Niagara Purple Eagles from College Hockey America, as an essential factor in joining Planet Ice Kelowna, Dielwart also called Brandy Osborne a teammate. A Registered Massage Therapist, Osborne worked with Canada's Under-18 National Team and at the 2015 Pan American Games in Toronto.
Coincidentally, both are respected leaders in their chosen profession. Osborne holds standing as the President of the BC Chapter of Canadian Sport Massage Therapy Association. Dielwart, a clinical instructor at UBC Okanagan, also serves in the capacity of President with the BC Orthopaedic Association.
"It was very fun, and we travelled a bit once in a while. Every one knows each other and you tend to be on the same team. When I moved to Kelowna, one of the ways I found friends was reaching out to the hockey community. Great way to open up.
Katie Sweeney, who played at Niagara, got me into the league. Danielle Grundy was my realtor when I got here. I even got involved with Grindstone. Hockey is always so special, everyone helps each other. It helps you feel like you are home, no matter where you are."
Of all the facets in Dielwart's hockey odyssey, perhaps none tugs at the heartstrings more than the opportunity to share the love of the game with her children. Having transitioned into coaching, the opportunity to take on such a role with her young son has taken stick in hand is a labour of love.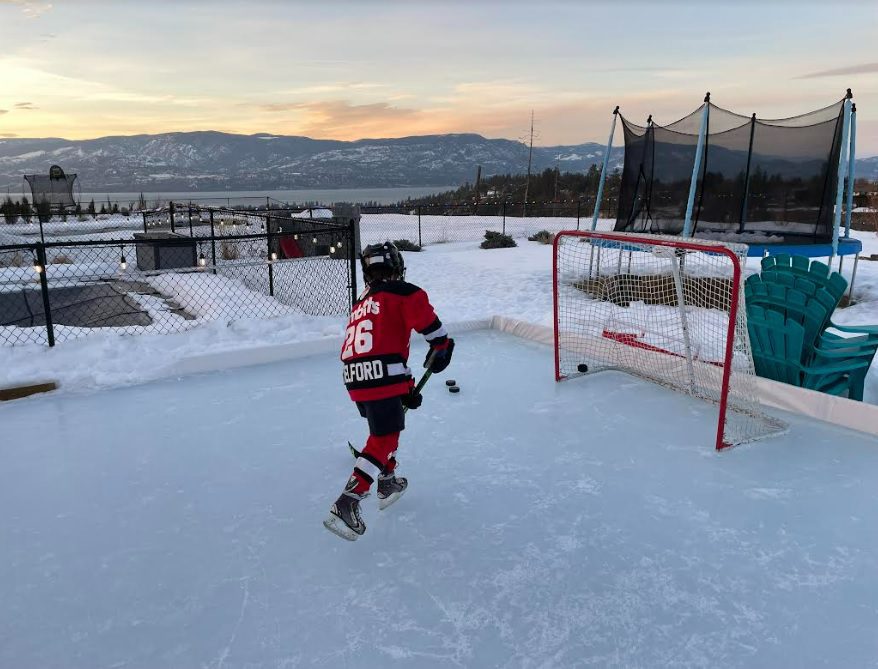 Even displaying an industrious facet, constructing an outdoor rink for her children, the amalgam of parenthood and coaching has provided its own series of rewards. With her daughter ready to grace the ice, a potentially treasured facet emerges. Barbara (Bilko) Egan, a former goaltender for Ohio State, has not only coached alongside Dielwart, their sons were teammates. Coincidentally, their daughters belong to the same roster, continuing a special lineage.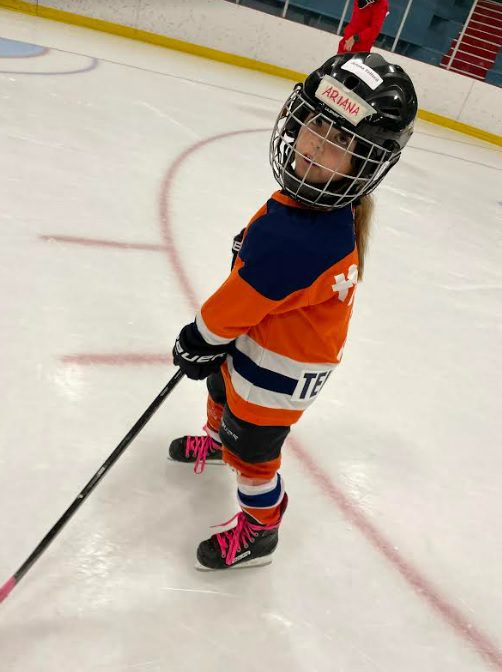 Running parallel to this formidable time, Dielwart's acumen and skill as an orthopaedic surgeon sees her occasionally involved in a medical capacity with the Western Hockey League's Kelowna Rockets. Adding another aspect to Dielwart's footprint in the local hockey community, her children becoming fans of the team, Kelowna is definitely the focal point for the happiest time in her life.
"What I have realized is that you can play hockey up to 30 years in your own life and not know one iota about coaching. I give a lot of props to the coaches out there. My daughter will be starting to play this year, although she said she's doing it for me. Maybe she will enjoy it. Barbara's daughter will be playing with her.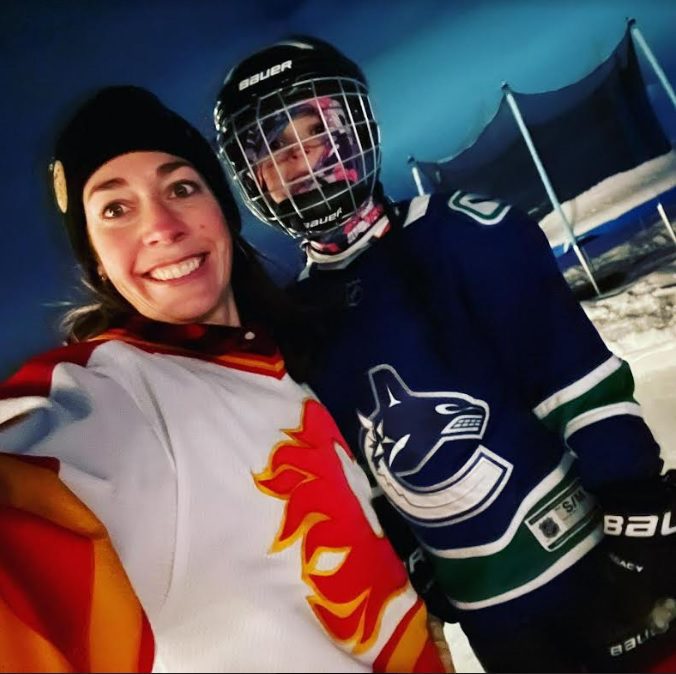 Now that I am coaching, I built an outdoor rink. The game never really leaves, even if you do not play anymore. I played all the way before I had my son.
As an orthopedic surgeon, I deal with a ton of sports related injuries. I am not with the medical team for the Kelowna Rockets every day but I help with specialist advice.
I have been to a few Rockets games throughout the year with my kids. My eldest is enthralled by it. He even got to be on the ice. When he was in the 5-7s, he got to play one of the Timbits games during intermission. Great memory for my son.
Growing up in Calgary, I played on the ice during the intermission of a Flames game, a memory that sticks with me. Hopefully there will be one for my daughter soon."
"All quotes obtained first hand unless otherwise indicated"
Further reading: https://orthopaedics.med.ubc.ca/faculty-spotlight-lane-dielwart/
In this article:
#coaching
,
#ECAC
,
#NCAA
,
#NWHL
,
#ODR
,
#RPI
,
#UniversityHockey
,
#WomenInSport
,
#Womenshockey
,
grow the game
,
Hockey
Related Articles