One of the most accomplished players of her generation, the only achievement that eluded Rachel Llanes was an Olympic appearance. An inaugural member of the KRS Shenzhen Vanke Rays, the only professional women's ice hockey team based in China, Llanes' hockey resume spoke for itself.
Enjoying a titanic triumvirate of titles, including the Clarkson and Isobel Cups, along with the Zhenskaya league championship, Llanes is the first player to attain this pinnacle. Raised in San Jose, California, her career also involved participation in a pair of historic outdoor games.
As a member of the Northeastern Huskies, Llanes participated at Frozen Fenway on January 8, 2010, the first outdoor event in NCAA women's ice hockey. During the inaugural season of the Boston Pride, which culminated with an Isobel Cup title, she graced the playing surface at Gillette Stadium for the Women's Winter Classic.
Enjoying over 100 career appearances with the Rays, Llanes legacy in China took on a completely new meaning in 2022. Named to China's women's ice hockey team for the Beijing Olympic Winter Games, the privilege of skating for the host nation provided Llanes with an opportunity to honor her proud heritage, simultaneously solidifying her standing as one of the game's icons.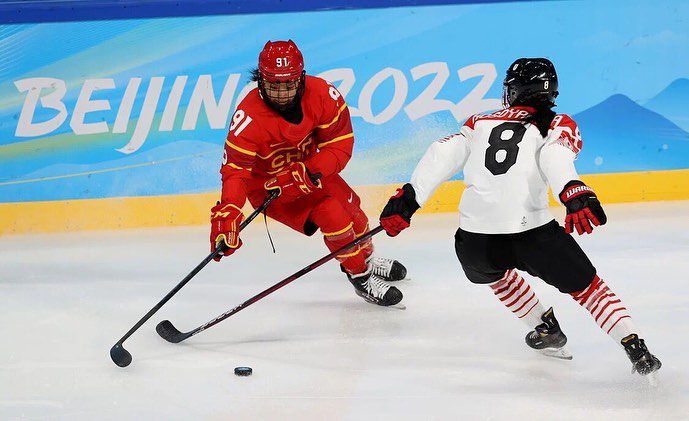 Wearing her trademark number 91, identified as Ni Lin, it marked the realization of a lifelong dream for the jubilant forward. Making her Olympic debut at Wukesong Sports Centre on February 3, the contest evoked many emotions for an elated Llanes. Facing off against Czechia, appearing in their first Olympic women's ice hockey tournament, it allowed Llanes another fascinating brush with history in her career.
"I was so focused on the bus ride to the game, I remember everyone was quiet. Heading into the game, I had a moment when I was walking out and seeing the Olympic rings on the Jumbotron. I contained my excitement and calmed my nerves, just kept my focus. My mind was quiet, but my heart was full. I have never felt more prepared for something in my life. It felt like all the setbacks and everything I had to overcome was preparing me for that moment."
Although Czechia prevailed by a 3-1 mark in the contest, the first for China in Olympic play since Vancouver 2010, Llanes rose to the occasion the following day. Opposing Denmark, akin to Czechia, were making their Olympic debut, Llanes scored with 50 seconds remaining, breaking a 1-1 tie. With Leah Lum (Qiqi Lin) scoring an empty net goal, Llanes first Olympic goal stood as the game winner in a stirring 3-1 final.
"I think all my emotions came out when we got that goal. When I was sitting on the bench, I was saying to myself, I do not want to go to OT. We finally got a bounce to go our way, before I got to the puck, I knew that was it. Winning the first game for China and following up with the opening ceremonies that night was a highlight for sure."
Supplying strong leadership and acumen throughout China's competitive sojourn in Group B competition, narrowly missing the quarterfinal round by one point, Llanes presence was truly admirable. Prior to the beginning of the Games, she suffered a highly personal, and visceral loss.
Summoning the strength to persevere, it marked a tremendous display of character for Llanes. Undoubtedly, the opportunity to engage in the experience is one that Llanes recounts with a profound emphasis on teamwork.
"I have not even been able to process the whole experience but the few quiet times I get to myself, I almost come to tears thinking about it. Especially with my dad passing away before the Games started, it is a lot to process right now.
Nobody will ever know the path of an Olympian and what each one has had to endure to earn that right. Everyone knows about the work and sacrifices, but there are times when things get dark and you need to learn to lean on others and ask for help.
I am blessed to have my support group that I have built since my club hockey days. I am fortunate to call so many places my home and to have the support from my hockey families. Without truly knowing yourself, I do not think you can get as far as you want to."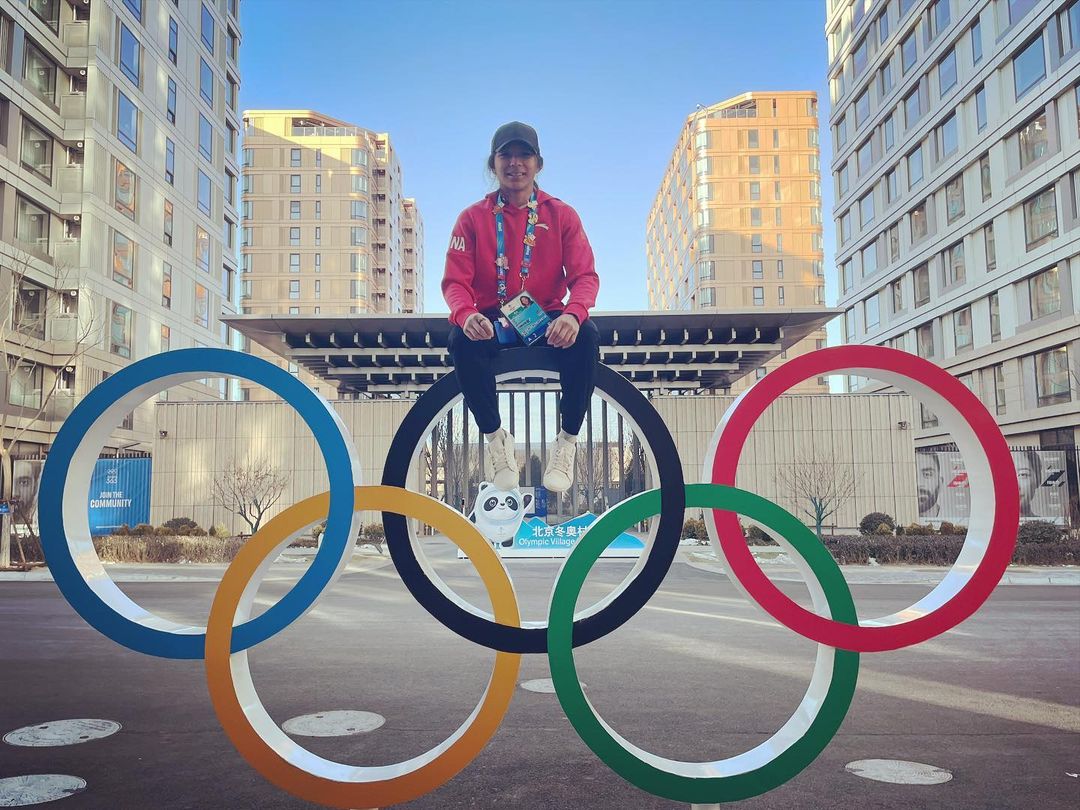 Pondering the possibilities of the next Olympic cycle, looking towards Milano-Cortina 2026 with the aspiration of a return appearance, the legacy of Beijing 2022 firmly entrenched Llanes as a world-class competitor.
A hockey heroine on both sides of the Pacific, the admiration for Llanes Olympic efforts involved an opportunity for a highly emotional homecoming. Returning to her hometown of San Jose, where her mom, and biggest fan, Tess, still has a residence, it marked a proud highlight.
Speaking at Gunderson High School, where Llanes was a member of the Class of 2009, the March 4 speaking engagement was an opportunity to pay it forward. Rather than soak in celebration, Llanes provided encouragement. Setting a positive example, inspiring with her own journey, the set of values that allowed Llanes to achieve her own dream make her a champion before the game even begins.
"The Olympic experience does not happen without love and support. I spoke at my high school last week and said that anyone can work hard, that does not make anyone special. It does take hard work and discipline, but how many people are willing to put in the RIGHT work every day. How many people put their ego away (in order) to learn, understand and grow form the failures that come with the process.
I have been at this dream since I was 12 years old and it does not stop here. I am excited to have more goals and dreams to pursue in both my hockey and strength and conditioning coach career. The next stop is 2026."
"All quotes obtained first hand unless otherwise indicated"
Related Articles