Having first worn the Stars and Stripes at 16 years young, contributing to gold medal triumphs at the IIHF U18 Women's Worlds, Cayla Barnes has blossomed into a cornerstone on the defensive unit of the Senior team. Enjoying the milestone of an Olympic gold medal in the twilight of her teens, belonging to the US roster at the 2018 PyeongChang Winter Games, the California-born Barnes represents a new generation of world-class talent.
As the 2022 Beijing Winter Olympics allowed Barnes a second opportunity to participate on the game's biggest stage, another compelling chapter in her unfolding athletic narrative taking shape. In between Olympic appearances, Barnes continued her on-ice brilliance, excelling with the prominent Boston College Eagles.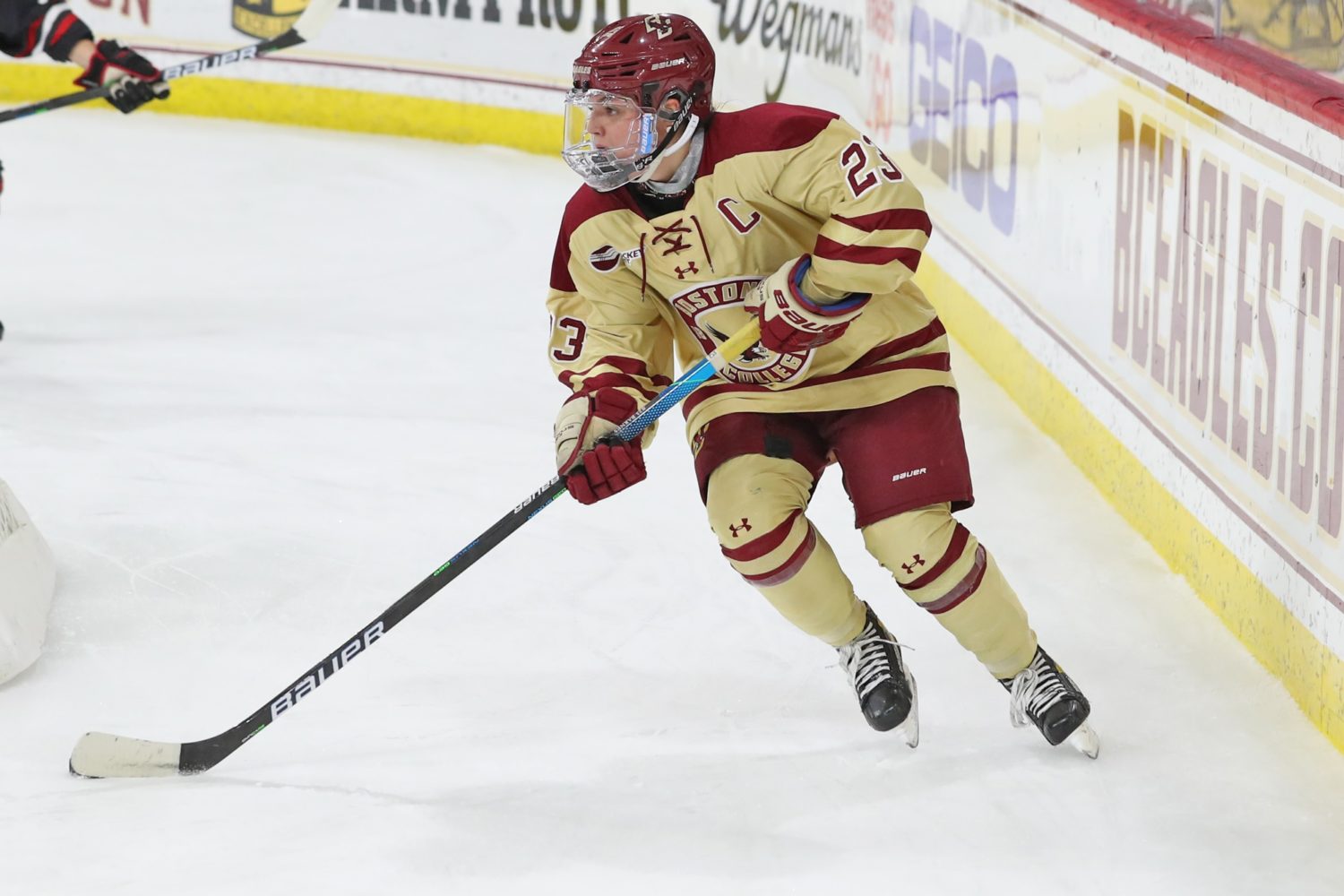 Earning Second Team All-America honors as a junior in 2021, a season that also saw Barnes bestowed the honor of the captaincy; it marked another exciting chapter in her hockey odyssey. Simultaneously setting an exciting tone in the season to come, as Barnes would grace the ice for the 2021 IIHF Women's Worlds, plus the Beijing Winter Games, the experiences made at Chestnut Hill, home of the Eagles, would follow her onto Team USA.
At Beijing, Barnes was among four Eagles, including Courtney Kennedy, who served on the coaching staff. To share her second Olympic experience alongside fellow alumnae Alexandra Carpenter and Megan Keller (BC teammates in 2018-19), plus Kennedy, wearing the Stars and Stripes with the same collective goal, also stimulated a strong sense of school pride.
Undoubtedly, the privilege of skating for Boston College brought with it a proud Olympic linkage. Playing for head coach Katie King-Crowley, there was a golden connection. King-Crowley skated for Team USA at the 1998 Nagano Winter Olympics, representing the first-ever women's ice hockey competition on such a stage.
With King winning the gold medal in Nagano, while Barnes captured it 20 years later, there was a special serendipity. Taking into account that Kennedy also serves on the coaching staff at BC, adding lustre to the BC experience, she has also become a highly valued mentor for an appreciative Barnes.
"It meant everything to share that experience with Megan, Alex, and Court. Being an Eagle is so incredibly special and to have people around who understand that is truly special. 
Megan and Alex are great hockey players, but even better humans. Being able to share this time with them and also connect through BC is not only great for us, but the program as a whole, and girls looking at BC in the future.
Having coach Courtney on the bench in Beijing was incredible, as she has been such an influential part in my development as a person and player throughout my time at Boston College. Having a familiar face that I could turn too in stressful times was particuarily important. I am glad we got to experience that together. Looking forward to going back to BC for my senior year and have a chance to grow some more under Courtney."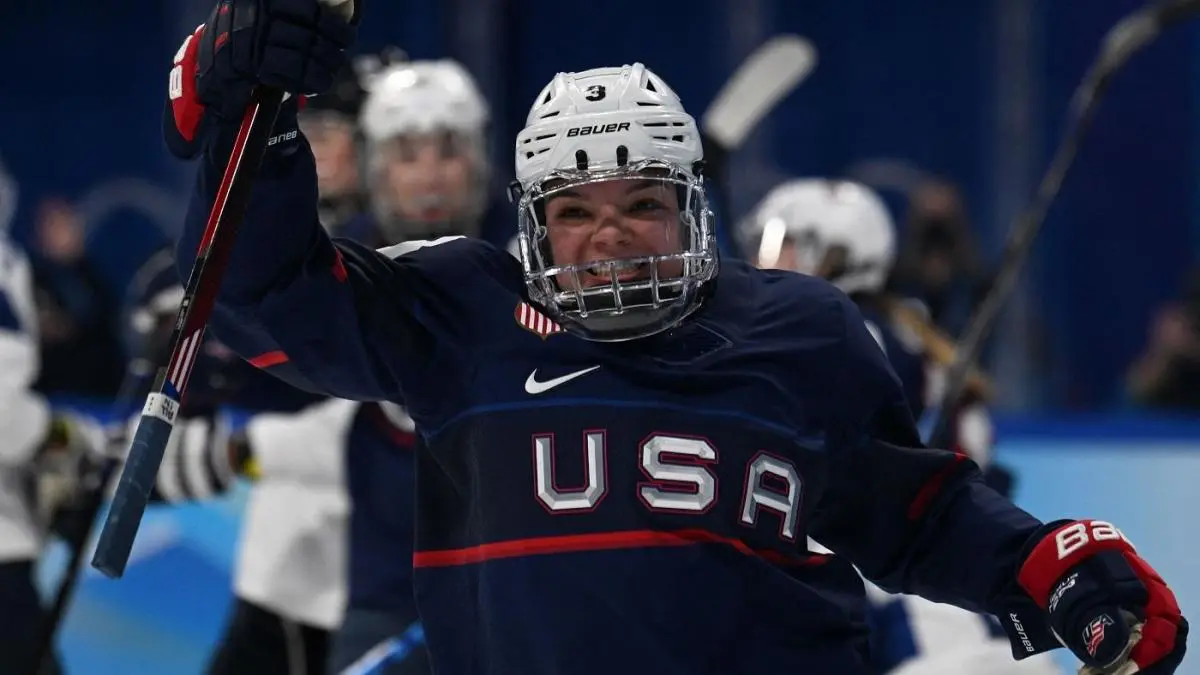 Barnes first point in Beijing, also the first of her Olympic career, brought with it a unique Boston connection. Collaborating with former Boston University Terriers star Jesse Computer, both logged the assists on a goal scored by Kendall Coyne-Schofield, one of the greatest Northeastern Huskies forwards, in a 5-2 win versus Finland. 
Preliminary round play saw Barnes log assists in three games. One of seven American players that enjoyed a multi point effort in an 8-0 win versus Switzerland, Barnes assisted on goals from Amanda Kessel and Dani Cameranesi.
The final game of the preliminary round saw Barnes assist on a goal by Cameranesi in a hard-fought loss to archrival Canada.
Before the tournament expired, Barnes enjoyed the milestone of her first Olympic goal. Facing off against Group A rival Finland in the semifinals, Barnes scored the first goal of the game, placing the puck past versus Anni Keisala. Earning the assists on one of the biggest goals in Barnes' career were a pair of distinguished forwards in Hilary Knight and Hannah Brandt, as the US prevailed in a 4-1 final, qualifying for their fourth straight gold medal game.
Following up on her Olympic debut in 2018, with another podium finish in 2022, it provided another proud achievement for the highly talented Barnes. Reflecting on both experiences, comparison does not entail her approach. Finding that change was a key theme over the course of those two milestone events, growth and leadership also encompassed this fascinating journey of world-class competition.  
While navigating through the difficult times of a pandemic presented its own challenges, the opportunity of competing in spite of it, retaining a positive attitude and love of the game certainly represented its own victory. As Barnes and her teammates persevered, it stands as a cornerstone, one that equally supplied team spirit.
"I honestly do not like to compare the two experiences because they were so different. Four years is a lot of time for growth, not only within myself, but with this team. It was just incredible to see that change over time. In 2018, I was just a wide-eyed kid eager to learn and take it all in. This time around, I was a little more comfortable and settled and it was amazing.
Our team was so close and had so much fun both on and off the ice. The circumstances with the global pandemic were challenging and our team definitely faced a lot of adversity but that is what made this team so special.
Going through adversity with people you love and care about makes you stronger and I think that translated on to the ice. Definitely a special group to be a part of and I would not have changed any second of it."
As exhilarating as the on-ice competition proved to be at Beijing, another significant facet provided Barnes with jubilation. Among the favorite memories from her second Olympic experience, the Opening Ceremonies provided plenty of enjoyment.
From the spectacle to the sportsmanship, a global celebration of athletic achievement encompasses a brilliance and emotion that few events can match in scale and magnitude. Proud to be part of such a moment, walking into the stadium surrounded by her teammates, Barnes soaked in the atmosphere, appreciating a moment destined to be filled with a plethora of enjoyable memories to be cherished in the years to follow,
"I think my favorite memories from Beijing were the opening ceremonies. It was my favorite part last time and this time around it was just as special.
This is my favorite experience because you are not only with your team but athletes from all over the world celebrating sport. It is so uniting and a moment where the realization sets in that you made it.
Everything you have worked for has finally come true and that celebration is something you will never forget. Walking with my team was a blast and definitely a memory I will cherish for the rest of my life."
"All quotes obtained first hand unless otherwise indicated"
Related Articles