I am a wife and mother of two young children. I put family first before my needs often and started to feel run down and lacking my exuberance for life. A friend from my work asked me to go to ice hockey training with her. So, we headed off for HISS (Hunter Ice Skating Stadium). My friend kitted me out in her partner's gear (lucky I have big feet as his skates fit me).
At 37 I was stepping on the ice for the first time.
Stepping over that gate threshold was exhilarating.  I had rollerbladed many times so it wasn't a completely foreign concept. It was certainly not the last as from that moment on I was hooked.
I drive over an hour each way every Monday night for training with NSA. I started to play in our in-house league at HISS a year later. I joined the Sharks as I was training with a few girls on the Monday that played on that team. This was also a start to an amazing journey—one of the most inspirational people I know is one of these girls.
She was 13 years old when I first met her and her kindness, maturity and dedication would surpass many adults I knew. Her goal was to play while having fun. Well, we did this and it was the highlight of my week. I have an amazing life living on a waterfront where I can paddle and ride horses with my kids whom I homeschool. So, being a highlight shows how much ice hockey with our mixed team really is.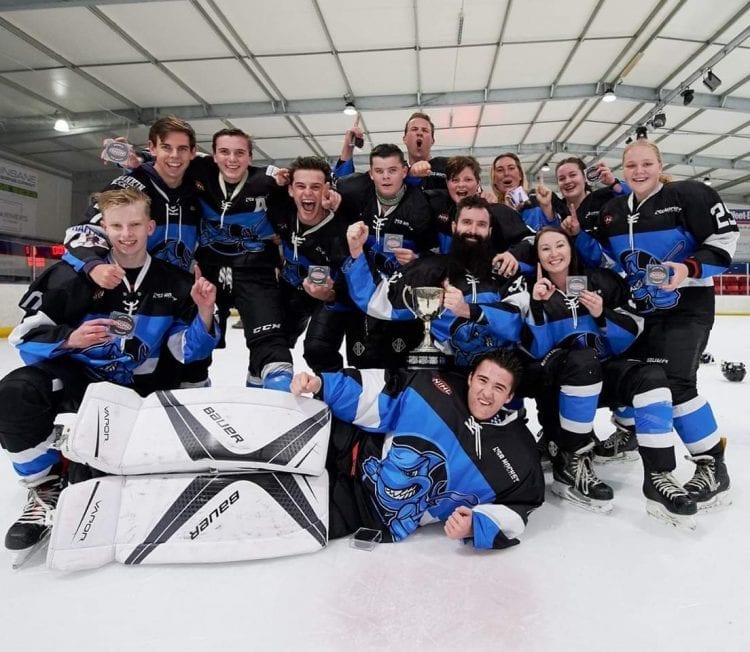 Win or lose, that change room after a game was a place to enjoy. As I played many seasons with the Sharks almost year round, I watched my friend set and achieve great goals. She made the Women's Northstars Team by the age of 14 and at 15 played for Australia on a women's u18 team. Each in-house game we would play together she would coach me with knowledge she had gained. I would give her the latest information that I had learned that may help her build on her already well-established hockey/life mindset. I am working further and training in counselling/coaching while finishing my Bachelor's degree.
So, at 40 years old we won our first NIHL Grand Final. I must say, my love for the game of ice hockey is massive and what it represents is invaluable. We are a country where finding an ice rink is somewhat difficult, but with the people who are involved in the sport here, it should not be underestimated as one that could grow further here in Australia.
So from our warm country, I say an icy hello.
– MisHell Coulcher #4 Sharks
---
Want to share your hockey story?
Submit it to WHL People here!
Related Articles