Belonging to a formidable Markham Thunder draft class that included Victoria Bach, the eventual recipient of the CWHL Rookie of the Year Award, Ryerson Rams captain Ailish Forfar, who ended her university career with the Marion Hilliard Award, along with Guelph Gryphons alum Kelly Gribbons, Ella Matteucci brought her own splendid series of credentials to the defending Clarkson Cup champions. Claimed in the fourth round, with the 22nd pick overall, Matteucci was already a celebrated two-sport star, having also donned the jersey of Canada's national women's baseball team.
One of British Columbia's most talented athletes of the decade, Matteucci's athletic narrative comprises a tale of tremendous achievement. Serving as captain for Team British Columbia, in women's ice hockey at the 2011 Canada Winter Games, she also enjoyed a pair of monumental milestones with the Notre Dame Hounds.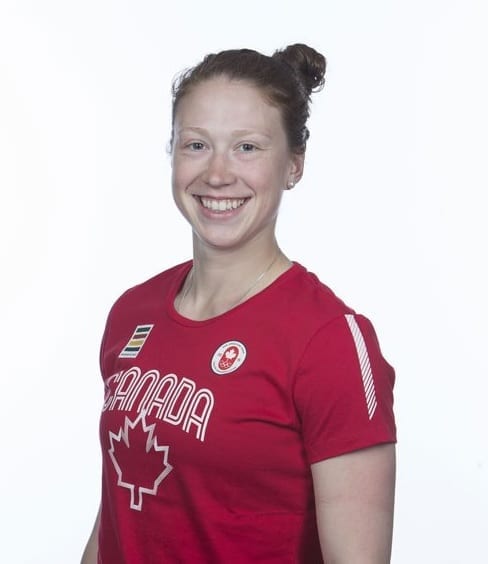 In her senior year with the Hounds, pitching with the boys' baseball team, she threw a no-hitter, making national news. Having also starred with the Hounds girls hockey team, who compete at the Midget AAA level, she enjoyed the privilege of an Esso Cup National Championship. Fittingly, she was bestowed the honor of Hounds Female Athlete of the Year in 2011.
Debuting with Canada at the 2014 IBAF Women's World Cup of Baseball, where she pitched against Japan, that same year also saw Matteucci, an ECAC All-Academic selection, contribute towards the Clarkson Golden Knights winning their first-ever NCAA Frozen Four women's hockey championship, a very valuable member of the program's defensive unit.
Graduating from Clarkson in 2015, where her 68 blocked shots paced all members of the team, another All-Academic Selection gained lustre by the honor of the Clarkson Coaches Award. Given to a player who best demonstrates unselfish play, sacrifice and dedication, those values have served Matteucci well on the diamond. Running parallel to her graduation was the fact that she was part of the Canadian contingent that participated in the inaugural women's baseball tournament at the 2015 Pan American Games, qualifying for the gold medal game.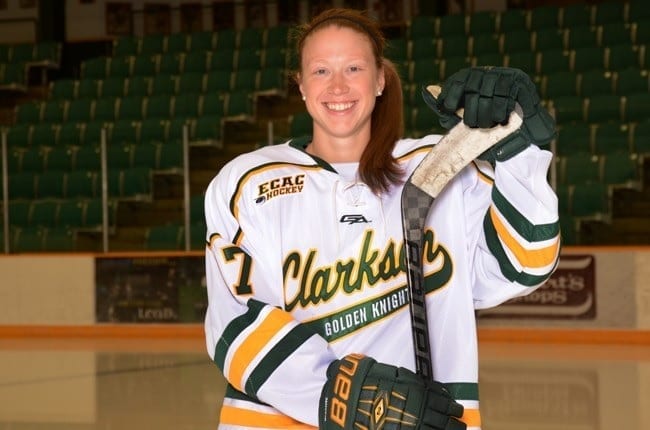 Fast forward three years later, with Matteucci returning to the rink for her inaugural season of professional hockey, there was already a phenomenal sense of momentum, as the worlds of hockey and baseball continued to intersect in empowering ways. Appearing with Canada at the 2018 IBAF Women's World Cup of Baseball, gaining a podium finish, the achievement made greater by a highly emotional victory in the bronze medal game against archrival United States.
While Matteucci remained active on the ice since graduation from Clarkson, the Thunder's tryout camp proved to be a definition of her remarkable character. With less than a days rest after flying across the continent, a whirlwind time saw Matteucci highly motivated to make the team. Employing an approach to simplicity, relying on a fundamentally sound game and an admired fearlessness towards shot blocking, Matteucci's composure made her a welcome member of the defensive unit.
Debuting with the Thunder on October 13, 2018, part of a weekend series against the visiting Worcester Blades, it would not take Matteucci long to record her first professional point. The following day, she scored what proved to be the game-winning tally versus Worcester, achieving the milestone of her first goal in grand fashion.
"The adjustment was pretty drastic… Just because I had been playing for fun the last few years, but I knew it was going to be tough. I came in, in good shape… I think I flew in from Florida, after being there for a month, and tryouts were the very next day.
The biggest adjustment was getting my hands back; I think… not like I had any of those in the first place though (laughs). I knew that if I was going to make the team it was because of my work ethic and the fact that I will lay in front of any shot. My game is very defensive and very simple, so I think my adjustment to the CW was relatively okay, just because of how simple I keep things."
Among the highlights of Matteucci's inaugural season with the Thunder involved the treasured prospect of playing alongside a pair of celebrated players she once called teammates at Clarkson University. Capturing the Frozen Four title in 2014, the first in program history, and the first won by a team that was not in the WCHA Conference, it was a historic achievement that Matteucci enjoyed alongside Erica Howe and Jamie Lee Rattray, the Patty Kazmaier Award winner that year.
Testament to Clarkson's legendary championship team was the fact that other members of the championship team have also enjoyed professional careers. Renata Fast can be found skating for the rival Toronto Furies, while Erin Ambrose, the eventual recipient of the CWHL Defensive Player of the Year Award, garbed in the tricolore of Les Canadiennes de Montreal. Shannon MacAulay, who scored the Frozen Four clinching goal, also played for the Thunder when it called Brampton home.
As a side note, Cheryl Pounder, a former star with the Mississauga Warriors, and one of the coaches at the 2019 CWHL All-Star Game, holds a unique connection to Clarkson, as her niece, Rhyen McGill, skates for the program, part of their 2018 Frozen Four championship team.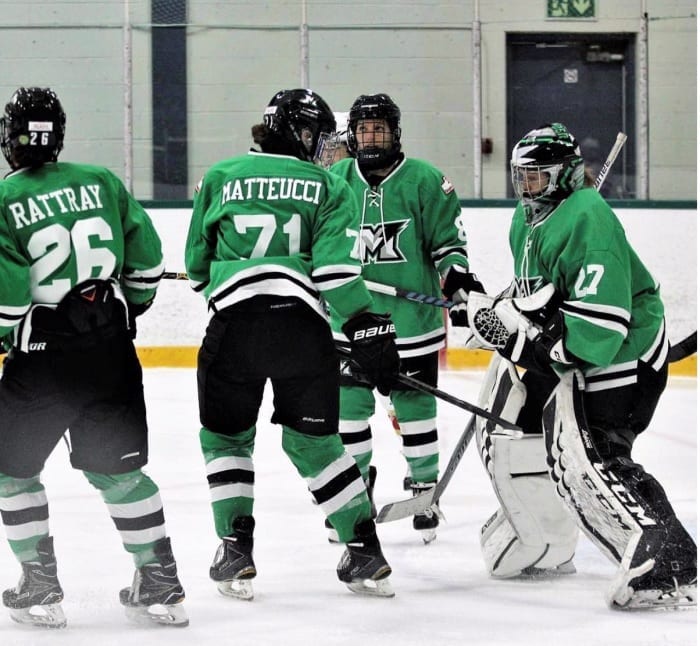 Reunited alongside familiar faces in Howe and Rattray, it brought about another unique sense of coincidence as the colors of Clarkson involved green, the primary color of the Thunder paraphernalia. Undoubtedly, the opportunity to adjust to the professional game became much more enjoyable for Matteucci by the treasured chance to grace the ice with teammates from a glorious chapter,
"Oh totally!! They were actually a big influence on me coming back to it all… They have been trying to convince me for the last few years, and I actually moved in with Ratty at the end of the summer, plus we live a block away from Howie, so it just made sense that I throw my name in the draft and see what happens. Clarkson University is very well represented throughout the league, so we all make it a priority when we are playing each other to meet up and catch up.
Howie, Ratty and I since we drive to the rink together, I think the NCAA Championship comes up like once every car ride. That team had been together for pretty much three years and it was just a super special experience that we talk about all the time. Also, nice that we have not changed jersey colours at all… I guess we really like green (laughs)."
With Matteucci's first season in Markham green ending with a playoff berth, it provided another unique coincidence. As her first regular season goal was a game-winning tally, she would duplicate the feat once again in the opening round of the Clarkson Cup playoffs. Challenging Les Canadiennes de Montreal, Matteucci scored against Emerance Maschmeyer, forcing a deciding third game. Sharing in the heroics was Jenna McParland, who scored a hat trick on this victorious day for the Thunder.
Despite the Thunder unable to defend their Clarkson Cup championship, as Montreal went on to prevail in the third and deciding game, the bigger picture did not reveal any sense of loss for Matteucci. After a three-year absence from elite hockey, she not only demonstrated that she was capable of excelling at such a level, the level of heart and motivation remained very strong. Rejuvenating her love of the game while finding common threads with new teammates and friends, the feeling of camaraderie and pre-game rituals brought back the elements that proved to be most enjoyable in her earlier years of hockey.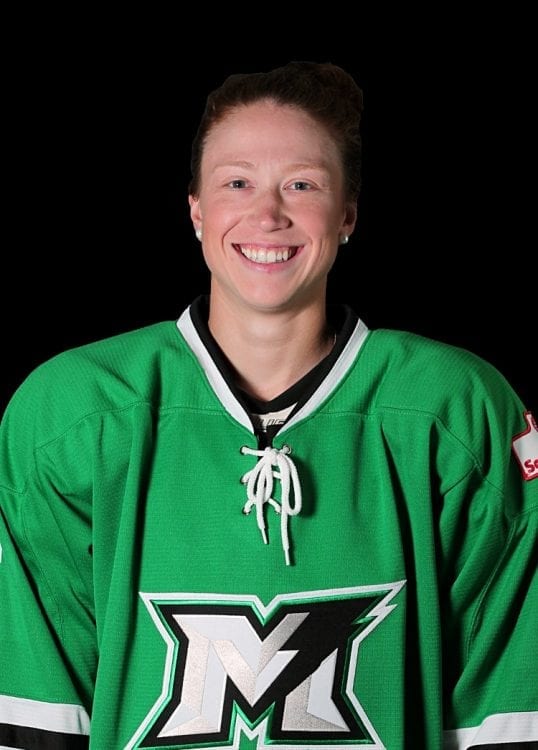 "I love playing for the Thunder because yes, everyone is there to buckle down and get wins and be successful but we also have a lot of fun. The "at-rink" atmosphere or game day atmosphere is something I missed the most… Just being excited for the game with your best friends, loud music, spike ball, kick-up, and celebrations after you score.
I think that is what I have enjoyed most, plus the majority of us live in the Etobicoke/Mississauga area so we are always watching Leaf games together, or going bowling, etc. Definitely the friendships I have made and the overall game day atmosphere is what I enjoy about the Thunder the most."
Among a group of proficient hockey players who have also dazzled on the diamond, Matteucci experienced another unique linkage during the 2018-19 season. Ashley Stephenson, who scored a goal in the final CWHL regular season victory for the Burlington Barracudas, and spent one season (2012-13) with the Toronto Furies coaching staff, announced her retirement from Canada's national women's baseball team in March 2019.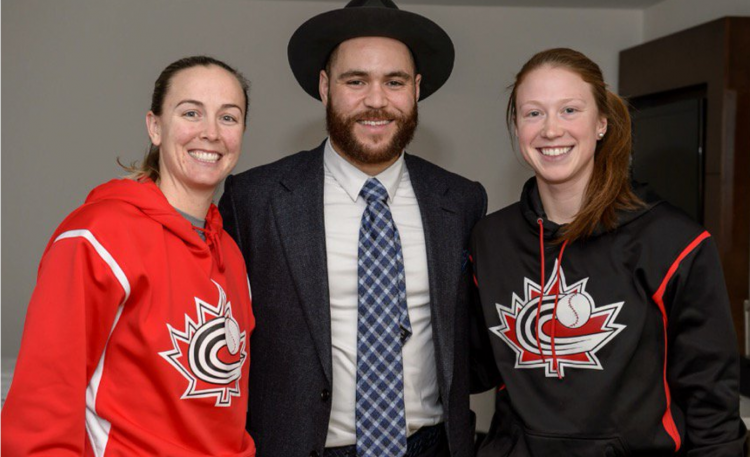 Having played with the national baseball team from 2004-18, Stephenson was an invaluable mentor and role model for Matteucci during her early years representing Canada on the diamond. Along with Katie Psota, who not only announced her retirement from the national team on the same day as Stephenson, having also spent 14 formidable years in the Canadian baseball jersey, both played university hockey at Wilfrid Laurier.
Gaining the chance to join Stephenson among the special sorority of female baseball players that have played professional hockey represents a tremendous point of pride for Matteucci, providing an empowering exclamation point on her sensational season with the Thunder.
"I love it!! I have always been a big supporter (obviously) and get excited when I get to talk to other dual sport athletes. Ash and I are actually very, very close. We used to car pool from Burlington to Richmond Hill when I lived out there so her and Kate Psota (a Laurier hockey alumni) became my summer moms (laughs). Taking me to practices and games, making sure I always had all my equipment, etc."
With Stephenson still active on the ice, serving in an officiating capacity, she ran across her former baseball teammate taking on her linesman duties in a CWHL regular season game. Unfortunately, the CWHL shall no longer serve as an intersection for such a unique meeting of baseball stars. With the league having abruptly shut down in the off-season, Matteucci has now secured a legacy as the last two-sport star in league history.
In spite of the unforeseen ending, Matteucci reveals how Stephenson inspired her to make the leap to the next stage of her hockey odyssey. Fittingly, Stephenson shall remain in the capacity of positive influence for Matteucci, as she takes on a coaching role with Canada's national team.
With numerous provincial teams competing for the Canadian national women's championship, there is also a cherished opportunity for Matteucci and Stephenson to call each other teammates for one final time. Both key members of Ontario's entry at Nationals, the prospect of another treasured run fuels the drive that may be destined to serve as a denouement for the iconic Stephenson, while allowing Matteucci the chance to appreciate what such a player has meant to her own athletic endeavours,
"Ash was actually a big influence for me returning as well. She always encouraged it. I think one of my favorite home games this season was when she was our linesman for the game. Just bugging her as she was skating up the ice. I actually saw Ash at the Clarkson Cup game and we both agreed, we both had a great hockey season (her reffing) but we are ready to back out on the field…
Playing for Team Ontario is always something we both really enjoyed, and I know she has retired from Team Canada, but Team Ontario has a national title to defend!!!! So we are both ready for that to get underway."
"All quotes obtained first hand unless otherwise indicated"
Related Articles