Following so many assiduous efforts, from monthly conference calls to constant networking, geared towards overcoming obstacles, the month of July 2022 took on an empowering relevance for a dedicated group of ice hockey players, adding an historic context to the female game. The majesty of the Opening Ceremonies for the 21st Maccabiah Games, which saw 66 nation's participate in the quadrennial event, brought Melissa Wronzberg one step closer to the realization of her hockey dream. Providing the exciting backdrop, Pais Arena, opened in September 2014, benefitted from a high quality ice surface graciously donated by the NHL, adding a major league feeling.
With the opening game of the Canadian contingent taking place on July 15, opposing host Israel, Wronzberg rose to the occasion, shining brilliantly. The captain's C adorning her jersey, the chance to serve in this role for the inaugural women's ice hockey tournament marked a significant milestone.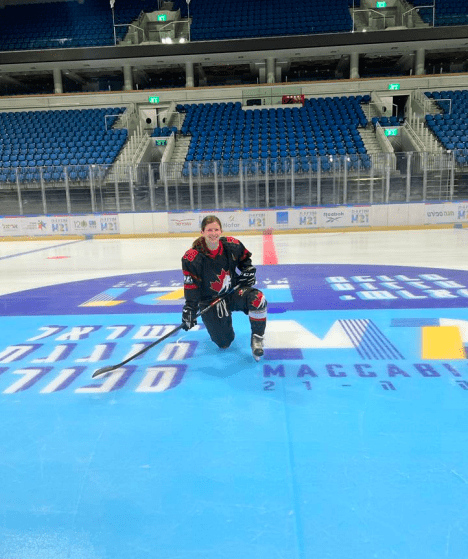 Scoring twice, while five assists demonstrated Wronzberg's highly impressive playmaking abilities, Canada prevailed by double digits. Harvard Crimson alumni Molly Tissenbaum, also a veteran of softball at the Games, logged the shutout.
Despite the lopsided 24-0 score, there was no boasting whatsoever. Instead, fellowship took on a much grander meaning. Starting to assemble a coaching career with Toronto's Leaside Wildcats, Wronzberg brought strong leadership in another unique capacity.
Joined by a group of teammates in a practice session for Team Israel, led by Canadian head coach Peter Smith, the experience proved highly rewarding for a gracious Wronzberg.
"Even beyond that, it was fun to get to go help him (Peter Smith) run a practice with the Israel national team. There was not only Peter, but Samara Lewis from my team, who also happens to be my assistant coach in Leaside.
Molly Tissenbaum and myself went to one of their practices and Peter ran them through drills, while Sam and I got to help the skaters. Molly worked with the goalies. To get to see how he helped them, where there was also a language barrier to deal with, was a fun experience for me too, and ranked at the highlights of my trip."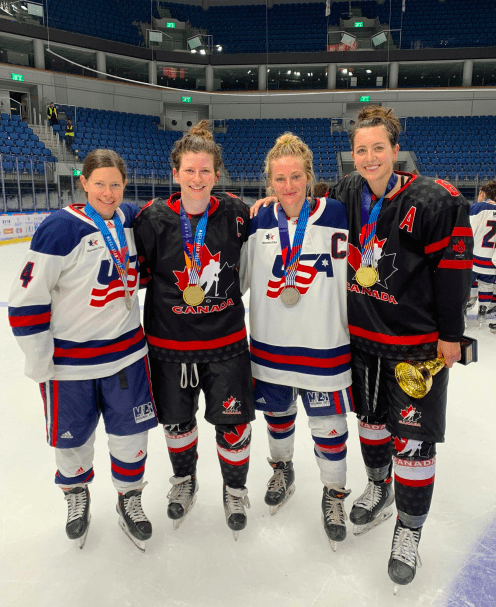 Running parallel to the on-ice competition, friendship became a cornerstone of women's ice hockey at the Maccabiah Games. Finding an inspiration in the dedication of players from the other nations, learning the efforts of Team Israel's Esther Silver provided a fascinating discovery.
Serving in the capacity of General Manager, and doctor, for Team Israel, Silver, a former goaltender, spent many years in Toronto. Standing between the pipes for B'nai Brith, among other teams, Silver relocated to Israel. Organizing a hockey camp in the Galilee region's town of Metula over a decade ago, the experience marked the beginning of her hockey odyssey in the Holy Land. In collaboration with Levav Weinberg, chairman of the Ice Hockey Federation of Israel, who also co-founded the Canada Israel hockey school, their efforts to promote the game and increase awareness stand as an admirable legacy.
"I guess touching back to what I just said previous, getting to connect with the other teams, especially the Israeli national team was such an amazing experience. To learn everything that Esther Silver has done to help make that program a reality.
To hear from individual players about how long they have been playing and how much they wanted to learn was so much fun for us. It would be a dream come true to be able to continue finding ways to help that team.
Whether they come here to train or we go visit them on occasion in Israel to try to help continue to not just develop their team. It would be great to help get more girls into the sport in Israel so that their team can continue to grow and maybe get to the top level one day."
Canada 🥇
USA 🥈
Israel 🥉

This concludes the first ever women's ice hockey tournament at the @Maccabiah2022. Gracefully executed and a pleasure to cover with the whole #MaccabiMedia team. pic.twitter.com/TCC6VzmNx4

— Dylan Manfre (@Dylan_Manfre11) July 22, 2022
Facing off versus the United States in the gold medal game, Wronzberg delivered on all accounts. Recording a hat trick, plus an assist, her brilliant offensive wizardry proved essential. In a year that also saw Canada win Olympic gold, the IIHF Women's Worlds, plus the IIHF U18 edition of the Worlds, Wronzberg took her rightful place as one of the nation's golden heroes.
As a side note, the preliminary round proved to foreshadow Wronzberg's heroics. In a pair of wins versus the United States, Wronzberg assembled a cumulative total of three goals and five assists.
Reflecting on the magnitude of a gold medal, the game itself was prologue. From an emotional standpoint, the immediate aftermath provided a seminal moment, finding an appreciation for all the tremendous individuals that made the tournament so magical.
"Beyond that, obviously winning a gold medal in the first ever international women's hockey tournament in Israel is pretty amazing to be able to say.
Going into that game it was definitely all business. We had already beat the US twice, but as we all know, anything can happen in hockey and we knew that was going to be the best game we would get from them. With us playing three in a row, we knew we really had to push through.
I think for me, my emotions more came out once the game was over. To reflect on all the time and effort that groups of us put into getting those games to happen, and for them to finally happen and finish, it was surreal."
Following the inaugural tournament, a foundation established, hoping to set the bar, a sense of optimism reigns for what follows; the prospect of future tournaments, featuring more nations with stick in hand.
Certainly, a sense of celebration envelopped the aftermath of the gold medal game. The presence of all three competing teams gathering on the ice marked a special occasion, one that holds a treasured place in Wronzberg's heart, validating the achievement of bringing women's ice hockey to the Maccabiah Games.
"Standing on the ice after the gold medal game, I got emotional thinking of my family and all the time and effort that was put into this too. I think my actual favourite moment, if I had to pick one, was the group picture we did, after the gold medal game.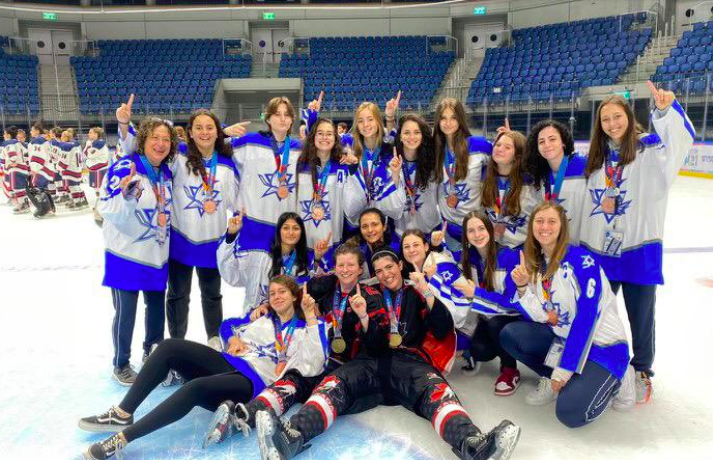 We had a picture with all three teams and our medals, because that tournament really was about way more than winning. Of course, all of us are athletes, we are all born to be competitive, but to come together as three teams, working to promote and grow the game of women's hockey in Israel, for Jewish females and beyond.
It was super special to get that picture to happen. I know before the game even happened, before I knew what the result would be, I had said I wanted to make sure we got that picture. I think that is the image of growing the game, and an image that most of us will walk away from those games truly remembering most for many years."
"All quotes obtained first hand unless otherwise indicated"
Related Articles