Building a legacy as an ambassador for the game, Melissa Wronzberg enjoyed the addition of an exciting new milestone in her distinguished career. Serving as testament to her dedication, a new chapter that brought a sense of unity to the Jewish sporting community, Wronzberg enjoyed the privilege of honoring her heritage.
Participating in the inaugural women's ice hockey tournament at the Maccabiah Games, Wronzberg helped to spearhead the assembly of a Canadian team. Having first discovered the Games as a teenager, finding influence in an athlete that competed in rugby, it served as the stimulus.
Having graduated as the all-time leading scorer with the Ryerson Rams, followed by a Clarkson Cup triumph in Markham Thunder green, Wronzberg also earned acclaim for her heartwarming efforts in the Road Hockey to Conquer Cancer fundraiser. Coincidentally, Ryerson (now rebranded Toronto Metropolitan University) reignited the desire to look into the possibility of women's ice hockey at the Games.
Congratulations @athleticstmu alumna, captain @mwronz78 on her Gold medal win for Canada at @Maccabiah2022! https://t.co/0MyTZc1uym

— Toronto Metropolitan University Alumni (@alumnitmu) July 28, 2022
The early formulation of the determined drive to welcome women to the rink owes a debt of gratitude to Wronzberg, among others. Part of the collaborative effort including American players Chelsey Goldberg and Jodi Berris, this titanic trio participated in a conference call with US and Canadian Maccabi officials.
Although the brainstorming session marked an integral first step, later communication with Mitch Miller proved integral. Also helping in the recruitment process for Canada's team, Miller's work is destined to resonate far into the future.
Extending her hockey sojourn with the chance to make history in Israel, the theme took on an even more important meaning for Wronzberg. Bestowed the honor of team captaincy, a privilege Goldberg also enjoyed with Team USA, the memorable highlight propelled her into a prominent place in sporting Canadiana. While serving as Canada's captain signified a fascinating summit, Wronzberg remains humble, the bigger picture revealing a portrait of perseverance and proud achievement.
"It was such an honour to be named the captain of Team Canada. It was definitely a unique position that our coach and manager were put in to name a leadership group before really getting to have the team come together in person.
To be recognized as a leader and be able to wear a Hockey Canada uniform with a C on it was such a special privilege. To be able to represent Canada was something all on its own. To get that honour added just made me take even more pride in what we were doing."
Amazing to see the @IIHFHockey involved in the @Maccabiah2022. Can't wait to see how Isreal hockey continues to grow! https://t.co/XaBUOplUPY

— Melissa Wronzberg (@mwronz78) July 28, 2022
With a gathering of players from numerous competitive backgrounds, the Canadian roster benefitted tremendously from the presence of head coach Peter Smith. Having led McGill University to four national championships, winning 534 games, also serving on the coaching staff for the 2010 Vancouver Winter Games, Smith also captured three CIS Coach of the Year Awards. As a side note, Wronzberg's coach at Ryerson, Lisa Haley, served in a similar capacity for Canada's contingent at the 2014 Sochi Winter Games.
Adding a gold medal from the inaugural Maccabiah Games, Smith followed it up as the first head coach for the Montreal Force expansion team in the PHF.
Despite the fact that Smith and Wronzberg both have common ground from USports hockey, their paths never crossed in competition. Situated in different conferences, the OUA's Rams based in Toronto, while McGill, a longtime power in the RSEQ, pioneered an exciting dynasty of elite female ice hockey in Montreal, neither team opposed each other at Nationals.
Understandably, the geographical distance, and rivalries within their respective cities (Montreal and Toronto each have three USports women's ice hockey teams), resulted in Wronzberg not knowing Smith as well as coaches from the OUA conference.
Although the Maccabiah Games allowed an introduction for Wronzberg, the opportunity to play for Smith proved to be a revelation.
"To be completely honest, before Mitch told me about Peter, I did not realy know much about him. Although we are both USports, I never really even looked at the Quebec schools when I was going through my process of picking a school, and he never reached out to me either.
Once Mitch gave me his name and told me to look him up, I was so excited to play for a coach that has so much experience and knowledge of the game. Not just at the university level, but international level too."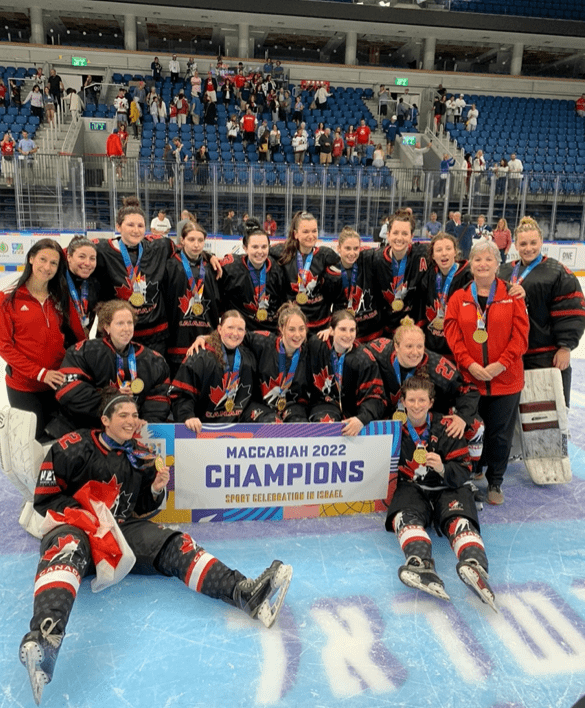 Serving as a head coach with the Leaside Wildcats U18 AA team, Wronzberg found a highly positive influence in the presence of Smith. With a focus on coaching running parallel to competitive endeavors, her cerebral approach to the game enhanced, Wronzberg hopes it shall yield positive rewards for her young players.
"I think now that I have transitioned into more of a coach than player, I was more excited to think about what I was going to be able to learn from him. Facets to be able to bring back to the girls I coach, more than about what I was learning as a player, although of course they go hand in hand.
Playing for him was amazing. He understood that it was a unique situation, with having a team of players from a lot of different levels. Yet, he is an amazing teacher and has great patience.
He knew how to explain things so that everyone, no matter their experience could understand it and execute it when it came to the games. I think it really showed. We did not have any game experience together going into this event and ended up 5 and 0. He definitely did something right."
"All quotes obtained first hand unless otherwise indicated"
Related Articles