A well-travelled player whose heroics have been prevalent on the frozen perimeters of collegiate and professional hockey, plus the slab in both CBHA and ISBHF competition, Melanie Jue's masterful career has transformed her into one of the game's global citizens. The product of Richmond, British Columbia, Jue is also part of a growing athletic heritage, her uncle, Bryan Chiu, played for the Canadian Football League's Montreal Alouettes from 1997 to 2010, winning a Grey Cup as both player, and later a coach.
Best known as a charter member of the Shenzhen KRS Vanke Rays, representing an exciting chapter in the development of professional female hockey in China, the highly articulate Jue, a graduate of Cornell University in 2010, was a two-sport star, also competing as a goaltender for the Field Hockey Team. Amassing 41 points in 96 games on the ice for the Big Red, highlighted by an appearance as a senior in the NCAA championship game, where she scored a pair of goals in a hard-fought overtime loss. Worth noting, some of Jue's Cornell teammates definitely featured a who's who of women's hockey, including the likes of Laura Fortino, team captain Amber Overguard, Lauriane Rougeau and Catherine White.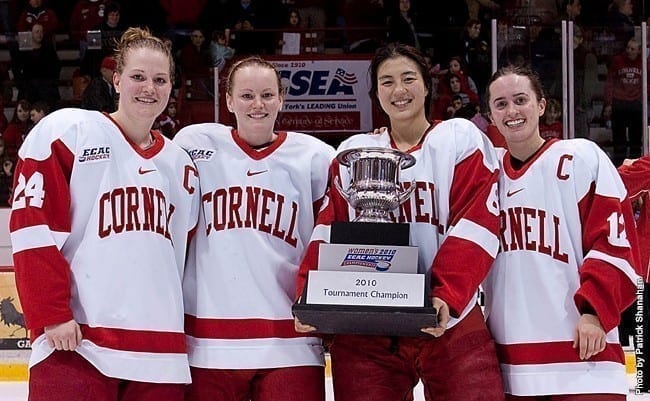 Having also spent the last decade refining her impressive game in two other unique facets, the results spoke for themselves. Assembling a fine coaching career with the likes of the Pursuit of Excellence (POE) Academy in British Columbia over the course of three seasons, followed by serving on the coaching staff of Scott Spencer with the NCAA's Lindenwood University Lady Lions from 2015-17, it marked a fascinating evolution for Jue.
Allowing a new generation of players to benefit from her tutelage, Jue has worked with a plethora of talented players on both sides of the border. Of note, the likes of Bridget Baker, Halli Krzyzaniak and Sarah Potomak were among the players that Jue worked with at POE. Meanwhile, Lindenwood saw the likes of Sarah Bobrowski, Shara Jasper and Tae Otte, the Lady Lions captain, experience career years. With such a solid background, it definitely served Jue well, enabling her to become an invaluable mentor in a later chapter that saw her return to elite play.
Running parallel to Jue's experiences coaching has involved the opportunity to emerge as a world-class competitor on the ball hockey slab. Having represented her home province of British Columbia at numerous CBHA national championship tournaments, Jue has also experienced the prestige of wearing the Canadian jersey internationally.
Making her international debut at the 2015 ISBHF World Championships in Zug, Switzerland, calling fellow Team BC icon Silvia Traversa as a teammate, the results were golden for a jubilant Jue. Signifying Canada's second consecutive gold medal, the milestone was one that marked an exciting new chapter in Jue's hockey odyssey, propelling her into the privileged status of a world champion.
Although Jue was not part of the Canadian contingent that participated at the 2017 edition of the ISBHF Worlds, the successive two years signified a desire to return to the familiar heights of golden glories. With a shared focus on redemption, one where Jue wanted to establish herself as an excellent competitor, while the overall team goal was one looking to improve on an unexpected and devastating bronze medal finish, there was enough common ground to create a golden collaboration.
"I think being named to the roster in 2019 was a bit of validation for me. I was added to the 2015 Worlds roster late and, as I mentioned, I was still very green. Getting the nod again gave me the opportunity to prove that I belonged. I cannot thank GM Sara Hayward enough for giving me another chance to wear the maple leaf. I was/am very grateful for getting to be a part of this special team."
Arriving in Kosice with the aspirations to return to the top of the podium, Jue rose to the occasion, the gold medal game certainly signified an exceptional career highlight. Along with Danielle Ring, who also played university ice hockey, competing with Atlantic University Sport's St. Thomas Tommies, this distinguished duo earned the assists on Canada's first goal of the game, scored by Edie Brenning.
Making her international debut, Brenning, whose ice hockey background involves play with Neumann University, would finish as Canada's leading scorer at the Worlds. Following said goal, Jue would collaborate with Brenning, assisting on a goal by Elysia Desmier, both competitors in the highly prestigious Ottawa Vanier Women's Ball Hockey League, who appeared in every ISBHF World Championship during the 2010s with Team Canada.
Taking into account the strong sense of teamwork and familiarity existing between Brenning and Desmier, one which was also evident for the trio of competitors on the Canadian contingent hailing from Newfoundland, Kristen Cooze, Aprill Drake and Dawn Tulk, such a sense took on a more profound meaning for Jue.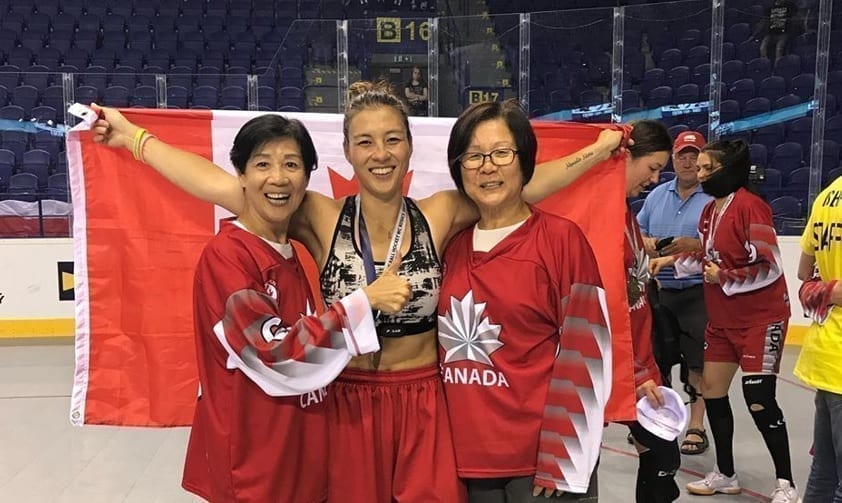 From the outset, Chelsea Karpenko, who played with Jue in the 2010 NCAA Frozen Four championship game, was also a member of Canada's contingent in Kosice. Additionally, both appeared at the 2016 CBHA Nationals, each earning a podium finish. Karpenko, the leading scorer for Calgary United in round robin play, would capture the gold medal, while Jue, enjoyed a bronze medal win as a member of the British Columbia Selects. Enhancing one of the greatest experiences of Jue's competitive endeavors, the journey towards the 2019 World Championship was made much richer by the cherished presence of family, making the admirable journey to cheer on a highly elated Jue.
"Winning gold while representing your country is always something special. I was part of the 2015 team that won gold in Zug and that was a great experience, but it was my first time at a World Championship and I think I was still very green.
Getting another chance in 2019 was amazing. The team we had last year was incredible—a great group of athletes that all had the same determination and vision to bring gold back to Canadian soil. That team was solid from top to bottom: we had great goaltending, formidable defense, fast, skilled forwards and an incredible staff that gave us the tools to succeed.
Everyone from our GM to athletic therapists, equipment managers and so-on were committed to the same goal. It was honestly one of the best teams I have been a part of so far in my career. It was also the first time that my family was able to see me play live. A few of my aunts flew in from Hong Kong and Canada to support me, and that was incredibly special for me to have them there and share the experience with them."
"All quotes obtained first hand unless otherwise indicated"
Read Part 2 of Melanie Jue's hockey journey with KRS Vanke Rays here!
Related Articles