Belonging to an esteemed group of elite ball hockey talent that transformed the province of Newfoundland into a remarkable hub, a fertile recruiting ground of world-class competitors to wear the Maple Leaf internationally, Aprill Drake has certainly taken on an iconic persona. As a fixture on Canada's national ball hockey team, Drake, a native of Long Cove, Newfoundland, and highly proficient softball player, possesses the prestige of being a multiple ISBHF World Champion, the most recent addition to her golden haul of accolades taking place at the 2019 edition of the Worlds in Kosice, Slovakia.
Following an unexpected and heartbreaking bronze medal for Canada in 2017, the focus over the next two years was a goal of regaining the gold built on the pillar of patient redemption. While the very high quality of competition at the CBHA Nationals filled the gap in-between, returning to the game's biggest stage, proved to be well worth the wait.
With the golden objectives in Kosice, Canada's national team benefitted greatly from Drake's presence. As a national team player throughout the decade, Drake was a remarkable asset. Joined by fellow Newfoundlanders Kristen Cooze and Dawn Tulk, while St. John's native Steve Power served in the capacity of head coach, she humbly recognized the strong contributions of the team captains and teammates, all among the elites from their home provinces.
Certainly, Drake's competitive experience definitely held value as well. Whether it was setting an example through hard work, or providing some words of confidence, Drake was an essential component towards instilling the belief that a return to the top of the podium was within reach.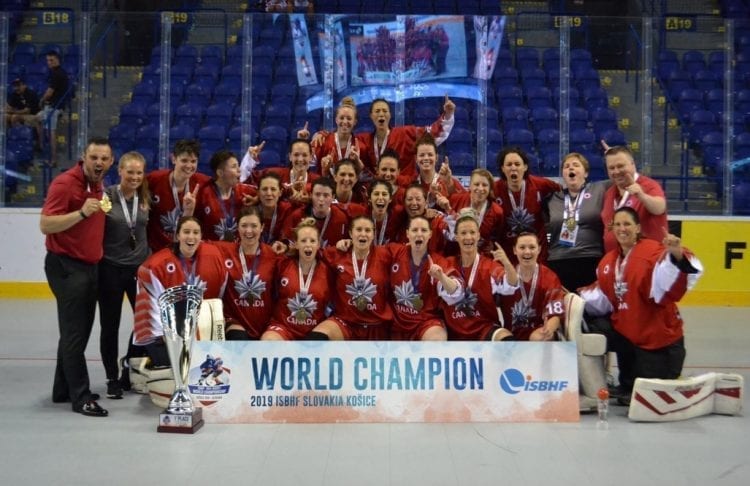 "I think that our team this year had a great variety of leadership skills both on and off the floor. Our Captain and Assistant Captains had so much knowledge and awareness that they were able to express to the group and it really helped our entire team to gel together.
Personally, I felt that I was able to take my own experiences from previous World Championships and bring knowledge and experience to the dressing room every game. Some of those positive leadership roles felt small—whether it was a dressing room chat before the game or a shift on the floor, but I think it was the combination of them from so many players which helped us push forward during each game.
There is no doubt that all our players are used to being leaders with our respected provincial teams and that was a key piece in helping us increase our depth for each and every game."
A member of Canada's bronze medal roster in 2017, the opportunity to bounce back and win gold in 2019 was one consisting of both redemption and challenge. From the outset, Slovakia, one of the most dominant nations in ISBHF history, and a long-time rival of the Canadian contingent, served as host. Additionally, the United States, who defeated Canada for the first time two years prior, were one of the favorites heading into competition. By tournament's end, it was Canada and the US adding to their budding rivalry, facing off for the gold medal, which saw Canada emerge triumphant in a 4-2 final. Serendipitously, Drake would assist on the gold-medal winning goal, scored by Edie Brenning, marking a sparkling international debut for Canada for the native of Ottawa.
"It was very important for us to go to Slovakia and win gold in 2019. We were obviously disappointed with the outcome in 2017 and wanted a chance to prove ourselves as World Champions once again.
We worked hard throughout the year individually and brought ourselves together in Slovakia with one goal—to win. We all made sacrifices to get there, and we wanted the outcome to be worth it. A gold medal puts us back on top in the ball hockey world and that is exactly where we want to be."
Along with standing as a world-class competitor, Drake is also revered as a kind-hearted individual whose friendly smile and humble demeanor make her a valued friend and inspired teammate. No place may this be more evident than as one of the cornerstones with Newfoundland United, the provincial ball hockey club that has excelled at the CBHA Nationals.
For a program that continues to expand, Drake is a pioneer, holding a revered status in her home province. Joined by the likes of Cooze, Tulk and Amanda Kean, also a Team Canada alum, along with former university ice hockey players Katie Peddle and Rebecca Russell, who was also a head coach with senior league time, the Clarenville Caribous, ball hockey has certainly undergone a sporting renaissance on "The Rock". Not only evidenced by the capital of St. John's serving as host city for the 2013 ISBHF World Championships. Certainly, the achievements of Newfoundland's talents, male and female, are cause for inspiration, possibly spurring a new generation, headlined by the likes of Ashley Stratton, to step on the slab.
"I think winning gold was a big deal for ball hockey in Newfoundland. As the female program continues to grow, our accomplishments are recognized more and more. On the home front with the Newfoundland and Labrador Ball Hockey Association, we have younger females coming through the program with aspirations to play for the National team.
When they get a chance to see some of their coaches and mentors doing the same thing and succeeding, it gives them hope. As our program grows, we want to continue to inspire younger generations to play ball hockey and we want them to see all the opportunities that ball hockey can offer."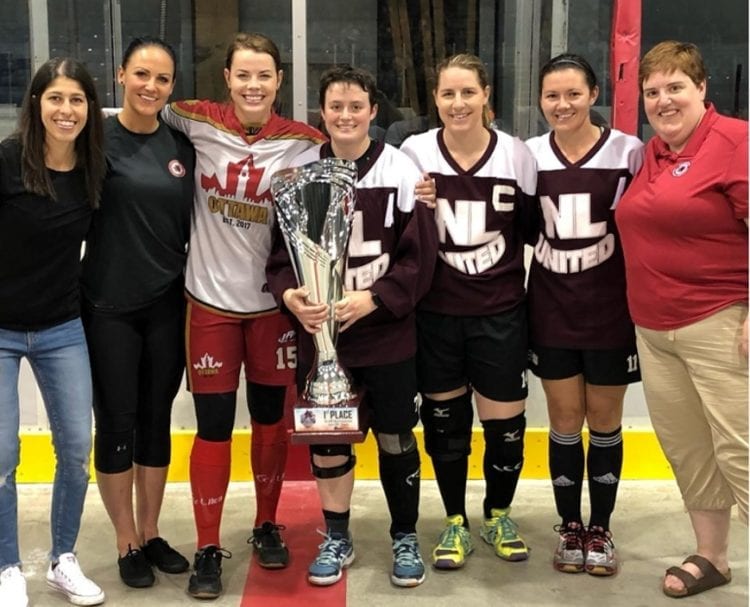 Constantly in the conversation as a favorite to reach the podium, Drake is more than one of the most notable players on Newfoundland United. Essential in contributing towards the highly competitive program reaching the gold medal game at the 2015 and 2019 CBHA National championships,
Prior to the opening faceoff between Newfoundland United and the Ottawa Capitals, Drake was part of a special pre-game ceremony stirring strong emotions of both national and provincial pride. Joined by fellow Newfoundland United teammates Cooze and Tulk, along with Edie Brenning and the likes of Guilliana Pallotta and Michelle Marsz, this gregarious gathering were celebrated for their collective efforts on the Canadian contingent that captured ISBHF gold.
Although a gold medal eluded Newfoundland United in 2019, as an Ottawa-based team returned to the top of the podium for the first time since 2014, the big picture reflected a remarkable consistency within the program, truly the cream of the crop on a national scale during the mid to late 2010s, mirroring Drake's tremendous career.
While the opportunity to appear in the gold medal game of the 2019 CBHA Nationals marked an exciting conclusion to a landmark season, the golden glories of Kosice encompassed another treasured facet for Drake. From a cultural perspective, competing in her beloved sport in other parts of the world brings with it the opportunity to discover new customs and savour the gourmand delights. Kosice is not only the second largest city in Slovakia, one of the first European settlements to have its own Coat of Arms, the site of many heritage protected buildings, its pedestrian access was one of great benefit for Drake. Complemented by the presence of friends and family, it marked the best of both worlds for Drake, her inner circle sharing in a journey that presented a series of cherished highlights on a personal and athletic scale, destined to hold a cherished place among the many great memories made during her sporting life.
"Besides winning gold, which is obviously the greatest feeling, I really enjoyed the trip to Kosice as a whole. Our hotel was located near Old Town, which gave us plenty of opportunities to walk the street, visit the local restaurants and check out the scenery.
The food was amazing, and we found a place where about 10 of us ate breakfast every day because it was so delicious. I also enjoyed trying the local beers (post-game of course) and coffee shops. I am a huge coffee person so having European Coffee was well worth the trip alone.
We also travelled and explored Spiš Castle, which was about an hour from Kosice. We took a bus out and then hiked to the top of the Castle which gave amazing views of the town of Spišské Podhradie below. The pictures just don't do it justice and it was a great experience with the team.
If I had to choose just one other moment as a favorite, I would have to go with celebrating with my family after the championship game. Having the support of my parents and girlfriend throughout the entire tournament made each and every day brighter.
They supported me endlessly through training and fundraising during the year and were a huge part of getting me to Slovakia. I was thankful to have them in the stands for each game and it was a special moment being able to celebrate with them after we won the gold medal."
"All quotes obtained first hand unless otherwise indicated"
Related Articles