Part of a remarkable lineage of elite talent that have skated for the Cornell Big Red, Jaime Bourbonnais is ready for the next stage of her highly promising career. Named to the Canadian contingent that would have participated at the 2020 IIHF Women's World Championships, Bourbonnais is quickly establishing herself among the new generation of international talents to hail from the hockey power.
Considering that the last decade has seen a remarkable number of Cornell alum skate for the Canadian National Team, from the likes of Jessica Campbell, Brianne Jenner, Rebecca Johnston, Lauriane Rougeau and Jillian Saulnier, among others, Bourbonnais joins this exclusive sorority.
Having skated alongside five skaters with Big Red ties, including current Cornell teammate Micah Zandee-Hart, on Canada's bronze medal recipients at the 2019 edition of the Women's Worlds, she also enjoyed another celebrated stint in Canadian colours.
Along with Cornell teammates Marlene Boissoneault and Kristin O'Neill, the trio of Big Red stars skated for Canada's Under-22/Developmental Team at the 2018 Nations Cup in Fussen, Germany. Such milestones represented the best of both worlds for a proud Bourbonnais, rekindling feelings of why Cornell was her preferred choice to pursue an NCAA career.
"The fact that so many Cornellians play for Team Canada was a big reason why I chose to go to Cornell. It really proved to me how amazing the coaching staff is at Cornell, and I felt it would be a great place for me to go if I wanted a chance to play for the National Team one day.
Players like Rougeau and Fortino had always been idols to me and I looked up to them so much when I was younger. Being able to wear the Canadian jersey and sit in stalls next to them honestly felt like a dream come true. I still have a long way to go to be a part of that legacy, but I am so honoured and grateful to have had the opportunity to represent my country at the highest level."
In the aftermath of a bronze with Canada, Bourbonnais returned to Lynah Rink in Ithaca, New York for her senior season with the Big Red with a strong feeling of momentum. Coming off an impressive junior campaign, resulting in Bourbonnais bestowed with a selection to the Second Team All-America squad, complemented by a nomination for the Patty Kazmaier Award, her statistical numbers included as a junior entailed a solid 29 points in 32 games played, including a game-winning goal on December 1, 2018 against the defending national champion Clarkson Golden Knights. Becoming only the seventh player in program history, and first since 2014 (Jillian Saulnier and Alyssa Gagliardi) to earn All-America honors, it marked a proud summit which was destined to be repeated,
"Being named an All American is an incredible honour. When I visited Cornell back when I was 14 years old I remember looking at all the past All Americans on the wall in the hallway at Lynah and thinking that I wanted to be up there one day.
I was very excited and proud of myself to be named to the Second Team my junior year, and it was absolutely surreal to be named a first team All American my senior year. Having my name on the wall at Lynah next to some of the best women's hockey players in the world is a feeling like no other, and I am definitely proud of myself for the work I put in and my development over my four years at Cornell."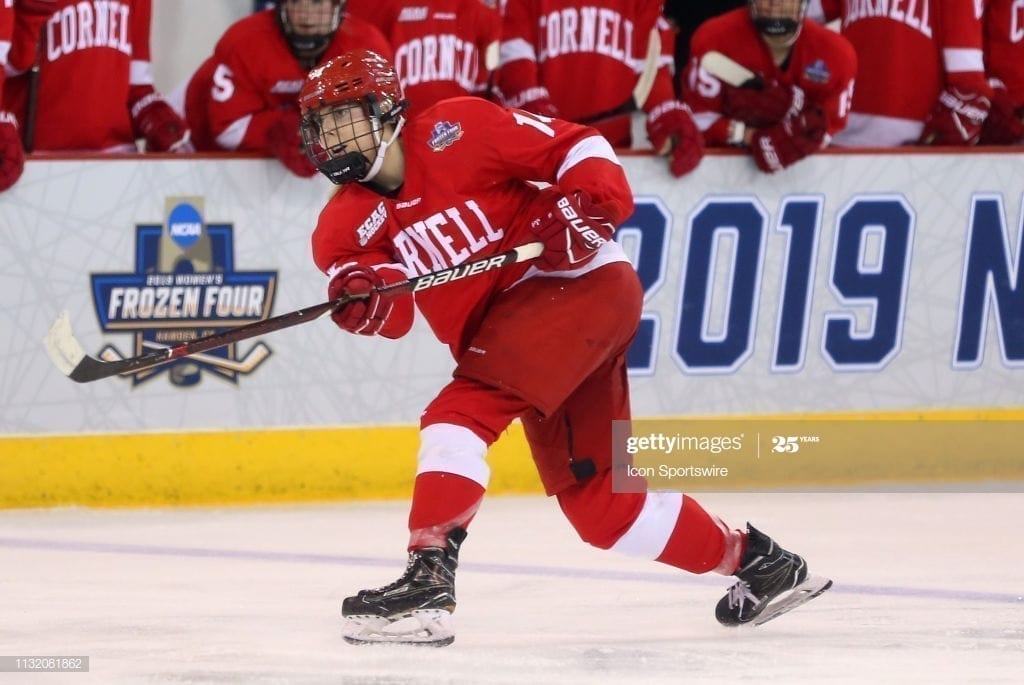 Building on those solid credentials, Bourbonnais reached numerous pinnacles as a senior. Career highs in assists (34) and points (41), also saw Bourbonnais appear in her 100th career game, achieving the feat on November 9, 2019, in a clash with archrival Clarkson, along with the prestige of 100 career points. Leading all blueliners in ECAC play in points, her assists led the Big Red while pacing second overall in the conference. Perhaps more impressive was the fact that the Big Red were 26-1-3 when she registered at least one point, finishing with the best record in the ultra-competitive ECAC conference.
Beginning the season against the Robert Morris Colonials, Bourbonnais' four-point outburst set the tone for the unfolding season. Finding the back of the net in the third period, part of a 6-0 trouncing, she also assisted on goals by Maddie Mills, Kristin O'Neill, Gillis Frechette. Marking the start of a four-game scoring streak, an even more impressive body of work would soon follow.
Starting on December 7, Bourbonnais enjoyed an outstanding 20-game scoring streak. Culminating on March 7, 2020, the 18-0-2 record during this tremendous run was enhanced by a pair of meaningful milestones, both, coincidentally, taking place versus Ivy League rival Harvard. Enjoying a multi-point versus the Crimson on February 7, 2020, Bourbonnais scored in the first period with assists by Maddie Mills and Micah Zandee-Hart. Unexpected at the time, said goal would prove to be the last in her Cornell career. The game would also hold serendipitous meaning, as Bourbonnais and Mills each attained 100 career points plateau, as Mills gained entry into the Century Club by scoring the eventual game-winning goal five minutes later. One month later, the March 7, 2020 affair resulted in Bourbonnais' final regular season point, assisting on a goal by Mills in a 4-0 blanking of the Crimson as Lindsay Browning recorded 25 saves in the win.
With February 22, 2020 marking Senior Night, always a highly emotional event celebrating a series of proud careers in Big Red colors, such a rite of passage was one that Bourbonnais shared with Amy Curlew, Grace Graham, Paige Lewis, O'Neill, plus Zandee-Hart. Enriching a night defined by celebration and achievement was the fact that Cornell defeated the Union Dutchwomen by a 5-3 mark, becoming the first program to go undefeated in ECAC Hockey regular season play. Fittingly, Bourbonnais and Zandee-Hart both earned a pair of assists in the landmark win over Union, including collaboration on a power play goal by Maddie Mills in the third period, Cornell's final goal of the game.
Reflecting on the fact that Bourbonnais had witnessed these nights during her first three years, the facet of time and its rapidity certainly defined her feelings heading into senior night, coming to the realization that her celebrated career is now part of her competitive past. Through it all, the social element is one that stood out among her most cherished experiences in four fantastic years in Cornell colours.
Congratulations Seniors! #yellcornell #lgr pic.twitter.com/vudhv9XA7D

— Cornell W Hockey (@CornellWHockey) February 23, 2020
"It is hard to pick one specific thing I enjoyed most about Cornell because my entire experience was absolutely incredible. However, my teammates and the people I met are what I will remember most when I look back at my time at Cornell.
I made so many lifelong friendships and got to play on a team with my best friends every single day which definitely made everything more enjoyable, and is what I will miss most about Cornell.
The lead up to senior night was very emotional and I really did not want to accept the fact that it was going to be one of the last times my class got to play at Lynah.
Thinking back to the senior night celebration when I was a freshman, I remember thinking I had so much time until it was my turn to graduate. Everyone always tells you that it all goes by so fast, but it did not hit me until I was standing with my family on senior night. It was extremely emotional, but it was a night I won't ever forget."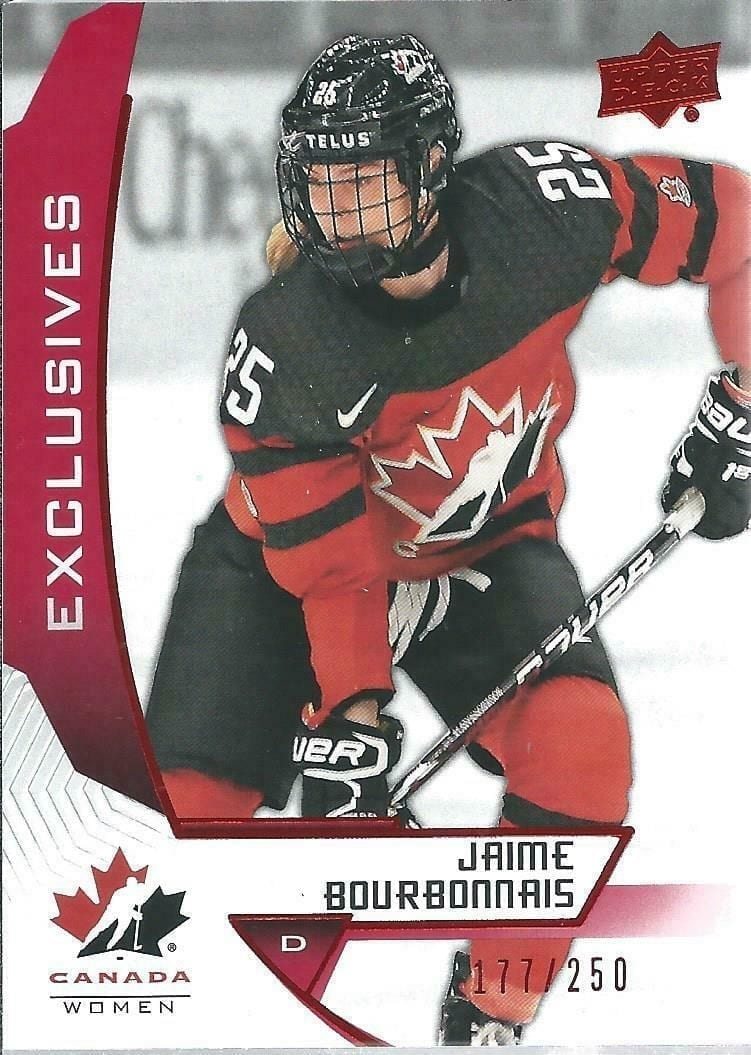 In the aftermath of Senior Night, Bourbonnais enjoyed an accumulation of accolades. Starting with revered recognition as a Finalist for the ECAC Hockey Player of Year, she was tabbed as ECAC Hockey's Best Defenseman. Complemented by spots on the All-ECAC Hockey and All-Ivy League first teams for the second-straight year, she also landed on the First Team All-USCHO for the second straight season. Other Big Red competitors gaining All-USCHO honors included goaltender Browning, earning Second-Team, while Zandee-Hart placed on the Third-Team.
Bourbonnais and Browning also shared in another prestigious milestone, making more history in Big Red lore. While Bourbonnais gained First-Team All-America recognition, Browning became the first Big Red goalie ever to gain All-America status, earning a spot on the Second-Team. Additionally, Big Red bench boss Doug Derraugh added to the haul of hockey hardware during a landmark season, earning the CCM/American Hockey Coaches Association Women's Division I National Coach of the Year for the second straight season.
Another key individual dates back to the formative years of Bourbonnais, when she starred in the PWHL during the halcyon days of the Oakville Jr. Hornets. During a remarkable run in 2015, highlighted by a quartet of milestones in 2015, Bourbonnais captured a silver medal at the Canada Winter Games and gold for Team Ontario Red at the Canadian U18 Nationals. Plus a bronze medal at the Alumni Cup and a PWHL gold medal, both achieved in the Oakville paraphernalia, Bourbonnais found a tremendous mentor in Hornets head coach Bradi Cochrane. Having also played in the original NWHL's inaugural season, along with a stint as a head coach at the CWHL level with the Mississauga Chiefs, Cochrane's greatest legacy in the game just may be the number of remarkable players that have excelled under her tutelage with the Hornets.
"I can honestly say that I would not be where I am today without Bradi. Bradi had such a positive influence on my life in terms of hockey and my development as a person. She taught me so much, and gave me so much confidence in junior to play my game, which allowed me opportunities to be noticed by college and national team scouts. Not only was she an amazing, knowledgeable coach, but she was an incredible person and friend who I knew I could always go to for advice of any sort."
Pondering the future, one which is poised to hold tremendous potential, Bourbonnais already has much to be proud of. Holding the proud distinction of having played at all three levels of Canada's national women's team program, each step in her hockey journey brought with it a sense of delightful anticipation in wearing the Maple Leaf for the first time in each level. Simultaneously paying homage to her grandfather, Roger Bourbonnais, a 1963 Memorial Cup champion, and Canada's captain for their respective entries at the 1964 and 1968 Winter Games, playing for the iconic Father David Bauer, the 1999 IIHF Hall of Fame inductee, it also resulted in a unique instance of six degrees of hockey separation.
Wearing the Maple Leaf as Canada served in capacity of host country at the 2016 edition of the IIHF Under-18 World Championships, hosted in St. Catharines, Ontario, Bourbonnais, who played for head coach Lisa Haley, was part of a remarkable roster. Featuring future Big Red teammate Kristin O'Neill, Sophie Shirley, an eventual CWHL Draft pick of the Calgary Inferno, Daryl Watts, who would become the first freshman to win the Patty Kazmaier Award, along with goaltender Stephanie Neatby, who would help Princeton capture its first-ever ECAC postseason title (which came against Bourbonnais' Big Red squad in 2020), there was another unique linkage.
Playing in her first #WomensWorlds, @jaimebourbs is using what she learned from her @IIHFHockey Hall of Fame grandfather to continue the family legacy. pic.twitter.com/xN9gMoHpIo

— Team Canada Women (@HC_Women) April 13, 2019
Among Bourbonnais' teammates at St. Catharines included second-generation skater Annie Berg, whose father, Bill, played for the Toronto Maple Leafs during their magical 1993 Norris Division championship season. Worth noting, the Maple Leafs connection would hold special coincidence for both Berg and Bourbonnais.
Laura Stacey, who played for Canada at the 2013 IIHF Under-18 Women's Worlds, skated alongside Bourbonnais as a teammate at the 2019 IIHF Women's Worlds in Finland. As a third-generation player, Stacey holds a lineage that includes King Clancy, plus great uncle Terry Clancy, also a Maple Leafs alum. This connection definitely provides a feeling of full circle, as Clancy joined Bourbonnais on Canada's roster for the 1964 Winter Games at Innsbruck, Austria. Akin to her grandfather, the feeling of wearing the Canadian jersey is one that always holds an endless feeling of fascination, providing Bourbonnais with a proud piece of hockey heritage.
"I still get butterflies any time I pull the Canada jersey over my head. The feeling of pride is something that never goes away when getting to represent your country. The first time I represented Canada at the U18 world championships was very special, especially because it was in Canada.
Listening to the crowd cheer for us and wear our colours really gave me fuel and motivation to one day represent my country at the highest level. Accomplishing this goal and getting to play for Team Canada at the world championship in Finland was a feeling I will not ever forget. There are still goals I am looking to achieve, however, I am so honoured and grateful to have had to opportunity to play for the Senior team and will cherish those memories forever."
"All quotes obtained first hand unless otherwise indicated"
Related Articles