Having first laced up the skates at the age of three years young, 2022 provided Hannah Gold with a series of milestones to be cherished for many years. Reaching career highs in points during her senior season of university hockey, to the opportunity to compete internationally, the summits reached for this distinguished blueliner placed her in rarified air.
Raised in Mequon, Wisconsin, Gold, excelled as a two-sport star with the Augsburg University Auggies in Minneapolis, Minnesota. Recording 86 appearances over the course of four fantastic seasons with the ice hockey team, Gold, who majored in Marketing, earning Academic All-Conference honors, also earned a spot on the softball team roster in 2020.
Our recent alumnae, Hannah Gold '22, is playing for the USA at the 2022 World Maccabiah Games in Israel! Good luck Hannah!! We're proud of you! #auggiepride pic.twitter.com/XbBfopzlPK

— AuggieWomen'sHockey (@AugsburgWHockey) July 12, 2022
Among Gold's finest moments with the Auggies, the biggest goal of her career took place on Senior Day, one of the most emotional games of her competitive career. Part of a 2022 graduating class alongside the likes of goaltender Abby Bollig, Gold recorded the game's only goal. With Bollig recording her fifth career shutout, the collaborative effort allowed the Auggies to clinch the fifth seed in the Minnesota Intercollegiate Athletic Conference playoffs, subsequently earning a first-round bye.
Building on such momentum, Gold enjoyed the opportunity to continue her hockey odyssey after graduation. Skating for Team USA at the 2022 Maccabiah Games in Israel, the milestone encompassed an unforgettable opportunity for faith and athletics to intersect in such a meaningful milieu.
Elated to represent her country, wearing the Stars and Stripes for the first time ran parallel to another fascinating first. As the opportunity to participate in the Games represented Gold's inaugural journey to Israel, a flood of emotion overcame her.
"Putting the Team USA jersey on for the first time was an incredible and unique experience. I could not believe the time had come and all of the waiting was done. We were ready to put the jersey on and play hockey to represent the USA and help bring Women's ice hockey to the Maccabiah Games."
Upon reflection, the tournament represented a fascinating revelation. Considering that none of her teammates at Augsburg were of Jewish heritage, occasional feelings of solitude were understandable. Surrounded by thousands of athletes the world over with a similar lineage, it provided elements of warmth and happiness.
Undeniably, the chance to grace the ice, participating in a landmark tournament, consisting exclusively of Jewish players enhanced the feeling of achievement. As a teenager, finding a place to sharpen her skills at the Harry and Rose Samson Family Jewish Community Center, playing in Israel allowed Gold the chance to come full circle.
"I am extremely honored and thankful to have been part of such a historic tournament. It was mind boggling how many Jewish athletes came together to compete. Despite us all playing different sports and being from different countries, we were all there because we are Jewish and want to share and honor our Jewish pride in the Holy Land.
Despite knowing this, I had to remind myself that everyone in the Games was Jewish. There were Jewish people from all over, including South America and Asia. Originally I had not known the amount of Jewish life in these places but it amazed me when I saw the size of everyone's delegation during the opening ceremony.
For women's hockey, it was even more special since it was our inaugural year in the Maccabiah games. A great step for women in sports and the women's ice hockey community. I did not have any other Jewish women on my hockey team in college so it was incredible to share the same religion and culture with everyone."
Following the historic tournament, Gold's sentiments focused on the feeling of family that rapidly cultivated. Enhancing such feelings, a tremendous gesture saw Gold create T-shirts that were given to all three teams, providing a cherished souvenir. Finding common ground with her teammates, surrounded by a group of kindred spirits on the roster, it represented only part of an intriguing narrative.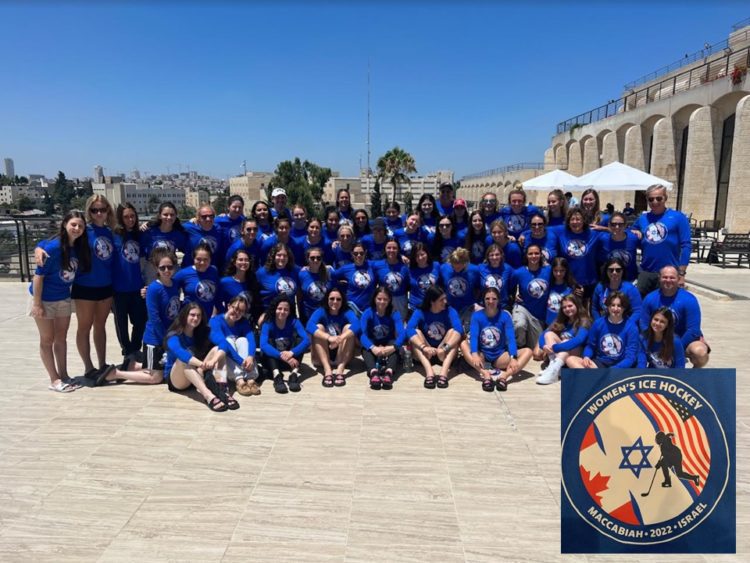 Emerging as Team USA's recipient of the Tournament Most Valuable Player Award, as one player from each competing nation earned the honor, Gold contributed seven points in five games played. Statistically, Gold recorded a pair of goals versus Israel. Totals of two goals and three assists in appearances versus Canada added to her solid numbers.
Already appreciating the moments experienced, joy found in the acquaintances made, all enriching her love of the game, Gold also found a captivating connection with heritage and spirit.
Enjoying various sites throughout Jerusalem, made more precious by the presence of teammates, one visit in particular held significance. One of the world's most religious sites, the iconic Western Wall, also a support wall for the Temple Mount, the last remaining structure of the Second Temple, dates back over two millennia to the time of Herod the Great.
A site renowned for prayer, visitors can also write their prayers on paper and insert them in the cracks of the Wall. With Gold and her teammates participating in prayer, finding tremendous fulfillment, it was part of a defining experience that provided Gold with a brighter outlook on life.
"The thing I enjoyed most was becoming a family with my team and competing with them. Our bond grew very strong in a short amount of time because of the amazing people on the team.
Lifelong memories and friendships were made on and off the ice and I am so thankful for it. Yes, I enjoyed staying in Jerusalem. It is a beautiful city. My team visited the Western Wall, it was incredible seeing everyone pray and put their prayer in the wall and adding my own in the wall as well."
"All quotes obtained first hand unless otherwise indicated"
Related Articles