Having enjoyed five fantastic seasons with Les Aigles Bleues de Moncton, Katryne Villeneuve carried on a legacy of elite talent from the Atlantic University Sport (AUS) Conference that have donned Canada's jersey in women's ice hockey at the Winter Universiade. Excelling during her time in the Maritimes, establishing herself as one of the nation's elite scorers and a Conference All-Star, reaching the feat of Conference Most Valuable Player at the conclusion of the 2018-19 season, she maintained her scoring brilliance with the Maple Leaf adorned on her jersey.
Villeneuve, a sport and tourism major, was not only an offensive catalyst for a Canadian team that was firmly entrenched in the gold medal conversation, she was one of four players from the AUS that earned the privilege of skating for Canada at the 2019 Winter Universiade. Contested in Krasnoyarsk, Russia, she was joined on the roster by Moncton teammate Cassandra Labrie, along with Abby Beale from Mount Allison and Natalie Stanwood with the Dalhousie Tigers.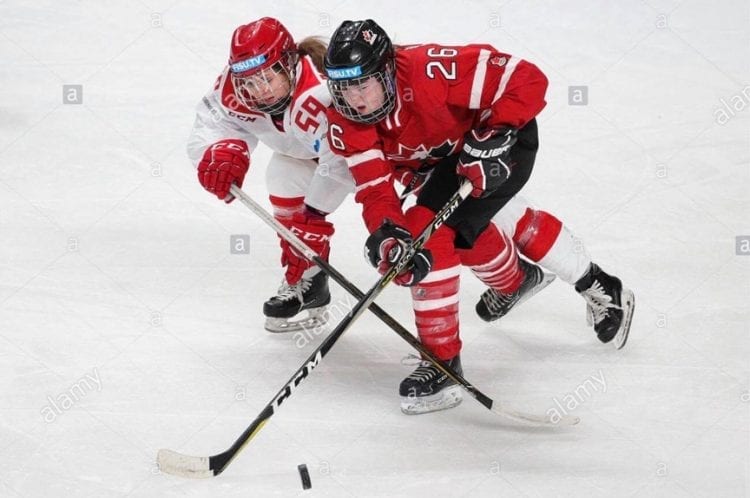 As a fifth-year player in U SPORTS competition on Canada's contingent, one of only seven, it helped provide an ideal balance for a group that featured a handful of young stars, holding tremendous promise for the next Universiade. Undoubtedly, Villeneuve's standing as a fifth-year player was one that she took with a strong sense of leadership, serving a dual purpose as role model for the younger players, while providing the offense with a chance to create scoring opportunities,
"Yes of course I saw myself as a leader; I think everybody on that team was a leader in their own way. I see myself more as an on-ice leader by my style of play and the effort I put in every shift. I would not say I am very vocal in the dressing room, but my competitiveness and passion for the game is what makes me a leader.
It has always been like that even at the university level, I know that when I play my best game, a lot of younger players want to follow me and I know when I'm having a bad game it can also have an impact on others. Being the AUS MVP just shows what I can do on the ice, but I think it goes way beyond that."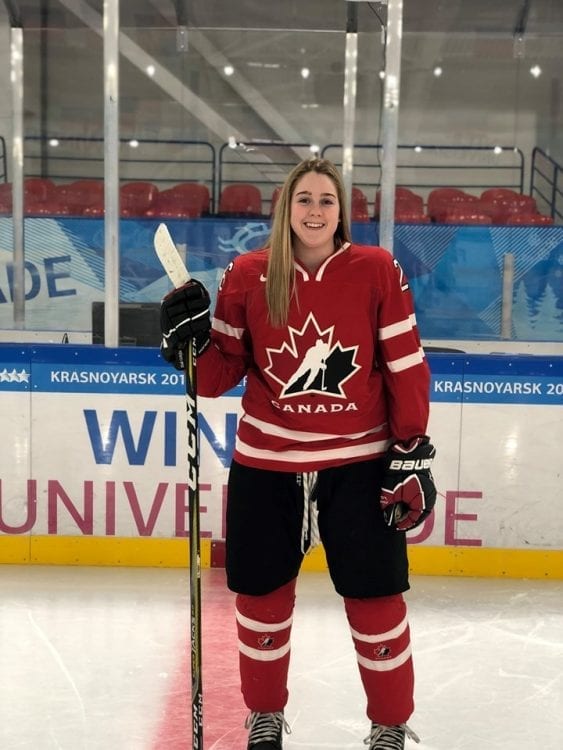 Since her sophomore season, Villeneuve has enjoyed a sensational upward progression statistically with Les Aigles Bleues. Improving on her point totals in every successive season since a 13-point output in 2015-16, she was a revelation over the last two seasons. Amassing a cumulative total of 62 points over the course of the last two seasons, resulting in AUS All-Star honors in each season, Villeneuve amassed a triptych of terrific milestones in her final season of Aigles Bleues hockey.
In addition to reaching career highs in games played, goals, assists and points, Villeneuve reached the century club in career points, while eclipsing the 50-goal mark for a career, respectively. Recording 36 points, she emerged as the top scorer in the conference, the prestige of her first scoring title complementing a handful of accolades, including the experience of playing for Canada internationally.
Honored as the AUS Most Valuable Player in recognition of a superlative 2018-19 season, adding lustre to a fascinating time filled with monumental milestones, it mirrored the achievement of a past legend in conference play. Alexa Normore, who rewrote many of the scoring records for both the St. Francis Xavier X-Women, and in conference lore, is among the unique sorority of celebrated forwards that have earned both Conference MVP honors, along with the chance to skate for Canada at the Winter Universiade.
Heading into the first game at the 2019 Winter Universiade, a March 1 affair versus China at the Pervomaisky Ice Arena, the prestige of playing for Canada represented the attainment of an exciting new plateau. Raised in Canada's Capital Region, where her formative years were spent on a sensational scoring line alongside Samantha Cogan and Addi Halladay with the Nepean Wildcats of the Provincial Women's Hockey League (PWHL), realizing the aspiration of wearing the iconic red jersey brought with it many emotions.
Undeniably, the most relevant emotion on this day may have been motivation. Scoring twice in her international debut, while Melodie Bouchard led the way with a hat trick, the result was a 10-0 victory for Canada, supplying a tremendous feeling of national pride for a jubilant Villeneuve.
"When I first put on the jersey, it was a dream come true. All the efforts I have put it since a young age was all worth it in that moment. Having the opportunity to represent your country on the international stage is truly something special. The first game was a bit nerve racking but I just kept telling myself to play my game and do the little things right every shift and to not take any moment for granted."
Following two more shutout wins for Canada, including a hard-fought 1-0 blanking of the United States on March 4, Canada's fourth game stood as one of Villeneuve's tournament highlights. Recording a hat trick against a Swiss team making their tournament debut this year, her superlative achievement was burnished by the fact that Moncton teammate Labrie also scored on this day. Emerging victorious in an 8-2 final, which propelled Canada to a stirring 4-0 start, the win versus Switzerland marked a meaningful day at the Universiade, as all of Canada's curling and hockey teams (men's and women's) amassed wins on this day.
By tournament's end, Villeneuve ranked second overall in the tournament scoring, such a strong showing affirming her standing as a world class competitor. Logging 11 points, on the strength of six goals, which tied Russia's Alevtina Shtaryova for third overall, she trailed only Russia's Valeria Pavlova for the Universiade scoring crown. Along with Chika Otaki of Japan, they were the only non-Russian players to rank in the top 10. As a side note, Villeneuve also registered a very solid plus/minus rating of +12, only enhancing her value to Canada's offense.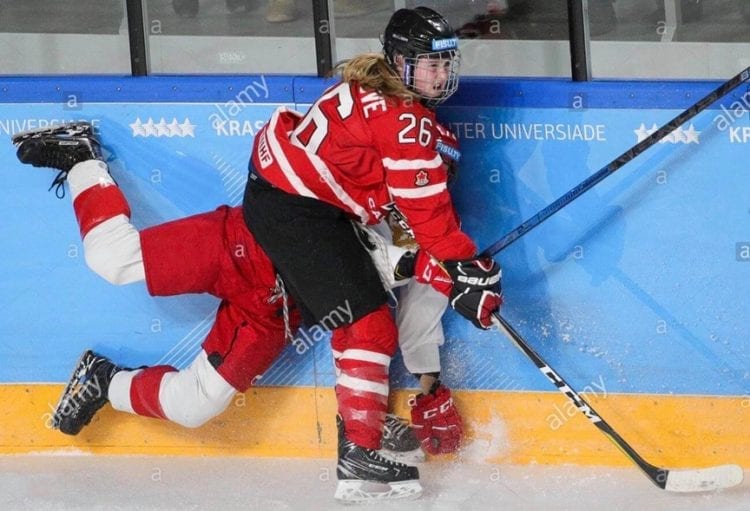 "I just think it was a continuation of my whole season, everything has been going great all year at University and I knew that if I kept playing the same way I would have some good success. I am very grateful towards my teammates and coaches (at the Universiade and University) for giving me all the tools I needed to succeed and believing in my abilities. I am happy I was able to bring that success to the team in Russia but I owe it a lot to everyone surrounding me."
Earning a podium finish in her international debut, as Canada qualified for the gold medal game against host Russia, competing in such a sensational setting enhanced the standing of competing among the world's finest university athletes. With Canada earning its sixth straight podium finish in tournament history, the chance to be part of such a relevant lineage in Canadian female hockey lore was of great importance to Villeneuve. A feeling that reached fruition when the Canadian paraphernalia was first visible in her locker stall, supplying the most treasured moment of her international experience,
"Definitely putting on the Team Canada jersey for the first time. Playing along side some of the best university players in Canada and competing against some of the best in the world was an amazing experience. The village was beautiful and getting to learn about the Russian culture was also pretty cool. Honestly, I loved every moment of my experience."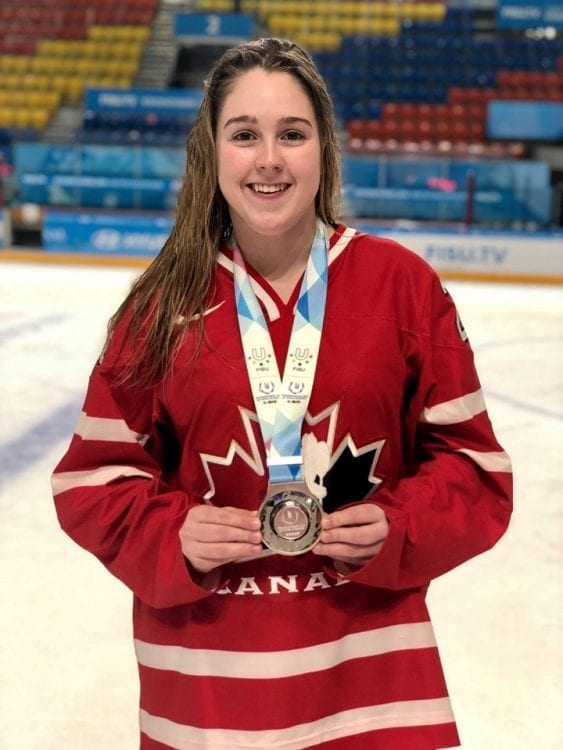 Upon her return to Moncton, Villeneuve maintained the hot hand. Finishing her career in the paraphernalia of Les Aigles Bleues with exemplary career totals of 53 goals and 118 points, the prestige of the conference scoring title added lustre to the majesty of her dream season. Finishing ahead of Emily Oleksuk and Lauren Henman in a hotly contested scoring race, which saw this trio as the only players to register at least 30 points during the season, Villeneuve's 36 points also ranked second overall in the country.
In addition to leading all skaters of conference play in scoring, Villeneuve's 19 goals established her as the top scorer. Also ranking first in conference lay in short-handed goals (4), empty net goals (2) and shots (162), she ranked in the top three in four other statistical metrics, including second in hat tricks (1) and game-winning goals (5), along with third overall in assists (17).
Becoming the fourth player in the history of the program to gain the MVP nod, Villeneuve joins the likes of Mariève Provost, a three-time recipient (2007, 2010, 2011), goaltender Kathy Desjardins (2009) and Guylaine Haché, whose mark on both program and conference history are assured as the first-ever recipient of the award (2000). While Haché went on to play NCAA hockey with Minnesota's Bemidji State Beavers, Desjardins and Provost were able to enjoy opportunities to play in the professional ranks.
Each competing in CWHL play, Desjardins would capture a Clarkson Cup with the Calgary Inferno in 2016, while Provost suited up for Austria's WE-V Flyers, followed by a three-season stint with the Montreal Stars, starting in 2012. Gaining the opportunity to build on their legacies, Villeneuve is prepared for her own sojourn into professional hockey. Signing with the Neuberg Highlanders, an Austrian-based club that competes throughout Europe, the theme of legacy is likely to extend into the upcoming season. During the 2018-19 campaign, Audrey-Ann Boutour and Sydney Smith both suited up for the club.
Considering playing options in Germany and Sweden, Villeneuve was pleased with the decision to make the professional transition in Austria, adding lustre to an already impressive international body of work. As 2018-19 allowed Villeneuve the dream of playing for Canada, there is enthusiastic anticipation abound for the arrival of 2019-20, as a new season allows the opportunity to fulfill another aspect of her hockey dream—competing professionally.
"I was really happy to finally make a decision to go play in Austria. I just thought right now was the right time to seize this opportunity while I am still young and able to do so. It is really exciting to be able to keep playing hockey while also having the chance to travel.
This is something I always had in the back of my mind since I started playing university hockey, and I am really happy and thankful that I will have the chance to do it. I'm really looking forward to this new adventure."
"All quotes obtained first hand unless otherwise indicated"
Related Articles