First and foremost, I want people to know that blind hockey exists. Blind hockey is an adapted version of hockey for people who are blind or partially sighted.  It is very similar to traditional hockey. Three of the major adaptations are the puck, the nets and the pass rule. Here's an introduction to blind hockey!
Blind Hockey Adaptations
A blind hockey puck is about three times the size of a traditional hockey puck. It is made of metal and has ball bearings in it so that the players are able to track it by sound. The puck is also slower due to its size and weight, which also makes it easier for players to track.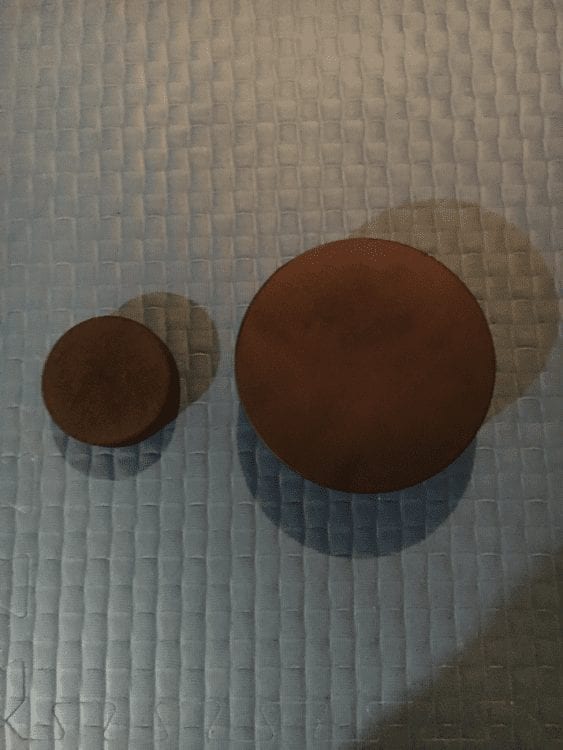 The nets are only three feet tall as opposed to the standard four-foot nets. These three-foot nets help to keep the puck low and near the ice where it makes more noise and is easiest to track.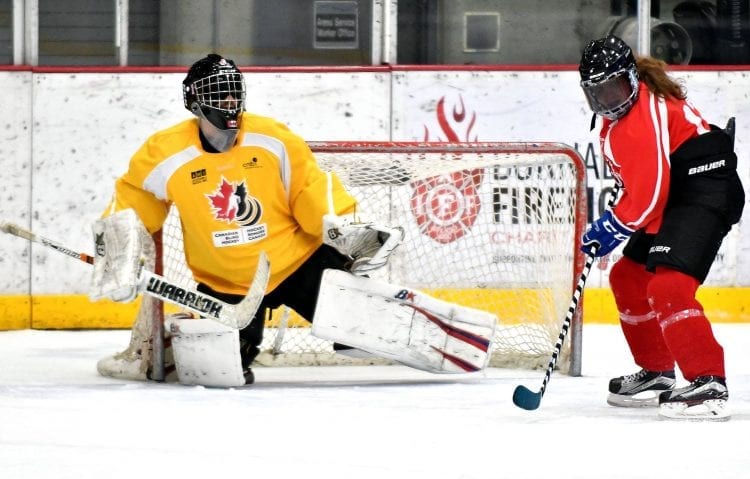 The pass rule: for a goal to count there must be at least one clean pass between attackers in the offensive zone. The pass is identified by a secondary whistle that a referee sounds once they have seen a clean pass. This rule helps to give low vision players and goalies an extra opportunity to track the puck and know when shots can be sent on net.
The majority of blind hockey players have about ten percent vision or less. Typically, forwards tend to have the most sight, followed by the defense and then the goalies. This allows those with a lesser degree of sight to stay in their own zone to make it easier to find their way back to the net to defend.
Another cool and interesting feat of blind hockey is that the goalies are generally totally blind. They must wear a blindfold to make sure that no one has a sight advantage. They track the play and the puck by sound alone.  The pass rule helps to make the goalies and low vision defense aware that the opposing team can now shoot on net to score.
There may be other slight variations in the play, but those are the major adaptations.  Otherwise blind hockey follows the standard IIHF safety protocol such as no touch icing, crease violations and full hockey gear with a cage or full face shield.
Blind Hockey's Growth
Blind hockey is a fast-growing para sport, with teams across Canada and the United States.  Players come together from all over to compete in blind hockey. Even a player from England has played in several tournaments and two players from Finland have attended the Canadian Blind Hockey summer camp.
In Canada we have three annual tournaments: the Western Regional Blind Hockey Tournament, the Eastern Regional Blind Hockey Tournament and the Canadian National Blind Hockey Tournament. The last being the largest event in blind hockey. There are also tournaments in the United States such as the Blind Hockey Summit and the Disabled Hockey Festival.
The blind hockey community has aspirations of a Four Nations Cup by 2020, with the hope that blind hockey will one day become an event in the Paralympics.
This incredible sport filled with amazing people has touched and changed so many lives.  Please share and spread the word about this adaptation of Canada's game so the sport can continue to grow and help athletes with sight loss continue to play their favourite game.
Blind Hockey Facts
Blind hockey has actually been around since the mid 1970s. Things have certainly changed since then but our roots are the same.
Canada and the USA are the only countries so far to have established blind hockey programs, though Finland and England seem to be well on their way.
In Canada we have seven blind hockey teams:

The Toronto Ice Owls
The Hiboux de Montreal
The Calgary Seeing Ice Dogs
The Edmonton Seehawks
The Vancouver Eclipse
The Newfoundland Eyelanders
The Nova Scotia Seekings
Other programs and youth programs are also currently being established

The puck used in blind hockey today has evolved from many different trials and errors.  An electronic puck is in the works, but it is an ongoing battle to find something that can withstand being smashed around on the ice with sticks.  Some of the other things used before today's puck were:

A hollow 48oz juice can
A plastic wagon wheel filled with hardware.

A blind hockey puck typically only lasts one game.
The first ever international blind hockey series took place last October in Pittsburgh—it was a three-game series between the first ever Canadian and American national teams.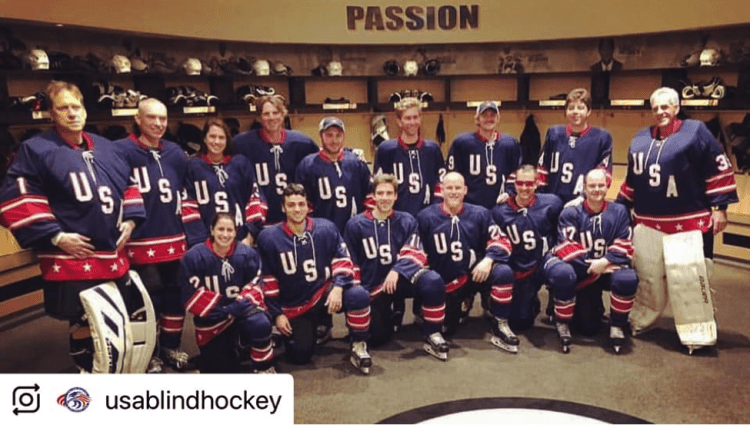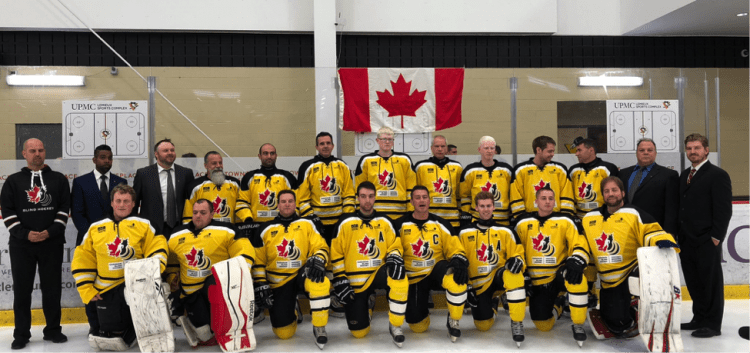 I'm sure there are many more interesting facts that could be added to this list, but if you're interested in finding out more about blind hockey check them out on social media:
Twitter: CDNBlindHockey
Facebook: Canadian Blind Hockey
YouTube: YouTube
---
Amanda Provan is doing great things for blind hockey, especially when it comes to getting more women in the game!
Women's Hockey Life is proud to have Amanda on our WHL Ambassador team. Read her spotlight here to find out more about her mission.
Related Articles