A long-time fixture at the Rodman Arena, Delaney Harrop, the pride of Walpole, Massachusetts, served as an official for numerous events at the venue. Part of an energizing generation of women donning the referee's stripes, signifying a new facet in the female game's relevance, Harrop has become synonymous with both history and achievement.
Among the most cherished milestones in Harrop's career involved the opportunity to be part of a highly historic officiating crew at the 2019 NCAA Frozen Four. Joining the likes of Kelly Cooke, Katie Guay and Amanda Tassoni, their presence at the People's United Center in Hamden, Connecticut, represented what is believed to be the first-ever all female officiating crew in the almost two decade long history of the event.
Just a few weeks earlier, Harrop already worked with the likes of the aforementioned at the ECAC Championship Game, contested between the Clarkson Golden Knights and Cornell Big Red. Hosted at Ithaca, New York's Lynah Rink, home of the Big Red, an attendance of 1,124 were observing an officiating crew that become an integral part of hockey history just a few weeks later. As a side note, Cooke and Guay would also officiate NHL exhibition matches later in the autumn. Certainly, the opportunity to serve alongside them provided Harrop with a tremendous feeling of fulfillment.
"It is an honor to be part of NCAA women's hockey history, and it is even more of an honor to have been working with such incredible and accomplished officials."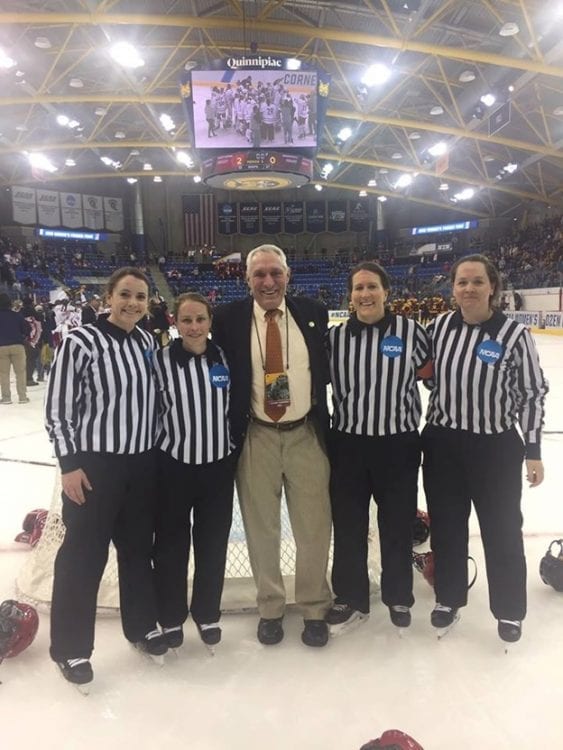 Of note, Clarkson and Cornell would play another key theme in Harrop's postseason narrative, as both clubs qualified for the Frozen Four. Additionally, the field of programs competing for the biggest prize in collegiate hockey included a pair of powerhouses from the WCHA conference, the Minnesota Golden Gophers and eventual champion Wisconsin Badgers.
"Being on the ice for the Frozen Four was incredible. Not only are you surrounded by such an energetic atmosphere, but you get to interact with the players and really see how great their skills and communication are up close. Women's hockey has come such a long way, and it's always fun to be involved in experiences like this."
Akin to her fellow officials at the Frozen Four, Harrop also holds a background as a collegiate competitor. Having played for the Trinity College Bantams, based in Hartford, Connecticut, Harrop was a multi-sport star. Attending Walpole High School in her freshman and sophomore years, she not only played ice and field hockey, she participated in lacrosse and was a member of the swim team. Competing at Milton Academy as a junior and senior, Harrop served as captain of the ice hockey team, while continuing her pursuits in field hockey. Enjoying her collegiate debut on November 15, 2014 vs Connecticut College, it marked an extension of her already sterling athletic endeavors.
Harrop's first point as a Bantam would come nearly a month later, earning an assist on Emma Tani's goal in 5-0 blanking of Southern Maine as Sydney Belinskas gained the shutout. Before the conclusion of her freshman season, Harrop would be part of a Bantam program that won the NESCAC Championship. Considering that the Bantams entered the postseason labeled as an underdog, it served as a highly motivational factor, supplying the drive to defeat Middlebury, one of the top seeds, providing her with a highlight cherished for the remainder of her collegiate career.
Capturing the title in a hard-fought 3-2 overtime win, there was a unique coincidence. Among the officials in the game, Jessica Leclerc, who served as a linesman, would go on to serve in a similar capacity at the 2018 Winter Games.
Statistically, Harrop's finest season was in 2015-16, when she recorded a solid 12 points. During said season, she would reach the milestone of her first (and only) collegiate goal, scoring a power play goal versus Connecticut College on January 8, 2016, as Cheeky Herr and Emma Tani earned the assists.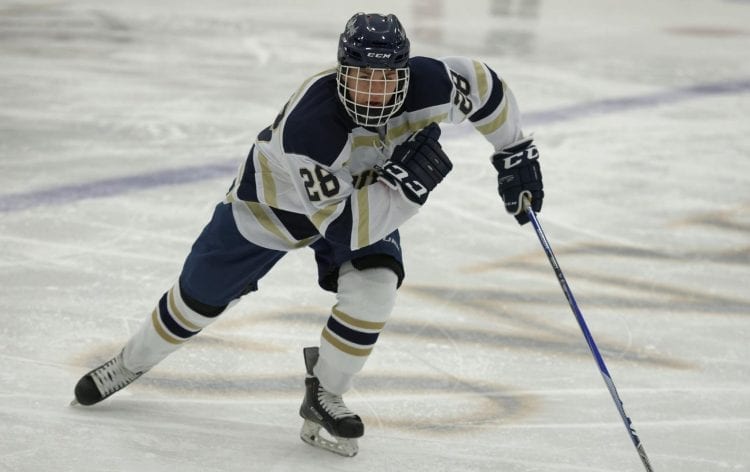 Merely four days later, Harrop would enjoy her first multi-point performance. Logging a pair of assists in a 9-0 blanking against Nichols, Zowie Caouette would log her first win of the season for the Bantams, resulting in a shared milestone. As a side note, Harrop's last point took place against Wesleyan on February 12, 2017, assisting on a goal by Melissa Maffeo in a 2-1 overtime win.
Recognizing that Harrop's years spent with the program represented the essence of a second family, the feeling of camaraderie standing as one of the hallmarks in her hallowed time, such sentiments remain relevant. Observing that officiating requires a strong working rhythm, the sense of teamwork is certainly an element that she has come to truly appreciate as an official.
"My favorite moment was winning the NESCAC Finals my freshman year. That season is also what I miss most. We were a family, and I remember all the doubt from the outside surrounding our team that year – but it only made us stronger and gave us the will to fight back even harder. Having said that, I have certainly found there to be more of a team aspect to officiating than I originally thought so I continue to enjoy the camaraderie."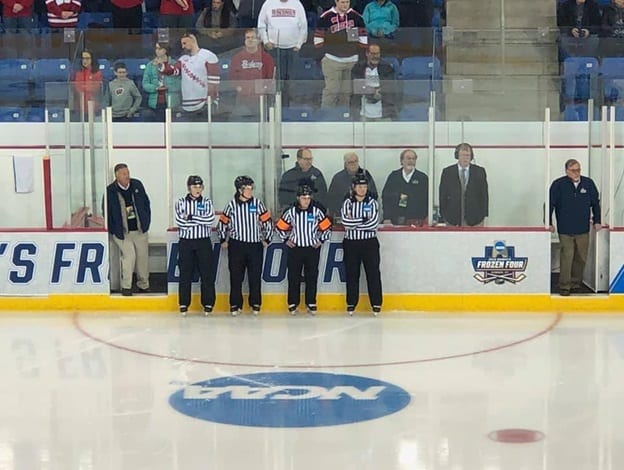 Indubitably, officiating has provided Harrop with the outlet to remain part of the game. With so many players facing a crossroads after graduating from university, many having to face an inevitable conclusion to their careers, post-university options have expanded in recent years. From coaching to administration, the beauty of officiating is the opportunity to remain on the ice, watching the action unfold, observing the combination of resolve and perseverance needed to win, Harrop has truly found her niche.
Having first worn skates as a toddler, the connection to the ice is one that defined Harrop's early life. Whether it was in the role of player or an official, the desire to remain on the ice was where she felt best suited in the rink.
"Officiating is a great way to stay involved in the game you love. I had been skating since I was two, playing since I was five, and I knew that when I graduated from college I was not ready to leave the game behind.
With officiating, there is always room to grow and experience to gain. It has also proven to be a great way to travel and officiate in different areas of the country I otherwise may not have had the chance to visit."
Discussing what she enjoys most about being an official, Harrop discusses the cerebral approach. Having honed her craft at Rodman Arena, the opportunity of first wearing the referee's stripes running parallel to her playing career, it has provided an education that enriched her competitive approach.
Recognizing with great perspective that growth is an integral element of officiating, a constant effort to continuously improve, and another important aspect for Harrop is that it encompasses a family affair. Finding inspiration in her older brother, Will, an alum of the Walpole Express, he has also officiated ECAC Women's Ice Hockey, including regular season games at People's United Center, adding an element of cherished serendipity.
"I have enjoyed the perspective of being a referee more than anything. I began officiating when I was still playing, so seeing the game from both sides helped my development and game management across the board.
Although I have been fortunate enough to work with and learn from many great officials in the game, my brother Will Harrop is the one I look up to most. I have always tried to follow in his footsteps, and he has been there every step of the way demonstrating what personal and professional development should mean to me both on and off the ice."
"All quotes obtained first hand unless otherwise indicated"
Featured image: (L-R): Katie Guay, Amanda Tassoni, Kelly Cooke and Delaney Harrop (Image obtained from Facebook)
Related Articles