In a league filled with significant star power, one of the most accomplished featured a highly skilled forward who made her mark with the Burlington Barracudas. The pride of Kirkland Lake, Ontario, Lindsay Vine first starred down the Queen Elizabeth Way (QEW) for the University of Niagara Purple Eagles, coached by Margot Page, setting the stage for an exemplary career in Ontario's Golden Horseshoe region.
A holder from the original NWHL, Vine debuted in the league at the tender age of 18, skating for the Mississauga franchise. Showing significant promise during the 1999-2000 campaign, Vine logged 24 points on the strength of 13 assists. Coincidentally, Page skated for the Mississauga club in 1997-98, which was the final season of the Central Ontario Women's Hockey League before it morphed into the NWHL.
Joining Oakville's NWHL club in the autumn of 2004, following graduation from Niagara, Vine would hit her offensive stride in her second season. Collecting a solid 33 points in 34 games played, while her 19 assists were evidence of strong playmaking abilities, Vine would fulfill her promise as a charter member of the Burlington Barracudas in the CWHL, competing for head coach Pat Cocklin.
During the first five years of CWHL play, as the majority of teams, including the Barracudas, were based in Ontario, plus nearby rivals, the Brampton Thunder and Mississauga Chiefs, along with the Ottawa Lady Senators and Vaughan Flames, Vine was part of a roster filled with highly underrated stars. While many teams, throughout all phases of the league's existence, possessed a significant number of internationally experienced players, the Barracudas were not short on character players, creating a strong team culture served as its defining feature.
From the likes of Winter Games gold medalist Becky Kellar, American-born Cherie Hendrickson, who would win the Clarkson Cup in 2013 and 2015, plus linemates Jana Harrigan and Kelly Hart, it merely scratched the surface of the remarkable women in Barracudas blue and orange.
Amanda Parkins, a CWHL All-Rookie Team selection, who would later star for the Guelph Gryphons, along with highly skilled goaltenders Christina Kessler, a future CWHL All-Star goaltender and 2014 Clarkson Cup MVP, and Tania Pinelli, whom Vine would also call a teammate for three seasons in Oakville. Adding to the theme of coincidence is the fact that Pinelli, who stood between the pipes for five Barracudas playoff games, was also a teammate of Page during Mississauga's run in the COWHL.
Additionally, the 2010-11 season would welcome Danijela Rundqvist, who competed for Sweden's national team at the 2010 Vancouver Winter Games, plus longtime NWHL star veteran Lara Perks. Worth noting, the club's final season would see its roster feature Shannon Moulson, Ashley Stephenson, also a member of Canada's national women's baseball team, Sommer West, who would become the Furies head coach, plus Finnish star Annina Rajahuta, another participant from Vancouver 2010.
"It was awesome to have Harrigan, Hart and Hendrickson as well as Becky Kellar as teammates. Not only are they amazing hockey players, they are fabulous people. It was really nice to play alongside Kellar. She taught us a lot and it was fun to hear about her Olympic moments. I hope we can all play together again on a 'Masters' team 😊."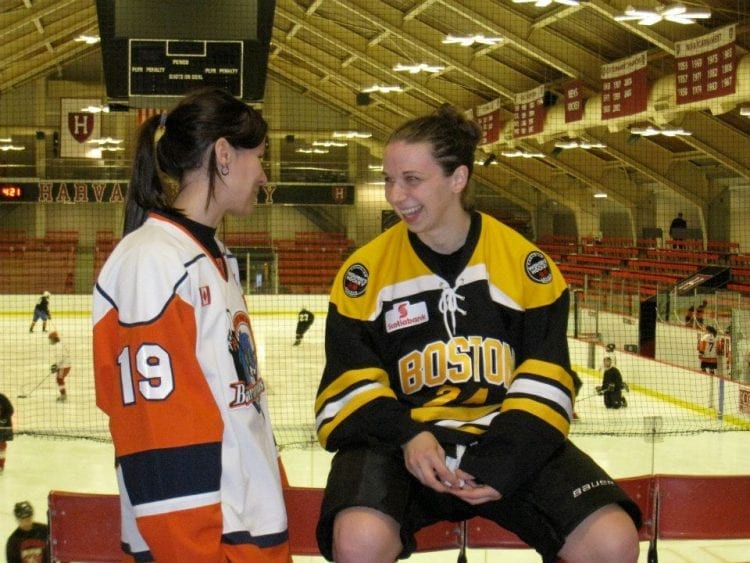 With the league debuting in 2007-08, it marked the ascent of Vine into one of the greatest players in Barracudas history. Among a rare group to have played in every Barracudas season, she amassed a respectable 21 points on an inaugural roster that featured Central Division All-Star Becky Kellar. Statistically, Vine's numbers would show a gradual succession, logging 27 points the following season, while the 2009-10 season signified a breakthrough, recording a superlative 44 points.
Finishing second in the scoring race for the Angela James Bowl, trailing only Sabrina Harbec of the Montreal Stars, whose 55 points paced all skaters, Vine soared into superstar status. Setting the Barracudas single-season mark for most points in a season, recording 44 points on 18 goals (her fifth pro season of double-digit goals) and a career-high 26 assists.
Gaining a rightful place on the CWHL First-Team All-Stars, while Jana Harrigan's 37 points resulted in becoming a Second-Team All-Star, marking the third straight season that a member of the Barracudas earned postseason All-Star status. That season also saw goaltender Allison Cubberley and Ashley Johnston landing spots on the league's All-Rookie Team. Representing the greatest season of her CWHL career, the magical offensive output from 2009-10 is one that still holds an aspect of fascination for the highly affable Vine.
"I was outright shocked that I finished second in the league in scoring. I have never been known for my goal scoring abilities so to have a year like that was very special to me. I remember that year so well. It was like everything just clicked. I had the best teammates. I played on the same line for, I believe, it was four years straight. I centered Jana Harrigan and Kelly Hart and we just clicked from the start. We had an amazing coach in Pat Cocklin and Mike Moir who believed in us and we followed their system to a tee. That was the key to our success over the years. A true united team."
Following the brilliance of the 2009-10 season, Vine added to the momentum with the monumental milestone of her 100th career point. Achieving the feat on January 9, 2011, she would score the Barracudas only goal of the game in a 3-1 road loss to the Montreal Stars. Scoring on Jenny Lavigne in the third period, with Rundqvist gaining the assist, the game also saw Christina Kessler record 54 saves in a remarkably valiant effort.
Sadly, it would prove to be the final pinnacle for Vine, as contraction plagued the franchise following the 2011-12 season, ending a proud era for so many who donned the Barracudas jersey. From a statistical standpoint, Vine's final point in the Barracudas paraphernalia took place on March 3, 2012, gaining an assist on a third period goal by Jana Harrigan in a hard-fought 3-2 loss to the Furies. Worth noting, the Furies would play another key part in Vine's final season with Burlington, scoring the shootout winner in a 3-2 win on December 18, 2011, the last win in franchise history.
Although the name still exists, as the Burlington Jr. Barracudas compete in the PWHL, the absence of a team at the CWHL level was one difficult for Vine to absorb. Commenting on the difficult fact that the younger teams in the community no longer had the CWHL Barracudas as role models, aspiring to emulate their heroics.
"My favorite thing about playing in Burlington is that we were so united. I have never played on a team so together in my life. There were no bad apples. You know how a team always has one… we did not. We would often joke that our biggest issue as a team would be if we were getting Coors Light or Bud Light on the bus trips home from Montreal.
It was very upsetting to hear that Burlington was going to fold. We had many glory years there so it truly was a shame to see it go. It made me sad for the young kids going through the system. It would be so great to see the younger Barracuda teams come to our games and it gave them something to strive for. To see that go, is really too bad."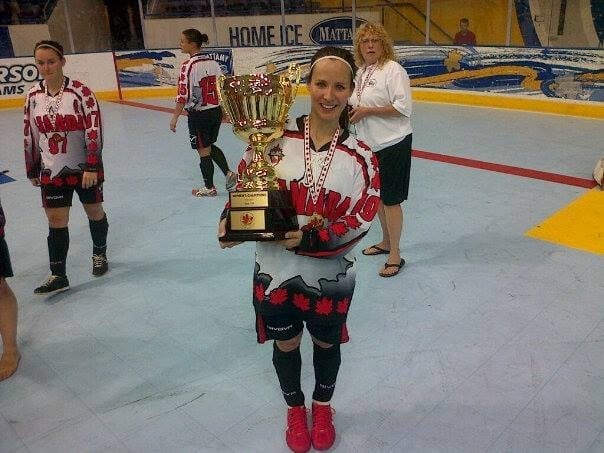 With the league holding a dispersal draft, Barracudas players became the property of other teams, most notably, GTA rivals such as the Brampton Thunder and Toronto Furies. Suddenly finding herself in the Brampton fold, Vine was joined by the likes of Allison Cubberley, Sara Dagg, Kelly Hart and Mallory Johnston. As a side note, the 2013-14 Brampton Thunder season would see former Barracudas star Jana Harrigan, another pick from the dispersal draft, sign with the club.
While the concept of competing for one of the Barracudas rivals represented a stark contrast in Vine's CWHL journey, always aligned in the Orange and Blue of Burlington, her professionalism remained a distinct feature. Determined to provide her new teammates with the same ebullient approach to the game, along with a veteran's poise and leadership, Vine aspired to emerge as a fine acquisition for the Thunder.
Debuting in the Thunder paraphernalia on February 16, 2013, the number 2 adorning the back of Vine's jersey, Vine's first season in Brampton colours started on a winning note, blanking Montreal by a 4-0 count. The winning ways continued for Vine, as her first goal for the Thunder took place during a 3-2 win against the Furies, with Bailey Bram and former Barracudas Mallory Johnston earning the assists.
Adding sheen to said season was the fact that the Thunder qualified for the Clarkson Cup tournament, marking Vine's first playoff appearance in four years. As a side note, Vine and the other former Barracudas enjoyed the opportunity to reunite with Cocklin, who was in his first season as Brampton's bench boss.
"The transition going to Brampton was so nerve wrecking. I hated them for so many years, playing against them. They were a power house team. I loved our locker room atmosphere in Burlington so heading to a new team made me so nervous. I had so many questions about the dynamics of the team, which was very important to me.
I will never forget when I walked in the dressing room, the first person to say hi was Lori Dupuis. I had always found Dupes so intimidating on the ice and for her to be the first to reach out meant a lot and showed me she also cared a lot about the dynamics of the dressing room and as a true leader made the new person feel welcomed. It was definitely a different dynamic than the Burlington team but it was still great. I am thankful it was a smooth transition."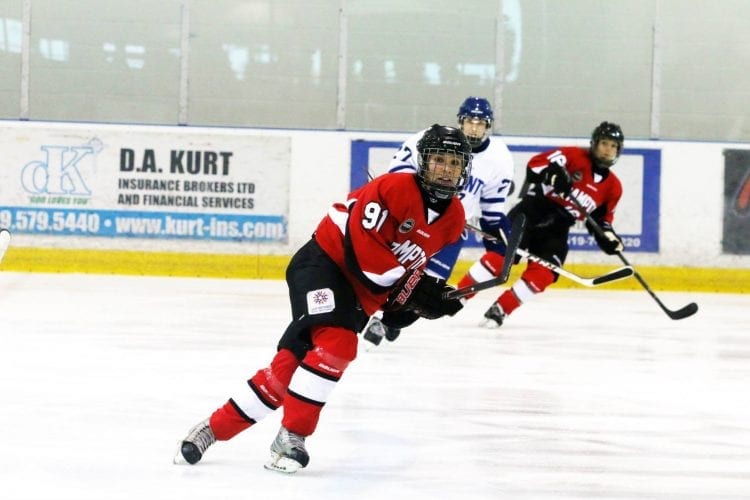 Spending three seasons with the franchise, appearing in 55 games, Vine was essential in providing the club with a strong leadership presence, following the retirements of Gillian Apps, Jayna Hefford and Cherie Piper. Finishing sixth in scoring following her third season in Brampton colours, wearing the number 91, Vine's final game would take place on March 1, 2015 versus the Calgary Inferno, while her last goal occurred nearly a month earlier, scoring twice against Charline Labonte in a hard-fought 4-3 loss on home ice. As a side note, Laura Fortino and Jamie Lee Rattray gained the assists in her final goal, scored at 15:28 of the third period.
Following Vine's final season of play, her legacy took on an exciting new luster. Having quietly assembled one of the league's most commendable careers, as her 121 points placed her 11th all-time following the 2014-15 CWHL season, she was part of another unique sorority in league lore. With career numbers of 54 goals, 67 assists, both 11th all-time at the time of her retirement, she was one of only 10 women with at least 50 goals and 60 assists in a career. Joining a distinguished group, which includes the likes of Meghan Agosta, Jennifer Botterill, Jayna Hefford, Noemie Marin, Caroline Ouellette, along with former Barracudas teammates Jana Harrigan and Sommer West, plus Thunder teammates for one season, Gillian Apps and Lori Dupuis.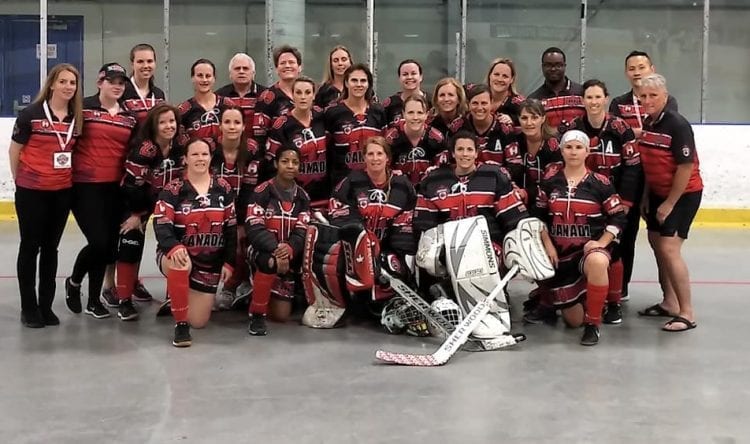 Although a competitive pause occurred when Vine was pregnant with her daughter, the desire to compete never wavered. In 2019, Vine has also maintained her sterling legacy in ball hockey. Having also worn Canada's jersey at the 2013 and 2015 editions of the WBHF World Cup of Ball Hockey, calling Tara French, also a teammate during the 2012-13 Thunder season, an international teammate. With the WBHF holding a Masters' Tournament, contested in 2019 in Mississauga, Ontario, Vine and her fellow Canadians, including Melissa Miller, whom Vine played with in 2013 and 2015, defeated Great Britain by a 2-1 count in the gold medal as a teammate, ending the decade on a truly golden note.
Currently competing on Tuesday nights in the men's division of the Adult Safe Hockey League, the custom has occurred since retiring from the CWHL in 2015. Not surprisingly, Vine's CWHL roots remain impeccably strong. Having recently joined a team spearheaded by Jana Harrigan, part of a highly competitive women's division on Sundays. Undeniably, the opportunity to reunite with former Barracudas such as Harrigan, Mallory Johnston and Tania Pinelli adds a strong sense of full circle, proud to be able to share in her latest sporting chapter alongside them.
"To be honest, I had no idea I was a part of a 50/100 group. That is very special to me… Wow, I am so happy for this. I feel like I have been known as a great penalty killer, a good centerman who knew my position well and good at draws and contributed here and there. I never thought I would be among a 50/100 group. It means a lot to me.
Reflecting on this makes me very happy. I am so proud what the sport of hockey has given me. The importance of teamwork, responsibility, hard work, respect for yourself, teammates and opponents. I have transferred these skills I have learned captaining teams and being a leader on teams to my professional life. I pray Blair will want to play hockey too as I know she will get so much out of it!"
"All quotes obtained first hand unless otherwise indicated"
Featured Image by Jess Bazal
Related Articles