First founded in 2008, Harrigan Hockey has blossomed into an energizing venture that is encouraging and empowering female players of all ages to learn in a safe, friendly environment where novices are acquainted with the game at their own pace, or seasoned players can sharpen their skills.
Based in the Golden Horseshoe community of Burlington, Ontario, it allowed founder Jana Harrigan, a homegrown talent who went on to star at Ohio State University, earning All-America Status, an opportunity to reciprocate what the game has meant to her. Graduating with a degree in Exercise Science, Harrigan had already demonstrated strong proficiency as an instructor during her time with the Ohio State Buckeyes.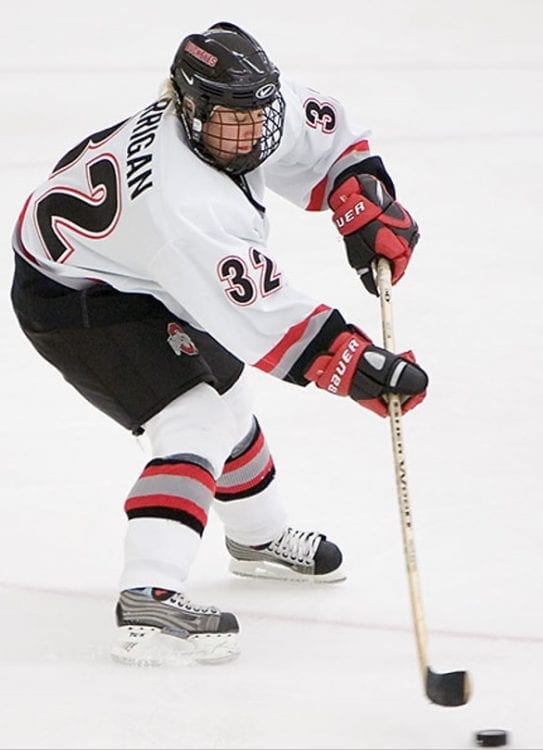 In addition to serving in the capacity of student coach for the Buckeyes varsity team during the 2006-07 campaign, she was also a skating treadmill coach. Having also become a Hockey Canada Skills Academy Certified Instructor, the opportunity for hockey to become a vehicle to utilize the knowledge acquired through her postsecondary education provided a tremendous sense of fulfillment.
With humble beginnings, originating with skating lessons, Harrigan's passion for the game and strong leadership skills served as the foundation for unprecedented growth. Having blossomed from this concept was the popularity of numerous leagues hosted by Harrigan Hockey.
"I wanted to give back to a sport that has given me so much. The business started very organically with a few skating lessons. From there we offered a few clinics, then leagues, now we are one of the largest all female hockey development programs in the area.
We have leagues and development clinics for all ages and skill levels. One of our most successful programs is our women's beginner league. Women of all skill levels, some who have never even been on ice before, are "gearing up" to play this great Canadian game!"
Starting with a beginners league for women back in 2010, featuring 3-on-3 play, a burgeoning expansion followed. With 5-on-5 divisions for both intermediate and competitive players part of the competitive calendar, the greatest indication of its success reached a celebrated pinnacle in 2014.
By then, Sundays in May and June became a staple for Harrigan Hockey. Hosting a Girls' Spring 3-on-3 league, it became the largest of its kind in the Greater Toronto Area, emerging as an integral day for many competitive calendars. Committed to providing a big-league feeling for all players involved, the experience includes the adrenaline rush that comes with pre-game music blasting throughout, while a trophy presentation only adds to the feeling of achievement for the team that finishes its season as the victors,
"Our Girls' Spring 3-on-3 League has grown into something truly special. We are the largest of its kind in the area, with divisions from Tyke through Midget Elite. We also offer separate House League, DS, and Rep divisions within each age group, so the games are always jam packed with fast-paced end-to-end hockey action. We pump music during warm-up and even end the season with a mini Stanley Cup – just like the Pros!"
Having gained a silver medal at the 2007 Esso Women's Nationals, recording five points in seven games played, Harrigan also played in the professional ranks with the CWHL's Burlington Barracudas and Brampton Thunder. One of the league's brightest stars, she ranks among the top 20 all-time scorers.
Undoubtedly, one of the Barracudas franchise players, Harrigan was part of an impressive roster of talent that included Kelly Hart, Winter Games gold medalist Becky Kellar and Lindsay Vine, among others. Forming the core of a highly potent offensive attack, Harrigan amassed superlative numbers during the first three seasons of CWHL hockey, highlighted by a cumulative total of 109 points, including back-to-back seasons of 37 points.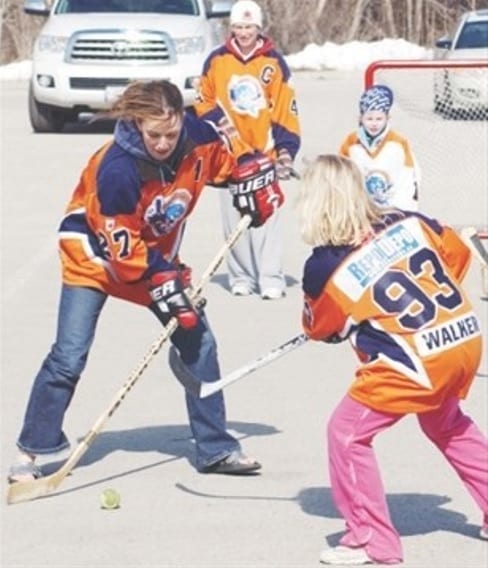 Named to the CWHL Central Division All-Star Team following the inaugural CWHL season, Harrigan would gain back-to-back postseason CWHL Second All-Star Team honors. In addition, the 2013-14 season allowed her a unique career highlight. Skating in her final CWHL season, garbed in the black and red of the Brampton Thunder, Harrigan enjoyed the opportunity to take on the mantle of all-time leading scorer among the league's active players.
With such a revered series of accolades, Harrigan's acumen has translated into an opportunity to share her wisdom with a new generation of skaters eager to emulate her own heroics. Leading many instructional clinics, Harrigan employs a two-pronged approach that assures a positive experience.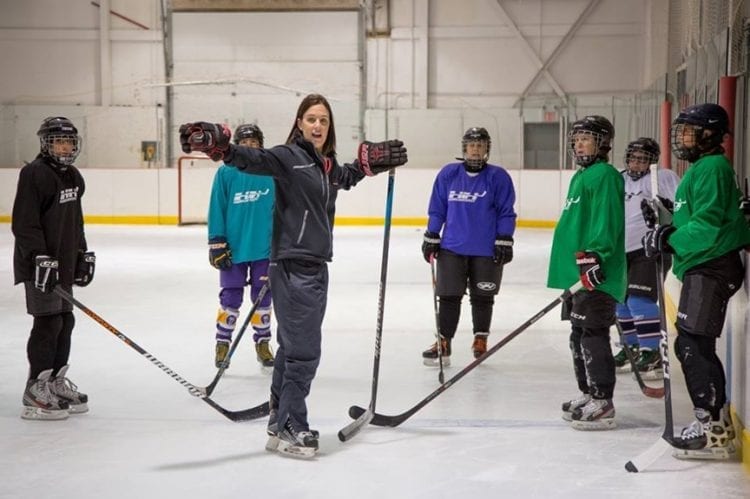 From the outset, the objective is to improve the players' skills. Motivating them to dig deeper and seek to employ a stronger work ethic, instilling in them the belief to reach their potential. Beyond imparting that sense of drive, Harrigan's philosophy also entails enjoyment, which has always been one of the game's fundamentals.
"On the ice I have two jobs:
1 – Push these girls harder than they have ever been pushed. Our goal is to understand each player's comfort zone and break through it. Practicing outside our comfort zone and breaking those barriers is the key to growth as a hockey player.
2 – Make it fun. Each and every session we are on the ice, we work hard but we also have fun. Hockey is a game that can teach you focus, commitment, determination, strength, and so many other things but it also has to be fun!"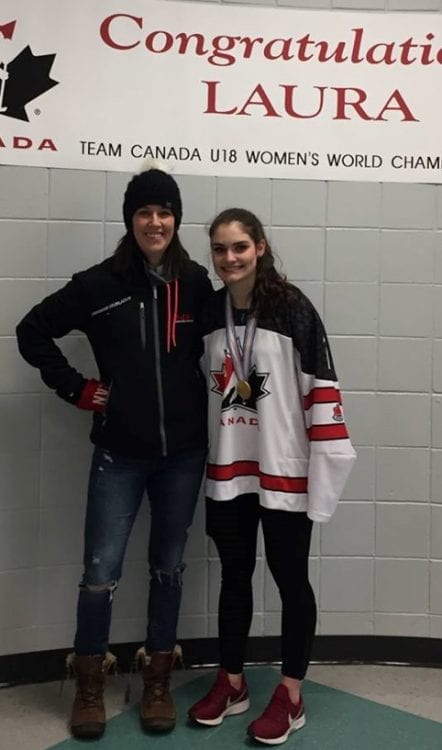 Among Harrigan's greatest success stories resulted in the tutelage of Laura Cote. Having advanced from local skater to world-class competitor, Cote, one of her first students, was part of a group of millennial talents who starred on Canada's victorious roster that captured the gold medal at the 2019 IIHF U18 Women's Worlds in Obihiro, Japan, the fifth title in program history and the first since 2014.
Racking up 49 points in three seasons of play with the dynastic Oakville Hornets, playing for accomplished coach Bradi Cochrane, she would capture a PWHL championship and an OWHA gold medal during the 2016-17 season. Following it up with a gold medal as a member of Team Ontario Red at the 2017 edition of the Under-18 Canadian women's nationals, she would close out her Hornets career with a pair of silver medals at the 2018 PWHL championship and at the Intermediate AA OWHA Provincials.
Committing to St. Lawrence University in upstate New York, Cote's success provides Harrigan with a remarkable feeling of satisfaction. Quickly identifying her potential, the fact that Harrigan played a pivotal role in helping her reach her promise, becoming part of a select few who enjoy the privilege of donning the Maple Leaf on their jersey certainly stands as one of Harrigan Hockey's feel-good stories.
"It is so great to see a player like Laura Cote succeed. Laura was actually one of my first students. From day one, I knew she was a special player. She had the drive and determination you rarely see in a six year old. She has a bright NCAA and National career ahead. We actually share the same jersey number. I would like to think it's not by coincidence but that is something you would have to ask her ;)."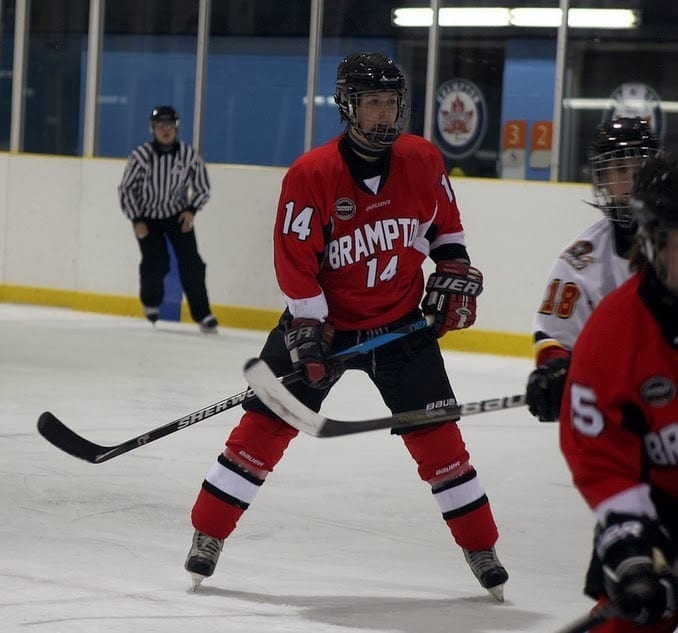 Adding entrepreneur to an already impressive range of titles, including local legend, CWHL icon, All-American and proud mother of three children, Harrigan continues to make a tremendous impact following her playing career. Finding a tremendous contentment in this recent chapter, maintaining a celebrated standing as one of the most influential members of the local hockey community, indubitably, the most important theme of Harrigan's efforts is an elated sense of enjoyment,
"The best part about Harrigan Hockey is seeing each of these girls/women achieve their hockey dreams. Whether it is a mom stepping onto the ice for the very first time or seeing a player like Laura Cote reach National status. It's pretty awesome!
Plus, who would have thought my parents were right: 'When choosing a career, choose something you love and you will never work a day in your life.' This 35-year-old mom of three is living proof of that."
"All quotes obtained first hand unless otherwise indicated"
Related Articles