During the existence of the Canadian Women's Hockey League (CWHL), a significant aspect that sometimes went underrated was its creative contributions. Whether it was the efforts of the writing and editorial group, chronicling and commemorating the on-ice magic created by the wondrous women who graced the ice, aficionados who devoted their time to creating pages on various wikis, or the visual brilliance of photographers utilizing the frozen perimeter as a fascinating canvas.
Simultaneously immortalizing the many players whose careers reached a prized apex in their athletic endeavors, it was part of a highly commendable collaboration sparked by Heather Pollock. Lending both credence and cultural currency, it bolstered a league gradually finding its footing in the sporting landscape. Worth noting, some of Pollock's other celebrated sporting subjects have included 1998 Winter Games silver medalist Therese Brisson, soccer icon Kara Lang, and marathon runner Marg Webb.
Through the league's latter years, enjoying the luxury of Heather Pollock's peerless vision, the CWHL benefitted greatly from an absolute embarrassment of riches in terms of high quality photographers. From the likes of Jess Bazal, Jess Desjardins, Celine Gelinas, Dave Holland, John Morrison, Al Saniuk, Chris Tanouye and Brandon Taylor, among others, their photos were essential towards capturing some of the league's greatest moments.
Undoubtedly, Pollock's portfolios brought a highly creative element. Considering that modern sport has seen so many athletes photographed either in a complete state of undress or in swimwear, many lesser-known athletes duplicating this on their social media pages, the term "model-athlete" has become part of the sporting lexicon. Through this development, many creative elements of sports photography have devolved into a lost art form. The labors of Pollock reversed this, restoring the imaginative and artistic aspects.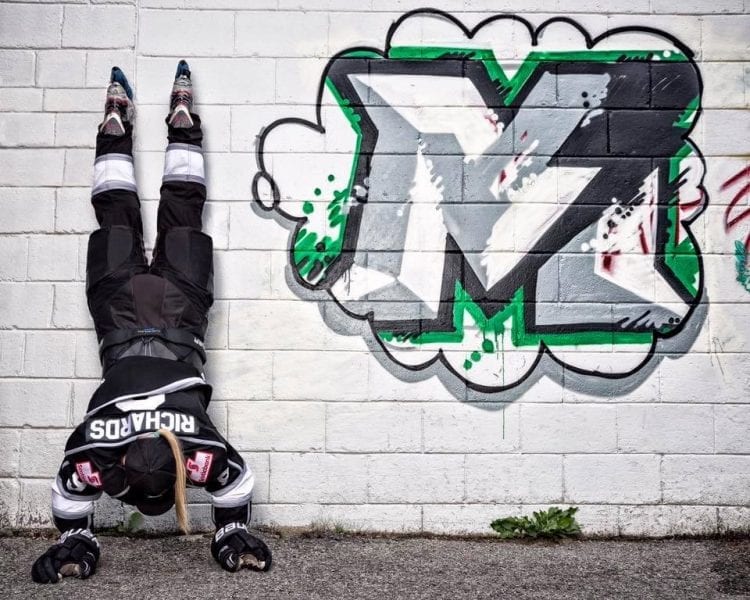 With the collaborative influence of player Kristen Richards, one of the Thunder's most likeable players, it marked a watershed moment in league history. Having relocated to the York Region city of Markham, the franchise underwent a major makeover. In addition to a new logo and obligatory new jersey, the Thunder adopted the color green, a radical departure from its traditional color scheme involving black.
Finding a muse in the Thunder's exciting new look, it not only propelled Pollock into a place of highly inventive influence, the results served as an ingenious introduction to the relocated franchise. Highlighted by the enthusiasm of the players involved, captured behind Pollock's lens in a series of innovative and refreshing photos, from Richards with the new logo spray painted on a back alley wall, to others paying homage to the Hanson Brothers, the blend of creativity and fervor allowed for a remarkable rendition of these fearless, frozen gladiators.
"Firstly, a huge thank you goes to Kristen Richards who was instrumental in making those first shoots happen. I am so grateful. I love portrait photography and I love hockey, so the opportunity to put them together is always a delight.
I love that each shoot evolved as we worked through it. Very collaborative and go-with-the-flow. There was a shoot I did with Richards in the back alley of a friend's office. The visual artist Monica Wickeler spray-painted the (then new) Markham Thunder logo on the wall. A police officer wandered by, wondering what we were up to, and within minutes was involved in the shoot, just having some fun."
Reciprocal in her appreciation, Richards recalls the initial communication that spurred such a defining moment, one that still stands as a strong point of pride in her tenure with the Thunder,
"Heather Pollock is incredible. When she asked me to take part in a special project that she was working on, I jumped at the opportunity. Heather's photos are a true representation of what it means to be a professional female hockey player. By putting us in full gear and asking us to perform everything from mundane activities to things we have never done before, Heather shows the world how many different hats we wear as female athletes."
Successive photoshoots affirmed the genius of the first Thunder portfolio. With the use of the Toronto Newsgirls Boxing Club, serving as a creative portal, combining hockey with boxing, the display of pugilism also added a new dimension to the eternal rivalry between the Thunder and the Toronto Furies. A fascinating series of images between goaltending icons Sami Jo Small and Liz Knox proved to be part of a bigger narrative, displaying the women of the CWHL in a very empowering milieu.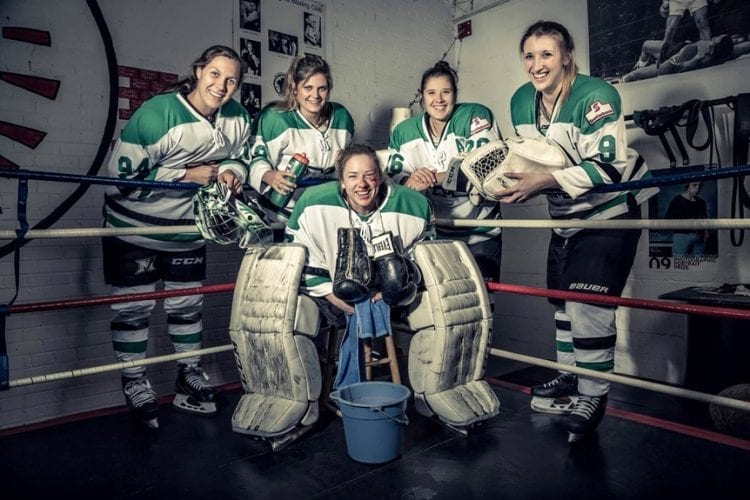 From Jamie Lee Rattray participating in the mandatory boxing exercise of skipping rope, reimagining it in impressive fashion by wearing her skates, to the ebullient Taylor Woods weightlifting and squatting with a pair of goaltenders mounted on her shoulders, this amazing display at the Boxing Club was testament to their standing as world-class athletes. Such an exertion certainly made an impression on Pollock, highly impressed by their dazzling display of physical abilities,
"They blow my mind.
Richards doing handstands in full gear, Bozek kickboxing in skates, Woods squatting two goalies, Knox literally bending over backwards, Spooner in skates piggy-backing two other players. They are amazing.
My own gym attendance spikes after doing these shoots. I still struggle with just walking from the dressing room to the ice in my skates, but I'm working on it."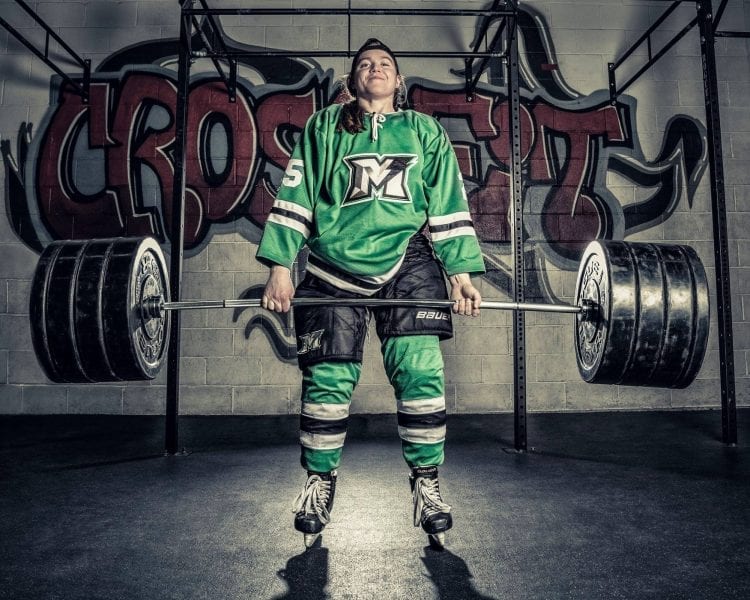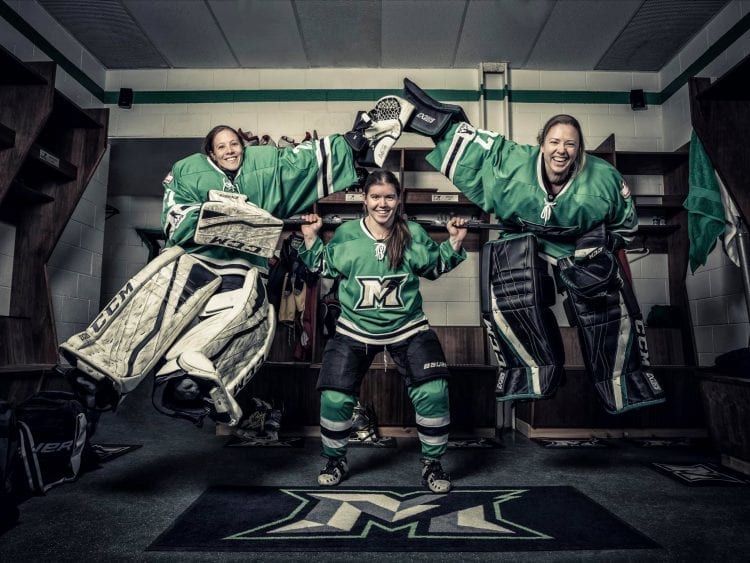 With the subsequent creativity, Pollock coincidentally tapped into a unique legacy of women's ice hockey. As so many competitors have made the transition from ice to fire, making full-time careers out of firefighting (e.g. Amber Bowman, Ashley Pendleton, Amanda Shaw), it became a theme for one of Pollock's portfolios.
Taking place during the off-season, Pollock found a pair of inspiring subjects in Nicole Brown and Liz Knox, who were both pursuing careers as firefighters. Still undergoing training for their chosen careers, it sparked an interest in Pollock. Finding a fellow recreational player, and current firefighter, who was gracious enough to obtain the use of her existing station as the canvas for such creativity, it became another special opportunity to amalgamate a pair of unique worlds that were traditionally male-dominated, into compelling photography. Simultaneously demonstrating the unlimited potential that women can reach in society, it was a powerful yet visual statement about equality.
"I had a ton of fun shooting a number of "waiting for the season to start" images, and heard that Liz Knox and Nicole Brown were going through firefighter training. Just seemed to make sense to play around with that. A friend that I know through recreational hockey, Traci Dixon, is a firefighter (and big CWHL fan), and I got in touch with her to ask if she thought shooting at her station would be possible.
We had something booked almost immediately. All of the firefighters at the station were so accommodating and helpful. It always warms my heart how supportive people are of the athletes."
Participating in her first shoot with Pollock, it proved to be a highly positive experience for Brown. A member of the Thunder's Clarkson Cup championship team, Brown, who grew up in Oshawa, Ontario, also played for the franchise when they were based in Brampton. Having also starred with the NCAA's Quinnipiac Bobcats, her time with the Thunder also saw her call former Bobcats skater Nicole Kosta a teammate in Markham.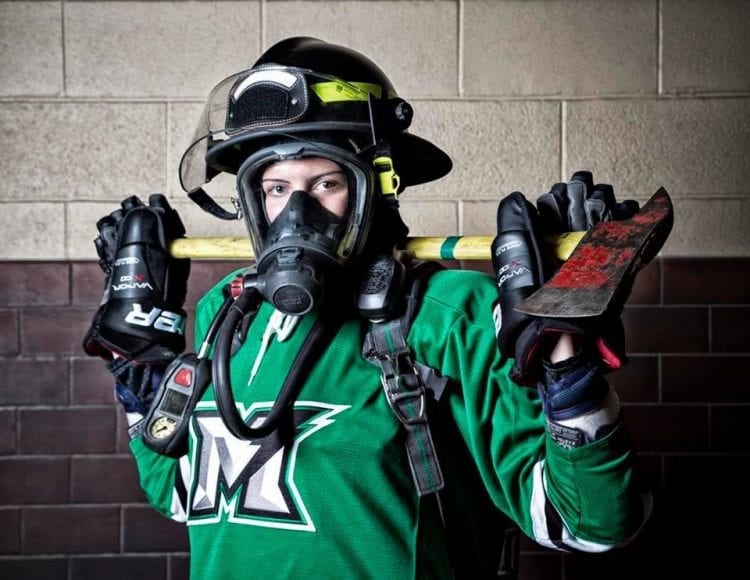 Having made firefighting a full-time career, the chance to appear in front of Pollock's lens represented the best of both worlds. A fantastic fusion of Brown's two great passions, hockey and firefighting, the photos continue to evoke an element of contentment, providing a residual warmth. Certainly a role model, regardless of whether she is in the hockey jersey or firefighting gear, both endeavors signify the essence of effective teamwork, one of the hallmarks of Brown's career.
"Heather is such an incredible person, let alone photographer. It was such a cool experience getting to mesh my two dreams together. It is especially amazing looking back at those photos as I have accomplished so much since then. Becoming a professional athlete who won at the highest level of women's hockey and becoming a full-time firefighter. The photos turned out better than I had thought and I have gotten so many compliments."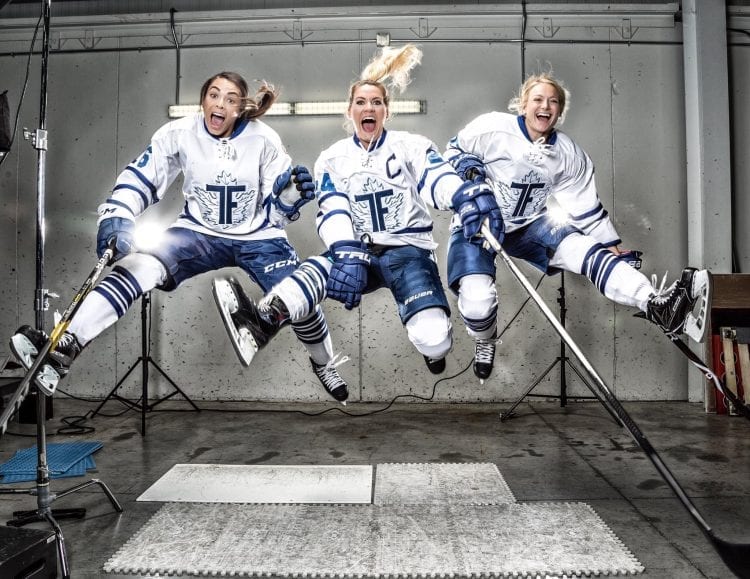 Pollock's proficiency behind the lens quickly went beyond the familiar faces of the talented Thunder players. Gaining access to other stars throughout the league, the start of the 2018-19 CWHL season resulted in a photo shoot with a triptych of Furies. Such a highly talented tandem, consisting of Renata Fast, Sarah Nurse and Natalie Spooner, one of the most popular players in the history of the CWHL, was unique in the fact that all were members of Canada's contingent that participated in women's ice hockey at the 2018 Winter Games.
Taking into account the constraint of having less than a half hour to work with such a titanic trio, Pollock was able to maximize the limited time and generate a high quality of work. Quickly, she discovered that the joviality, and photogenic aspects, that defined her shoots with the Thunder were just as prevalent with this accomplished group of Furies. Undeniably, the sense of camaraderie proved to be a key theme in Pollock's inaugural experience with Toronto's CWHL entry. Discovering that camaraderie is also one of the league's hallmarks, a significant construct in every team's culture, Pollock reflects on the shoot with a feeling of ease.
"We had about 20 minutes together at the rink before a practice, and it was crazy how fun it was! Photographically speaking, that is not a lot of time to get much done, but they were very animated. They made each other laugh constantly. I basically just stood there watching the show and pushed the shutter button every now and then."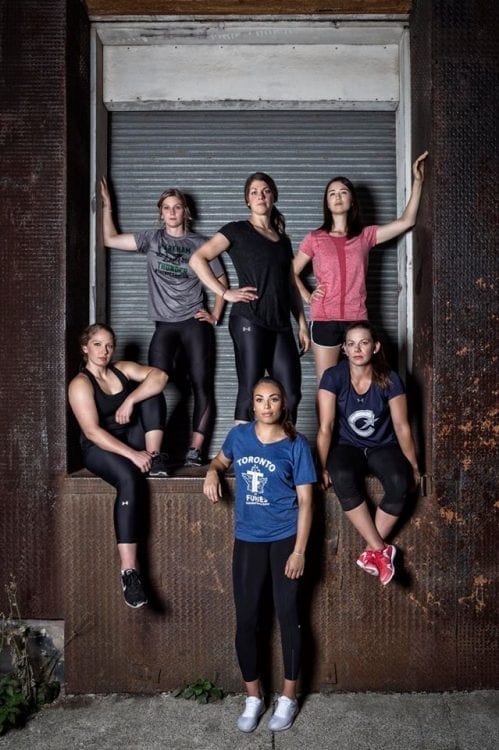 Building on the momentum of such a pleasant experience, Pollock expanded her repertoire with one star from each of the CWHL's six clubs gathered together as her subjects. Featuring Toronto Furies forward Sarah Nurse once again, high scoring Rebecca Johnston of the Calgary Inferno, Montreal's elite blueliner Erin Ambrose, third generation skater Laura Stacey, who scored the Clarkson Cup clinching goal for the Markham Thunder, Blades stalwart Megan Myers, plus Shenzhen KRS rookie sensation Kimberly Newell, the outstanding quality of the photos, and the empowering tone evoked, were seen throughout social media, as numerous CWHL clubs proudly featured said photos in promotional material,
"This past autumn, I had the great luck to shoot a player from each CWHL team. If there is a common theme running through every single one of the shoots, it is the players' ability to focus intently on what I am asking them to do, nailing it, and then hilarity ensuing. There are a number of "intense" shots, and seconds later, everyone is cracking up. I love that. It is obvious how much fun they all have together."
Perhaps the most treasured pinnacle in Pollock's exposure to the CWHL and its players was an opportunity to photograph the on-ice action at the 2018 Clarkson Cup Finals. While Pollock is renowned for her stunning portraits, she is just as adept at capturing the action of a live sporting event. Having photographed the MLS Cup, she has also worked at Hockey Canada and Soccer Canada events, along with a Furies home game. As a side note, publications such as National Post and La Presse (web) have published her photos.
With the Thunder returning to their first Finals since 2012, facing off against the expansion (and highly ambitious) Kunlun Red Star, it may have been the most unique pairing in Finals history. Considering the superlative work that Pollock had done with the Thunder, there was definitely a sense of serendipity to be on-hand during a high point for the proud franchise. As the immediate aftermath of Laura Stacey's Cup-clinching goal was a moment that conveyed very powerful emotions, the element that Pollock keenly sighted was the definitive jubilation that blanketed the elated visages of the triumphant players.
"It was an amazing run to the Clarkson Cup for the Thunder, and it was a sincere pleasure to get to experience some of it with them. The pure joy on their faces after the victory was priceless. Everyone worked so hard to get there — and win it — but I was particularly happy for their GM Chelsea Purcell. She did some extraordinary work throughout the whole year, leading the team from Brampton to Markham, and eventually to the championship. There is a shot of her kissing the cup that I just love. Not going to lie, I might have had to wipe away a tear or two."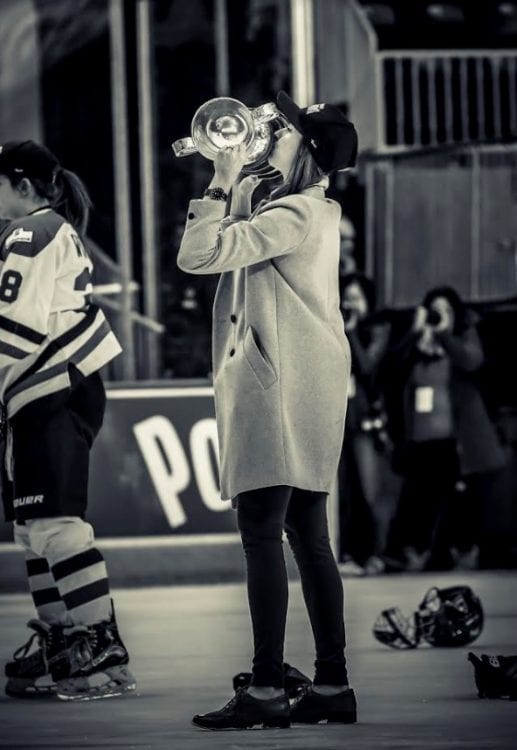 Pollock's portfolios are consistently energizing, a gripping account part of a pivotal role in the game's standing. Despite the fact that the CWHL has now dissolved, belonging to a sporting graveyard of defunct leagues and teams, there shall always be a profound appreciation for her admirable efforts. The creative lens revealed an athletic portrait redefining the game with flair and elegance, combining both a fascinating feminine beauty and a formidable strength, embracing the solidarity between players, while acknowledging the sweat and sacrifice necessary to achieve such competitive peaks.
Gaining the prestige of working with the women of the CWHL provided Pollock with a wealth of both creative stimulation and encouraging sway. The highlight of capturing the intense magic of the Clarkson Cup also brought with it an opportunity to further appreciate the perception of its heroines from a different perspective.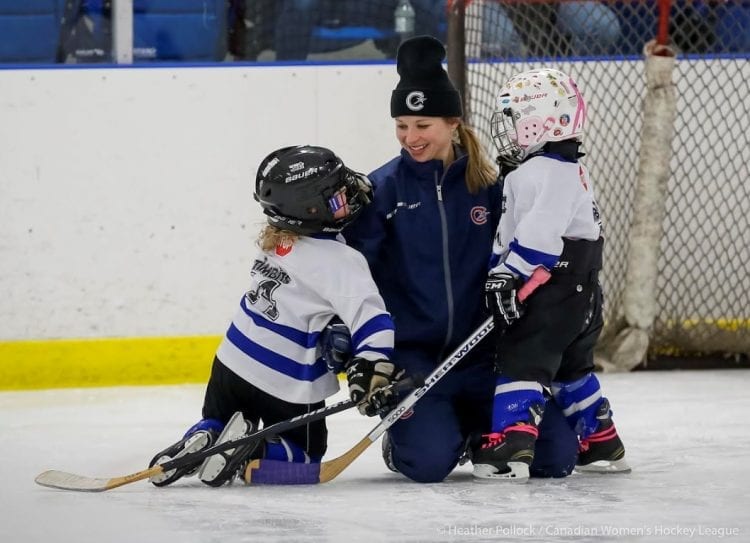 Part of the festivities during Clarkson Cup weekend allowed her the privilege of crossing paths with Ann-Sophie Bettez, a former Angela James Bowl winner and one of the league's most notable, and likeable, players. As weekend festivities allow for both young skaters and fans to gain access to the players, via clinics and autograph sessions, the results are cherished memories made.
This distinctive type of interaction captivated Pollock. Finding enjoyment in the opportunity to photograph Bettez, mentoring a group of awe-struck youngsters, capturing the essence of what makes these players role models, it encompassed what makes sporting photography such a labor of love.
"Seeing their positive influence on girls and young women is truly inspiring. Before the 2018 Clarkson Cup, I did some shooting for the CWHL Community Day.
I had a grin on my face the whole time I was shooting Ann-Sophie Bettez out on the ice with a group of kids. Everyone was having so much fun. The glee was palpable. Those moments on the ice with one of their heroes will stick with those girls forever. And I truly believe that interaction with these strong, hard-working, dedicated role models will carry positivity throughout so many aspects of their lives, not just athletically."
Undeniably, Pollock's portraits allow for a preservation of the CWHL. Immortalizing numerous players in the peak of their careers, such creative genius holds greater meaning since the saddening fact that the league folded. While such a collapse continues to be mourned, the images produced shall stand as an invaluable archive, one that players can reflect on in later years, remembering their glories while instilling the dream of what women can achieve in sport. Certainly, such players made their mark with a gracious Pollock,
"Like everyone else, I was shocked and saddened by the folding of the CWHL, but I am always willing to give my time to these athletes, whatever the future holds for them. If I have learned anything from the players, it is that hurdles are meant to be leaped and moved on from."
"All quotes obtained first hand unless otherwise indicated"
Related Articles