Embodying the potential of the professional female game, Chelsea Purcell assembled a captivating career in which her strong leadership skills and tireless work ethic made her an invaluable asset in any capacity that she contributed. Originally from Hudson Bay, Saskatchewan, Purcell brought her boundless energy to more than just Western Canada.
Having also competed in numerous parts of the globe, including Kazakhstan and Switzerland, Purcell always remained grounded in the midst of such travels. With a down-to-earth and generous demeanor, complemented by an ethereal serenity, she quickly made her mark in CWHL history. Recognized as the first captain in the history of the Team Alberta/Calgary Inferno franchise, it was an early indication of her significant presence, her leadership helping to lay the foundation for a proud team culture.
Edmonton Chimos
Prior to donning the Team Alberta navy blue jersey, the first chapter of Purcell's professional odyssey involved skating in the former Western Women's Hockey League (WWHL) as a member of the iconic Edmonton Chimos. Reputed as one of the first club teams for female hockey during the 1970s, which featured Shirley Cameron, one of the first Team Canada women's players, their Prairie legacy was not lost on future players that would wear their colors.
Suiting up for the Chimos during the 2010-11 season, which also proved to be the last in franchise history, averaging more than a point per game, it represented a monumental milestone for Purcell, simultaneously foreshadowing her future in the game, as many Chimos would become teammates in CWHL competition. Coincidentally, her inaugural experience with the storied franchise saw her cross paths with another celebrated star from CIS play who, like Purcell, would eventually lay roots in the Greater Toronto Area,
"It was a great experience. When I first moved to Edmonton to play I had no idea what would come of it, let alone think we would be joining the CWHL. I actually did not even know the CWHL existed until my first year with the Chimos. Kori Cheverie was in Edmonton for tryouts and then found out she was drafted to the Toronto Furies so moved out there to play."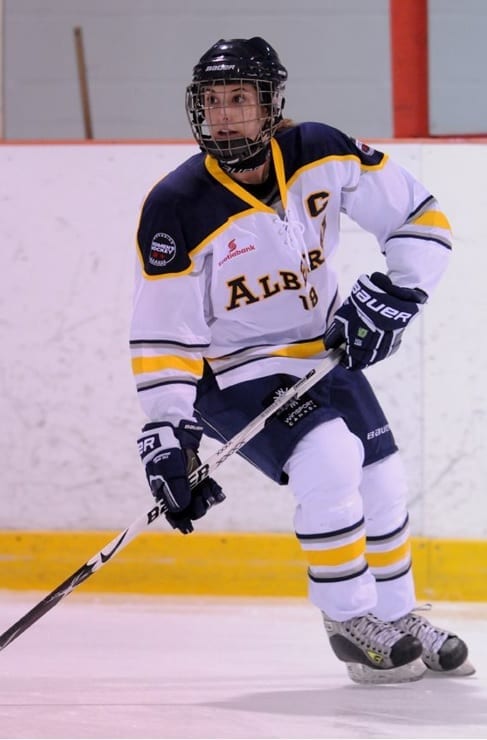 Team Alberta/Calgary Inferno
Having played in every Team Alberta season, along with appearing in the Calgary Inferno's first postseason series, Purcell was among a handful of skaters that were part of the transition towards the franchise becoming the Inferno, commemorating the sponsorship agreement with the NHL's Flames. Notable players such as Jenna Cunningham, Laura Dostaler, Kathy Desjardins and Kelsey Webster, among others, were part of this gregarious group who were part of advancing the franchise's fortunes by a quantum leap.
Although the Team Alberta experience was one defined by expansion, racking up more travel miles than any other team in the CWHL, including grueling three-game series, all growing pains that were part of the obligatory process of building a new team, such elements also supplied motivation that the sweat and sacrifice was worth it. Among the highlights of those early years included skating against the Furies at Toronto's Air Canada Centre, the first-ever CWHL game at an NHL arena and meeting Skate 4 Life's Ashley Gilbank, who rollerbladed from one end of Canada to another in order to raise funds for mental health research.
Such events were all part of a more profound chapter of providing a Western footprint in the CWHL. That footprint would also include the opportunity for Purcell and her teammates to display their skills at the Calgary Saddledome, supplying that major league essence. Undoubtedly, the opportunity to contribute towards building a new legacy encompassed what Purcell relished about being part of the nascent franchise, she recalls a reduced schedule due to travel, resulting in a unique novelty that was a defining feature to those early years,
"I enjoyed being a part of the expansion and growth of the CWHL and more importantly women's hockey. There was some definite struggles being on the team in the first year of expansion. I do not think a lot of people remember or knew that we played three-game weekends and only half the games every other team played because of the increased costs of flying. With this, we only played 12 games and they were worth four points versus the regular two. The best part of that is seeing where we were and where we grew to since then."
During her time in Western Canada, Purcell, who played for Team Alberta head coach Tim Bothwell, a former NHLer with the New York Rangers, Hartford Whalers and St. Louis Blues, also found some significant female influences in the franchise. Strong women such as Samantha Holmes and Chantal Champagne, who both served in the capacity of General Manager during franchise history, foreshadowed Purcell's eventual career path.
Brampton Thunder
Certainly, the leadership presence followed Purcell when she made the trek eastwards, relocating to the CWHL's biggest market. Finding a new home with the Brampton Thunder, Purcell became the assistant General Manager, serving under the tutelage of Lori Dupuis. A former player herself, Dupuis, who racked up 425 points over the course of 14 seasons, all when the Thunder called Brampton home (which also included the original NWHL), attained the summit of a gold medal at the 2002 Winter Games, plus the first-ever CWHL championship.
Having hung up her skates in the aftermath of the 2012-13 season, Dupuis was the ideal choice to assume the role of GM, rebuilding the franchise through many shrewd acquisitions. Making the leap to the front office, she would pave the way for the likes of Purcell, Kristen Haag and Sami Jo Small, to utilize their acumen for the game in other capacities.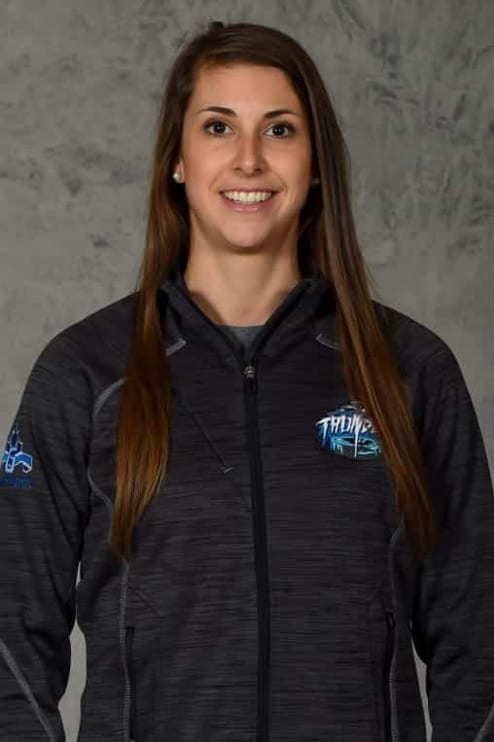 "Yeah, they were all amazing women that paved the way and were a part of the growth and success of our league. I worked directly with Lori for two years and learned so much of the business side. I have always admired and looked up to her, (and) she was a mentor to me. I always enjoyed the business side of the game; the fundraising, the communication, game day events.
When I moved out to the GTA, Lori saw potential in me to take over her organization and that was a true honour. I knew she cared deeply about the Thunder and would not hand it over to just anyone, so I had to make sure I would make her proud."
Finding success as the Markham Thunder GM
Inheriting the GM duties from Dupuis, Purcell oversaw one of the franchise's defining moments. Relocating from Brampton to Markham, providing York Region with its first team since 2010, after the dissolution of the Vaughan Flames, the effort involved represented the potential that Dupuis saw in her pupil fully realized.
Continuing to make solid acquisitions in the Draft, another of Dupuis' strengths as GM, Purcell extended the legacy of her mentor while duplicating her solid work ethic. Discussing the activities of an average day, Purcell's tasks as General Manager reflected a solid commitment to continue raising awareness about both team and league alike. Employing a multi-tasking approach, Purcell constantly set a positive example, displaying devotion in all facets,
"Oh, an average day was a lot of emails and texts. Communication probably took up 90% of my time. Once Apple came out with the screen time app, it was quite disturbing to see how much time I spent on emails and messages! Most of the work was done away from the rink but if I was there, I may be working on the dressing room, cleaning, organizing, reorganizing, counting inventory. Somehow, I always was doing something.
I rarely had time to watch practices. I probably only watch the couple prior to playoffs, just to make sure we were working on what we needed to work on. I wasn't the best at delegating items as there was always a lot to do but I put the trust in the coaches to run the team on ice and I could put all my time into focusing on what happens off the ice."
Undeniably, the chance to compose a new chapter in Markham enabled Purcell to create her own identity. Running parallel to the makeover the franchise experienced with new team colors and a new venue, it also created the opportunity to connect with the community.
Part of a fascinating narrative in which her efforts set the positive example to propel the Thunder to unprecedented heights, by season's end, the Thunder assembled the most captivating post-season run in franchise history. Humbling the dynastic Canadiennes de Montreal, the ladies of Markham green defeated an expansion Kunlun Red Star filled with significant star power from the United States and Europe, capturing their first-ever Clarkson Cup championship in a thrilling overtime.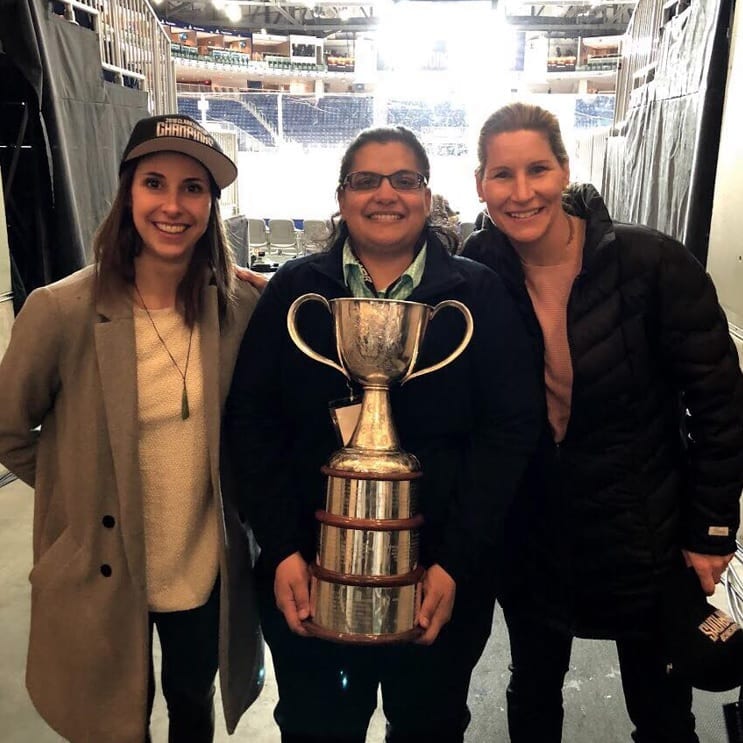 As it had been ten years since the Thunder captured the first CWHL championship, also an overtime triumph, the jubilation of a Clarkson Cup marked a journey that had truly come full circle. With the decorated Dupuis and numerous other Brampton Thunder alumnae in attendance, it marked a show of unity, signifying that wherever region the franchise called home, the sisterhood that emanated from wearing its colors, whether it was black and red, or green and silver, was one associated in perpetuity,
"The move to Markham was so much more successful than I ever could have imagined. The facility was such an upgrade for the players even though I missed playing in that old barn in Brampton. We were lucky enough to build brand new, beautiful walnut stalls, which made it feel so much more professional. My top priority was to make this a professional environment where the players could focus on hockey and we could make an impact in the community. I felt we did both really well.
We attended so many events and the community bought into us. By the end of this season, we were getting between 700-800 fans, which made the rink feel and look full. The energy was unreal! To top off that first year with a Clarkson cup win, I could not have asked for anything more. It was quite a surreal year."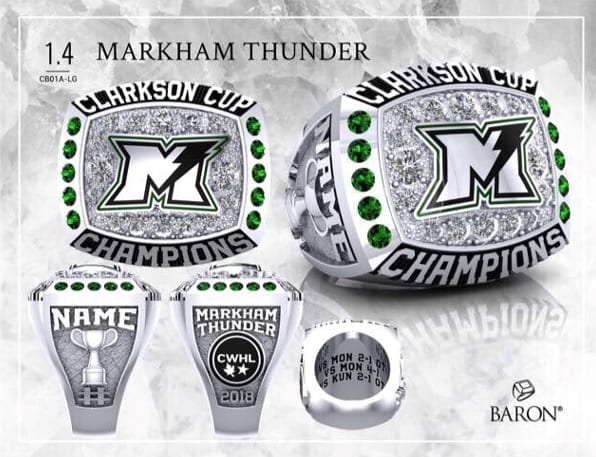 In what proved to be Purcell's last official capacity as the Markham Thunder's General Manager was the distribution of championship rings. A project that took longer than anticipated, due to unforeseen circumstances, most notably, budgetary constraints, such obstacles did not pose a tragic conclusion, but merely a setback that would prove to be well worth the wait until completion.
Demonstrating what made Purcell such an invaluable asset, and a highly respected figure among her contemporaries, a commendable fundraising effort ensured that the rings would become a reality, ensuring that the players would not have to pay for such a treasured reward. While the rings are certainly an artifact unto themselves, it best displayed the feeling of loyalty and friendship that defined the Thunder culture, one that Purcell worked tirelessly to maintain.
With a ring ceremony taking place in autumn 2019, it allowed for one more treasured gathering, while bringing a celebrated closure to a proud chapter that shall remain forever proud in the hockey odyssey of Purcell and all involved. Undeniably, one of the league's most feel-good moments, the tone of the event was defined by a reciprocal feeling of gratitude. From the admired patience of the players, to Purcell's devotion, it set a positive example, indicating what makes such remarkable people true role models.
"To be a part of something like that is rare but when it happens, you will remember it forever. That is why I feel these rings are so important. You'll never forget that feeling or excitement but to have something that takes you back is even more special."
"All quotes obtained first hand unless otherwise indicated"
Featured image by Dave Holland
---
Wear your hockey girl pride at the rink this season with WHL Gear!
Related Articles