An integral component of Toronto's sporting heritage, the Conn Smythe Celebrity Sports Dinner unites individuals from all facets of society, joining in the important cause of raising funds for the Easter Seals Foundation. The 2019 edition of the Celebrity Sports Dinner would involve a significant women's ice hockey presence, highlighted by the attendance of the defending Clarkson Cup champion Markham Thunder.
In addition, Jayna Hefford, a member of the Hockey Hall of Fame's 2018 Class, CWHL co-founder Sami Jo Small, also a member of the Triple Gold Club for women, were among the celebrated guests. Hefford, the all-time leading scorer in Thunder history, one of the longest running club teams in Canadian female hockey, skated for the club when they called Brampton home.
Among the members of this season's Markham Thunder roster available to attend, it read like a who's who of women's ice hockey. Starting with General Manager Chelsea Purcell, a celebrated player whose mark on CWHL history included serving as the first-ever captain of the Team Alberta franchise, has made a seamless transition to the front office.
Recently, one of the hallmarks of Purcell's post-playing career included serving as the GM of the Thunder's Clarkson Cup championship team. On an evening that strengthened the bonds between teammates, her leadership was strongly evident, spurring the impetus to thrive. Undoubtedly, such a highly emotional event affirmed the standing of the Thunder's wondrous women as commendable Hockey Humanitarians.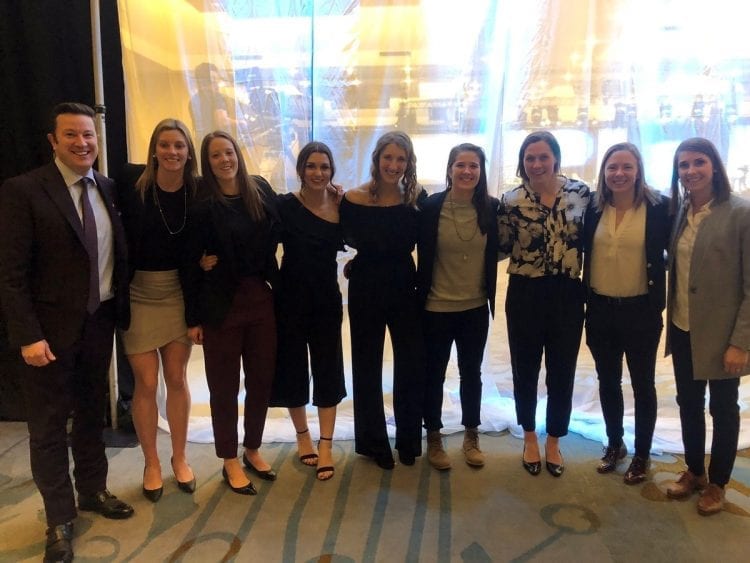 "We were invited to be a part of the event and sell 50/50 (tickets) to get some extra exposure to our team, as well (as to) be able to have a table for the night. Of course, with competitive ladies, we wanted to get the 50/50 as high as possible."
Megan Bozek, an alum of the US national team, was part of a group of Thunder star players, which included rookie sensation Ailish Forfar, Erica Howe, the winning goaltender of the 2018 Clarkson Cup finals, along with goaltending partner Liz Knox, the first player in franchise history to serve as a captain at the CWHL All-Star Game.
Jamie Lee Rattray, the Thunder's first recipient of the Jayna Hefford Trophy, Kristen Richards, a CBHA National Champion in 2015, of which she also called Rattray a teammate, plus Laura Stacey, who competed for Canada in women's ice hockey at the 2018 Winter Games, completed the group of players on-hand representing the club.
Considering that the Celebrity Sports Dinner is named in the honor of Conn Smythe, the founder of the Toronto Maple Leafs, it also holds a profound linkage in the hockey careers of both Forfar and Stacey. Having also called each other teammates at the PWHL and NCAA levels with the Toronto Jr. Aeros and the Ivy League's Dartmouth Big Green, the chance to share in the privilege of wearing the Thunder garb provides a feeling of reunion, while bringing their storied friendship full circle.
Stacey, who possesses a remarkable pedigree, can trace her hockey lineage back to great grandfather, King Clancy. Traded to the Maple Leafs from the Ottawa Senators in October 1930, Clancy would capture a Stanley Cup in his second season with the club. Following a stint as a head coach in the American Hockey League, first, with the Cincinnati Mohawks, followed by winning the Calder Cup with the Pittsburgh Hornets, he would later be involved with the Maple Leafs organization in numerous capacities from 1953, through 1986.
Terry Clancy, who is Stacey's great uncle, also graced the ice for the Maple Leafs, recording 52 appearances during the 1969-70 season. Of note, he would return to the club in 1972-73, appearing in another 32 games. Akin to Stacey, he has also donned the Canadian jersey for international competition, appearing in seven contests for Canada at the 1964 Innsbruck Winter Games.
Serendipitously, the cities where the elder Clancy became a hockey icon would be just as prevalent in Stacey's athletic narrative. Capturing the CWHL Rookie of the Year Award in 2017, the ceremony was held in Ottawa, the same city where Clancy was one of the Senators' instrumental leaders en route to Stanley Cup wins in 1923 and 1927. Fast forward to 2018, and Toronto's Ricoh Coliseum served as the backdrop for Stacey's heroic overtime goal, clinching the Clarkson Cup for the Thunder, its first in franchise history.
Prior to joining the Thunder, Forfar spent two seasons with the Ryerson Rams of the Ontario University Athletics conference, which included a sensational stint as their team captain. Of note, she graced the ice for Rams' home games at the Mattamy Athletics Centre, located inside Maple Leaf Gardens. Completed in 1931, the Gardens captured Smythe's vision as a suitable venue for his Maple Leafs, bringing a true major league presence, and a lasting legacy, to the city, one that Forfar and her fellow Rams have proudly built upon.
Capturing the Marion Hillard Award in her final season, becoming the first player in Rams program history to win a major award, it marked Forfar's crowning achievement with the program. Certainly, her dedication to charitable work not only represents a commendable compassion, enhancing her commendable leadership and maturity, it is an effort that she remains admirably dedicated to as a professional hockey player.
Such assiduous efforts have involved numerous fundraisers in her first season with the Thunder. Following the Celebrity Sports Dinner, Forfar's final home game of the 2018-19 regular season resulted in the annual Do It for Daron (DIFD) fundraiser. With players adorned in stunning purple jerseys, it reinforced the feeling of reward and inspiration, as Forfar participated in a DIFD event during her final season at Ryerson.
"I have continued to align my personal commitment to charity and community service while taking this new journey into the professional hockey realm. I am lucky to be a part of a team that values these charitable events, and I have been able to go to five separate events this season as a way to promote women's hockey and to give back to our local community. I view these various events as an opportunity to inspire even one person, and know that is rewarding enough!"
Erica Howe, who has already left her mark on franchise history, which includes winning the inaugural CHWL All-Star Game, also holds DIFD and other charitable initiatives close to her heart. Along with Jamie Lee Rattray, who have been teammates in the PWHL, NCAA, CWHL and internationally as well, representing one of the greatest pairs of teammates of the decade, both possess an emotional connection to DIFD, which began in their hometown of Ottawa. Of note, their PWHL careers involved skating for the local Lady Senators, playing for head coach (and former Maple Leafs draft pick) Luke Richardson, whose late daughter, Daron, is the individual whom DIFD is named after.
Their standing as hockey humanitarians extended into the opportunity to attend the Celebrity Sports Dinner. While Howe has supplied a remarkable amount of inspiration on and off the ice, always proud to donate her time to worthy causes, there was a reciprocal feeling on this stirring evening. Hearing the stories of the Easter Seals Ambassadors for 2019, Graham Baskin and Madisen Dean, was one that not only raised awareness about the dignified courage that defines the lives of children coping with physical disabilities, it supplied a highpoint.
"It was an incredible opportunity to be part of the Easter Seals Conn Smythe dinner. Being able to give back and be in a room with so many great people who are working together for an exceptional charity was truly an honour.
One of my favourite parts of the dinner was when the 2019 Easter Seals Ambassadors, Graham and Madisen, told their personal stories and shared how much Easter Seals meant to them. They were both very inspiring and great speakers. I could feel how extraordinary the impact that Easter Seals had on their lives through the stories they told."
Currently in high school, Baskin has managed to overcome the obstacles of a speech impediment and motor control issues, enjoying an active role in various facets of school life, including service on the student council. Bestowed the honor of his school's Resiliency Award, he has managed to remain mobile and motivated, while participating in ice sledge hockey and archery. As a side note, Easter Seals has already played a critical role in his young life, as the Foundation kindly contributed towards funding a lift at his residence.
Despite being in chronic pain, riddled with a combination of epilepsy and Osteogenesis Imperfecta, otherwise known as 'Brittle Bone Disease', Madisen Dean has managed to display an academic proficiency. Although attendance is not always an option, many days burdened by agony, unable to rise out of bed, her perseverance is evident through the admirable ability of meeting the commitments of her curriculum. With goals of one day becoming a Child Life Specialist, it displays a remarkable empathy that is testament to her indomitable spirit.
The combined impact of this year's Ambassadors was one that also stood out among the evening's most memorable elements for Purcell. Captivated by their rousing words, there was a flood of emotion among the players. Resulting in a heartfelt compassion that served to cultivate the Thunder's team spirit, the effects were remarkable.
As one of the key initiatives of the Celebrity Sports Dinner aspires to raise funds to help send a child to camp, Purcell was deeply moved by the strong display of altruism. Discussing the dollar amount required in order to send a child for one day of leisure and enjoyment at a camp, the reaction of the Thunder players was one defined by encouragement, augmenting the feeling of pride that Purcell held in their presence.
Although professional players in women's ice hockey earn compensation, it is not yet comparable to a living wage, meaning that some expenses, that perhaps others may take for granted, may not always be within reach. Taking into account that many players are currently engaged in post-graduate studies, juggling part-time work and for some, volunteer coaching, the collaborative effort of raising $1000 not only reflected a spectacular sacrifice, their hearts of gold glowed tremendously, embodying the true meaning of teamwork, and the essence of compassion.
"Once dinner hit, we did not have to sell anymore (tickets) but I was talking with the ladies on how we could more people to buy the $100 (tickets), and if we got nine, I would do the tenth. We never ended up selling any more tickets though, and the event kept getting more emotional.
When the two Easter Seals ambassadors talked, it had most of us in tears. Then, they asked tables to pull together and donate what they could to help send a kid to camp. For every $250, it sends a kid for a day.
As soon as they mentioned it, the ladies said 'We can do that'. I know some of them do not make much money because they are in school. Or work part-time, or train full-time, but they did not care. I would say it took less than a minute for everyone to agree that we can do $1000.
Most tables donated $1000 or $2000, so for these ladies to agree to do $1000, it was awesome! It was the least we could do for having the Easter Seals bring us out and give us a table for the night. It is also a great feeling to give back to such a great organization."
As a first year player with the Thunder, Forfar, who made her professional debut on October 13 against the Worcester Blades also scored her first goal in the same game, finding the back of the net in the third period, as Laura Fortino and Taylor Woods earned the assists. The chance to be participate in the Celebrity Sports Dinner represented an enjoyable season highlight in numerous facets. Finding delight in the opportunity for off-ice bonding, moved by the collaborative effort to raise $1000 simultaneously resulted in tremendous team building.
Reflecting on the undertakings of the evening, it provided Forfar with perspective, enhancing the tremendous appreciation for things that others may take for granted. Understanding the potential benefits that the fund-raising for summer camp may hold for the children who attend, building confidence and self-esteem, it also reinforces her own strong set of values. Emerging from the experience with a combination of both renewed compassion and a more profound enjoyment of life, such privilege took on new meaning upon the discovery that she would be part of Canada's contingent looking to claim the gold medal in women's ice hockey at the 2019 Winter Universiade.
"The Easter Seals event was one of the most special, heartwarming and powerful nights I have had the privilege to attend. Being there with my teammates, we were so moved by the stories being shared by the newest Easter Seals Ambassadors, we could not help but feel inspired to donate to send such deserving children to camp.
We are all very privileged and fortunate to live the successful lives we do, and a lot of us owe that to leadership and growth opportunities provided to us in similar situations in our youth. Personally, I remember summer camp being a time to build confidence, make new friendships, and grow as a young girl which helped me become the woman I am today."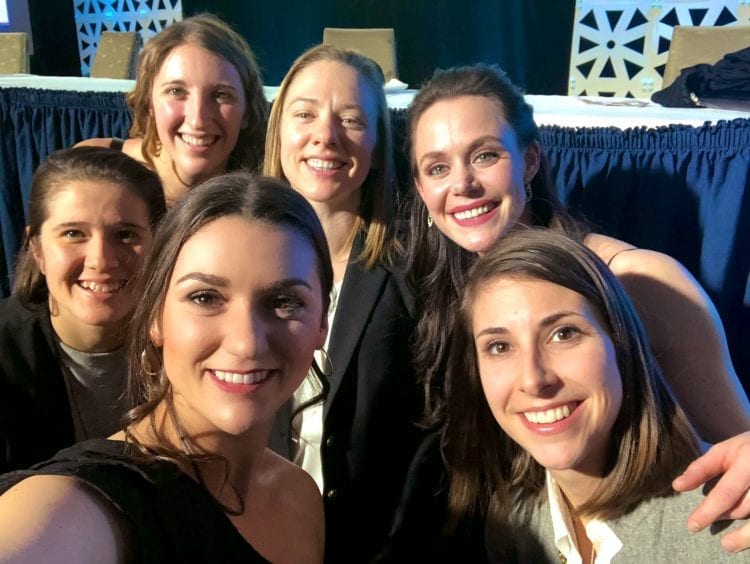 While the raison d'etre of the Celebrity Sports Dinner involves raising funds for the Easter Seals Foundation, one of its hallmarks involves the remarkable number of notable athletes that have lent their time to the cause. In addition to the heroines of hockey, on-hand for the 2019 edition included the highly popular Tessa Virtue, whose Winter Games heroics have transformed her into a household name.
Along with Scott Moir, she captured the gold medal in ice dancing at the 2018 Winter Games, the second of their illustrious careers (the first coming on home soil at Vancouver 2010), cementing their status among the most iconic and adored figure skaters in sporting Canadiana.
Transformed into Canada's sweetheart in the aftermath of the Games, Virtue has undoubtedly become a media favorite. Appearing with Moir on The Ellen Show, she has also guested on The Marilyn Denis Show, later becoming the first Canadian female athlete to gain a product endorsement with Nivea.
As Howe reflected, the opportunity to get acquainted with other icons of sport, especially other accomplished women, stood as a highly enjoyable element of the Celebrity Sports Dinner. Joined by the other members of the Thunder, meeting Virtue demonstrated how even the most accomplished individuals can inspire their peers, supplying a combination of motivation and stimulus, while strengthening friendships,
"It is always amazing to be in a room with so many incredible athletes. Not only were the athletes at the head table great athletes, but they were amazing people as well. I think the way each athlete spoke about Easter Seals was inspiring. I look up to those who were there and I strive to be like them.
To meet a Canadian hero like Tessa Virtue was unbelievable. She is every bit as amazing in person as she seems on television. She spoke beautifully and was so genuine. I was humbled to be a part of an event like that and it is something I will never forget."
"All quotes obtained first hand unless otherwise indicated"
Related Articles