Anya Hafiz was in her second season with the Saint Mary's University of Minnesota women's hockey team when her coach pulled her aside to ask about an email he had received about her. The message, from a woman named Sally Tarabah, asked if Hafiz is of Lebanese descent and if she would be interested in joining the first ever Lebanese women's hockey team.
"Where I'm from [in Minnesota], there's no Arabs, I'm in the minority," said Hafiz. "I was like, there's no way, but I'm interested. And then a couple years later, they scheduled the first meeting and I was like, well let's see what this is about. It was amazing."
Lebanon, a country of 6.1 million located next to Syria and Israel on the Mediterranean Sea, joined the International Ice Hockey Federation (IIHF) as an associate member on September 26 along with Algeria, Columbia, Iran and Uzbekistan. This was a monumental step for the Lebanese Ice Hockey Federation (LIHF), which is aiming to eventually become a full member and have both its men's and women's teams competing in the IIHF World Championship program.
The beginning of the Lebanese women's hockey team
The men's team was established first, and was started in Montreal by Ralph Melki, who is now the LIHF's head coach. The team played its first game as Team Lebanon in the spring of 2017. As for the women's team, it all started with Tarabah.
Tarabah grew up in the hockey hotbed of Detroit as a faithful follower of the Red Wings. While she fell in love with hockey as a kid, she didn't start to play it until she was an adult.
She first got the idea of starting a Lebanese women's hockey team after a trip to Ukraine with her own recreational team. "The people we met told me that [Ukraine] literally just started their own [women's] team," said Tarabah. "They did all the hard work and got the government to recognize them and I thought well, if they can do it, why can't I?"
As she researched what it would take to make this happen, Tarabah discovered the Lebanese men's team, and arranged a conference call with Melki and LIHF President Charles El-Mir, who were immediately on board with the idea and gave Tarabah the go ahead to put together a team.
"Ralph and Charles and the entire LIHF board have been absolutely instrumental in getting the team going," said Tarabah. "We have the board's backing 100% and they don't treat us any different than they treat the men's team. They take us seriously."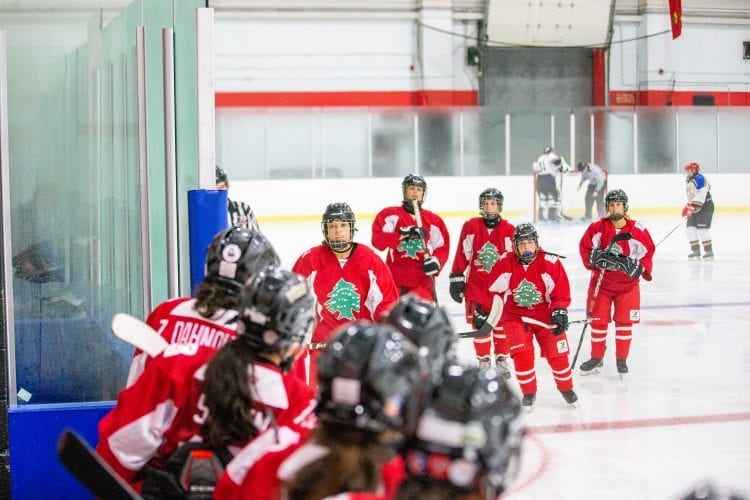 Tarabah scoured NCAA college websites, scanning rosters for players whose names sounded Lebanese. She contacted them through social media and emailed coaches (such as Hafiz's) to ask if they had any players of Lebanese descent. Advertisements for the team's first meeting were put out on social media, which led players such as Claire Ghantous and Nisrene Hannah Darwiche to the team.
"My dad followed the men's team on Facebook because my oldest brother wanted to play," said Ghantous, who plays on the Anaheim Lady Ducks 16AAA team. "He emailed Sally and I went to the first skate, and I've been with them ever since."
"I was in class last November and my mom calls me and is like, do you want to go to the Olympics?" said Darwiche, a second year Midget player with Ottawa's Nepean Girls Hockey Association. "I was like, that's a very odd question, but sure. I didn't really think it was anything serious. Then after our first ice time, I could see how many good girls there were on the ice and I could see that this is going to go somewhere."
That first ice time took place in Montreal last December, with players coming from all across North America to try out.
"I honestly didn't know what to expect, so I just went in there with an open mind," said Ghantous. "I walked in and I was in a room with all these older women, and they were so nice to me and accepting. I was 15 then, and I was just nervous because I knew I was going to be one of the younger players and I would have to prove myself."
Growing the team
The team has since held other camps in Montreal and Ottawa, with their next meeting scheduled for the weekend of December 28-29 in Toronto. Plans are also in place to try to host a future meeting in the United States.
Tarabah and Melki will be continuing to use these weekends as try outs as they work to pool together enough players to have a travelling 'A' team (which Tarabah hopes will be able to compete in the 2021 Asian Winter Games) and a developmental 'B' team. Eventually the LIHF will need to have at least four women's teams in order to fulfill IIHF full member requirements.
"Right now we have a very good strong core, we're just looking for more depth and trying to get the best team possible that's going to represent us on a national scale," said Tarabah. "We're looking for the best talent until we're a full member and we can start trying out for World Championships and work our way up the standings."
There are now about 30 skaters involved in the program between the ages of 16 and 36, but one of the biggest challenges has been finding a goaltender, with the team's two main goalie prospects still being quite young at the ages of 15 and nine.
"I would love more people to hear about [the team] and want to join to the point where when we do have meetings, there's a competition for fighting for spots," said Hafiz.
All of the team's current players were born in North America, but are of Lebanese descent on their father's side, a requirement they need to meet in order to gain Lebanese citizenship (Tarabah is the only one involved in the program who was born in Lebanon). Any new recruits will undoubtedly also be born outside of Lebanon. Ice hockey is an extremely niche sport in the country, and while there is a youth team (the Panthers), there is just one girl on its roster.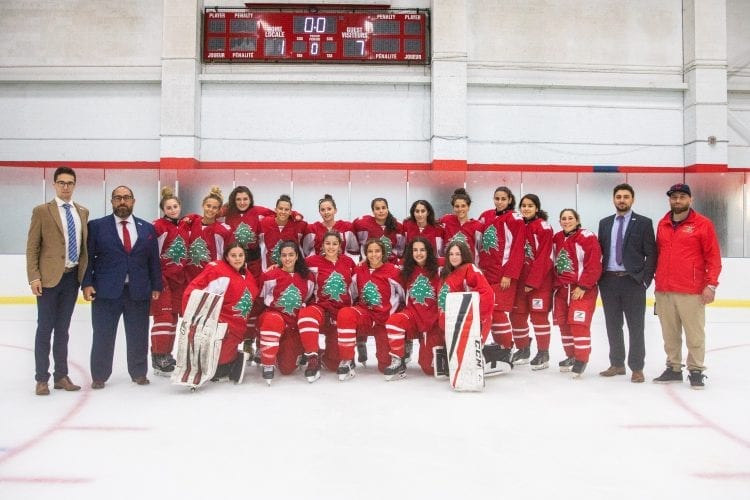 "The way that I look at it is we as immigrants or as children of immigrants or with our ancestors being Lebanese, we're taking our love for ice hockey and we're bringing it to our ancestral homeland and trying to get the best of both worlds," said Tarabah.
It is this merging of two characteristics that all the players on the team share—Lebanese heritage and a passion for hockey—that makes it all worth it.
"Before Team Lebanon I always said I was Lebanese because I look like I'm Lebanese and I definitely act like I'm Lebanese," said Darwiche. "I was raised in a family that taught me to love where I come from and to be proud of it, but then when I joined Team Lebanon, it made me even more proud to be walking around and saying that I'm Lebanese and I'm on Team Lebanon."
More information on the Lebanese women's hockey team and the LIHF can be found at https://www.lebanonicehockey.com/
Photos courtesy of Sally Tarabah and the LIHF.
---
Want to write about hockey?
Related Articles