Comprising part of the leadership heartbeat in an unprecedented run for the prestigious Princeton Tigers, Claire Thompson supplied a series of tangibles that brought her collegiate career to a triumphant climax. Capturing the ECAC postseason tournament title, an historic achievement for the proud Tigers program, Thompson's value was measured beyond qualities such as a strong work ethic, a reassuring smile that reflected a sheer enjoyment for the game, and a solid skill set on the ice.
2019-20 PRINCETON SEASON
Finishing the season with a solid 23 points, capturing the program's Patty Kazmaier Award, given annually to a senior in recognition of their contributions to Tigers hockey, Thompson's haul of hockey hardware included Second-Team All-Ivy and Third-Team All-ECAC, respectively. Further evidence of her strong leadership was attributed to the fact that she was a finalist for the ECAC Mandi Schwartz Student-Athlete of the Year.
Graduating with 87 career points, Thompson became only the second blueliner since 2007 to reach that statistical plateau in Tigers lore. Sharing the milestone with Kelsey Koelzer, a former first overall pick in the NWHL Draft, it places her in elite company.
Our next team award, the Patty Kazmaier Award, is given to a senior who has made the greatest contribution to the program during her career with loyalty, devotion, determination and perseverance, goes to senior Claire Thompson!
Back tomorrow at 10 a.m. ET with our final award! pic.twitter.com/xiOj27Uqto

— Princeton Hockey (@PWIH) May 11, 2020
From a statistical perspective, the Tigers enjoyed a superlative 13-2-1 mark where Thompson recorded at least one point. Perhaps no point was as cherished as the goal scored versus the Syracuse Orange at Hobey Baker Rink on October 26, 2019. As Thompson and Carly Bullock, were each skating in their 100th game as Tigers, both scored against the visiting Orange, part of a convincing 3-0 win that saw goaltender, and fellow senior, Stephanie Neatby, pick up her first shutout of the season.
REFLECTING ON HER PRINCETON TIGERS CAREER
Players like Thompson, Fillier and Bullock would later make their collective presence on a highly meaningful day. With Senior Night resulting in a highly exhilarating 4-1 triumph over their fellow Ivy League rivals, the Yale Bulldogs, a 22nd victory, which tied a program record (broken later) for most wins in one season.
Undoubtedly, the opportunity for a graduating competitor such as Thompson to record a point on Senior Night brought with it a feeling of serendipity, accentuating a proud career. Although the postseason meant that games remained on the Tigers sporting calendar, it prolonged the inevitable closure of Thompson's university experience: Senior Night provided an opportunity for reflection, finding a second family in her fellow teammates.
"Heading into Senior night was bittersweet for me. It was an emotional night because it was the first real signal to me that my college experience was coming to an end, however, at that point in the season I knew we still had lots of hockey so I knew it was not time to get sad and nostalgic just yet.
"In response to what I enjoyed most about playing with the Tigers, I think it would be almost impossible for me to pick just one thing; however, I believe something that is extremely unique to PWIH is our culture of our team and the people. PWIH is really more like a family than a team—I think the love and respect that my teammates have for each other makes being a part of the program such an incredible experience."
Among all the unforgettable experiences in Thompson's senior season, her playmaking abilities shone brightly during an exhibition contest against a group of PWHPA All-Stars on December 1, 2019. After an opening period with no goals, Thompson and Sharon Frankel collaborated and earned the assists on a goal scored by Fillier at 1:17 in the second to break the scoreless deadlock, eventually prevailing by a 2-1 tally.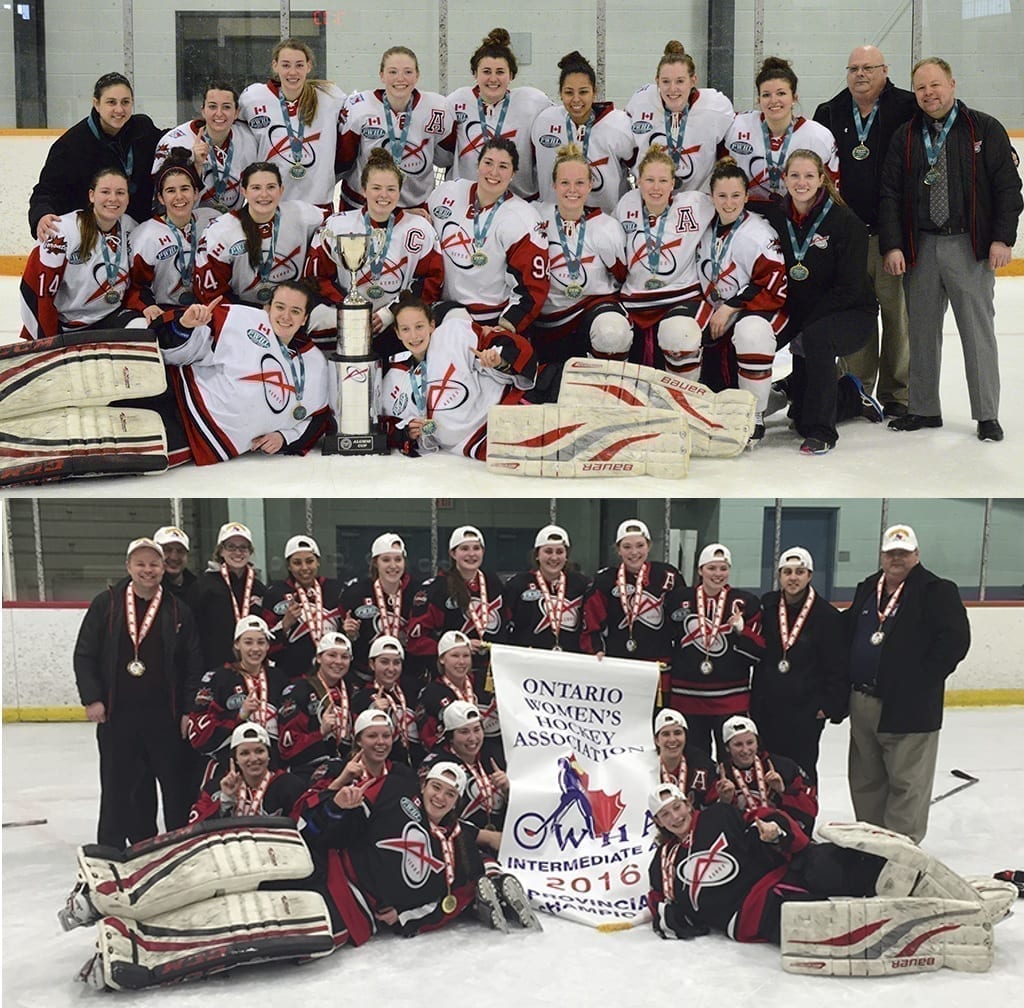 Having been teammates prior to wearing Princeton's trademark orange and black, the distinguished duo of Thompson and Neatby shared in many monumental milestones during their formative years. Both raised in the Greater Toronto Area, their collaborative efforts date as far back as 2005, capturing a provincial championship at the Novice C level as youngsters.
Including a sterling run of dominance during their teens with the powerful Toronto Jr. Aeros in PWHL play, both were essential in a landmark 2015-16 season. With the Jr. Aeros winning championships at both, the PWHL (defeating Mississauga by a 4-0 score) and OWHA (blanking Oakville in a 1-0 final), Thompson, serving in the capacity of assistant captain, appeared in 11 playoff games.
"Interestingly enough, I have known Steph and played either hockey or lacrosse with her every single year of my life—she is one of my best friends. We actually won the "Novice C" Ontario provincial championships in 2005 together, which is crazy.
I am so grateful that I got to share my Princeton experience with her. Our college lives have had their ups and downs, but it was always comforting knowing that she was always nearby."
HOCKEY CANADA EXPERIENCE
Our Sarah Fillier and Claire Thompson were among the selections to @HockeyCanada's entry in the 2020 World Championships: 🇨🇦 https://t.co/GcnnS5jLPu pic.twitter.com/SqLw5J9CZp

— Princeton Hockey (@PWIH) March 11, 2020
Just as relevant in Thompson's time with the Tigers involved another prodigious talent from Ontario. Having been bestowed the honor of the captaincy for the 2020-21 season, Sarah Fillier, raised in the community of Georgetown, shared in another significant achievement. Fillier joined Thompson among the talented competitors named to Canada's contingent for the 2020 IIHF Women's World Championships in Halifax, Nova Scotia.
Starting in August 2019, Thompson and Fillier attended Hockey Canada National Women's Development Team Selection Camp. Merely three months later, a two-game series versus the United States in Cranberry Township, Pennsylvania, saw the two wearing the Maple Leaf. Sweeping their American rivals, prevailing by a cumulative score of 9-4, Thompson would log a point in the November 10 affair.
Certainly, the 2020 IIHF Women's Worlds held the potential to represent a new summit for Thompson. Taking into account that Canada has not won a gold medal at the IIHF level since the 2012 edition, contested in Burlington, Vermont, the prospect of competing in Halifax supplied a strong emotional component.
In spite of the fact that both the 2020 NCAA Tournament, and IIHF Women's Worlds, were cancelled, the fact that Thompson and Fillier would have been competitors in both, is testament to their tremendous talents, showing potential to retain their superstar status past their Princeton years. Discussing the path shared alongside Fillier, the context of mutual respect and admiration demonstrated more than a touch of class, but a commendable display of strong teamwork skills, one which makes Thompon a prized asset on any team that she plays for.
"Making the 2020 Worlds team was a complete honour and quite honestly came as a bit of a shock to me. Having only played two games with the Senior team I thought it was unlikely that they would take me given how little experience I had. Although Sarah is younger than me, she has far more experience at Hockey Canada than I do, so it has been nice having her at the different camps and such to look to."
ECAC CHAMPIONSHIP
The Second von Kienbusch Award Finalist: Claire Thompson

🟠: Two-Time All-ECAC Selection

⚫️: Three-Time All-Ivy Selection

🟠: No. 5 All-Time In @PWIH Scoring (87 Points)

⚫️: Helped Team To First ECAC Championship In 2019-20 & Two NCAA Berths pic.twitter.com/L9rFD58LWU

— Princeton Tigers (@PUTIGERS) May 19, 2020
Finishing her Princeton career with the ECAC postseason championship, an exciting first for the proud program, it allowed Thompson the rare privilege of having won the final game of her university career, a 3-2 road final versus the number-one ranked Cornell Big Red. On the road to the championship, she would score points in each of Princeton's first-round games versus the Quinnipiac Bobcats, her final NCAA goal taking place in the deciding victory on March 1.
Joining Bullock and Fillier, who was also ECAC Tournament MVP, with spots on the ECAC All Tournament team, it supplied both surprise and achievement for a jubilant Thompson. The crowing touch to a magical playoff run, the honor simultaneously brought Thompson's season full circle. During the month of September, she was named to the conference's Pre-Season All-League team, recognition that certainly set the tone for a season that propelled her into the mythos of Princeton Tigers hockey greats.
"Looking back on everything it was honestly incredible to finish my college career on such a high! Reflecting (on this), while I am obviously still sad about not being able to participate in the National Tournament this year, there are few college graduates who get to say they won their last college game, and for that I am very grateful!
I honestly had no idea I made the all-tournament team until reading this, but I think that is a testament to how solid our team was from top to bottom this year. I had the incredible opportunity to play in the ECAC tournament alongside four extremely talented young defenders, and this recognition would not have happened without them."
Featured image by Shelley M. Szwast
Related Articles