A third generation player, whose father Scott, played for three NHL teams, including Hartford, New Jersey and Philadelphia, while her grandfather played while attending St Michael's residential school in Duck Lake, Sydney Daniels possesses her own impressive hockey resume. Highlighted by the honor of wearing the Stars and Stripes for the United States U18 National Team at the 2011 and 2012 IIHF U18 Women's Worlds, Daniels logged 87 career points for the Harvard Crimson. Serving as team captain in 2016-17, the All-Ivy League selection would graduate to the professional ranks, suiting up for the Boston Pride for the 2017-18 NWHL season.
Raised in Southwick, Massachusetts, Daniels heritage includes a proud Indigenous lineage with the Mistawasis First Nation. As a dual citizen, Saskatchewan has proven a second home in her hockey odyssey. In 2011, a teenage Daniels enjoyed the milestone of a gold medal at the National Aboriginal Youth Championships.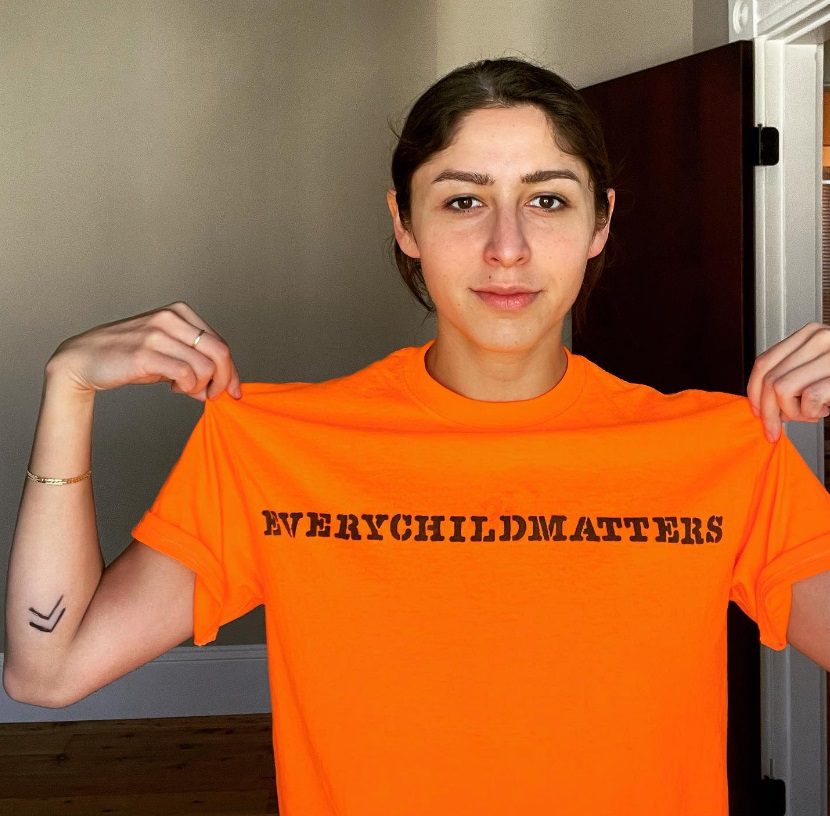 Alongside three of her cousins, Daniels called them teammates in the 2021 men's Chief Thunderstick tournament, unified in honoring their heritage, garbed in the Mistawasis Warriors jersey.
Rekindling fond memories of her youth, precious moments enjoyed with stick in hand at her grandfather's farm in the village of Leask, Saskatchewan, it proved fertile ground for hockey dreams. Worth noting, hockey provided a lifeline for her grandfather. With stick in hand, the ice represented an atmosphere of safety and diversion, hope for life after residential school. Passing his love of the game to his daughter and five sons, providing instruction while shaping a strong set of values, the experience provided a wellspring of enjoyment.
Among her cousins, Colby, whose competitive journey includes time spent with Westfield State University and UNLV (Nevada-Las Vegas), enjoyed a Sask Valley Hockey League title in 2017 with the Eston Ramblers. Both sharing ambitious dreams, aspiring to be pro teammates, the opportunity to play in the Chief Thunderstick tournament took on a more profound meaning.
Enjoying a seminal moment, the realization of playing for something more profound than the final score, the impact of heritage and culture overwhelmed Sydney. Allowing for a shared sense of victory among all participants, the rink took on a spiritual aura, conveying friendship, belonging and happiness.
In the aftermath of the event, teamwork continued for these proud cousins. Both instructors at a hockey school/camp held during August 2021 in Warman, Saskatchewan, geared towards Indigenous youth, their efforts admirably ensured all participants received new gear for the season.

"Last year, I believe I was the only female to play in the Men's Chief Thunderstick tournament and I was able to represent my First Nation, Mistawasis Nêhiyawak, alongside three of my cousins, Colby, Chase, and Jay Daniels.
The entire experience felt so surreal and nostalgic. Growing up, my cousins and I would always be playing ball hockey or knee hockey on Grandfather's farm in Leask.
Colby and I were convinced that we would make the NHL together (more specifically, the Montreal Canadiens). As time went on, that dream took a backseat to the individual successes we were finding in each of our own hockey careers.
Yet, when I pulled the Mistawasis Warriors jersey over my head for the first time and hopped on the ice for warm ups, I looked around and found Colby's eyes.
Instantly, we knew that the opportunity we had in front of us was far more meaningful and powerful than our Montreal dreams. We did not win the tournament, but we left the rink feeling so grateful for the experience."

Gaining the opportunity to build on her previous experience, the 2022 edition of the Chief Thunderstick tournament provided an exciting brush with history. Participating in a groundbreaking event, the first-ever women's tournament, it signified an exceptional chapter for female sport in Canada.
Worth noting, the event allowed Daniels to build on the momentum of another notable milestone from earlier in the season. Currently serving in a coaching capacity with the Harvard Crimson, the squad captured the prestigious Beanpot championship, their first since 2015. Defeating Boston College by a 5-4 mark, as Becca Gilmore logged the game winning tally, Daniels is among a rare group to have won the Beanpot as player and coach.

With the opportunity to don the jersey of Mistawasis Sage Strong, wearing the number 42, it extended her family's hockey lineage. A number worn by her grandfather, it was also worn by her father throughout various facets of his career. As a member of Sage Strong, Daniels belonged to a celebrated roster. In addition to Brigette Lacquette, who served as an essential catalyst in making the women's event a reality, plus IIHF champions Jocelyne Larocque and Victoria Bach also skated for Sage Strong. 
Of note, Daniels was not the only American born player on the roster. Following up on her appearance at the Beijing Winter Games, Abby Roque, the first American Indigenous woman to appear on the cover of Sports Illustrated, added to the sparkling star power on-hand.
"This year, being able to compete in the First Women's Tournament at Chief Thunderstick was such an incredible experience. Indigenous Women hockey players were finally given the opportunity to showcase their skill and talent in a major tournament and certainly did not disappoint."
SageStrong, featuring Robin Daniels as team manager, emerged with the inaugural championship, earning a revered place in tournament lore. Besting the Cross Lake Lady Islanders, led by Kayla Gardner, in a 4-3 final, the overall quality of the talent, resulting in many thrilling contests, proved just as relevant for Daniels.
Worth noting, the Wiikwemkoong T-Birds, featuring former NHLer Ted Nolan as head coach, also featured a formidable roster. With PHF players Kelly Babstock and Kristen Barbara, plus Marion Hilliard Award winner Jana Headrick on the roster, their collective efforts resulted in a third place finish.
Observing how the success of the tournament, and the possibility of many young girls inspired to take stick in hand, represents the greatest victory. Proud to have played a role in such a poignant tournament, Daniels highly commendable candor embodies the spirit of the event, one poised to grow, holding a treasured place in the hearts of its participants,
"The amount of excitement that was in the air at every women's game was nearly palpable. Visibility is incredibly important in sport. And having a Women's division gives our youth validation that people care and get excited about women's hockey and hopefully, it gives them the inspiration that they too can one day compete at the Chief Thunderstick Tournament.
Yes, one team ended up with the big trophy, however, I truly do believe that the biggest win was the collective opportunity to showcase just how good women's hockey truly is."
"All quotes obtained first hand unless otherwise indicated"
In this article:
#FirstNationHockey
,
#IIHF
,
#inclusion
,
#IndigenousAthletes
,
#IndigenousWomensHockey
,
#NWHL
,
#PHF
,
#UniversityHockey
,
#WomenInSport
,
#Womenshockey
,
#WomensWorlds
,
grow the game
,
Hockey
Related Articles