Having established herself as the Iron Woman of York Lions women's ice hockey, Chelsea Tucker's combination of determination and drive also enabled her to be one of the program's cornerstones. Raised in Alliston, Ontario, located approximately 100 miles north of the York University campus, Tucker, who spent two seasons with the PWHL's Barrie Sharks, including a stint as assistant captain, joined the Lions with Sharks teammate Justine Treadwell in 2014, never missing a game over the course of five seasons.
As a freshman, Tucker made an immediate impact, racking up 24 appearances as the milestone of her first career goal also resulted in the game-winning tally, defeating the Ontario Institute of Technology Ridgebacks. By season's end, the psychology major would enjoy her first season of recognition as an Academic All-Canadian.
Following it up in her sophomore season by leading the team in scoring, while also pacing all Lions skaters in assists, consistency would quickly emerge as a key theme for Tucker. Once again appearing in all 24 games, her assiduous level of commitment was just as impressive off the ice. Earning a second straight honor as an Academic All-Canadian, it proved to be one of the hallmarks in her Lions career, foreshadowing a revered run that resulted in earning the honor in all five of her seasons with the Lions.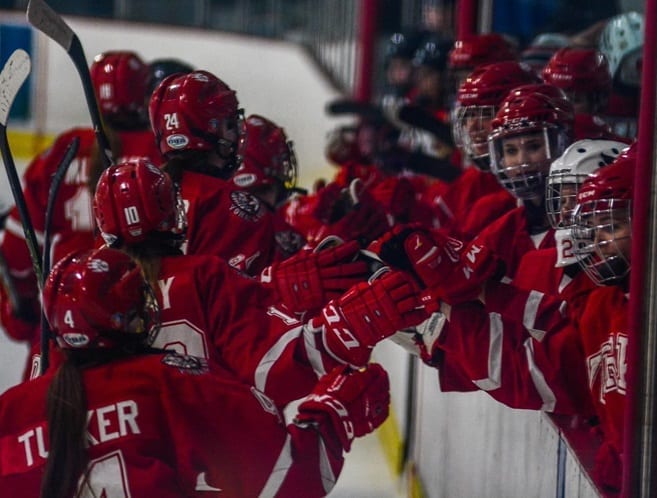 "Achieving Academic All-Canadian status in each of my five years at York while also playing on the varsity Women's Hockey Team is something that I am always going to be proud of having accomplished.
Being on the team really does involve a significant commitment in terms of the amount of time you have to be available for games, practices, workouts and team meetings, as well as volunteer initiatives our team was involved in. It does take a bit of a juggling act to keep on top of your studies at the same time so doing well was very exciting for me."
Just as prevalent in Tucker's athletic odyssey with the Lions was the fact that she never missed a game in five seasons of play. With an element of durability and determination, Tucker's constant presence at the rink was a tremendous source of inspiration for her fellow Lions, emerging as a model teammate, providing the coaching staff with a dependable leader.
Undoubtedly, the expanding consecutive games streak over the seasons not only burnished her standing as one of the university's most admirable student-athletes, it simultaneously enriched the lore of the Lions athletic community during this decade. Feeling a tremendous source of pride in reflecting on one of the high points of her competitive career, another key theme of the streak involves one of gratitude, from the privilege of donning the Lions paraphernalia, to the endorsement of her abilities to contribute,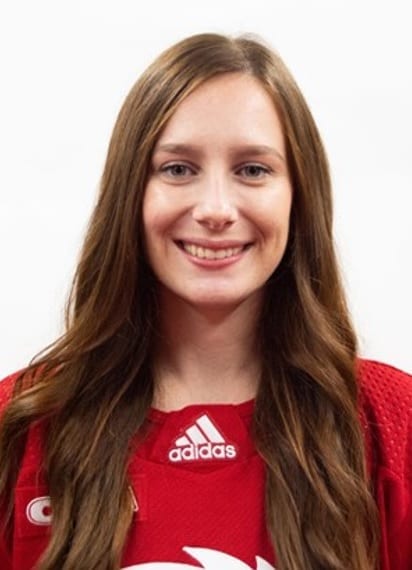 "I am definitely very proud of having played in every game the York Lions played during my time on the team. I love playing hockey so there was not much that was going to keep me away from the arena if it was game time. It was also great to know that the coaching staff had confidence in me as a player and believed that I would work hard and be consistent from game to game."
This season, Tucker's first point would take place on home ice as a November 9, 2018 tilt versus the visiting Windsor Lancers, gaining an assist on the first goal, scored by Christina Chin at the 5:01 mark of the first frame, part of a convincing 6-1 final. The following day, she logged her first goal of the season, assembling a mini scoring streak, providing the Lions with a second period lead versus the Nipissing Lakers, a valiant effort in a 3-2 shootout loss.
Early in the New Year, Tucker found the back of the net in a January 11 road affair versus the Waterloo Warriors. Scoring against Alysha Letwin at 18:23 of the second stanza, with fellow senior Tegan Duncan earning the assist, the last goal of the game in a 4-1 victory. In spite of the fact that it would prove to be the last goal in Tucker's U SPORTS career, it would also provide momentum leading up to another rite of passage in her run with the Lions.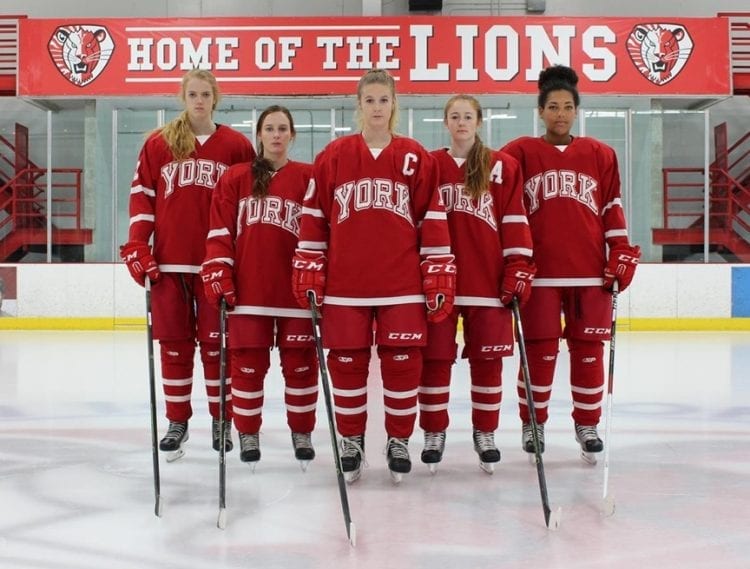 Part of a senior class that included fellow blueliners Jenna Gray, also the team captain, and Cynthia St-Cyr, joined by forwards Tegan Duncan and Steffei Samuel, the opportunity to celebrate their careers took place February 16, 2019 with a Saturday night contest against the Laurentian Voyageurs. Joined by family for a pre-game Senior Night ceremony on-ice, the sentiments of sincerity and appreciation were most prevalent, testament to the program's standing as a tight-knit unit.
Overwhelmed by the kindness of her teammates, amicably displaying their thankfulness at the guidance and friendship that Tucker and her fellow seniors brought to the rink on a daily basis, it only added to the emotions of a commemorative evening. Despite the visceral realization that Tucker had reached a denouement as a Lion, the unavoidable closure of a highly memorable chapter reaching its finality, expected yet arduous to initially process, the theme of celebration was an invaluable comfort,
"That night I felt a mix of emotions. On the one hand, I was excited to be honoured on home ice in front of my family and friends. Yet, when I showed up at the rink and I was greeted by my teammates, who had gone above and beyond, to show us seniors that we had been an important part of the team and that they were going to miss us. It really hit home that my time as a Lion was over and it was tough. There were definitely a lot of hugs and tears, that's for sure."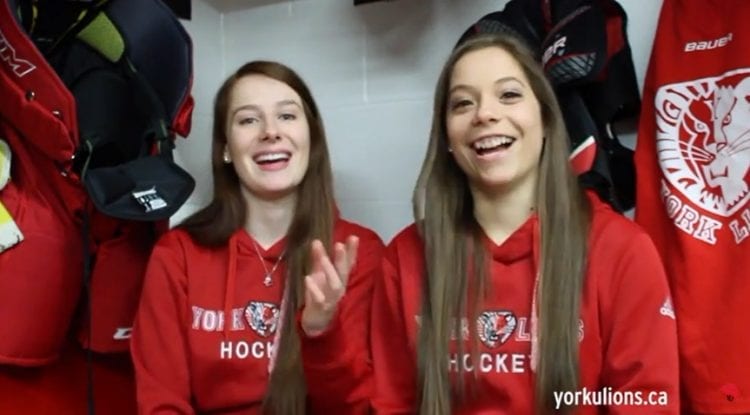 Ruminating fondly on five seasons spent in Lions red, discussing facets which shall be missed most, a philosophical approach encompasses a remarkable wisdom on the part of Tucker. While the bonds of friendship with numerous teammates are destined to continue, there is another undeniable aspect of varsity sport that serves as a defining feature.
The obligatory, and physically demanding, element of committing to an exercise regime, preparation for the on-ice wars to come, complemented the equally demanding yet highly cerebral responsibilities of classroom work, there was a source of contentment for Tucker. Finding stimulus in the midst of such taxing challenges, it propelled her towards achieving her ambitions, allowing for a foundation that shaped her character, enabling her to be an ideal teammate and role model,
"It is hard to say what I will miss most about playing for the Lions. I am extremely grateful for all of the friendships that I have made and that I will continue to have when I leave York for good at the end of the school year.
On the other hand, if I had to choose one thing that I will miss the most, it is probably the hard work on and off the ice that I had to put in every single day. It really does make you a stronger person in so many ways. Being a student-athlete requires you to embrace the grind and that is something I will truly miss as a York Lion. It is very sad to leave, but in the end, it is inevitable for everyone."
"All quotes obtained first hand unless otherwise indicated"
Related Articles