Following the Western Mustangs hoisting the Golden Path Trophy for the first time at the 2015 U SPORTS women's national ice hockey championships, their freshman class featured an exciting young talent from nearby St. Mary's, Ontario, who was destined to bring an excitement to a proud program, maintaining its on-ice brilliance. Part of a freshman class, which included Claire Balas, Kennedy Dirk, Dana Bryce, Edie and Evra Levesque, Catherine O'Connor and Rachel Raffard, April Clark (who previously starred for the PWHL's Bluewater Hawks and London Devilettes) became part of an expanding legacy of hockey heroines hailing from southwestern Ontario.
Making her Mustangs debut on October 3, 2015, a 3-0 loss to Guelph, Clark, a nursing major, quickly evolved from ingénue to program cornerstone. The journey was made greater as the feeling of home ice advantage at Thompson Arena was enhanced by the proud presence of her family in the stands, making the 43 km trek from St. Mary's, providing Clark with a heightened sense of inspiration,
"It is an honor to have my family at the games. They are so supportive and it is nice to have them in the stands."
Amassing 35 points in her first two seasons of Mustangs hockey, Clark established herself as one of the OUA's top snipers during a solid 2017-18 season. Finishing as one of the OUA's top goal scorers, culminating in recognition as OUA Second Team All-Stars, along with teammate Emma Pearson, such achievements were merely prologue.
Taking on the persona of superstar during a highly eventful 2018-19 campaign, Clark earned the prestige of being named a First Team All-Canadian. Recognized with the honour at the 2019 U SPORTS Nationals Awards Banquet in Charlottetown, Prince Edward Island, she was the only OUA player to gain such recognition.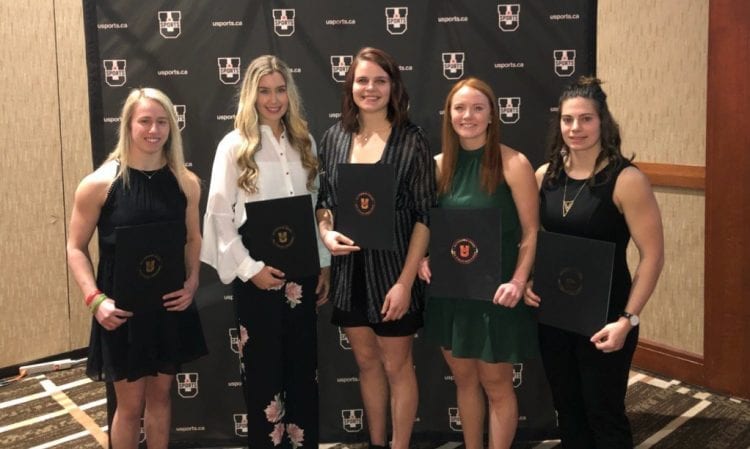 Part of a distinguished group of star power that included the likes of fellow All-Canadians Jessica Cormier (Montreal), Lindsey Donovan (St. Francis Xavier), Tory Micklash (UBC), Erica Rieder (Manitoba) and Alex Poznikoff (Alberta), Clark was accompanied by her head coach, Candice Moxley, who were both on hand to witness the unfolding drama from the 2019 U SPORTS women's ice hockey national championships. Seeing other teams play, rather than the Mustangs, was a high source of motivation for Clark. Considering that the 2019-20 season shall mark her fifth and final season in Mustangs purple, she is highly keen on accomplishing the goal of returning to Nationals in 2020,
"Honestly, it was such an honour. There are so many great players in this league and I am very humble about it. I remember I went there (to receive the All-Canadian honor at Nationals) with my coach, and we watched all the games. I hated being there without my team (on the ice)."
Ranking first in the Ontario University Athletics (OUA) conference in goals scored during Clark's magical 2018-19 season, which also led U SPORTS, emerging as an offensive juggernaut, she became the focal point for the highly competitive University of Western Ontario Mustangs. Adding the OUA scoring title, Clark made it a clean sweep with other conference honors including OUA Player of the Year, Forward of the Year and First Team All-Star. Such an amazing list of achievements gained greater relevance as the London Sports Celebrity Dinner also recognized Clark as Western's Female Athlete-of-the-Year Award winner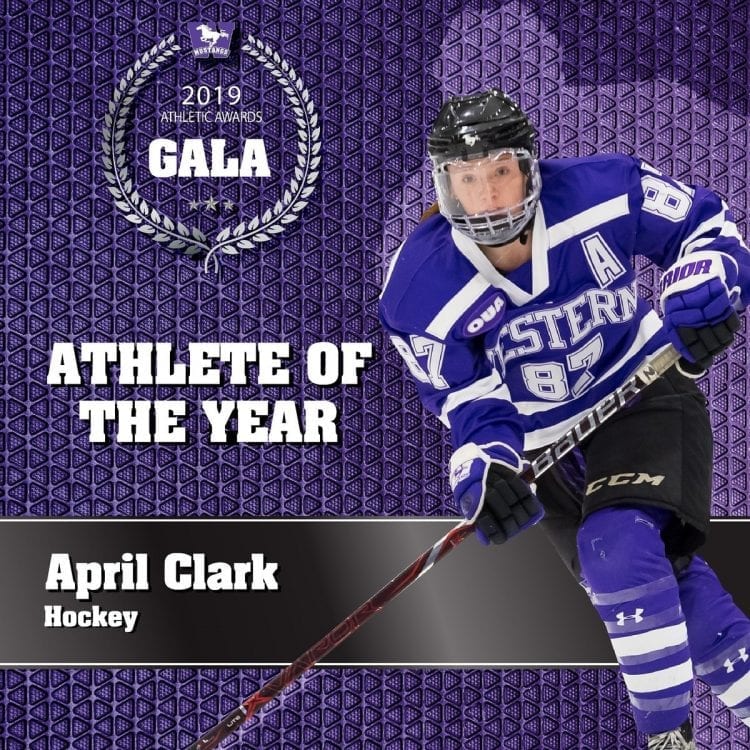 Impressively, the Mustangs were 14-4 when Clark logged at least one point during the 2018-19 season. Starting the season with eight points in her first three games, highlighted by a four-point output in a 5-3 victory versus the Toronto Lady Blues on October 27, 2018, she enjoyed a seven-game scoring streak from November 23 to January 13, posting 14 points.
Following the first two games of said streak, which consisted of Clark starting on November 23 with two goals in a 4-3 home loss to the Brock Badgers, the following day, Clark was instrumental in a 4-0 blanking of the visiting Ryerson Rams, logging two goals and an assist. For her efforts, Clark was recognized as the Mustangs' Athlete of the Week (awarded on November 26).
Building on the momentum of such an honor, Clark achieved a highly memorable milestone, recording the first hat trick of her celebrated Mustangs career. Hosting the Laurentian Voyageurs on January 12, a 6-0 triumph began with April Clark scoring the first three goals of the game, gaining a natural hat trick.
Opening the scoring at the 4:39 mark of the first period, Clark would have to wait until 3:37 of the second period to score the next goal, capitalizing on a power play opportunity as Evra Levesque and Beatrice Arseneault Dufour earned the assists. Merely 67 seconds later, Clark completed the hat trick with an unassisted goal, already putting the game out of reach for the Voyageurs. With second period goals by Rachel Armstrong and Anthea Lasis (whose younger sister Carmen Lasis was the starting goaltender in the match), plus another marker by Armstrong in the third resulted in a 6-0 final, allowing the Mustangs their biggest margin of victory all season.
"Everything went well for me last year but I owe it all to my teammates. I could not have achieved any of this without them. Last season, I also got my first hat trick in a game against Laurentian. To do it at home was extra special."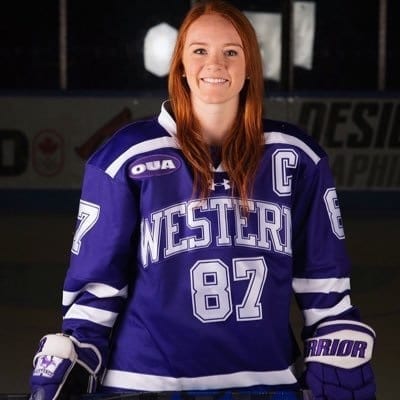 Just as special was Clark's sensational postseason heroics during a compelling 2017-18 season. Gaining an assist in a crucial semi-final contest against archrival Guelph, which required double overtime to win, Clark logged a multi-point performance in the McCaw Cup Finals. Taking place on the road versus the Queen's Golden Gaels, Clark registered assists in the second and third period, capturing the crown in a 3-0 shutout as Carmen Lasis made 28 saves.
Having last appeared at Nationals in 2016, the return two seasons later marked a treasured high point for the highly skilled Clark. With the University of Western Ontario serving as host venue, home ice advantage certainly took on a much more special relevance. In addition to winning the McCaw Cup for the first time in her Mustangs career, Clark was among the catalysts that propelled the hosts into the national championship game.
After defeating Les Carabins de Montreal in the opening round, Clark scored one of the most emotional goals on Mustangs home ice, recording a power play goal at 5:06 of the second period, to tie the contest against the Saskatchewan Huskies on St Patrick's Day. Followed by Alyssa Chiarello also capitalizing on the power play in the second, Lasis stopped nine shots in the third period, as they defeated the Saskatchewan Huskies by a 2-1 mark in the semi-finals, allowing the Mustangs the opportunity to grace the ice for one of the premier events of Canadian female hockey.
Challenging the University of Manitoba Bisons in the national championship game, the result may not have been as expected, with the Mustangs unable to score in a highly visceral 2-0 final, Clark observes the bigger picture. Proud to have been able to participate on home ice for the duration of the tournament, the number of junior teams in attendance not only indicated a positive future for the game, it emphasized the opportunity to supply such young players with role models. Certainly, one of the legacies of the event shall be the awareness raised about girls and women's hockey in London, Ontario, made much richer by the presence of Clark and her fellow Mustangs.
"It was great. It meant a lot for girls' hockey in London. To grow the game in the community was amazing. Players from the Devilettes (PWHL), where I once played, and my family in London, all came.
Following the postseason in 2018 and 2019, Clark gained celebrated status as a U SPORTS All-Star. Skating for a team comprised of U SPORTS All-Stars at the Markin MacPhail Centre in Calgary, Alberta, the summer of 2018 and 2019 saw this gathering of university elites skate at Hockey Canada's U22/National Development Team Selection Camp.
Donning the U SPORTS jersey, competing against world-class talent, Clark and her fellow All-Stars were highly worthy of such distinction. Following an exciting 2018 camp, which U SPORTS finished in first place, including Clark recording a multi-point performance in a 8-0 whitewash over Team Japan, Clark definitely approached 2019 with a combination of enthusiasm and assurance.
At the 2019 edition, Clark was among five Ontario players, joined by Erika Crouse (Ryerson Rams), Brooklyn Gemmill (Ryerson Rams), Erin Locke (York Lions) and Alex Woods (St. Francis Xavier X-Women). With fellow All-Canadians Lindsey Donovan and Alex Poznikoff on the 2019 roster, who along with Clark and Woods also participated at the 2018 edition, games were not only played against a pair of rosters (Team Gold and Team Red) from Canada's Under-22/Development Team, but an international flavor was prevalent. The national women's ice hockey teams from France, Japan and Russia were also on-hand.
Appearing in five games for the U SPORTS All-Stars, Clark would record two points, with the All-Stars winning two games, while two of their losses, both identical 4-3 losses took place in overtime (vs Team Red on August 9 and vs Japan on August 10). In the August 7 affair versus France, Clark scored the first goal of the game, with Autumn MacDougall, a forward from the University of Alberta earned the assist. Although France would score in the third, trimming Canada's lead to a 2-1 margin, that would prove to be the final score. The following day, Clark would gain an assist on a goal by Concordia's Audrey Belzile in a 5-3 loss on August 8 versus Team Gold.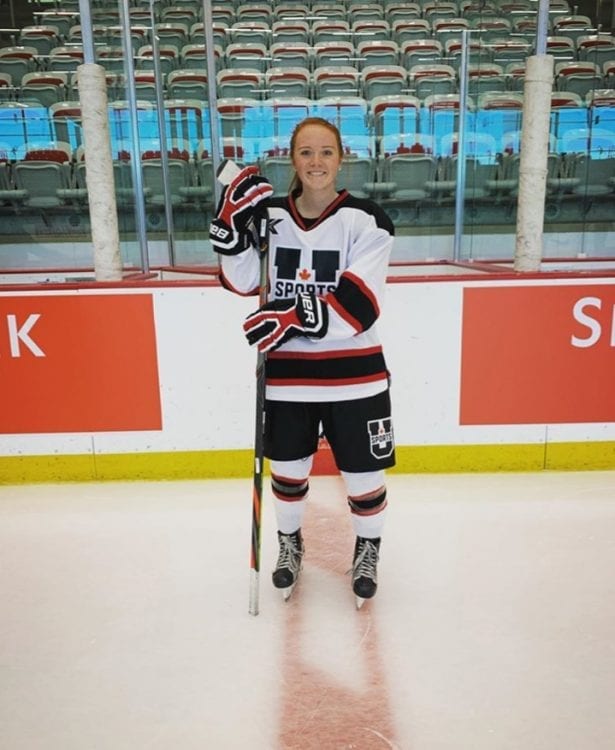 "This was my second summer at the camp. There were national teams from France, Japan and Russia along with a pair of Team Canada rosters. It was just a real honour as there are so many great girls in U SPORTS. It could have been anyone.
I definitely had more confidence coming into the 2019 camp. It was a great experience. Teaming up with some players from the OUA (on the All-Star Team), to play against the best players in the country, it was great."
"All quotes obtained first hand unless otherwise indicated"
Featured image obtained from Western Women's Hockey
Related Articles