There is a saying that you are never too old to go for your dreams and Lisa Miller is a living example of doing just that. On her 50th birthday, Miller decided it was time to finally try ice hockey for the
first time. 
"Hockey wasn't watched in my parents home and it just seemed like something that was only for white guys," Miller stated. "So I guess I just decided to do something that I had loved to do (skate), with something (hockey) that always seemed so foreign to me."
By combining her love of roller skating with a sport that she was unfamiliar with, her curiosity remained sparked yet she wouldn't hit the ice until later in her life. Unfortunately, one of the main reasons for delaying joining ice hockey was due to fear and lack of diversity within the sport.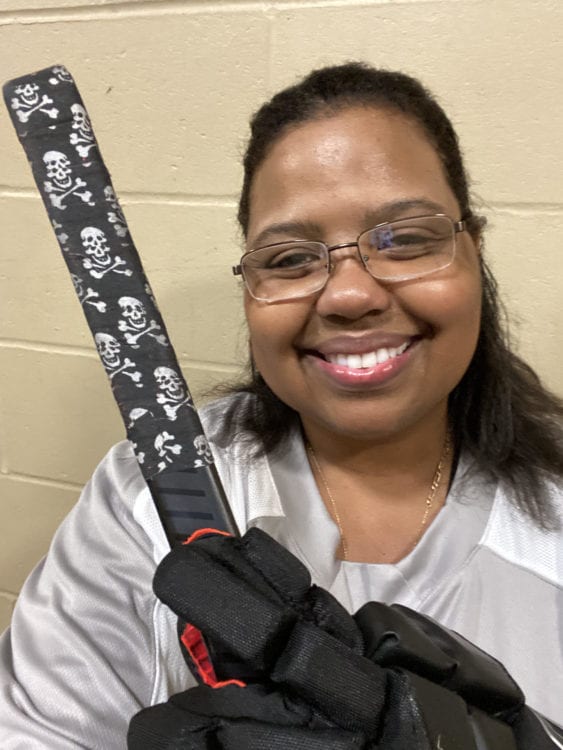 Lisa Miller about to hit the ice at her local rink
"My biggest obstacle to anything I've wanted to do has always been myself unfortunately, i am truly my own worst enemy. I don't know if its true for most women, but we are all stretched so thin and trying to kill it on so many fronts, that my inner voice is constantly saying to me 'why bother' […]I also did think I was going to be the odd one out in this program, and I am.  I am the only black person in my class of 30 ish people.  Most of the other women seem to know each other, through their kids or otherwise, but truthfully I've become very used to being the only black person in many situations."
The Hannibal, Missouri native has not only been attending "Learn To Play" sessions in St. Louis called Winterland Hockey, she also participates in private lessons and other skating sessions as well.
Her hard work on the ice has allowed her to live out her lifelong dream but she hopes to join an adult women's recreational team in 2022.
"I have a friend that plays for one and would like to join. What's crazy is that if I hadn't met this woman, I still don't think I would've tried hockey. She's inspired me like the comments I have received from my TikTok."
For anyone out there who has always wanted to try hockey but was too afraid, Miller has some advice:
"My advice to someone would be to not let your fears dictate your actions, which i know is easier said than done. Now you can easily look online and find common interest groups and times for classes.  I also wish I would've started a regular stretching routine previous to joining,  that will help with your back and legs. Don't let the years slip by because you're trying to find the perfect amount of time, the right amount of money, because it doesn't exist."
Miller has dealt with significant loss and heartache in the past two years when she lost her brother in 2019 and then her mother at the end of 2020. During that time, she realized the importance of living life to the fullest, going after your goals and following your heart. With her positive attitude and willingness to put herself out there to improve her skating and skills, she will no doubt be ready to play for her first team in 2022.
Related Articles