Among the most revered and accomplished women in professional hockey, Jillian Dempsey is a generational talent whose achievements tug at the heartstrings of New England hockey enthusiasts. Earning the honor of the 2022 Hockey Legacy Award at The Tradition, an annual fundraiser hosted by the Sports Museum at TD Garden, Dempsey's impact in Boston's sporting conversation has reached iconic status.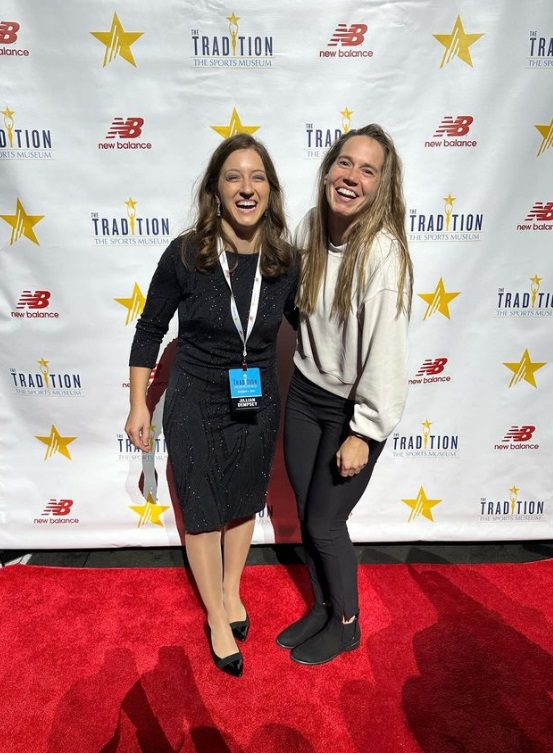 Having worn the black and gold paraphernalia of the PHF's Boston Pride since their inaugural season, Dempsey is also in her fifth season as team captain. Also a former captain for the Harvard Crimson, earning All-Ivy recognition in every season, Dempsey holds standing as a hockey luminary for over a decade.
"When I found out about the Hockey Legacy Award, I was truly humbled. To be in the company of so many Boston sports legends is incredible. I have tremendous pride and passion for my home city and our sports culture, which makes this honor that much more special to me."
Having emerged as America's premier sports city in the early part of the century, Boston has benefitted tremendously from the achievements of Dempsey. Essential to a glorious time, highlighted by six Super Bowl titles and four World Series, Dempsey has enjoyed four women's ice hockey championships. Adding to her local legacy, Dempsey also played in the Women's Winter Classic, the first ever outdoor game in professional women's ice hockey, contested at Foxborough's Gillette Stadium.
Hoisting the Clarkson Cup in 2015, a team which also featured Kaleigh Fratkin, Denna Laing and Janine Weber, Dempsey is the first player to have won three Isobel Cup titles. Adding luster to such achievement is the fascinating fact that Dempsey also became the first captain to lead her team to consecutive Isobel Cup wins.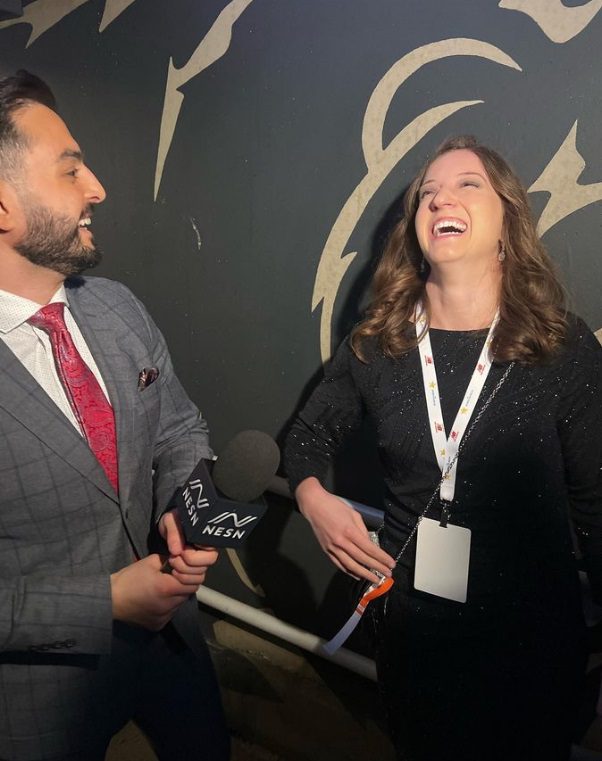 With numerous Pride teammates on-hand for the Awards Ceremony, including Fratkin, enhancing the strong feeling of family which defines an exceptional culture, Dempsey was one of two wondrous women honored at The Tradition. Earning the 2018 Women's Football Alliance MVP Award, Chante Bonds led the Boston Renegades to four championships over the last five seasons.
A member of the Boston Bruins 2011 Stanley Cup championship team, contributing 14 playoff points, Mark Recchi, also a member of the Hockey Hall of Fame Class in 2017, added the Hockey Legacy Award to his list of honors.
Other Legacy Award winners included Bill Rodgers, a four time winner of both, the Boston and New York Marathons. M.L. Carr, a two-time NBA champion with the Boston Celtics, later served as head coach and general manager.
In addition, two other Award recipients stood out for Dempsey, having enjoyed their athletic brilliance as a fan in two poignant moments for Boston sport. Johnny Damon, a fan favorite on the unforgettable Red Sox 2004 World Series championship team, plus Lawyer Milloy, a member of the New England Patriots first Super Bowl winner in January 2002, see their legacies intertwine with Dempsey, part of a celebrated class at The Tradition.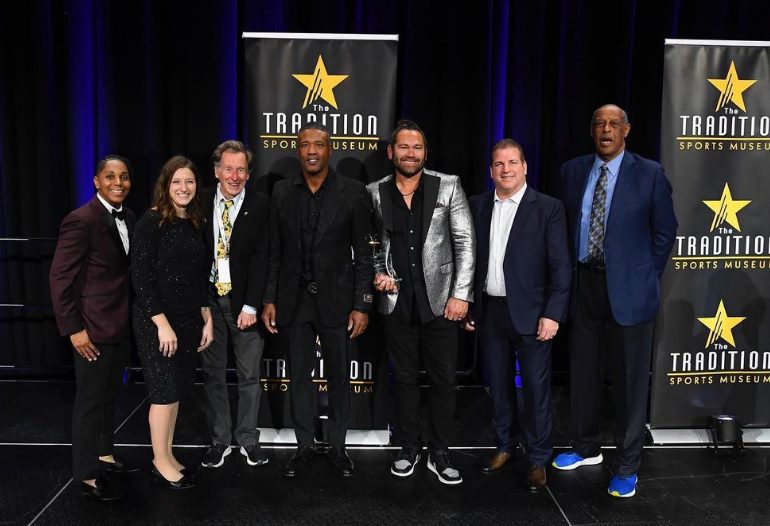 "I remember watching Damon and the Sox finally break the curse in 2004 to win a World Series, cheering for Milloy and the Patriots as the dynasty began, and being so thrilled that the Bruins and Recchi defeated the Canucks to hoist Lord Stanley in 2011. Those were iconic moments for me as a Boston sports fan. To be able to win championships for Boston and to be recognized with these athletes is amazing. I am grateful for the recognition!"
Undeniably the GOAT in Pride history, a four-time All-Star and league MVP in 2020, complemented by the jubilation of the 2021 Playoff MVP pinnacle, Dempsey, the first player to reach the 100 and 125 point plateau in league history, continues to captivate.
Following up on the excitement of The Tradition, a dazzling display of on-ice brilliance saw Dempsey shine in a thrilling 7-5 road victory versus the Buffalo Beauts. In a game which started by Aneta Tejralova scoring her first PHF goal, linemate Loren Gabel contributed six points, tying the league record for most points in one game, while Dempsey recorded five fantastic points.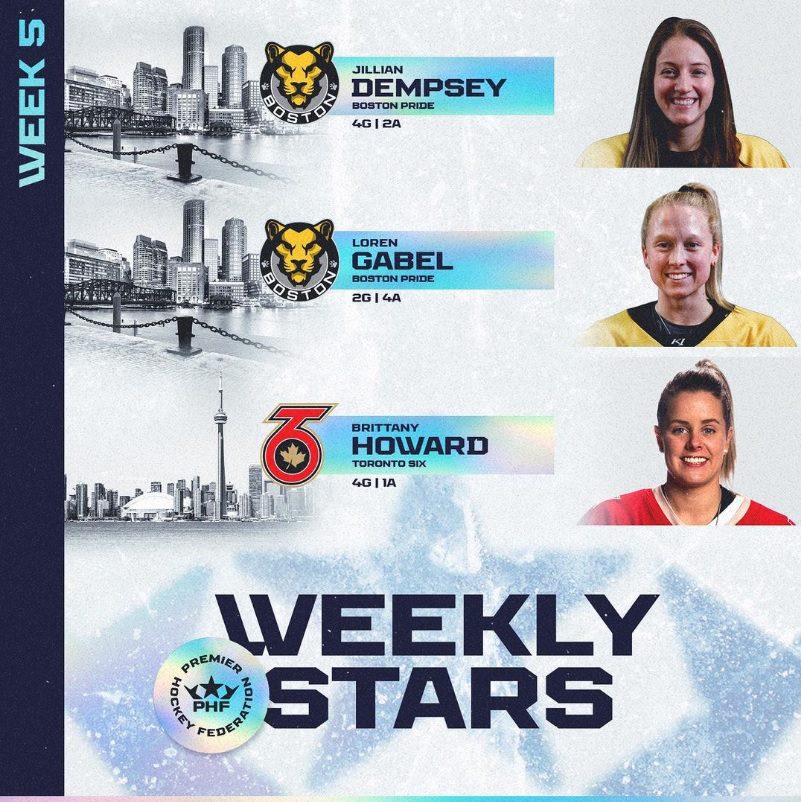 Recognized as the First Star of the Game, Dempsey led all skaters with a hat trick, an exciting career first, including the game winning tally. Not only did Gabel, the Second Star, assist on all three of her goals, Dempsey reciprocated, assisting on both of Gabel's goals. Such offensive synergy followed with both earning acclaim among on the PHF Three Stars for the Week following play from December 9-11, accentuating an unforgettable time.
"It was a thrilling game! I am proud of my team's resilience to find a way to win despite the strong comeback effort from Buffalo. It definitely felt great to contribute offensively. I really enjoyed playing on a line with Gabel and Giguere. They both have unbelievable skill and excellent vision. We were fired up to win!"
"All quotes obtained first hand unless otherwise indicated"
In this article:
#All-Star
,
#Awards
,
#GOAT
,
#Legend
,
#MVP
,
#PHF
,
#WomenInSport
,
#Womenshockey
,
grow the game
,
Hockey
,
Hockey Legacy Award
,
The Tradition
Related Articles